NFL Draft 2012: Stock Watch for the Top 10 QBs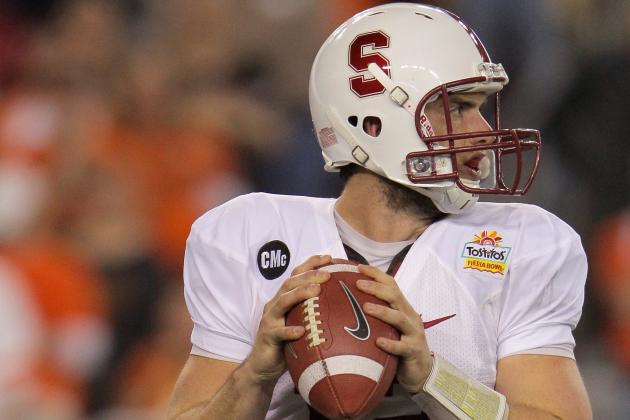 Doug Pensinger/Getty Images
Luck's draft stock has been sky-high for awhile.
The single most important position on a football field is the quarterback. In turn, there is no one spot on an NFL roster more agonized over than the starting quarterback from a player-procurement standpoint.
This includes free agency, trade as well as the annual draft when more high-pick evaluation mistakes occur with quarterbacks than any other position.
This phenomenon stems from the height of upside, stakes inherent to such early draft selections, as well as the understood impact that acquiring the right player at this position can make all the difference for a football regime.
All of these factors lead to the inevitable reach(es) that take place every year for quarterbacks in the NFL draft.
With all of this emphasized, it is important to stay current on the individual draft stock of the top quarterback prospects in any given class. Or is it?
Let me play devil's advocate for the moment and pose this contradictory question: does the ebb and flow of different prospects' draft stock, at all positions but most notably for signal callers, actually matter all that much?
Or by the end of what is a very lengthy pre-draft process, some as long as 18 months, does the NFL draft market self-correct and each guy falls on the board to where he belongs?
And is draft stock a scouting or football operations term or a draftnik and media analysis notion to define the progress of our work in prospecting on the prospects?
I do not know the succinct answer to any of those questions and, even if I did, would not be addressing them in this space. But I do believe it is something to keep in mind when understanding the entire NFL draft-analysis realm.
With the NFL scouting combine upon us this week and into the next from Indianapolis, it is an opportune time to check in on the draft stock at this position. Changes will occur, however subtle or substantial, after the information from this event is crunched.
Here is my take on the current stock of the 10 quarterbacks I have rated the highest.
For the stathead readers out there, I am going to provide some crumbs on each slide in the form of career interception percentage and fumble rate for each guy.
Other viewers may also find it interesting how well each of these players has taken care of the football during his respective college career.
Begin Slideshow

»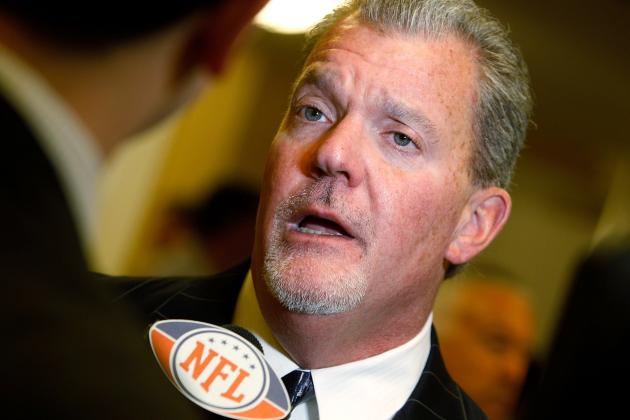 Sean Gardner/Getty Images
Colts owner Jim Irsay is understandably taken with Luck.
Andrew Luck, QB, Stanford University, redshirt junior, DOB: 9/12/1989
STOCK: way up
Career interception percentage: 2.07% (percentage of attempts that result in an interception)
Career fumble rate: 12.69 (attempts per fumble; attempts being sacks + rushes + receptions)
Andrew Luck's draft stock could not be any higher; but it is the duration of its arc that makes him so arguably historic as a prospect.
It is widely believed that Luck would have been the No. 1 overall pick even a year ago, had he declared as a redshirt sophomore as some pundits predicted, with apologies to Cam Newton.
It is also being contended that he is one of the best college prospects ever and the best one at quarterback since John Elway also came out of Stanford back in 1983.
When it is considered that Andrew Luck spent most of the 2010 college football season and the entire 2011 campaign as the consensus top prospect in the game, a historical case can be made that no NFL prospect has enjoyed higher stock.
As I have stated previously in this space, I see no reason to disagree with the conventional wisdom on this evaluation. He is in such command of his craft that he is one of those rare players who is enjoyable to watch simply from an individual execution standpoint.
He passes all the tests from eyeball, physical skills and mechanics to production, measureables and intangibles.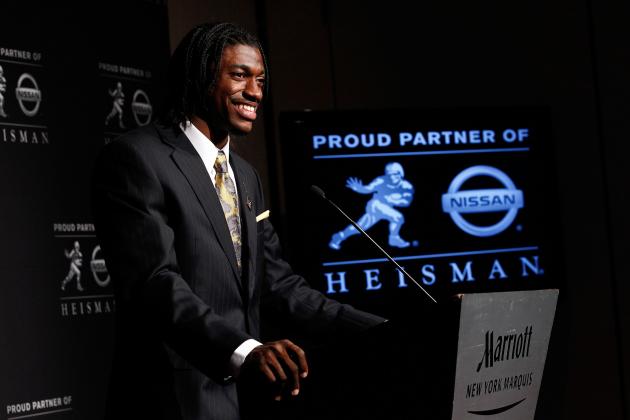 Jeff Zelevansky/Getty Images
RG3 would be the top prospect in most other NFL drafts.
Robert Griffin III, QB, Baylor University, redshirt junior, DOB: 2/12/1990
STOCK: way up
Career interception percentage: 1.43%
Career fumble rate: 19.67 att
In just about every other year, Robert Griffin III or another prospect of his ilk, would be the heavy favorite to go number one in the draft. This has equal parts to do with his position and the special profile he presents.
It will be entertaining to observe the embarrassment of riches that is expected to be paid by the NFL organization that will trade for the right to the second or third pick in order to select Griffin.
It will likely be the No. 2 slot, depending on whether the St. Louis Rams want to play ball or stay put and take someone like left tackle Matt Kalil from the University of Southern California.
I also find the hype on Griffin to be well-deserved after studying his play over a few games from this season. He possesses world-class speed and elusiveness, perhaps approximating Michael Vick as a rush threat, but he is not simply a run-first or athlete quarterback.
What makes Griffin so exciting is that he also features elite passing skills, including the mechanics and feel to be consistently accurate, as well as arm strength to drive the ball down the field for big plays.
He will need to make the adjustment from the spread offense and lacks ideal height and bulk in terms of field vision and durability.
But I also came away extremely impressed with his intangibles and personality in remotely getting to know him throughout the Heisman process; he leaves little doubt that he is a natural leader of men.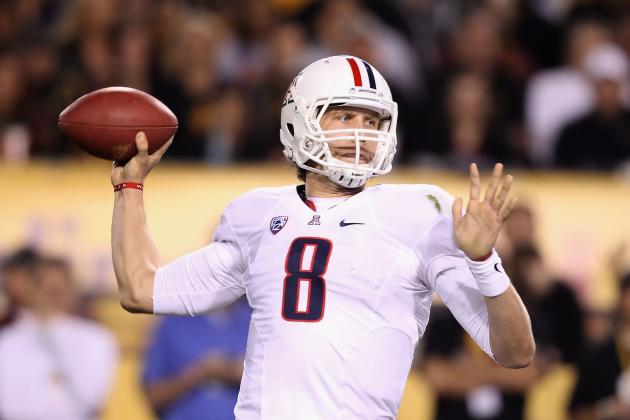 Christian Petersen/Getty Images
Foles is the best of the next tier of QB prospects.
Nick Foles, QB, University of Arizona, 6'5" 245, redshirt senior, DOB: 1/20/1989
STOCK: down
Career interception percentage: 3.53%
Career fumble rate: 8.83 att
Foles is seen as an experienced college quarterback with elite size and quality arm strength but is not considered a great athlete. And for all the time he spent under center, along with his natural talent level, there are questions about his consistency.
He looks really good on film in a lot of games but then will make a decision or a throw that does not make sense or should not have happened. Off a mostly solid body of film work, Foles began to excite some prominent draftniks following the bowl season.
But he disappointed in person during the Senior Bowl event when it was perceived that he did nothing to distinguish himself, failing to separate from the pack, and being fairly outshined by Brandon Weeden during that week.
He is currently seen as a very likely second-rounder and the fifth or sixth QB in the pecking order.
I like Foles as the next quarterback following the two mega prospects largely due to how well he played overall vs. quality opponents without a great supporting cast.
He also dealt with changes on the coaching staff and injuries to key offensive skill personnel but was still very productive and efficient. That response to adversity projects very well to the National Football League, where crisis management is a big part of the job description.
He has great size and can make all the throws and I expect with reasonable development, the decision-making and consistent accuracy will get where it needs to be for him to be a quality NFL starter.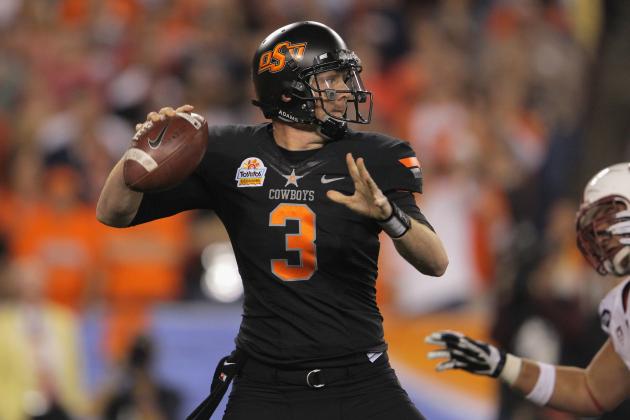 Doug Pensinger/Getty Images
How much should Weeden's age affect his draft stock?
Brandon Weeden, QB, Oklahoma State University, 6'3.5" 220, redshirt senior, DOB: 10/14/1983
STOCK: up
Career interception percentage: 3.52%
Career fumble rate: 5.57 att
Brandon Weeden presents one of the more unique prospect profiles because of his age. He will turn 29 during his NFL rookie season in 2012.
This fact has resulted in banter over how much that should affect his draft stock on the front side of the equation and how soon will he reach his ceiling as an NFL starter on the back end.
His star has been gradually rising throughout the process. It began as an interesting option with quality size and arm strength but for the limitations of his age and the question of him being a system product.
He earned some momentum into the postseason with a quality showing and victory over Stanford University and Andrew Luck in the 2012 Fiesta Bowl. His buzz reached its current peak after he shone as the top QB prospect during the Senior Bowl event.
The helium effect has led to discussions of whether Weeden fits into the first round, his age be damned, and what his readiness level is as a rookie starter.
I like Weeden for what he is; after all, he is fourth on this list. But I do not think Weeden is advanced enough in his play, despite his age, to represent an instant upgrade at starting quarterback for an NFL team in 2012.
If I am correct, the $64,000 question becomes: then how soon will he be that guy; and we return to the issue of his age. If it takes two or three years for him to hit his stride, how soon after that does his physical prime begin to end and what does it mean for his performance?
He has ideal size and arm strength but is not as gifted of a football athlete as general praise tends to credit him with for being a former minor league baseball player.
And despite how good he looked in a one-week controlled environment at the Senior Bowl, he will be making the read and footwork adjustment from the spread offense and needs to clean up his decisions with the ball.
I also do not think it is properly understood in most analytic circles how well Weeden did in taking advantage of the dominance matchup he enjoyed with top WR prospect Justin Blackmon, an advantage that is highly unlikely to exist at the next level.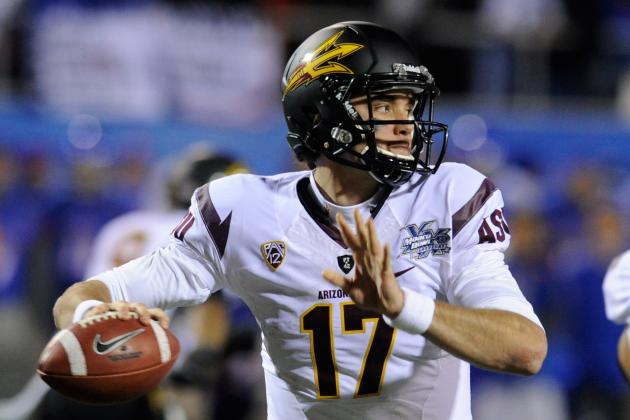 Ethan Miller/Getty Images
Osweiler is a mixed bag of praise and prejudice.
Brock Osweiler, QB, Arizona State University, junior, DOB: 11/22/1990
STOCK: neutral
Career interception percentage: 3.64%
Career fumble rate: 15.22 att
Osweiler is another 2012 NFL draft quarterback prospect who represents a mixed bag in the draftnik community, the mixed quality of which may persist all the way through his draft selection.
On the one hand, he is extremely athletic, expected to measure this week between 6'7" and 6'8", with lean strength and the foot speed to cover 40 yards in the 4.7-4.8 range. He is also a former scholarship basketball recruit to Gonzaga University.
Negatives include that he declared this year following just one season as a starter, and his funky throwing mechanics combine with average arm strength to limit his consistency as a passer.
Count me as another occupant on the ledge of indecision regarding Osweiler's ultimate success in the NFL. The size and athleticism are intriguing and I have less of a problem with his mechanics than some other evaluators.
Yes, if he never becomes an accurate enough passer in the NFL, there will be an obvious explanation. But a lot of taller quarterbacks throw from a variety of angles, some of which are not mechanically sound or recommended but can still be successful due to their length and angle.
The sidearm or low three-quarter pitch can also help a passer get the ball out quicker or away from a defender's batting paw. The key really is release point and throwing a consistently catchable ball.
My bigger question with Osweiler surrounds his intangibles. What actually happened with Gonzaga basketball that he both reneged on his commitment to its program and the sport entirely?
And why would he declare in 2012 as a one-year starter with an already well-populated QB middle class when he could have returned to school and been a likely first-round projection in 2013 with expected developmental gains?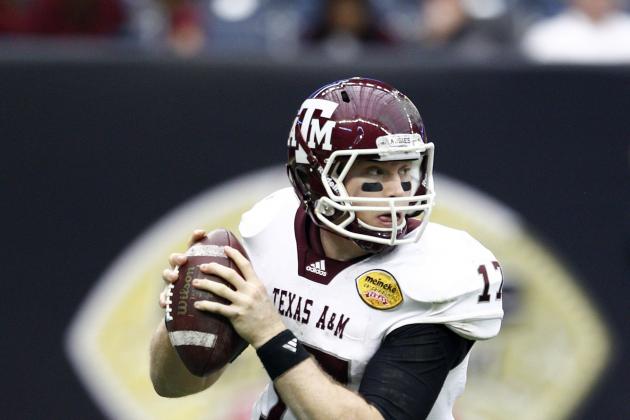 Bob Levey/Getty Images
Tannehill could go 6th or 76th in the 2012 NFL draft.
Ryan Tannehill, QB, Texas A&M University, redshirt senior, DOB: 7/27/1988
STOCK: up
Career interception percentage: 2.72%
Career fumble rate: 25.22 att (includes 112 career receptions)
Tannehill's draft-stock discussion has been arguably the most fun and fraught with mystery. While a middling position certainly exists on him, given how many draftnik opinions are available out in cyberspace, there is a considerably loud polarity on Tannehill and his draft merits.
He has been linked as high as sixth overall to the Washington Redskins if they do not sign a starting QB in free agency and lose out in the RG3 sweepstakes, 11th to whichever team wins the coin toss between the Seattle Seahawks and Kansas City Chiefs, or as low as the late second/early third round as the sixth-best passer on the board.
Tannehill, who possesses elite size, athleticism and arm strength, is being lauded as the morphed prospect of Christian Ponder and Jake Locker, both of whom went in the first half of the first round a year ago. I agree that some team will take the bait and indicate his draft stock to reflect this.
Part of the fun of the Ryan Tannehill draft discussion is that he is a converted wide receiver and that his limited 20-start résumé only points to his upside in the NFL based on his overall performance and excellent physical tools.
The mystery surrounding his evaluation that has further fueled the dichotomy, and delayed that which may have been clearer otherwise by this point in the process, stems from a broken foot that has precluded his attendance at the Senior Bowl, the combine this week, and set back his personal pro day to late March.
I see Tannehill as the mirage of this class; a role portrayed explosively in 2011 by Missouri's Blaine Gabbert, now with the Jacksonville Jaguars. It is the difference between talent and ability, promise and productivity, adulation and aptitude.
Given his tremendous talent, he too often seems defeated by pressure situations, making a bad decision, a turnover, an isolated poor play. His relative inexperience aside, I simply do not think the position comes naturally to him.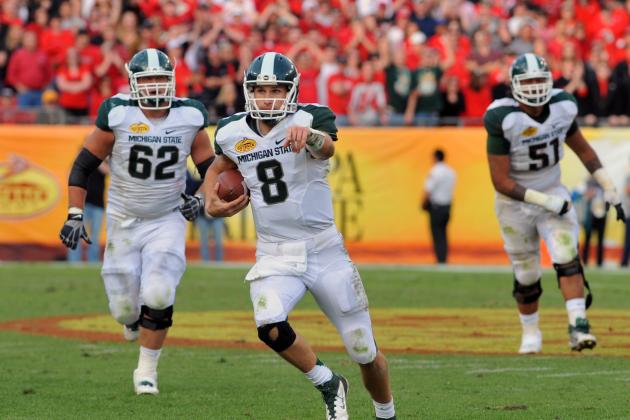 Al Messerschmidt/Getty Images
Cousins is the quietly solid prospect in this class right now.
Kirk Cousins, QB, Michigan State University, 6'2" 210, redshirt senior, DOB: 8/19/1988
STOCK: neutral
Career interception percentage: 2.75%
Career fumble rate: 8.54 att
Cousins' 2012 NFL draft stock has probably been the most even-keeled throughout the process.
At various points during the 2011 college football season, Cousins rose from a Day 3 guy into Day 2, likely the third round, with the profile of a projectable NFL backup and some developmental upside to be a game-manager starter.
Since this affirmation from the draftnik community, his regard has coasted along through the Outback Bowl vs. Georgia, the Senior Bowl, and now to the combine, really just holding steady ground.
There was some disappointment, but not much surprise, when Cousins measured in so relatively small, particularly his weight, at the Senior Bowl, where he enjoyed a solid week, but nothing spectacular.
I like Cousins as a three-year starter for a program in a quality conference where he established himself as arguably the best signal caller in school history.
He has a good arm, solid accuracy, and for the most part avoided the amount and kind of mistakes that negatively impact a team's chances to win, even leading it to some quality Big Ten upsets and bowl victories during his tenure.
It will be interesting come draft day if any team really likes him, specifically his upside as a starter, and jumps into the second round ahead of some other middle-class guys, or even in the third and simply feels like they may have stolen a guy.
My issue is that he does not change, by which I mean improve, the strength of a roster at his position.
And if he is going to one day make a quality backup in the NFL, I would rather have a solid veteran (the version of Cousins plus three to seven years) already in the league and let his initial development come on some other team's dime in terms of draft pick and time investment.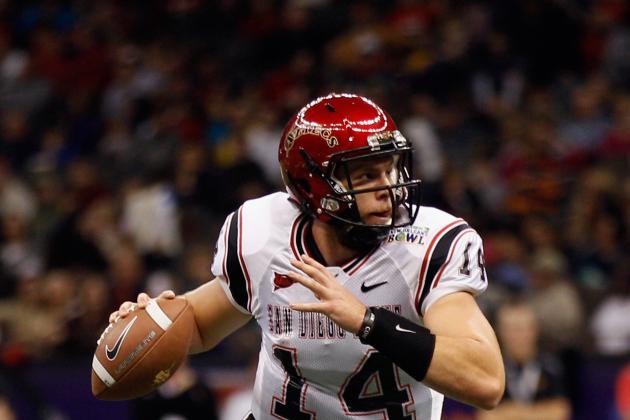 Chris Graythen/Getty Images
Lindley has elite tools but there are some hang-ups.
Ryan Lindley, QB, San Diego State University, 6'4" 230, redshirt senior, DOB: 6/22/1989
STOCK: down
Career interception percentage: 2.71%
Career fumble rate: 7.58 att
Lindley is a fun evaluation because he really looks the part based on his size and arm strength, which is arguably the best in the class, and when he is in good rhythm, shows the ability to throw the ball all over the field at an NFL level.
The problem is that these quality stretches did not occur often enough for Lindley, especially in 2011 as a fourth-year starter in a relatively weak Mountain West Conference.
I have his stock trending down because Lindley entered the season as a guy that a lot of teams may have been looking to break out and really elevate as a fifth-year senior.
Instead, he is seen to have mostly spun his wheels, not improving enough on inadequate accuracy, while continuing to be a bit on the immobile side.
I see Lindley as an educated upside pick in the third or fourth round. On the high end, it would not surprise me if he went before Kirk Cousins simply due to the fact that if it all clicks for him, he has the passing skills and size to be a successful starter.
And while accuracy is certainly a limiting issue with regard to his current draft stock, I do not believe him to be as far away in that department as his much-maligned completion percentages indicate (career-low 53.0% as a senior, 55.5% over the four years, and no single season above 58.0%).
It is debatable how much of these figures can be attributed to drops and poor routes by his receivers, especially this year when he worked with a very inexperienced corps, as well as Lindley's propensity to use his cannon arm to take shots down the field.
Ultimately, I think his career path will be governed more on his decisions with the football and literacy with reading the defense than anything else.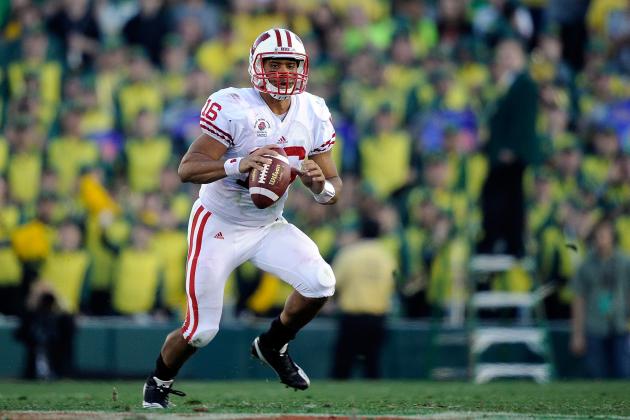 Kevork Djansezian/Getty Images
Wilson's draft stock ranges from late 3rd to undrafted.
Russell Wilson, QB, University of Wisconsin, 5'10.5" 205, redshirt senior, DOB: 11/29/1988
STOCK: down
Career interception percentage: 2.01%
Career fumble rate: 19.95 att
The discussion on Russell Wilson's stock is as divisive as any other quarterback prospect in this class, including Ryan Tannehill, but the range is towards the end of the draft instead of near the top.
His career in college was highly decorated, including a two-season minor league baseball stint in the Colorado Rockies organization where he showed promise as an athletic second baseman following a fourth-round selection and $200,000 signing bonus in 2010.
But his performance and development under center, first at North Carolina State University and then Wisconsin in 2011 as a fifth-year senior, compelled him to give up pro baseball and focus on the gridiron.
All of the hype and success aside, Wilson's stock has remained relatively low and figures to continue to do so because he is historically short for the position at the NFL level.
When he came in at under 5'11" at the Senior Bowl last month, it dropped him down almost every draftnik's board, even completely off some, and likely those of most NFL teams.
It will not surprise a few readers that know me that I am not in this majority camp. Wilson is one of my favorite players in this class, and I think he is special enough to overcome the height disadvantage and be a successful starting quarterback in the NFL.
He is so good at all the other aspects of playing the position, both mental and physical, and his athletic ability and passing talent should allow him to ascend where most other QB prospects fail regardless of height.
While I cannot envision a scenario in which he is a full-time starter in the first year or two in the NFL, three to five years from now, I believe Wilson will be another measureable benchmark for what is possible.
I think he is one of the top 100 players in this class which, if an NFL team agrees, could see him taken at the end of the third round.
What is more likely, even with that evaluation, is that he falls into Day 3, perhaps deeply even, before a team that likes him can no longer resist the value opportunity of selecting him there. Wilson is a player whose NFL career development I keenly anticipate.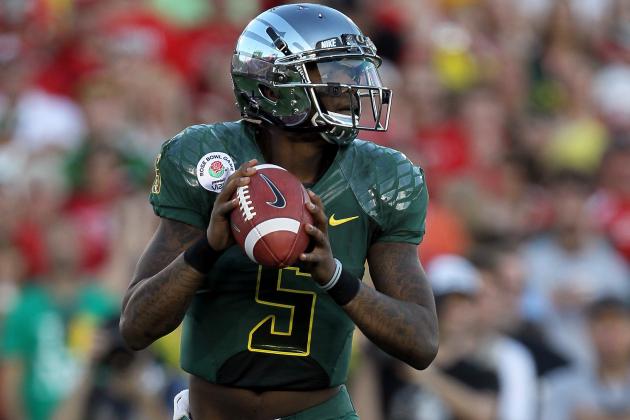 Stephen Dunn/Getty Images
I have Thomas tenth when most others consider him undraftable.
Darron Thomas, QB, University of Oregon, redshirt junior, DOB: 5/23/1990
STOCK: way down
Career interception percentage: 2.32%
Career fumble rate: 9.65 att
No underclassman's decision to declare early this year was more poorly responded to by the draftnik community than that of Thomas.
Only being a two-year starter, a spread system quarterback with some mechanical kinks to iron out, and the projection that he would be a legitimate Heisman candidate on a national championship contender next year all led analysts to assume without much thought that he would return to school.
This upset move, or coup, on Thomas's part put a bad taste in a lot of draftniks' mouths and seemed to cause his somewhat rushed evaluation to get off on the wrong foot in order to catch up with the rest of the class.
Every NFL team, and of course the top draft analysts, will do its homework on Thomas and so far the reviews are intensely negative, some even calling for a position switch.
This is a link to the most thorough scouting report I have seen in the analysis community. I actually agree with a lot of it, but not the conclusion that predicts he will not become a quality NFL starter.
Thomas likely made a mistake in declaring a year early for the draft. Based on the information we have at present, and the projection data, that is the conclusion. But who really knows?
More importantly, I see it as a value opportunity for a discerning team to pluck him from under the radar on day three. A team that is presently set at the position, and which can properly develop him for two to three years, could come away with a great steal.
Thomas is not given nearly the credit he deserves for being an excellent passer because he plays in a spread offense that has a lot of other skill talent around him, as well as his own running ability.
It should be known that he is very distinctly not a run-first quarterback, just rush-productive, and at the next level it will be even less a part of his game.
His body may be on the lean side right now but at 6'3" tall and only 21 years old, he has the frame to easily add 10 to 15 pounds of good weight in the next three to five years and be ideally-sized.
The two biggest things I like about Thomas on film are his decisions, including the proclivity for taking care of the ball, and his ball placement.
The latter is such a key distinction from accuracy because it facilitates the ability of his offensive skill players to maximize the impact of the play with yards after the catch.
Thomas is another quarterback whose drafting destination I will be very curious about on Day 3.