Why Ricky Rubio's Still a Better Point Guard Than Jeremy Lin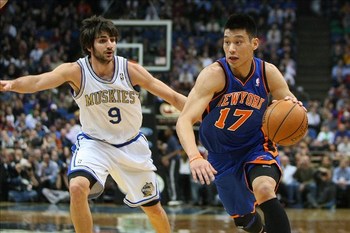 (Photo Credit: RantSports.com)
Unless you've been living under a box, you're well aware of the recent "Linsanity" crazy that sparked in New York and has traveled across state borders and sports media partners alike.
There's no doubt about it; Jeremy Lin is a phenomenon rarely seen. How does someone go from crashing on his brother's couch due to a lack of job security to being not only a starter, but one of the best point guards in the league?
Well, Lin's done it—and in a matter of weeks.
However, my friend questioned me the other day:
"Ricky Rubio or Jeremy Lin. No strings attached, which one would you take?"
Despite the Linsanity hype, I would pick Rubio—every time.
Here are four reasons that Rubio is a better point guard than Lin.
Ricky Rubio Has a More Proven Background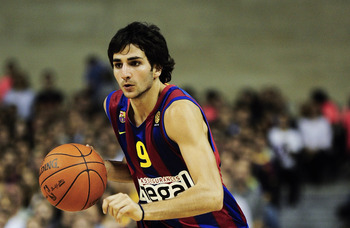 David Ramos/Getty Images
As far as experience and established recognition go, Minnesota's rookie Ricky Rubio takes the cake.
Jeremy Lin
Jeremy Lin didn't receive any athletic scholarships following high school, but he attended Harvard on academic merit. The fact that an athlete from an Ivy League school progressed to the NBA is rare in itself. Lin averaged 16 points and four assists his senior year, but he was undrafted after graduation.
Although he signed a partially guaranteed contract with his hometown Golden State Warriors, Lin failed to make any name for himself as a professional, averaging only 2.8 points and nine minutes per contest.
This is literally the first time Lin has shown any outstanding talent on an NBA court...or any court, for that matter.
Ricky Rubio
Rubio made his NBA debut only two months ago, but the 21-year-old is no stranger to the pressures of professional sports.
At age 14, Rubio became the youngest player to ever play in the Spanish ACB League, and he found himself on the radar of NBA scouts from that point on.
He won the EuroChallenge championship with Joventut in 2005, and in 2006 he led the ACB League in steals. He also won the Spanish ACB League's Rising Star Award that season. Rubio was also named the 2007, 2008 and 2009 FIBA Europe Young Player of the Year.
Rubio averaged 2.8 assists per game in his first season of Euroleague play, and he won the Eurocup championship with Joventut in 2008. He was also voted the Spanish ACB League's best point guard in 2008 and 2010. He won the Euroleague 2009-2010 with FC Barcelona.
Rubio was selected for the 2008 Olympics' Spanish national team, and he also won the 2008 Mr. Europa Award, given out by the Italian Superbasket Magazine.
He was named the Defensive Player of the Year for the Spanish ACB League 2008-09 season, and he also led the league in steals that season. Rubio declared himself eligible for the 2009 NBA Draft on April 20, 2009.
On June 5, 2009, Rubio became the first player born in the 1990s to be drafted into the NBA.
It's Not All About the Point Totals
Chris Trotman/Getty Images
There's no doubt about it—Jeremy Lin scores more points per game than Ricky Rubio.
While Rubio averages 11.5 PPG, Lin averages 14.5. Rubio's season high is 22 points, whereas Lin accrued an incredible 38 points on Feb. 10.
Granted, Timberwolves fans would love it if their rookie out of Spain grabbed higher point totals—and in fact, he's well on his way there, averaging just under 19 PPG in the last three contests.
However, Rubio's reputation is not—and never has been—that of a scorer.
And that's OK.
There's so much more to being a point guard than scoring, and Rubio possesses the whole package. The 21-year-old averages an impressive 8.4 assists to Lin's 5.7, and Rubio also averages 2.4 steals per game.
Only 33 games into his rookie year, Rubio has 278 total assists. How many does Lin have? 109.
Rubio runs the floor with veteran-like experience, dishing out beautiful no-look passes and creating plays for Minnesota's big men and leading scorers, Kevin Love and Nikola Pekovic.
Lin's recent success is undeniable; however, Rubio still proves to be the more well-rounded athlete on the floor.
Rubio Stands out and Runs a Team with a Smaller Support System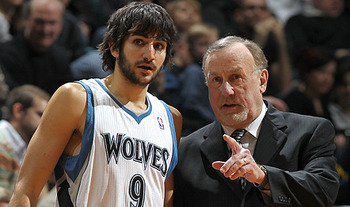 (photo credit: NBA.com)
The Timberwolves are definitely showing potential this season, and they even have a chance at a playoff run for the first time in several years.
They're still one of the youngest rosters in the league and—aside from Kevin Love—don't boast many established, star-caliber athletes.
Seasoned coach Rick Adelman accepted Minnesota's large contract offer to lead the young ballclub, and Rubio has done an outstanding job of stepping in as a rookie and creating leadership on the court.
Rubio's PG skills have coaxed improvement in shooting and point totals from players with previously mediocre numbers (i.e. Michael Beasley and Nikola Pekovic).
Lin, on the other hand, joined an already established roster and is supported by big-name athletes such as Carmelo Anthony, Tyson Chandler and Amar'e Stoudemire. While his own point totals have increased exponentially, he's dishing out assists to seasoned athletes who will find ways to score no matter what—Lin or no Lin.
It's Been 19 Days...19 Days.
Chris Trotman/Getty Images
When my friend asked me which PG I would rather have, my immediate reaction was, "Ask me again next year."
Admittedly, neither athlete has extensive experience in the NBA. However, Rubio proved himself on Day 1 and has continued to improve with every game.
"Linsanity" started 19 days ago.
Prior to Feb. 4, Lin was averaging less than five minutes and one point per game.
Does this mean I think his numbers are a total fluke and not representative of the athlete?
Not necessarily. I mean, the guy appears to be the real deal. He got his chance to come off the bench, and it was a "now or never" moment for him. I think the real question now is not whether or not he's a capable PG but whether or not he can withstand the pressures of the NBA and keep his numbers on top for 82 games...not just 10.
I'll Take "Olé" over "Linsanity" Any Day of the Week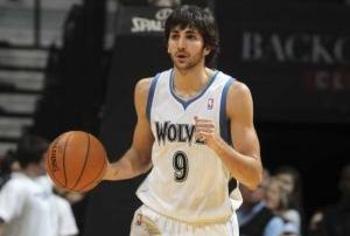 (photo credit: twincities.com)
After all is said and done, after all factors are taken into account—experience, statistics, teammates, on-court leadership—I'll take Rubio over Lin.
At least for now.
Keep Reading