MLB 2012: Predictions and World Series Chances for All 30 MLB Teams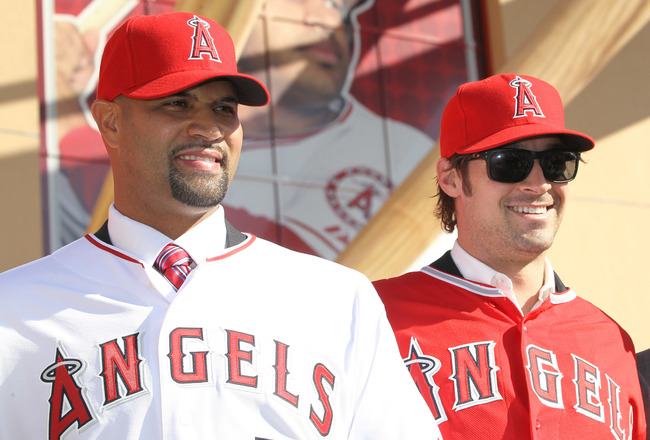 Stephen Dunn/Getty Images
Enough is enough. Tim Tebow had his time and Jeremy Lin might be the most recognizable person on planet earth at the moment. But it is time to talk baseball.
March is rapidly approaching, and that means two things for sports fans: A heap of unpredictable Madness in the NCAA basketball tournament, and Spring Training.
By now, everyone (including position players) has reported to camp, marking the end of an eventful offseason that featured baseball's best player changing teams, a classic exchange of top-level prospects in the American League and another big signing to make Cubs fans hopeful.
Prince Fielder, Jonathon Papelbon and AJ Burnett will not only be in new uniforms in 2012, but leagues as well. And even then we are not close to covering the moves that have taken place over the past few months.
But it is time to look to the future.
Here are the chances your favorite team will be the last one standing come November:
Houston Astros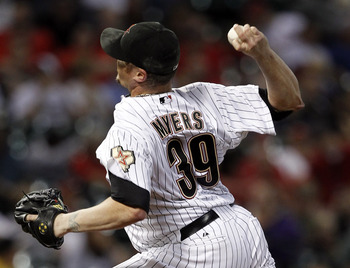 Bob Levey/Getty Images
Win/Loss: 66-96
Title Chances: 200-1
After losing 106 games last season and posting baseball's worst record, the Houston Astros failed to make any major moves that would drastically improve the 2012 team.
A full season with J.A. Happ in the rotation might help the pitching numbers, but a lineup filled with (what appears to be) a bunch of glorified minor leaguers will almost certainly struggle to score runs.
Houston has managed to hold onto Wandy Rodriguez for now, but there is not enough there to convince me they are capable of surpassing any of the six teams in the NL Central.
On a brighter note, at least there is room for improvement. The Astros are in the midst of a rebuilding process—one that will undoubtedly take a few years.
Sorry, Houston hopefuls. Better luck next y... in 2015.
Baltimore Orioles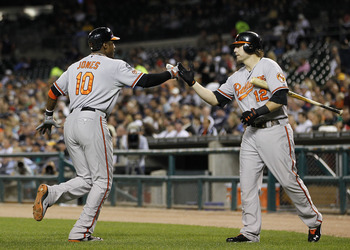 Adam Jones has shown some flashes of stardom in Baltimore
Leon Halip/Getty Images
Win/Loss: 67-95
Title Chances: 150-1
The Baltimore Orioles have not finished higher than third in the AL East since 1997. And with the Red Sox and Yankees around, they are not about to break the streak.
The emergence of Tampa Bay, and (more recently) Toronto as contenders means you can bet on a fifth straight last place finish for the Orioles in the competitive AL East.
Unfortunately for Buck Showalter, he has no control over the fact that his club plays in the best division in baseball. Baltimore ranked towards the middle of the league in offensive production in 2011; however, they simply do not have the starting pitching to compete with New York, Boston, Tampa and Toronto a combined 72 times over the course of the season.
Players like Matt Wieters, Adam Jones and Zach Britton provide Orioles fans with hope for the future, certainly. But for now, the big-market money spenders will remain atop the East.
Seattle Mariners
Felix Hernandez has been one of the constants in Seattle over recent years
Otto Greule Jr/Getty Images
Wins/Losses: 71-91
Title Chances: 100-1
After an old-school prospect exchange with the New York Yankees in the offseason, the Seattle Mariners still remain a few years away from contention in the AL.
With a core of young talent surrounding Cy Young award winner Felix Hernandez, the M's will have to wait a while before they can compete with the vastly improved LA Angels and Texas Rangers.
Fans remain hopeful that their return from the Cliff Lee trade, Justin Smoak, will develop into the hitter scouts projected he would be. His emergence combined with the addition of a blue-chip hitting prospect in Jesus Montero should help produce at the plate for a team that scored fewer runs than any in baseball a season ago.
A bounce-back year from Ichiro Suzuki would not be surprising, but cannot be expected at age 39. And playing at one of the league's largest ballparks, Safeco Field, 81 times a season certainly will not help the cause.
You do have to commend the Mariners front office for making moves to bolster a weak lineup. Giving up prized pitching prospect Michael Pineda was not easy, but it was necessary given the best interests of the team long-term. Unfortunately, long-term does not mean right now.
Sorry, Seattle.
San Diego Padres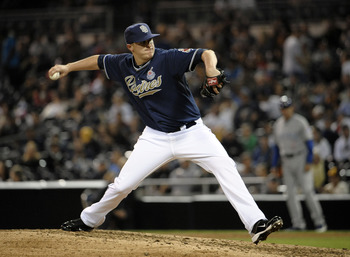 Denis Poroy/Getty Images
Wins/Losses: 64-98
Title Chances: 100-1
Not two years removed from a devastating September collapse, the San Diego Padres look nothing like the team that won 90 games in 2010. In fact, the team's failure to make the playoffs that year despite a 6.5-game lead in late August likely triggered a rebuilding process that leaves Padres fans little hope for 2012.
The trading of Adrian Gonzalez to Boston last winter spurred a movement that has left very few familiar faces from two seasons ago. Guys like Heath Bell, Mat Latos and Ryan Ludwick will all be sporting different uniforms this spring despite their contributions to a surprisingly competitive 2010 campaign.
Now, the Padres have an abundance of younger, more inexperienced talent that will take time to mature. Guys like Cameron Maybin and Yonder Alonso will fill out the middle of the order for Bud Black's squad in 2012, representing the hopeful future for San Diego.
Offseason moves to acquire veterans Jason Bartlett and Orlando Hudson will undoubtedly help with the growth and development of a young team; however, they remain unlikely to produce numbers beyond what is expected from guys at the bottom of the order.
As for the rotation, the unproven Tim Stauffer leads the way for a shaky group that includes the consistently inconsistent Edinson Volquez. Like the Padres lineup, San Diego's pitching staff is filled with question marks that force faithful fans to look toward the future.
If only Huston Street would sprint in from the bullpen, maybe the crowd at Petco Park would have something to cheer about in 2012.
New York Mets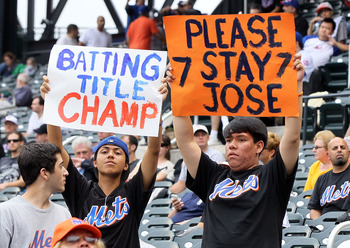 Pleas from Mets fans for Jose Reyes to stay in town proved ineffective when he signed with the Marlins Dec. 6th
Jim McIsaac/Getty Images
Wins/Losses: 71-91
Title Chances: 1-75
Realistically, the greatest hope for Mets fans might be that Johan Santana and David Wright avoid the disabled list in 2012. The two staples of the franchise have struggled to remain healthy in recent seasons, diminishing what chances New York did have to compete with Philadelphia and Atlanta atop the NL East.
Also consider that Washington added a quality arm to an already promising rotation, the fact that the Marlins improved at the Mets expense (adding Jose Reyes), and you have four quality playoff contenders in one division. A string of three consecutive fourth-place finishes could be snapped in 2012; however, fifth place does not sound much better.
Hefty contracts and spontaneous coaching changes have proved widely ineffective for the Mets in recent years. It is clearly time to rebuild.
Let's just hope the fans in Queens are patient.
Kansas City Royals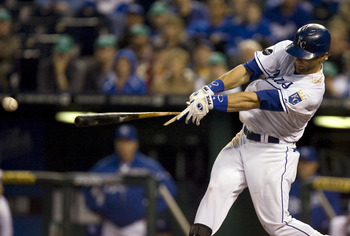 Alex Gordon shows his potential at the plate against the White Sox
Ed Zurga/Getty Images
Wins/Losses: 75-87
Title Chances: 1-75
Optimism flooded Kauffman Stadium during the early months of last season when Kansas City remained in contention for much of the first half. Though the run did not last into the fall, fans of the Royals should not get discouraged.
No, the Royals have not made the playoffs since their title year in '85. No, they do not have the pieces in place to compete for one this year.
But what they do have is a plethora of young talent at both the major and minor league level.
Last year, Alex Gordon finally showed fans why the organization drafted him with the second overall pick in the 2005 draft. He batted .303 with 23 HR and 87 RBI while winning a Gold Glove in left field.
Other names like Billy Butler and Luke Hosmer give fans in Kansas City hope for a productive offense in 2012. Unfortunately the pitching is a bit further away.
Stay tuned, Royals fans, your time is near.
Pittsburgh Pirates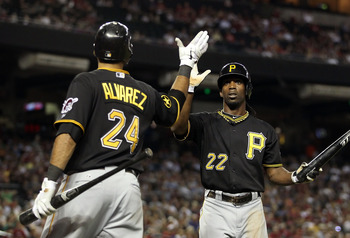 Andrew McCutchen is one of a handful of promising players in Pittsburgh
Christian Petersen/Getty Images
Wins/Losses: 76-86
Title Chances: 1-75
Pittsburgh was another city inspired by success in the early stages of last season. But a dismal second half led to a 19th consecutive losing season.
The Pirates have a rising star in the form of Andrew McCutchen and an emerging top notch closer in Joel Hanrahan. But like many of the teams listed before them, Pittsburgh is still a few years away from playoff contention.
Question marks in the rotation begin and end with former Yankees. AJ Burnett, who was recently acquired from New York, is likely to lead the five-man rotation with Jeff Karstens on the back end. Despite possessing immense talent, Burnett's inconsistency has fans wondering if he will be able remain composed as the Pirates Ace.
Erik Bedard is slotted as the third starter, and possibly poses more uncertainty than the other two. Making the switch to the National League this season, the oft-injured Bedard looks to make 30 starts for just the second time in his career.
Even then, it remains a long shot that we will see the Pirates in October. But that does not mean they can't finish above .500.
Oakland Athletics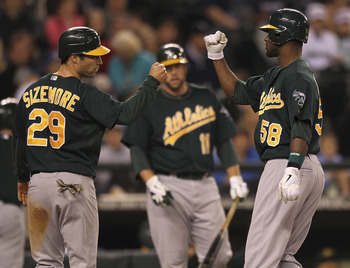 Otto Greule Jr/Getty Images
Wins/Losses: 69-93
Title Chances: 1-75
While the recent addition of the suspended Manny Ramirez does not remind fans of Billy Beane's strategy portrayed in Moneyball, the low-risk acquisition could prove beneficial for a team that ranked in the bottom third of the league in runs scored in 2011.
For a team that has been built around pitching the last few years, the Athletics appear to be addressing offensive needs at last. After shipping their promising young starter Gio Gonzalez to Washington for prospects this past December, Oakland inked coveted Cuban outfielder Yoenis Cespedes to a four-year, $36 million contract just weeks ago.
The 26-year-old righty is a five-tool player who is expected to provide the Athletics with a combination of power and average that few players in the league can offer. Cespedes batted .333 with 89 R, 99 RBI and 33 HR in just 90 games last season, proving why he is rumored to be the best all-around player out of Cuba in a generation.
And with the A's current pitching staff, he might have to be.
A young core that ranked first in the American League in ERA last season is in disarray. Premiere closer Andrew Bailey, like Gonzalez, was traded this winter to the surprise of many. And to make matters worse, injuries have left potential ace Brett Anderson out for the year and Dallas Braden sidelined for an uncertain period of time.
For once, the Athletics might be able to score some runs in the enormous Coliseum. But in the crowded AL West, they simply do not have the pieces to contend in 2012.
Cleveland Indians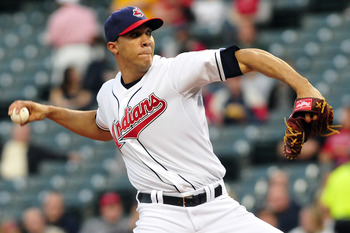 Jason Miller/Getty Images
Wins/Losses: 84-78
Title Chances: 65-1
Coming into the 2012 season, all eyes in Cleveland will be on Ubaldo Jimenez to see if he can rebound from a disappointing campaign. After surrendering their top two pitching prospects for him, the Indians hope the hard-throwing righty can get back to the success that earned him a start in the 2010 All-Star Game.
Jimenez struggled in 10 outings for Cleveland after being dealt at the deadline last season, posting a 4.62 ERA with just six quality starts. But a return to form for Ubaldo could mean great things for an experienced Indians pitching staff that ranked near the middle of the league in 2011.
After a career year, Justin Masterson looks to repeat a season that featured 33 starts and a 3.21 ERA. Behind him, veteran Derek Lowe, Josh Tomlin and Kevin Slowey will likely round out, what appears to be, a solid rotation for the Tribe in 2012.
As for the position players, Cleveland seems to have the infield of the future in place. The young superstar shortstop Asdrubal Cabrera emerged last season as one of the league's best all-around players, while Lonnie Chisenhall (3B), Jason Kipnis (2B) and Carlos Santana (C/1B) appear to have the tools to succeed at the major league level.
Bounceback years from Grady Sizemore and Shin-Soo Choo could potentially help Cleveland pose a threat to the Tigers in the AL Central, but when all is said and done, it will be Detroit's division crown to lose.
Minnesota Twins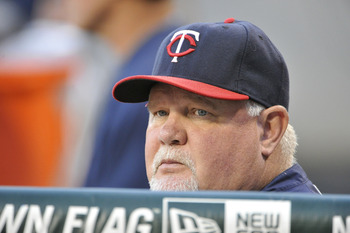 Brian Kersey/Getty Images
Wins/Losses: 74-88
Title Chances: 65-1
2011 was a season to forget in Minneapolis. Despite being plagued by injuries, the Twins managed to stick around in the AL Central until the late summer months sent them into a downward spiral landing Ron Gardenhire's club in last place.
After a relatively inactive offseason, the Twins hope that a winter-long doctor's visit will help them return to playoff contention. With mostly minor injuries, it is expected that everyone will arrive at camp 100 percent healthy.
Except for the two most important pieces.
Some thought Joe Mauer and Justin Morneau to be the next "M&M Boys"—a nickname given to Mickey Mantle and Roger Maris in the 1960's. And now, all Twins fans can ask for is that the two injury-prone superstars finish a season together.
After winning three batting titles and an AL MVP award in 2009, Mauer has suffered from a long list of injuries that have many questioning his career at the catching position. A move to first base would seem plausible if the 2006 AL MVP weren't already playing there. While Morneau himself continues to struggle with lingering symptoms from a concussion, we are forced to wonder how many games the two will be able to play in 2012.
A lineup that features speed at the top and bottom needs guys like Mauer and Morneau to drive in runs. While the Twins will be returning four starters from last year's rotation, it remains to be seen if guys like Francisco Liriano and Jason Marquis can put together a full season of success.
Minnesota has been one of the more consistent teams under Gardenhire in recent years. But without the M&M Boys healthy, Ron can kiss 2012 goodbye.
Chicago Whitesox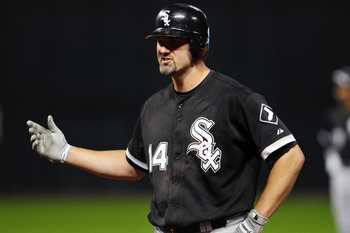 Jason Miller/Getty Images
Wins/Losses: 89-73
Title Chances: 1-60
Perhaps spending $54 million on a seemingly one-dimensional player was not the smartest decision. After all, a .145 average with 7 HR and 122 K's is something that hardly warrants minimum wage.
Adam Dunn was, far and away, the biggest bust that we have seen in the major leagues in years. After averaging 35-plus homeruns over his first 10 seasons, Dunn was subjected to more than just criticism in Chicago last year.
But that won't last... I mean, how could it? Numbers like that are almost never seen at any level of professional baseball, and Dunn will make the adjustments.
Hopefully, for White Sox fans, the rest of the team follows suit. For a team with tons of potential, underachievement has been the theme in Chicago over recent seasons.
Yes, I know Mark Buerhle joined Ozzie in South Beach, but that does not mean the White Sox cannot put pressure on the Tigers for the division title. A healthy Jake Peavy would give the Sox a formidable trio of starters alongside John Danks and Gavin Floyd. And depth on the bench gives Chicago options to replace struggling hitters.
This is the year for guys like Gordon Beckham to reach his potential. Now is the time for Alex Rios to return to the player we saw in Toronto years ago. 2012 COULD be the year Ozzie Guillen regrets leaving the Windy City.
Let's see what happens.
Los Angeles Dodgers
Christian Petersen/Getty Images
Wins/Losses: 83-79
Title Chances: 40-1
Despite financial troubles and key losses in Hiroki Kuroda and Jonathon Broxton, the Los Angeles Dodgers should remain a fairly competitive team in the NL West in 2012.
Over the winter, the front office made necessary moves to bolster the back end of the rotation while keeping the depleted piggy bank in mind. Aaron Harang and Chris Capuano might not strike out 10 batters a game, but they have been known to eat innings—something that is invaluable with a young ace leading the way.
Behind Cy Young Award winner Clayton Kershaw, the consistent Ted Lily and supremely talented Chad Billingsley fill out the rest of the Dodgers rotation. Unfortunately, LA's offense (particularly the infield) causes more uncertainty.
Starting with the positives, 2011 MVP candidate Matt Kemp looks to improve upon a career year in which he batted .324 with 39 HR and 126 RBI and stole 40 bases. If the Dodgers are going to have any success, however, they are going to need the likes of Andre Ethier and James Loney to step up.
Although it was nice to see Loney overcome a rough start last season, Dodgers hopefuls expect to see a full season of consistency from their first basemen in 2012. As for Andre Ethier, declining numbers in nearly every offensive category over the past three years has raised some concern. A career year in '09 that featured 31 HR and 106 RBI needs to be duplicated if the Dodgers are going to contend in the West.
Chicago Cubs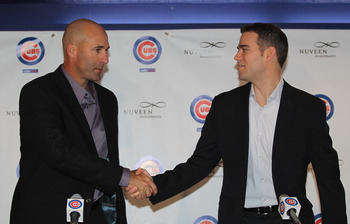 Jonathan Daniel/Getty Images
Wins/Losses: 68-94
Title Chances: 40-1
The biggest story to come from Chicago's offseason is not a move they did make (hiring GM Theo Epstein), but rather a move they did not.
That's right. Though it may have been tough for Cubs fans to hear that both Albert Pujols and Prince Fielder signed with other teams, the decision to pass on the pair of first baseman is one that will ultimately benefit the organization for years to come.
Yes, it would be difficult to argue against signing arguably one of the best players this game has ever seen play; however, the Cubs simply do not have the pieces to surround the likes of Pujols and form a championship-caliber team at this point. Instead, Chicago has chosen to wait and see if some of their young players like Starlin Castro can mature into the superstars they have the potential to be.
And Epstein realizes that.
A winner of two World Series titles in Boston, and one familiar with breaking curses, Epstein recognizes that his new team is in the midst of rebuilding. Because of this, the 2012 Cubs roster will likely feature many familiar faces.
One notable name not to return is Carlos Zambrano. The inconsistent, hot-headed pitcher was traded to Marlins in the offseason in a deal that likely comes as a relief to Cubs fans and personnel everywhere. As for the guys who will be pitching for the Cubbies this season, Matt Garza leads a rotation with potential to improve. Chicago's pitching staff finished 25th in ERA in 2011—a statistic many would consider embarrassing given their hefty payroll.
The good news is that 2012 marks the start of a new era at Wrigley Field. Hopefully this one will be a bit more successful than the last.
Toronto Blue Jays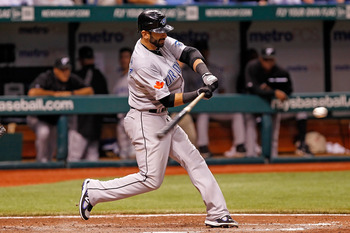 J. Meric/Getty Images
Wins/Losses: 88-74
Title Chances: 40-1
Behind former Red Sox Pitching coach John Farrell and the American League's most dangerous hitter, the 2011 Blue Jays turned heads across Major League Baseball.
And look for them to do the same thing in 2012.
Jose Bautista silenced any critics who thought him to be a one-year wonder, and third baseman Brett Lawrie put up monster numbers in AAA before producing at the major league level as well. If both can continue their success, and the Jays lineup can remain healthy, there is reason to believe they could score with some of the best offenses in the American League.
The larger question for the Blue Jays concerns their pitching staff. After Ricky Romero and Brandon Morrow, the 3-5 spots in the rotation are causes for concern. The immensely talented, but inconsistent, Brett Cecil is in need of a bounceback year, and the No. 5 starter, Dustin McGowan has missed most of the past three seasons with various injuries.
Ironically, the biggest obstacle standing between Toronto and the playoffs has nothing to do with their ball club. But rather, the fact that the Blue Jays are placed in the AL East means they will likely fail to reach the postseason for a 19th consecutive season.
In any other division in baseball, the Jays might contend for first place. But with the Yankees, Red Sox and Rays to deal with, another third or fourth place finish seems more likely in 2012.
Milwaukee Brewers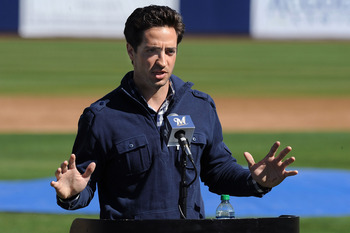 Ryan Braun speaks to the media for the first time since his failed drug test in October
Norm Hall/Getty Images
Wins/Losses: 89-73
Title Chances: 35-1
The recent reversal of Ryan Braun's 50-game suspension for a failed drug test may have saved not only Braun's image, but also the Brewers season. Despite losing Prince Fielder to free agency, Milwaukee still has enough fire power to contend in a less-than-impressive NL Central.
Coming off their first division title since they won the AL East in 1982, the Brew Crew is hopeful they can even come close to matching last season's offensive production that ranked fifth in the National League. We know kind of numbers Braun is going to put up, but big seasons from players like Corey Hart, Rickie Weeks and Nyjer Morgan could mean back-to-back division crowns for Milwaukee.
What truly qualifies the Brewers as a legitimate contender, however, is their pitching staff. Not only does Milwaukee have one of the game's best 1-2 punches in Yovani Gallardo and Zack Greinke, but they have depth behind them too. Randy Wolf and Shawn Marcum are more than capable third and fourth starters. And with John Axford and Francisco Rodriguez for the late innings, the Brewers are fixed to compete with the Cardinals and Reds for first place.
Now obviously Fielder's departure is going to be tough to overcome. But for a team that won 96 games just one season ago, the Brewers have the pieces in place to make another playoff run in 2012.
Colorado Rockies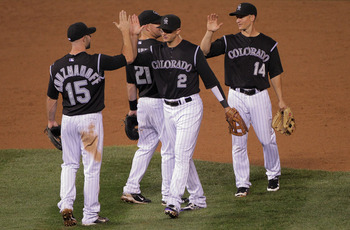 Doug Pensinger/Getty Images
Wins/Losses: 70-92
Title Chances: 35-1
Despite a hot first month, 2011 was a disappointing season for the Colorado Rockies. Unfortunately, the prospects for 2012 do not look much better.
After finishing with the lowest win total in five years, the Rockies front office did very little to improve the 89-loss team of a season ago. In fact, the biggest change could be nothing more than a new bottom-third of the batting order.
Newcomers Michael Cuddyer, Ramon Hernandez and Casey Blake project to fill the 7, 8 and 9 holes in a lineup that will need to score a ton of runs if the Rockies are going to be successful. For a team that has relied heavily on offensive production in recent years, 2012 does not expect to be any different.
Before the deadline last season, Colorado traded ace Ubaldo Jimenez to the Cleveland Indians for a package of prospects that will start the year in the minor leagues. Now, the Rockies are left with, at best, a shaky starting rotation.
Another new name, Jeremy Guthrie, is expected to lead the way for a pitching staff that finished second to last in ERA in the National League a year ago. While the former Oriole does have a reputation for eating innings, a two-time 17-loss pitcher is hardly a desirable ace, and the Rockies lack depth behind him.
Colorado has been known for surprising late season runs; however, chances are the Rockies will be battling the Padres to stay out of the basement of the NL West come September.
Washington Nationals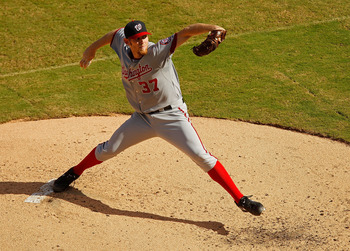 Mike Ehrmann/Getty Images
Wins/Losses: 88-74
Title Chances: 28-1
Since their move to D.C. in 2005, the Nationals have had four different managers, five last-place finishes and an unimpressive .435 winning percentage. But after effectively building through the draft over the last half-decade, the Nats are finally on the verge of serious playoff contention.
Thanks to a plethora of high first-round picks and good scouting, Washington now has a solid core of young talent that is ready to make a difference at the big league level. Perhaps the most talented of them all, Stephen Strasburg hopes to bounce back well from Tommy John surgery he had nearly 18 months ago.
The hard-throwing phenom Strasburg leads a rotation that was formidable before GM Mike Rizzo's recent additions. Former Athletics starter Gio Gonzalez and Edwin Jackson now plan to join Strasburg, Jordan Zimmermann and a fifth starter to be named in what looks like one of the 10 best rotations in all of baseball.
After acquiring Brad Lidge for a cheap price ($1 million), the Nationals have a strong bullpen to nail down victories for the starters. Joining Drew Storen and Tyler Clippard as the late-inning relievers, the former Philly closer looks to help shorten games for the up-and-coming franchise.
The last, and perhaps most questionable, piece of the puzzle that will likely determine whether Washington becomes a complete team is the lineup. With Bryce Harper waiting in the minors, the current batting order for the Nationals is filled with inexperienced hitters who may take a couple more seasons to mature and adjust to major league pitching.
While Washington may have enough to accomplish its first winning season in 2012, they remain on the outside looking in of a four-team race in the NL East.
St. Louis Cardinals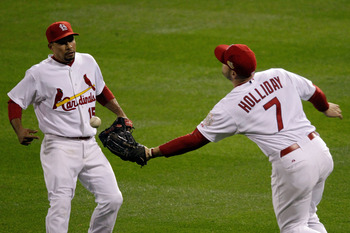 Rob Carr/Getty Images
Wins/Losses: 85-77
Title Chances: 1-25
It is hard to believe that the defending world champions are ranked so low in terms of title chances. But after losing the game's best player and longtime manager Tony La Russa, the St. Louis Cardinals seem much less likely to repeat in 2012.
But do not count them out, either.
A healthy Adam Wainwright to complement Chris Carpenter atop the solid rotation could carry the team into the postseason, but the Cardinals are not short on depth either. Garcia, Lohse and Westbrook round out one of the National League's top starting five, and the bullpen is not too shabby either.
But that is not to say St. Louis' lineup is necessarily the weakest link.
With newcomer Carlos Beltran, World Series MVP David Freese, a revived Lance Berkman and Matt Holliday, the Cardinals have enough offensive firepower to score with any other team in the weak NL Central.
It is inevitable that St. Louis will lose some production from the 1B position, however, a roster full of playoff-experienced veterans makes them a tough team to count out in 2012.
Arizona Diamonbacks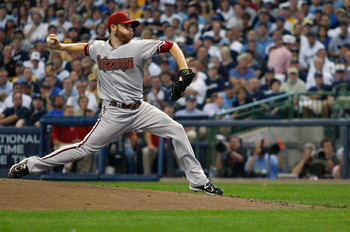 Jared Wickerham/Getty Images
Wins/Losses: 91-71
Title Chances: 1-25
Just one season after finishing dead-last in the lowly NL West, Arizona took baseball by surprise in 2011. The worst-to-first turnaround, which is arguably tougher to accomplish in baseball than any other sport, was one nobody saw coming—perhaps not even the Diamondbacks themselves.
One of the key pieces in the revitalization was former Yankee pitcher Ian Kennedy. After struggling to reach his potential in the Bronx, the 26-year-old righty found a niche in Arizona and unexpectedly produced an NL best 21 wins in a Cy-Young candidate season.
Joining Kennedy at the top of an impressive rotation was the emerging Daniel Hudson and veteran Joe Saunders. Combined, the three started 99 games for Arizona, picking up 49 wins along the way. And after the offseason addition of Trevor Cahill, the starting pitching looks only to improve in 2012.
Newcomers Takashi Saito and Craig Breslow hope to bolster a bullpen anchored down by 35-year-old closer J.J. Putz, and fans can only hope that Justin Upton continues to improve upon his breakout season of a year ago.
Look for Paul Goldschmidt to emerge as a serious power threat at first base, and for the Arizona Diamondbacks to battle the Giants for another division title in 2012.
Cincinnati Reds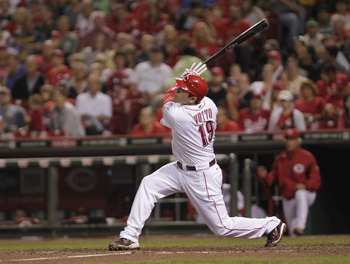 John Sommers II/Getty Images
Wins/Losses: 90-72
Title Chances: 22-1
Milwaukee lost a Prince, and St. Louis lost a King. Meanwhile, the Reds signed a front-end starter and strengthened their bullpen.
While the other two NL Central contenders (Brewers and Cardinals) suffered significant losses during the offseason, Cincinnati managed to address a few team needs that could help them leapfrog back into first-place in 2012. With their premier first baseman, Joey Votto, still in place, Dusty Baker's team is ready to make a deep playoff run for the first time in over a decade.
Key offseason acquisitions Mat Latos, Ryan Madson and Sean Marshall will add depth to a pitching staff that finished near the bottom of the NL in 2011. The former San Diego stud, Latos, is perhaps the most promising addition as it virtually gives the Reds a second ace behind Johnny Cueto.
The two bullpen arms may also prove invaluable while the young guys (Mike Leake and Homer Bailey) work on pitching deeper into ballgames while avoiding injury. Furthermore, the prospect of Aroldis Chapman sliding into the rotation remains possible, which could give the Reds a lethal three-man rotation come playoff time.
To make matters worse for the competition, an offense that ranked second in the National League in runs scored a season ago will be returning in full force. Behind the 2010 NL MVP (Votto), a group of young talent including Brandon Phillips, Jay Bruce and Drew Stubbs look to put it all together in 2012. Increased plate discipline and maturity for players like Stubbs and Bruce could mean disaster for opposing pitching staffs, and Phillips is already established as one of the best all around 2B in the game.
All in all, the Cincinnati Reds have the pieces in place to make a deep playoff run in 2012. There is no doubt there will be growing pains; however, if the younger guys can step up and make adjustments along the way, look for the Reds to be atop the Central when all is said and done.
Atlanta Braves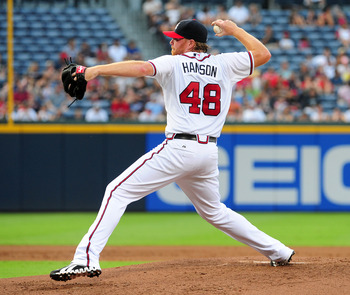 Scott Cunningham/Getty Images
Wins/Losses: 89-73
Title Chances: 22-1
Coming off a historical September collapse in which the Braves lost 18 of their last 26 games, Atlanta enters 2012 with a team capable of winning the World Series.
With a young, formidable starting rotation, a deep bullpen and an impressive lineup, Freddi Gonzalez's club has what it takes to be successful in the competitive NL East. But with the Phillies, Marlins and now Nationals in contention, it will likely, once again, come down to the final month of the season.
Hopefully for Braves fans, the players have gotten the lingering, sour taste of failure out of their mouth.
The biggest obstacle could be the same one that prevented Atlanta from making the playoffs last season: health. The team's top two starters, Jair Jurrjens and Tommy Hanson, combined to make just 12 starts in the second half last year. A healthy duo could have been the difference in what turned out to be an 8.5 game collapse at the hands of the World Champion St. Louis Cardinals.
But that was then, and this is now.
After struggling mightily in 2011, young phenom Jason Heyward needs to have a rebound season in 2012. A full year with the speedy Michael Bourne atop the lineup could also help produce runs for an offense that ranked near the middle of the pack in the National League a year ago.
Most importantly, the Braves need to remain healthy. We know Chipper's best years are behind him, but a full season of good health could go a long way for not only himself, but the young guys around him too.
The table is set for success in Atlanta this year. Let's hope we don't have a repeat performance.
Tampa Bay Rays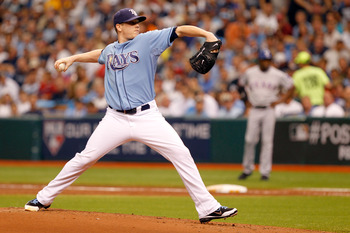 Mike Ehrmann/Getty Images
Wins/Losses: 96-66
Title Chances: 22-1
In the first 10 years of the Tampa Bay franchise, the team formerly known as the "Devil Rays" finished better than last-place just one time. Since the name change in 2007, the Tampa Bay Rays have made the playoffs in three of four seasons, claiming the AL East crown twice.
But it was not the image makeover that caused a change of fortune in St. Petersburg. After waiting patiently for years, the 2012 Rays are in the final stages of a rebuilding process that has yielded tons of young talent and tremendous success.
Serving as a model for the smaller-market teams, Tampa Bay has proven it possible to compete with high-spending teams like the Yankees and Red Sox while building primarily through the draft.
And their projected roster for this upcoming season shows that.
Tampa's rotation is five deep, and it is scary. After seven shutout innings in the game one of the 2011 postseason, Matt Moore proved why many consider him to be a front-runner for the 2012 Rookie of the Year Award. At the same time, he may have confirmed that Tampa has three legitimate No.1 guys.
Slotted behind proven studs David Price and James Shields, the 22-year-old Moore helps complete a rotation second to maybe only the Phillies and the Angels. With Jeremy Hellickson and Wade Davis filling the four and five holes, it is not insane to suggest that each of the Rays five starters could be the ace of a staff elsewhere in the league.
So, the question for Tampa remains simple. Will they get the consistent production out of hitters like B.J. Upton, Evan Longoria and Ben Zobrist to score with the giants of the AL East.
The return of Carlos Pena and emergence of Desmond Jennings could help the Rays win a third division title in five years.
But my guess is the Yankees and Red Sox will have something to say about that...
Miami Marlins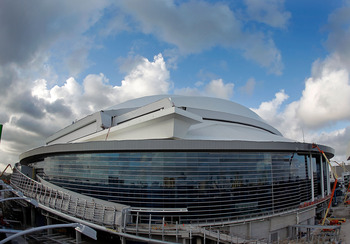 Mike Ehrmann/Getty Images
Wins/Losses: 90-72
Title Chances: 16-1
Much like the Rays did in 2008, the Marlins are in the process of a bit of a makeover. Only this time, things are a bit more drastic.
Coming into the 2012 season, the Marlins will have new uniforms, a new logo, a new manager, a new shortstop, a new front-end starter and a new closer. Oh, and we can't forget the new home, too!
It only cost $2.4 billion...
But with all this high spending comes high expectations. And for a team scheduled to play the Phillies, Braves and Nationals 18 times each, the playoffs are no safe bet. In fact, despite all the ridiculous amounts of money that is being poured into this team, I would have to put my money against them.
Yes, they have terrifying speed atop the lineup, and a solid 1-2 punch at the front-end of the rotation, but Hanley Ramirez's happy transition to third base is surely no guarantee. Nor is Josh Johnson's health. Add in an unpredictable Carlos Zambrano and you have a ticking time-bomb waiting to explode in South Beach.
Are they a much improved team from a year ago? Definitely. But as we have seen with their friends cross-town in the NBA, it's not as easy as it seems.
Good luck, Miami.
San Francisco Giants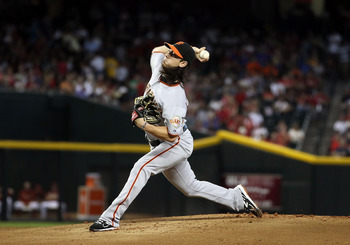 Christian Petersen/Getty Images
Wins/Losses: 93-69
Title Chances: 16-1
Defending a World Series sure isn't easy. San Francisco found that out that last year when a season filled with injuries left the Giants players watching the postseason from their living room couch. But the Giants are healthy again, and with one of the top-five rotations in Major League Baseball, they look to make another title run in 2012.
Tim Lincecum, a.k.a "The Freak," leads a trio of potential aces that, if they can remain healthy, could carry San Francisco back to playoff form. After an impressive first full season in the big leagues, Madison Bumgarner figures to slot behind the consistent Matt Caine in the Giants deadly rotation.
Although the back end starters may be aged in comparison to the first three, Ryan Vogelsong and Barry Zito are more than capable fourth and fifth starters. In fact, Vogelsong's 2.71 ERA from a season ago suggests he may be nothing more than the odd-man-out in a foursome of studs.
But San Francisco's offense is an entirely different story. After ranking next to last in the majors in runs scored last season, the Giants failed to make any moves to upgrade their lineup for 2012.
Yes, the decision to prevent Buster Posey from blocking the plate should benefit all; however, losing three notable bats in the form of Pat Burrell (retirement), Carlos Beltran (free agency) and Orlando Cabrera (free agency) will likely leave San Francisco back in the basement of baseball in terms of run production.
The San Francisco Giants, like 10-12 other teams in baseball, do have the pieces to make a world series run in 2012. But in order to even have a shot at playing in October, a few bats are going to have to step up and score some runs.
A repeat offensive performance in 2012 would certainly make postseason baseball unlikely, but behind solid pitching, anything is possible. Prove us wrong, San Francisco.
Boston Red Sox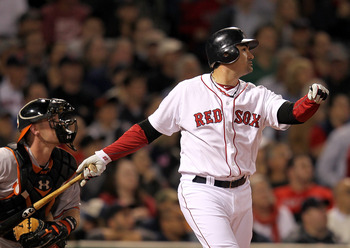 Jim Rogash/Getty Images
Wins/Losses: 94-68
Title Chances: 10-1
Similar to that of the Braves, the Red Sox 2011 season ended in complete disaster. And after the collapse was completed in game 162, controversy began to circulate throughout Red Sox Nation. By now, I'm sure the last things players want to talk about is beers in the clubhouse; they need to get back to baseball.
A return to normalcy will be good for a club that experienced such a demoralizing conclusion to last season. Even with a new manager and a new closer, Boston will be looking to make another run for the postseason in 2012.
And the Red Sox have plenty of firepower to do it.
Behind two legitimate MVP candidates (Jacoby Ellsbury and Adrian Gonzalez), Boston scored more runs than anyone else in 2011. Even with the uncertainty surrounding Carl Crawford's wrist entering the season, the depth of the Red Sox lineup is comparable to very few in all of baseball.
But the pitching does not look quite as promising as the one of the biggest stories heading into Spring Training for the Sox is the bullpen and the conversion of Daniel Bard into a starter. The hard-throwing righty has served as Jonathon Papelbon's set-up man much of the past two seasons; however, neither will provide relief for Boston in 2012.
Former Athletic Andrew Bailey will step into the closer role after Papelbon signed with the Phillies, and Bard figures to fill the fourth or fifth spot in the rotation. But even after a bit of a shake-up, the top three for the Red Sox remain constant and lethal.
At the end of the day, it will be the health and effectiveness of Boston's top starters (Beckett, Lester, Bucholz and Bard) that determines whether or not they will have a chance at a third World Series in the last decade.
Texas Rangers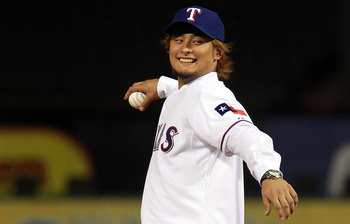 Ronald Martinez/Getty Images
Wins/Losses: 95-67
Title Chances: 10-1
In their second World Series appearance in as many years, the Rangers had the St. Louis Cardinals down to their final strike. Twice. And yet, Texas went home empty handed—again.
After a heart-breaking finish to the past two seasons, Ron Washington's team is entering camp this spring looking a bit different. In what ended up being an expensive shuffle of front-end starting pitchers, the Rangers lost ace CJ Wilson to free agency before dropping $51.7 million just to negotiate with prized Japanese prospect, Yu Darvish.
Luckily for Rangers fans, Nolan Ryan and company got the deal done. And Texas has a revamped rotation with potential to complement a solid bullpen and deep lineup.
The conversion of Neftali Feliz will be essential, but if all goes well in Arlington, the Rangers could represent the American League in the World series for the third year in a row.
But I'm sure their ex-teammate in Los Angeles will have something say about that...
Los Angeles Angels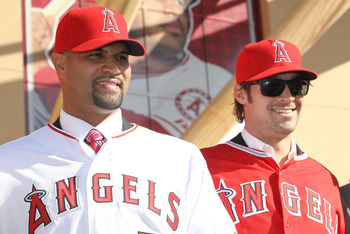 Stephen Dunn/Getty Images
Wins/Losses: 97-65
Title Chances: 8-1
Well this is awkward...Not only did LA steal a division rival's top pitcher (CJ Wilson), but they signed the best player in baseball, too.
Welcome to Los Angeles, King Albert. The critics...I mean fans are waiting for you.
The Angels made, by far, the most noise during the offseason. And while they are now certainly a legitimate World Series contender, high expectations are likely to flood the streets of Los Angeles.
Next to the Phillies, the Angels could have the best rotation in baseball. And after addressing the team's biggest need, run production, with Albert Pujols at first base, there is no confusion as to why LA is a sexy pick to win it all in 2012.
One area for concern could be the bullpen. Though the 24-year-old closer impressed in his first season at closer, the Angels relievers combined to blow 25 saves in 2011—a statistic that tied them for last in the American League. And while Latroy Hawkins impressed in Milwaukee last year, he was a nightmare for the Yankees in his last experience in the AL.
After dedicating a ridiculous $331.5 million on two players in the offseason, anything less than a championship has to be considered a failure. But with the Angels current roster, you have to like their chances.
Detroit Tigers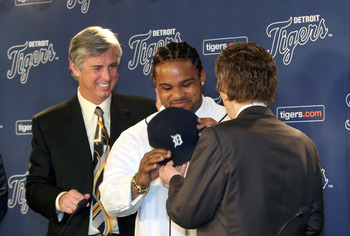 Jorge Lemus/Getty Images
Wins/Losses: 96-66
Title Chances: 8-1
Now let's be honest. There is no WAY Justin Verlander can repeat his MVP season of 2011. But just because the Tigers ace comes back down to earth, doesn't mean Detroit isn't loaded.
If it wasn't for that other first baseman in LA, the biggest news from this past offseason would have been coming from Detroit. And the tigers are hoping that landing premier first baseman Prince Fielder will put them over the top in 2012.
The starting five for Jim Leyland looks to be pretty formidable. Behind the obvious Verlander is a group of four immensely talented young pitchers. Max Scherzer, Doug Fister and Rick Porcello fill slots 2-4, and have the potential to make Detroit's rotation one of the best in baseball.
The 20-year-old prospect Jacob Turner projects to be the fifth starter for Detroit who might have one of the deepest all around pitching staffs in the majors.
After finishing two games shy of a World Series appearance last October, it was obvious the Tigers were close. But, adding about 40 HR and 120 RBI to the game's fourth-ranked offense should help their cause. Add in the league's best pitcher, a near-perfect closer and one of the deepest rosters in the bigs, and we've got a serious World Series contender in Detroit.
New York Yankees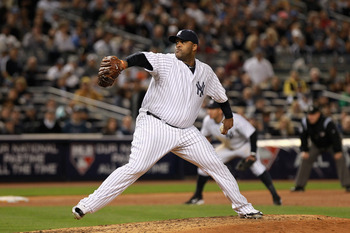 Nick Laham/Getty Images
Wins/Losses: 97-65
Title Chances: 13-2
For once, the biggest move by the Yankees was not the signing of a high-profile free agent. And ironically, it could be one of the better moves they have made in a while.
In an exchange of class-A prospects, New York sent C Jesus Montero to Seattle for the hard-throwing righty Michael Pineda. The 23-year-old native of the Dominican Republic showed fans last season why he has one of the most valued arms in the big leagues, striking out more than a batter an inning over 28 starts.
Perhaps just as important of an acquisition (at least for 2012) was Hiroki Kuroda. I know he is not going to light the radar gun, but Kuroda offers the Yankees a reliable veteran that will keep them in games.
And with an offense like the Yankees have, what more could you ask for?
New York finished behind only Boston last season in runs scored. And in my opinion, they have the deepest lineup 1-9 in all of baseball.
Led by an onslaught of home runs from middle-of-the-order guys like Curtis Granderson and Mark Teixeira, the Yankees scored their way to the AL East title in 2011 behind a questionable pitching staff that included Bartolo Colon and Freddy Garcia.
Now, New York has depth in the rotation rather than question marks. An entirely healthy Alex Rodriguez could put together an unexpected rebound season, and young 2B Robinson Cano is poised to win his first MVP.
Just like always for the Yankees, it is championship or bust. We'll have to wait and see what 2012 has in store for us...
Philadelphia Phillies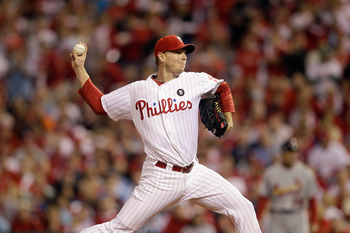 Rob Carr/Getty Images
Wins/Losses: 101-61
Title Chances: 11-2
There should not be much question as to why the Phillies are the favorite to win it all in 2012. After all, they have arguably two of the game's best three starters on their team, and a World Series MVP after that.
The three-headed-monster of Roy Halladay, Cliff Lee and Cole Hamels is one that makes the best-of-five divisional round of the playoffs look like a cakewalk. But just last season, the Phillies discovered that wasn't the case after being eliminated by the Cardinals in the first round
But with another season under their belts, I wouldn't expect the same results in 2012.
The key for Philadelphia is to remain patient. Not just with Ryan Howard's Achilles, but with the entire team. After winning the division by an MLB-best 13 games in 2011, it may be in their best interest to look at the bigger picture this season as they enter the year with one of the league's oldest rosters.
Jonathon Papelbon at the back-end of the rotation should provide some security for the pitching staff, and a full season with Hunter Pence will undoubtedly benefit the middle of the order. Healthy returns for veterans Ryan Howard and Chase Utley are essential if Philly wishes to return to offensive supremacy in the National League, and a deep bench will certainly be put to use for that reason.
When the fat lady sings, I expect nothing less than another first place finish in the competitive NL East for Philadelphia. But, as I have said before—that isn't good enough for big market teams like the Phillies.
It's win or bust in 2012. What's it gonna be, Philly?
(World Series odds courtesy of-- http://www.betvega.com/world-series-odds/)
Keep Reading