Arsenal Transfer Prospects: 6 Summer Deals the Fans Would Go Crazy for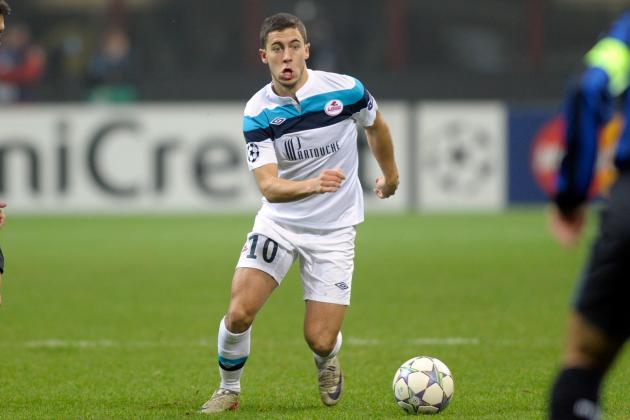 Claudio Villa/Getty Images

It has been a rough season this year for Arsenal.
The club is facing arguably some of its toughest competition in the Premier League and they are on the verge of a Champions League exit following a 4-0 loss to AC Milan.
Barring a miracle, Arsenal are going to go yet another season without winning a trophy.
Manager Arsene Wenger is under fire in a way that he has never been since taking over the job in 1996.
One of the supporters' biggest gripes is the fact that Arsenal hardly spend any money in the transfer window. For being the fifth-richest club in the world, it really is amazing the lack of money the club spends.
It's not as if Arsenal doesn't have a lot to offer. They are based in London, have a good Champions League pedigree, deep history and a good supporter base.
Players like Cesc Fabregas, Samir Nasri and Emmanuel Adebayor leave and no viable replacements are bought. Instead, players like Marouane Chamakh, Andrey Arshavin and Sebastien Squillaci are brought in to the Emirates.
The worst part is that no one seems to know if Arsenal isn't spending money because Wenger is simply being stubborn or if Stan Kroenke and the rest of the Arsenal board are refusing to allow for significant funds to be spend.
Moving into the Emirates Stadium was partly to blame because the club needed to pay back the debt it cost to build the stadium.
But it's been open for almost six years, and Arsenal is making huge profits each home game from ticket sales. That's revenue that doesn't appear to be reinvested in the squad.
If Arsenal continues to let each transfer window go by without significantly strengthening the side, they are going to simply be left behind.
For that reason, sooner or later, you have to believe that the club is going to start spending money. That time could come this summer whether Wenger is the manager or not.
Forget about transfer fees, here are six players that, in a perfect world for Arsenal supporters, would be playing in the Emirates come September 2012.
Begin Slideshow

»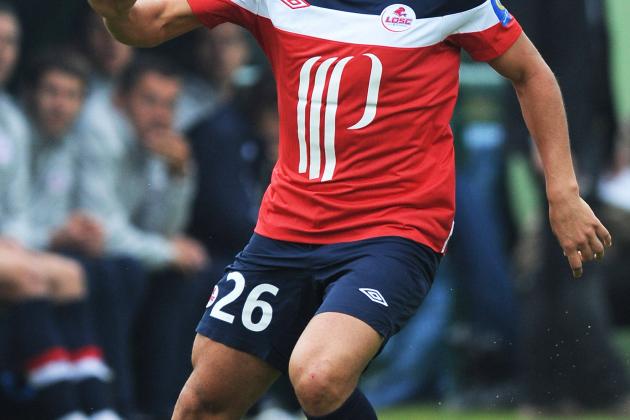 Valerio Pennicino/Getty Images

Eden Hazard is one of the most coveted players in the world.
A few years ago, Arsenal would have been in pole position to sign the 21-year-old Belgian. The club probably would have been one of the few big clubs to really know about him, too.
But other clubs have caught up with Arsenal when it comes to scouting across Europe. You could probably search Eden Hazard and just about any major club in Europe on Google and you're guaranteed to get some sort of transfer rumor.
Watching Hazard sign with Tottenham would be an absolutely devastating blow to any Arsenal supporter.
Arsenal supporters would salivate over an attack that would feature Eden Hazard and Alex Oxlade-Chamberlain on the wings and then Jack Wilshere in the center. It's also a combination that could last for years down the road.
The creativity that Hazard brings has been sorely missed at Arsenal since Cesc Fabregas and Samir Nasri left during the previous summer transfer window.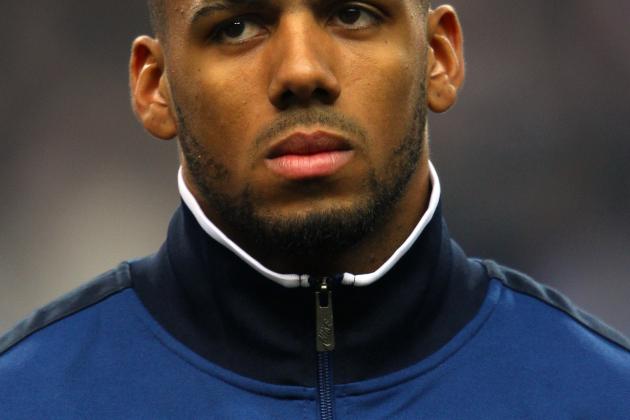 Alex Livesey/Getty Images

One of Arsenal's biggest problems is the fact the club has never really replaced Patrick Vieira. Alex Song has been a good defensive midfielder, but Arsenal just look to have no spine in the midfield.
Yann M'Vila would change that. M'Vila looks like he's on the path to becoming the best defensive midfielder in the world.
He's a player that is not afraid to go into a tackle, and he really has no desire to get forward. M'Vila understands that his job is to win the ball and pass it to a teammate who can start the attack. He also has great positional sense and is in the right places on the pitch almost every time he's needed.
Summer 2012 would be the perfect opportunity for M'Vila to move. He reportedly refused any previous move for the possible detriment it could do to his national team standing.
He looked at how Karim Benzema struggled at Real Madrid and how it cost Benzema his place in the national team during the 2010 World Cup.
With a move this summer, M'Vila could afford to spend a year in transition at a new club because the World Cup would be another two years away.
It's hard to believe that M'Vila is only 21 years old.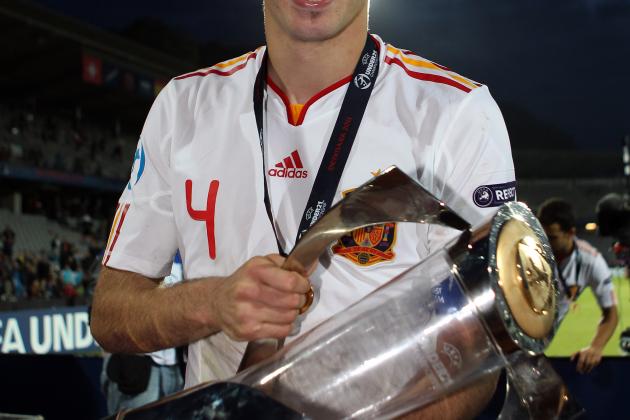 Ian Walton/Getty Images

Should any proposed transfer for Yann M'Vila fall through, Javi Martinez would be a suitable backup option.
Javi Martinez has been a target for many clubs across Europe, including Premier League rivals Manchester United. However, United seem to be more interested in Benfica midfielder Javi Garcia, so the door is open for Arsenal to pounce on Martinez.
It's been a good year for Martinez. During the summer, he captained Spain to a European title in the Under-21 Championship. He has also helped to guide Athletic Bilbao to a possible Champions League place this season.
He can play in the center of midfield if need be, but he most adept at the defensive midfield position. Also, Marcelo Bielsa has begun playing Martinez in the center of the defense, so he offers a lot of versatility.
Martinez is a good ball-winner, but he can also begin the attack from the back with his above average passing abilities.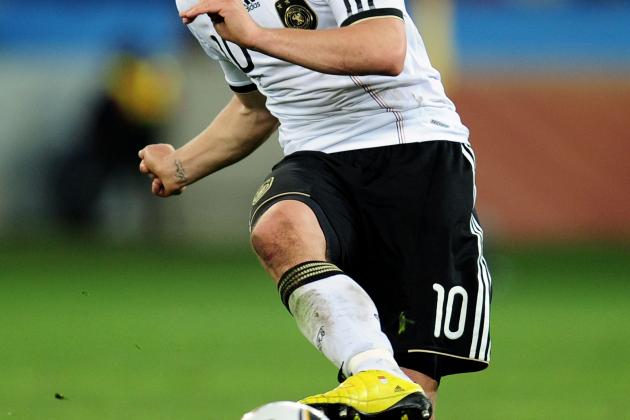 Clive Mason/Getty Images

It looked like Lukas Podolski would move to the Emirates during the January transfer window.
However, Podolski wasn't keen to move before the 2012 Euros. Playing in Germany betters his chances of making the national team for the tournament.
After July, though, he's fair game. It's difficult to see him staying at FC Köln beyond this season. Podolski has greater ambitions than finishing in the middle of the Bundesliga table every season.
At 26 years old, he is just entering his prime years.
Podolski offers some versatility. He can play on the wing or he could partner up with Robin van Persie.
While he struggled throughout his three years with Bayern Munich, Podolski has regained his form with Köln. He scored 13 league goals last year and has already netted 15 in 2011-12.
The question, though, is whether or not he can perform in a high-pressure atmosphere. Podolski clearly has a comfort zone in Köln, but once he is outside of that zone, can he succeed?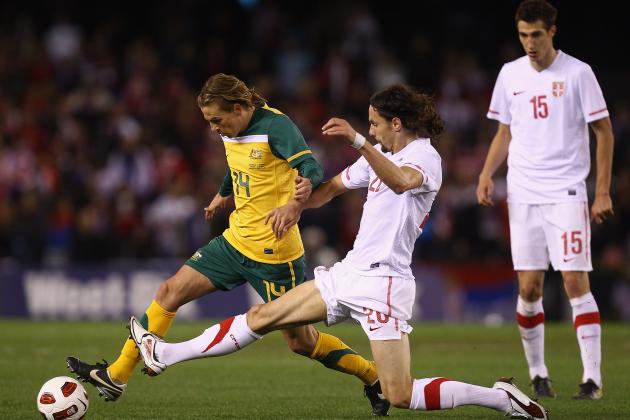 Quinn Rooney/Getty Images

Arsenal's back four has been a shambles over the past couple of years.
Thomas Vermaelen has proven to be one of Wenger's better signings over the years, but with his injuries, the club's lack of depth at the position is painfully clear.
Laurent Koscielny has played well, but upgrades are needed if Arsenal want to compete for a title.
Neven Subotic is the kind of player Arsenal needs to shore up their defense.
He and Mats Hummels have partnered to form one of the stingiest defenses in Germany. It would take an astronomical transfer fee, if any, for Borussia Dortmund to give up Hummels.
While Subotic lacks the passing ability of Hummels, he is your prototypical centre back. He's good in the air and good in the tackle.
Also, unlike Per Mertesacker, Subotic looks to have enough speed to not let attackers get behind him.
At only 23 years old, football have yet to even see how good Neven Subotic can be.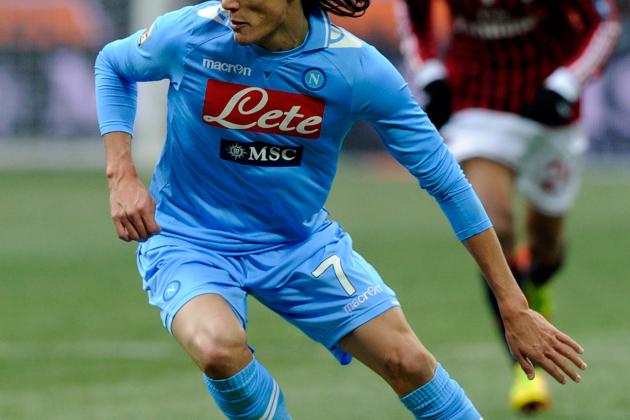 Claudio Villa/Getty Images

Edinson Cavani could work in two ways.
One is that Robin van Persie leaves the Emirates. Cavani has shown at Napoli that he can succeed as a lone striker.
Two is that Cavani simply pairs up with van Persie and forms a lethal partnership.
Granted the Dutch striker's form has been unbelievable throughout 2011 and into 2012, but he arguably has too much of a burden as being the only significant goalscoring threat for the club.
For a player with a history of picking up injuries, the more van Persie plays the more you have to wonder if he is going to get hurt. If that would happen to Arsenal this season, their season would be dead and buried.
Prior to this year you could have made the argument that Cavani was just a one-year wonder, but his form hasn't dropped off this season. He continues to be one of the more dangerous strikers in the world despite Napoli's poor league form.
If Napoli were to not qualify for the Champions League, you can almost count on the fact that players like Cavani and Marek Hamsik are going to be sold.