Colorado Avalanche Notes: Recapping Last Week and Looking Ahead to the Deadline
February 21, 2012

Tom Szczerbowski/Getty Images
Last week, the Avalanche embarked on what play-by-play announcer Mike Haynes called the "sweater, overcoat, parka" trip to Vancouver, Edmonton and Winnipeg, respectively, due to the increasingly cold temperatures in the aforementioned cities.  Much like the weather, the Canadian swing was not particularly kind to the Avs, who won only one out of the three games.
Things were looking alright in Vancouver as the Avs managed to skate with the Canucks and stayed tied until late in the third, when Jannik Hansen beat Semyon Varlamov on a one-timer in which Varly could certainly not be faulted.  The Avs ultimately fell 3-1 in that contest, sealed by an empty netter at the end.
The Avs overcame injuries to both starting goalie Jean-Sebastien Giguere and forward T.J. Galiardi and held on to play a good game overall.  Nonetheless, moral victories do not count for anything, especially at this time of the season.
The Avs rebounded nicely in Edmonton. 
Mark Olver made a very impressive season debut after missing several months with a concussion and just returning to Lake Erie recently.  He was called up by the Avs to replace Galiardi and recorded a goal and an assist in his first Avalanche game of the season.  Gabriel Landeskog also picked up a goal and an assist and Ryan O'Reilly chipped in with three helpers.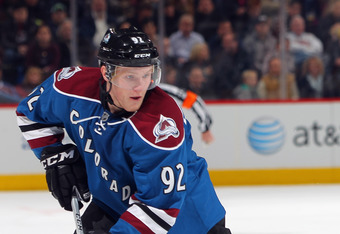 Doug Pensinger/Getty Images
Defenseman Erik Johnson scored his third goal in as many games, the longest goal-scoring streak of his career.  He's faced criticism this year but has been playing very good hockey of late. 
Suddenly, all the critics of the EJ-Stewie trade are silent.  The latter, in fact, has been demoted to St. Louis' fourth line and is rumored to be trade bait within the next week.  What say you, Peter Stastny?
On Sunday, the Avalanche played their first game in Winnipeg since 1996, when Joe Sakic and Patrick Roy led the Avs to victory against the team now known as the Phoenix Coyotes. Sunday's game was not nearly as fun for Colorado, who was annihilated 5-1. 
Matt Duchene made his 2012 debut after missing action since December 29th to a knee injury.  He was greeted to a chorus of boos from the Jets fans every time he touched the puck.  Apparently they have a tradition where they pick an opposing player every game and boo him whenever he touches the puck.  Pretty bush league, if you ask me.
Here in Colorado, we save our boos for players who truly deserve them, like Todd Bertuzzi.  Last time I checked, Dutchy has never broken a guy's neck and ended his career. 
Shane O'Brien joined Duchene in receiving boos in the third when he laid out Evander Kane with a legal check.  Kane didn't take too kindly to it and skated down the ice and jumped O'Brien.  Kane was assessed with a double minor, but the Avs could not capitalize.
The two losses last week were big.  Vancouver is a good team and took advantage when opportunities presented themselves.  It would have helped the Avs immensely if they could have hung on and at least earned a point.  They played a good game that night. 
The win in Edmonton was nice and was something that the team hoped to build upon, but the loss in Winnipeg killed any momentum gained in Alberta. 
The Avalanche find themselves only three points out of eighth place but battling with several other teams.  Phoenix sits in seventh with 67 points, and then Calgary, Los Angeles, Dallas, Colorado, Minnesota and now Anaheim are all right in the mix. 
That's exactly seven teams separated by just seven points.  The Avs are certainly not out of contention yet, but this week is certainly make or break for them.
The Avs face the Kings tomorrow, a team who has fallen out of the playoff picture as well and currently sits in ninth place with 65 points.  It will be a very big game for both teams. The Avs are 3-0 against LA this season, so the Kings will be angry and desperate. 
On Friday, the Avs will travel to Columbus to take on the Blue Jackets.  The big question is if captain Rick Nash and star forward Jeff Carter will still be Blue Jackets by then. 
Saturday night, the Avs will be in Detroit to play the Red Wings, who are currently in the midst of an NHL-record 23-game home winning streak.  If Detroit beats Vancouver on Thursday, the Avs will have a shot to end their historic run, which would be fitting given the history between the two Western Conference rivals.
With only six days to go until the trade deadline, the Avs are still not clear-cut buyers or sellers, but the next three games are very critical as to what Greg Sherman will be doing up to next Monday.  Either way, I expect the Avs to made a deal or two, although they may not be the blockbuster deals Pierre Lacroix pulled off regularly during his tenure as GM.