NFL Combine 2012: Analyzing the Injury-Stricken Prospects with the Most to Prove
February 21, 2012

Eric Francis/Getty Images
It's unfortunate when it happens, but injuries are part of football, and they can really put a damper on a player's season and career.
That being said, there are more than a few 2012 NFL draft prospects who dealt with injuries in 2011 but still have the opportunity to reclaim some confidence from team scouts.
Here is a look at some injury-stricken players who most need a good showing in 2012 NFL combine.
Jared Crick: DE/DT, Nebraska
It was expected that Jared Crick would take over the spotlight along Nebraska's defensive line with Ndamukong Suh gone, and he performed extremely well in 2010 with 9.5 sacks and 70 tackles.
The following year was only slated to be better, as Crick began well with 22 tackles in five games. He then suffered a torn pectoral muscle and was gone for the year. Fortunately for Crick, it appears that he's ready for the Combine.
Crick is well prepared, Rich Kaipust of the Omaha World-Herald writes:
"My pectoral might be a red flag for a lot of teams," he said, "but I like to think I've got a lot of film for people to go off and I've got the combine to go prove myself."

Crick also is ready to prove the injury is almost in his past.

The 6'5", 286-pounder said he has been "progressing amazingly" since surgery. He was rehabbing two weeks out of surgery, bench-pressing after four weeks.
This will surely be something interesting to watch at the combine, as a pectoral injury is devastating to any lineman. Being able to extend the arms and press off blockers while swimming past to make a tackle uses the muscle to its exact purpose.
At the combine, watch for Crick's ability to quickly extend and retract his arms while utilizing them for those important hand techniques.
Ryan Broyles: WR, Oklahoma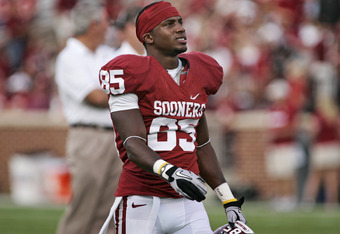 Brett Deering/Getty Images
Sooners wideout Ryan Broyles was on track for another great season before going down with an ACL injury in November. Through roughly nine games, Broyles had accumulated 1,157 receiving yards and 10 scores on 83 receptions.
After his injury, the Sooners offense basically fell apart, and Oklahoma finished 2-2 in their final four after an 8-1 start.
Still recovering, Broyles has made progress since early November. According to former Scout.com NFL draft analyst Chris Steuber, Broyles continues to work:
"I'm going to go in there and show them my personality and let them know I'm a hard worker," Broyles said. "Nothing is going to hold me back; this injury is not going to hold me back. I'm a student of the game; I'm always trying to learn as much as I can and be as prepared as possible." 
If anything, Broyles' improvement simply displays his tenacity and perseverance. Any team who gives him a chance will be getting a driven and motivated prospect working to become an established player.
Now, Broyles obviously isn't going to wow anyone at the combine, but his ability to break on routes and sharply change direction will be closely watched.
Cyrus Gray: RB, Texas A&M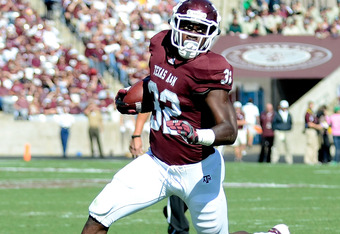 Sarah Glenn/Getty Images
Despite missing the final two games of the season (and Senior Bowl), Texas A&M running back Cyrus Gray still rushed for over 1,000 yards and scored 12 touchdowns in 2011.
As for his injury, it was a stress fracture in his shoulder that cost him the final contests. For a running back, that's a serious concern because the shoulder is a key component in breaking tackles and dishing out stiff arms.
Luckily for Gray, he's not as adversely affected like Crick or Broyles have been with their respective injuries, but it still raises flags for NFL scouts.
How Gray is able to swiftly move his upper body while maintaining balance and control of the ball at the combine will be the first sign as to how much his shoulder has recovered. Obviously, no one will fully know the extent of it until the pads are strapped on in August.
That's also roughly a full five months away, however. Gray's ability to extend his arms while absorbing a hit during blocking drills in camp will also indicate just how well the shoulder has come along.
John Rozum on Twitter.