NHL Trade Rumours: Rick Nash and 11 Others the San Jose Sharks Should Target
The San Jose Sharks are reportedly interested in Rick Nash
Harry How/Getty Images
Fans always think their teams should make this trade or that trade in the offseason or at the trade deadline. If it were that simple in real life, anyone could be a general manager.
San Jose Sharks GM Doug Wilson has been one of the most successful ones. There are only seven teams since he started who have been more successful—the seven Stanley Cup winners—than his team's seven consecutive playoff berths, four consecutive Pacific Division championships and three conference finals appearances.
He has made a move at or leading up to every trade deadline in his tenure, whether for a major player or a role-player. (Check out this link to read more details about his trade deadline history.) With the Sharks in a tailspin right now—four straight losses and just six wins in their last 17—the question seems to be not whether he will make a move, but what move he will make.
Any realistic analysis of who he should go after must look at the liabilities of the team. San Jose struggles against a good forecheck, but puck-moving defencemen is not as much of a need as a top-six forward. The only thing the Sharks really cannot offer to get one is draft picks.
In net, the Sharks can spare a good prospect and a veteran whose contract is expiring. They could also offer either a veteran or young player on their current blue line. They have a cadre of young forwards already capable of contributing to a team.
The next step is to find teams that need those things and determine if they have a player they would be willing to give up who fits the Sharks needs. According to an NHL.com report, the Sharks interest in Rick Nash has increased.
Why Columbus would give up a young player with his skill and fan support is unknown, and the price may be too high. But if accurate, this report shows that the Sharks know they need a major shakeup and may be willing to give up a major player for the right return, making almost anyone fair game.
Since the standard team plays a dozen forwards, here are 11 choices other than Rick Nash for the Sharks to pursue, in no particular order...
Vinny Prospal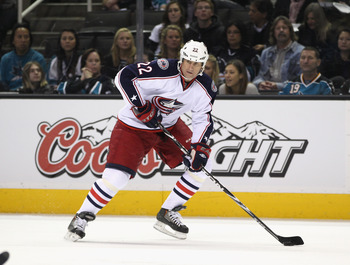 Ezra Shaw/Getty Images
Rick Nash's teammate Vinny Prospal may make more sense as a trade for both the San Jose Sharks and Columbus Blue Jackets. At 37 years old, he does not figure into the long-term plans for Columbus.
However, he has the championship experience needed in San Jose and could be reunited with ex-teammate Dan Boyle. He also has been fairly productive, scoring 38 points in 60 games on the worst team and third-worst offence in the league.
Martin St. Louis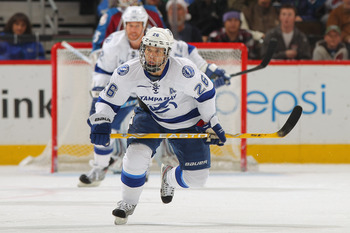 Doug Pensinger/Getty Images
When the Tampa Bay Lightning extended Martin St. Louis for three more seasons at a cap hit of $5.625 million per year, they made a statement that they want him to retire in Tampa. But at the time, they were coming off an Eastern Conference finals duel with the eventual Stanley Cup champion Boston Bruins.
Things change in a year, and a 36-year old forward does not figure into the obvious rebuilding mode the team is in. His speed, championship pedigree and production (52 points in 54 games) would be huge assets to the San Jose Sharks. Being reunited with ex-teammate Dan Boyle could make the move easier.
Vincent Lecavalier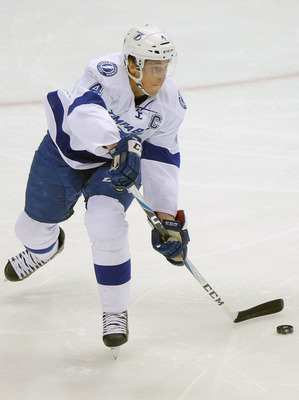 Doug Pensinger/Getty Images
Tampa captain Vincent Lecavalier has been the source of many trade rumours despite signing an 11-year, $85 million contract two summers ago.
Giving up a 31-year old two-way player makes little sense to me, but with that much talk there is bound to be some substance. He not only has a Cup ring, he is still producing (46 points in 58 games).
Erik Cole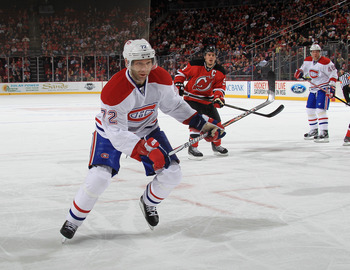 Bruce Bennett/Getty Images
Erik Cole was signed this offseason by the Montreal Canadiens to a four-year, $18 million contract. But Montreal is another team that lost in seven to the eventual champions, and probably thus overestimated their chances this season.
Based on their current spot in the standings, the Habs are one of the few teams to know they should be sellers at the deadline. Cole is a 33-year old forward who will only be an asset to the Habs roster if they bounce back quickly, but his scoring (22 goals, 22 assists in 61 games), defence and experience would help the Sharks immensely.
Ryan Smyth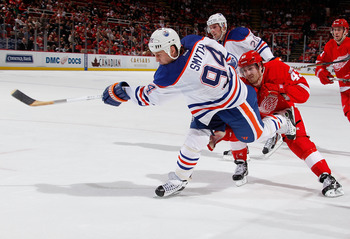 Gregory Shamus/Getty Images
Ryan Smyth is a free agent at the end of this season, and has made it clear that he wants to retire with his hometown Edmonton Oilers. However, he also has not balked at the idea of helping his team as a rental elsewhere, and he could have a chance at that elusive Cup with the Sharks.
That could drive down the cost for a player with great experience, a front-of-net and physical presence the Sharks lack. He is still productive at 36, with 17 goals and 22 assists in 59 games.
Ales Hemsky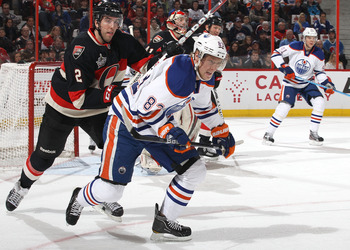 Jana Chytilova/Freestyle Photo/Getty Images
The 28-year old Ales Hemsky is an unrestricted free agent this summer, and the Edmonton Oilers are not likely to want the oft-injured forward back next season.
However, he has been relatively healthy (46 games) while producing 26 points for a bad team this season. His skill, speed and right-handed shot, something the Sharks lack among their forward lines, should make him worth pursuing.
Bobby Ryan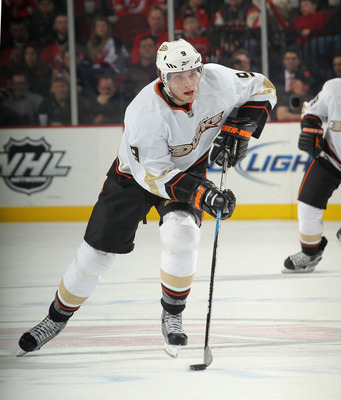 Bruce Bennett/Getty Images
Bobby Ryan is another player inexplicably being talked about as available. Letting go a 24-year former No. 2 overall pick who is producing and under contract for three more years does not add up.
But where there is smoke, there is fire. If they are willing to deal him, the Sharks would be wise to make their play for the 22-goal scorer this season.
Teemu Selanne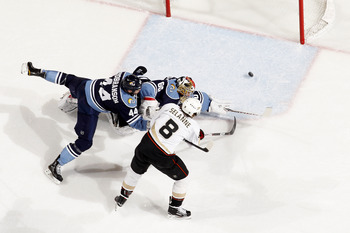 Joel Auerbach/Getty Images
Teemu Selanne is another player who seems to like his home, and another member of the rival Anaheim Ducks. Even though they are a rival, if they are willing to make a trade at all, the cost should be reasonable.
However, he may be looking for another chance at the Stanley Cup in what is likely the last few months of his career. If so, the Ducks could get return for someone unlikely to help them leapfrog five teams en route to the playoffs.
From Selanne's standpoint, he could erase the open net he missed in the 1-0 loss in Game 7 vs. Colorado when he was last in San Jose. He would provide leadership, character, speed and scoring to a team lacking in all three.
Saku Koivu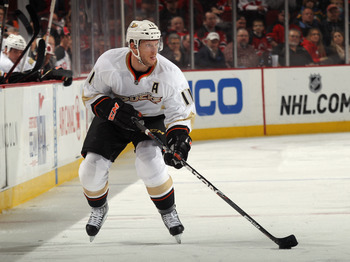 Bruce Bennett/Getty Images
Still a solid two-way player with skating ability and leadership, Saku Koivu will be a free agent at the end of this season. With Teemu Selanne likely to retire, the Anaheim Ducks probably do not have him in their plans.
The San Jose Sharks can get a player who is still productive (32 points in 52 games), has playoff success and would be willing to play on the third line if Martin Havlat returns as expected mid-March.
Derek Roy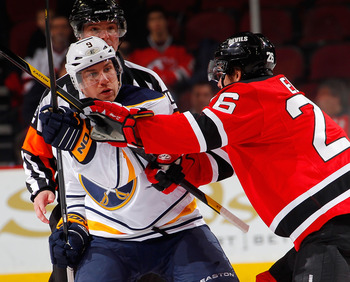 Paul Bereswill/Getty Images
Derek Roy is another two-way forward who is producing on a bad team (34 points, 58 games). Because he gets a $1 million raise in the last year of his contract next season, the cap-tight Buffalo Sabres might be open to dealing him.
Brenden Morrow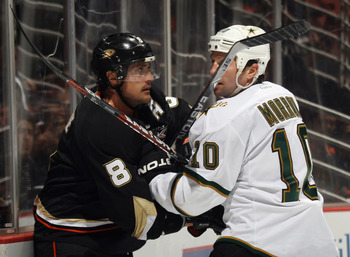 Bruce Bennett/Getty Images
Brenden Morrow has been rumoured to be on the trading block for weeks now. The Stars captain is a free agent after next season and is on the decline at age 33 because of the physical way he plays.
However, that is one thing the San Jose Sharks need. Chances are a player of his character will rise to the occasion in the playoffs, and even now he is relatively productive (22 points in 43 games).
Keep Reading

San Jose Sharks: Like this team?