2012 NFL Free Agent Predictions: Projecting Likely Suitors for Brandon Carr
February 21, 2012

Wesley Hitt/Getty Images
With the signing of free-agent cornerback Stanford Routt on Tuesday, it's looking more and more like the Kansas City Chiefs will not place their franchise tag on cornerback Brandon Carr, and the 25-year-old will be allowed to test the market when free agency opens on March 13.
That said, there should be no shortage of suitors for the fourth-year pro given the premium placed on solid coverage players in today's pass-happy National Football League. The following teams will likely be at the front of the line when Carr's phone begins ringing shortly after midnight.
Kansas City Chiefs
The signing of Routt would seem to indicate that the Kansas City Chiefs are prepared to move on without Carr, but the team hasn't completely closed the door on his return, according to general manager Scott Pioli.
"The signing of Stanford Routt does not impact where we're at with Brandon Carr. Romeo and I both reached out to Carr and spoke with him. I spoke personally with Brandon," Pioli told WHB Radio.
The Chiefs are nearly $40 million under the salary cap for 2012, so theoretically, they could certainly afford to bring Carr back. But, given the hefty price tag he'll command and the money that the Chiefs already have invested in Routt and Brandon Flowers, it seems rather unlikely that Carr will be returning to Kansas City.
Of the potential suitors for Carr in free agency, the most likely landing spot may very well be with the Cincinnati Bengals, who have a glaring need at the position after losing Jonathan Joseph to the Houston Texans in free agency a year ago.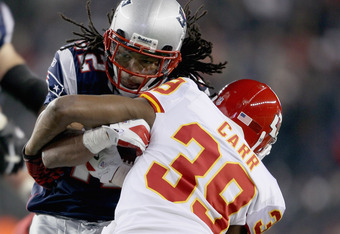 Elsa/Getty Images
The Bengals also have a reported $44 million in salary-cap space, and in addition to being able to offer the $8-10 million annually that it will probably take to sign Carr, they can also offer the former Grand Valley State standout the opportunity to play for a team with legitimate playoff aspirations.
The Minnesota Vikings may not be able to sell Carr on their chances of making the playoffs in 2012, but the Vikings can at least pony up a fat contract, as the team is reportedly over $20 million under the salary cap entering free agency.
The Vikings are also an absolute mess in the secondary, as Antoine Winfield will be 35 when the season starts, Cedric Griffin was a shadow of his former self in 2011 after returning from a torn ACL, and Chris Cook is seemingly unable to stay out of trouble for more than 10 minutes at a time.
That makes acquiring help at the cornerback position a top priority for the Vikings, and one that the team will likely address both in free agency and April's NFL draft. So look for Minnesota to make a hard push for Carr when free agency opens.