FC Barcelona: Why Robin Van Persie and Gareth Bale Won't Make Camp Nou Transfer
February 22, 2012

Jasper Juinen/Getty Images
FC Barcelona is the best club side in the world. Their incredible run of winning trophies, along with their incredible attacking football, is certainly something to marvel at.
Barcelona do have some of the biggest stars in the world in Lionel Messi, Andres Iniesta, Xavi and Cesc Fabregas (among others) but that hasn't stopped the numerous rumors that some of these stars could make a move to southern Spain.
Of course, many of them have been created by the English media due to the large amount of popularity that Barcelona possesses. By hopping onto the Barcelona bandwagon, media outlets have hoped to be the outlet that breaks many of these stories in order to get more support.
Recently, there have been two Premier League players that have found themselves heavily linked to the Catalan giants: Gareth Bale and Robin van Persie. These two are among the best players in the world at their respective positions and in the EPL.
This season, Bale has only continued to improve from his stellar 2010-11 campaign. This season, Bale is currently tied for sixth in the league with seven assists, seventh in total shots with 62 (55 of which have been on target), fourth with 62 key passes, has created 55 chances and he has won more fouls (36) than any other Tottenham player.
These stats do not even include the nine Premier League goals that he has scored this year, or the 748 passes he has made at a 78 percent completion rate, more than the 649 completed passes and 74 percent completion he had in 2010-11.
Bale has been fantastic, yet Robin van Persie has been in a form that very few Premier League players have ever achieved.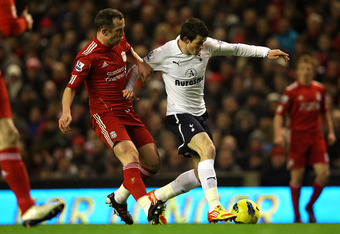 Clive Brunskill/Getty Images
This season, the Dutchman has kept Arsenal in the race to claim the fourth and final Champions League spot in the table due to his unique campaign. We already have seen van Persie score 22 goals on 91 shots (the most in the league in both stats), has seven assists and has also created 59 key passes.
Of course, both players having great years will warrant rumors about their respective futures, especially considering that neither side looks like they will win any major trophy this year.
Most of the speculation involving these players deals with a potential move to Barcelona. In the past month, there have been rumors that involve Barcelona watching Bale play seven times to evaluate him before making a bid this summer.
In the case of van Persie, there are also rumors that the Dutch striker will join the Catalan club this summer.
Now, both of these players are fantastic talents that will benefit from joining Barcelona, but there are some massive problems with potential moves to the club.
Currently, Barcelona play a 4-3-3 that is filled with world-class talent. Both players may be talented, but it's highly questionable to believe that either player would command a regular starting role.
If Bale were to join Barca, the club would need to change their entire attacking approach to accommodate the Welsh winger. 
Right now, Tottenham play in a 4-4-2 or a 4-4-1-1 formation that allows for Bale to make long runs down the wing. He is a key for the Spurs attack, contributing directly with a goal or an assist on 32 percent of their Premier League goals this year.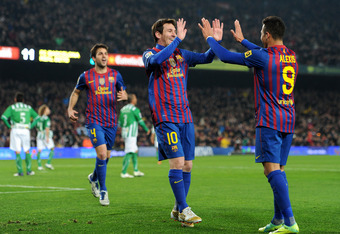 Jasper Juinen/Getty Images
In the case of van Persie, Barcelona already have an incredible attacking trio of Messi, Fabregas and Alexis Sanchez. This trio may not have been able to achieve the godly levels that were expected of them several months ago, yet they have improved so much so that they can make Barcelona's attack become unstoppable at times.
Even though van Persie is undoubtedly one of the best strikers in the world, his long history of awful injuries cannot be forgotten. We can see these incredible stats every year out of van Persie, yet something always seems to happen that causes the striker and the club fall apart.
This obviously is a concern of any club that would want to pick up van Persie, especially Barcelona. Their stars have, for the most part, been able to maintain a strong bill of health under Pep Guardiola.
That is part of the reason why Barcelona have been so dominant and why they will likely never acquire van Persie.
They will also not acquire these players for the reason that they cannot afford to pick up either Bale or van Persie.
In Sept, 2011, Barcelona came out and said that their debt was at 364 million Euros, much more than their goal of a 200 million Euro deficit that they have aimed for.
When there is a level of debt that high with UEFA Financial Fair Play Rules coming into effect, Barcelona find themselves in a spot where it is harder for them to make expensive transfers.
Even though they did acquire Alexis and Fabregas last summer, it didn't mean that the club did not have to make sacrifices. In fact, Barcelona stopped having catered events, bodyguards, and even stopped making photocopies in color to save on toner.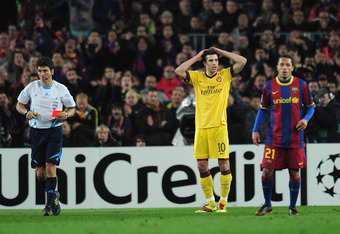 Shaun Botterill/Getty Images
Considering that speculation raises up transfer prices and that Premier League players are already over-hyped, it already is unlikely that Barcelona would even make an offer at either player.
This, in fact, seems more like an attempt by the media to over hype both Bale and van Persie in order to make the Premier League and its players appear better than they actually are. Both of these London-based players are great talents who are stars, but it is highly unlikely that either player would approach the heights that they have achieved in the Premier League.
This summer, both Gareth Bale and Robin van Persie could make a headline-grabbing transfer, yet it is highly unlikely that we will see either of them join Barcelona.
After all, it is the best option for all parties involved for neither player to move.
Follow me on Twitter @Andrew_Jordan