Joe Mauer, Bryce Harper and 2012 Fantasy Baseball Sleepers and Busts
February 21, 2012

Hannah Foslien/Getty Images
For those unfamiliar with the concept, sleepers are players currently being drafted lower than their expected production will be worth, and busts are players being drafted higher than their expected production will be worth.
So if Joe Mauer, for instance, is going in the sixth or seventh round, and he is back to his batting title-contending ways, then he's worth a mid-second-round pick. Conversely, if Tommy Hanson is being drafted for 15 wins and 200 Ks, but he only makes 15 starts due to injury and only gets 10 wins and 90 Ks, then that's barely late-round worthy.
Obviously, a great deal is predicated on preseason expectations, so feel free to disagree. I merely analyze career statistics and current average draft positions in early drafts and mock drafts across several websites to get an idea of where in the draft these players are going.
Starting with sleepers…
And starting behind the plate, it might actually be time to call Joe Mauer and Buster Posey sleepers, considering they are ranked at the back end of the top for catchers, but both claim to be 100 percent, with no prior injury concerns to speak of. It wouldn't shock me if either was a top-three catcher at season's end.
No one else really jumps out from the catcher's spot, and so I will probably end up drafting someone like Wilson Ramos, who is on his way up but doesn't have an outstanding ceiling.
I love Adam Dunn in points leagues this year. His average is a killer in rotisserie formats, but you can say I expect a rebound to the tune of .230, 25-30 HR and 80ish RBI. Where he's being ranked, he's a bargain.
I've talked ad nauseam about Mark Reynolds in my positional rankings, but the home runs, RBI and runs will be there. This is another guy that will kill you in batting average, but he has .260 potential. Deeper leagues should keep Anthony Rizzo in mind as a guy who may start in the minors.
I also like Ike Davis and Freddie Freeman as a late-round corner infield pick. Neither will likely be great, but both could be in the top 15 or so of first basemen. The downsides are injury for Davis and some nasty slumps for Freeman.
Let me say, for the record, second base is a lot deeper than people think, as is third base, but we'll get there in a minute. First of all, in shallower leagues, Chase Utley is falling into the fifth and sixth rounds in some drafts, and he may not have 30 HR in him, but .285, 20 HR and 15 SB with some nice RBI and runs totals is worth more than that at second base.
In a world losing its power, Aaron Hill is interesting because he has shown the potential for massive numbers. This is another guy who will do you no average favors, but if you need a late-round middle infielder who has hit 30-plus HR in a season before, Hill is a bargain.
And in very deep drafts, I don't mind stashing Gordon Beckham. The potential is still there, and I'm waiting one more year before I abandon all hope.
Moving over to third base, Ryan Roberts is one of many guys with position flexibility (he is also eligible at 2B in most leagues). This is another guy who could go 20/20. I like guys who have multiple-position eligibility, and I like power/speed combo guys, so Roberts is on my watch list.
A couple later picks who could pay strong dividends: Jed Lowrie has more pop than most 3B/SS guys, but he needs to stay healthy to show it in the counting numbers. And Emilio Bonifacio could steal 40 bases with a helpful batting average if he gets everyday at-bats.
Shortstop is legitimately shallow, but Ian Desmond has potential as long as he keeps his average high enough. There's 15 HR and 30 steals there, though I wouldn't bank on more than 11 and 20.
But because the top shortstops are going so early, if I can't land one of the top five or six, then I'm waiting for Dee Gordon. Guys like this are why I always target power early in rotisserie drafts. There's always a 40-steal guy sitting around the mid-to-late rounds who won't kill you anywhere else.
Gordon won't hit any home runs, but he bats for a respectable average, will score a bunch of runs and steal a bunch of bases. If I can get him late in a draft and plug him in at shortstop, I'm happy.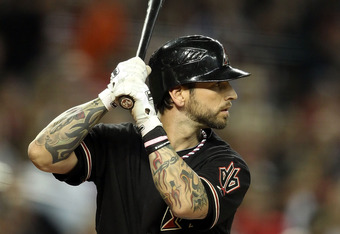 Christian Petersen/Getty Images
Outfield is as deep as anything, but a bit top-heavy as well. I'm going to call Andrew McCutchen a sleeper because his .259, 23 HR and 23 SB from last year was a down year compared to his potential. He was a .285 hitter before that season, and I fully expect that, plus 25 HR and over 30 steals.
A less exciting version of McCutchen is a guy people seem to have given up on, and that's B.J. Upton. He did have 23 HR, 81 RBI and 36 SB last year, and yet, he is going in the eighth round of some standard drafts.
I've always been a Logan Morrison fan. He tapped into his power last year and showed he can top 25 HR in a full season, to go with a very useful average and a ton of run-scoring potential.
Delmon Young is one season removed from .298, 21 HR and 112 RBI in 2010. And I expect Colby Rasmus to hit for power in a home stadium where everyone in the lineup hits for power. So, he is another late-round target for a fourth or fifth OF slot.
Also, keep in mind that Andre Ethier has a 30-HR, 100-RBI, 90-run season on his resume.
There are so many pitching sleepers, because the position is so deep. I would make sure to grab one of the top 14 that I talked about in my starters rankings. It's always nice to have one money-in-the-bank ace.
You can take Jordan Zimmerman in the later rounds of a standard draft and get major value from him. I have Josh Johnson as both a sleeper and a bust, so don't be surprised when he comes up later. He's being buried in drafts, so you can take him and love the 2.30 ERA and 1.00 WHIP for the 20-25 starts he'll hopefully make.
I like Justin Masterson and Doug Fister, ground-ball pitchers who are routinely underrated. I also like Clay Buchholz, as long as his back holds up. He could end up the No. 2 starter in Boston.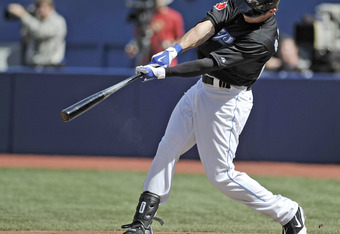 Brad White/Getty Images
There's a group of relievers becoming starters. I like Chris Sale and Aroldis Chapman if you're looking for major breakout potential because both get a ton of strikeouts. Daniel Bard might take longer to adjust, but he also has great stuff.
For deeper leagues, I'm risking a late-round choice of Brian Matusz. He was just SO bad last year, I know, but he was once projected to be an ace, and I'm giving the kid one more chance.
Finally, relievers…I wouldn't call Tyler Clippard a saves candidate, or someone who could take over a closer job, but his ERA, WHIP and strikeouts are constantly underrated and helpful.
I think Jordan Walden is being wildly underrated, as is Kyle Farnsworth. I consider Kenley Jensen a sleeper in L.A. because he hasn't actually won the closer job yet, but I believe he will.
And finally, last year's consensus top-three closer, Carlos Marmol is going at the very end of closers, and his strikeout potential is immense. He may be the most boom-or-bust closer in baseball, but I love that.
So ends the sleeper portion of this post. It's all doomsday, death and despair from here, so grab a glass of water or refill your soda. And then we will move on to busts…
We will start this segment with one of my most confident picks to bust this year: Mike Napoli. He is being ranked as the No. 1 catcher in baseball, and while you will enjoy his 20-25 HR, the average won't be close to where it was last season.
Another safe bet to bust is Lance Berkman. He had a great season last year, but he also had Albert Pujols in the lineup with him. I expect a big downturn in 2012.
Going out of positional order, I just need to point out all the "prospects," or overall kids, being hyped beyond their potential upside for this season: Brett Lawrie, Dustin Ackley, Desmond Jennings, Matt Moore, Mike Trout and, of course, Bryce Harper. I won't likely own any of them because the hype has removed all the upside. To get them, you have to pay for the best-case scenario, and the only place to go from there is down.
I save a spot in this article every year for Adrian Beltre. In fact, I had a very nifty stat about the difference between contract-season Beltre in the .290s and non-contract-season Beltre in the .260s, and then he went out last year and had a great year. But I still don't think he will be better than the talented third-baggers he is ranked ahead of by many people.
I had Beltre at No. 6 in my rankings because of the risk involved with some of the guys behind him, but I fully expect Kevin Youkilis and Alex Rodriguez to be as good if not better.
People talk about Stephen Drew and how "any year now," he'll break into the top five at his position, and I'm done waiting.
I don't expect Ryan Braun or Josh Hamilton to play more than 100 games this season. Braun is already limited to 112, but people are drafting as if he's a lock to PLAY every single game after the suspension. And Hamilton has had durability concerns for years, and has relapsed with his alcohol problems. Both are being overdrafted.
Tommy Hanson: I had an argument with a Braves fan just the other day about Hanson vs. one of my favorite fantasy pitchers, Matt Cain. He actually said he'd prefer Hanson. We don't even know how healthy Hanson is at this point, and he said he's changing his delivery to lower the risk, but how will that affect his effectiveness? We don't know.
Ian Kennedy won't come close to his 2011 numbers, but he's being drafted as if he will, so I won't own him this year.  
Ubaldo Jimenez could return to being an ace, but I think his name is worth more now than his 2012 performance will be. He's still good and will get strikeouts, but expect a bit more ugly performances sprinkled in.
One reliever turned starter I am very skeptical of is Neftali Feliz because he wasn't particularly good at the end of last season as a closer, so I'm not sure his stuff will translate as well as some of the others mentioned above.
Finally, Jair Jurrjens is the "hipster" of fantasy drafts. Everyone thinks he's underrated, and they pulled one over on the league when they got him, but at the end of the day, they'll be disappointed.
I'm also placing no stock in Yu Darvish or Yoenis Cespedes. The majority of imports from other pro leagues have struggled, so I'll take the under on all the projections for now.
You can find updates and other preseason coverage on my blog.