NBA Rumors: Wilson Chandler's Return Will Help Banged-Up Nuggets Break Slump
February 21, 2012

Marc Serota/Getty Images
Wilson Chandler is hopeful he will be returning to the Denver Nuggets within the "next week or so," according to Aaron J. Lopez of Nuggets.com.
They could sorely use him.
Denver is facing a rash of injuries, as budding star Danilo Gallinari, big man Nene and swingman Rudy Fernandez have all missed some time recently.
The Nuggets may be losing Ty Lawson for a few games to a left ankle sprain, as well.
These injuries are severely hindering the squad's performance on the court and they have gotten noticeably worse after their hot start.
In 12 February games, the Nuggets have only emerged victorious four times and blew many winnable games down the stretch. This can be blamed on tired legs and lack of depth behind the players sitting out with injury.
The team is still 18-15 on the season and has a great chance of not only making the playoffs, but also doing damage if they can get healthy.
Adding Chandler will also significantly help the cause.
He's a young (24 years old), lengthy (6'8") swingman who can start or come off the bench to contribute. He's more than just another body out there and he will actually make a difference for this youthful franchise.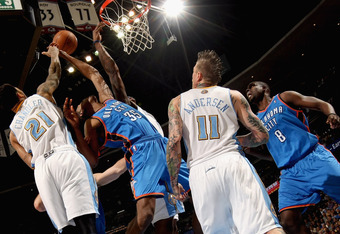 Doug Pensinger/Getty Images
Wilson is a career 32.4 percent shooter from range, but has improved on that steadily and was knocking down 34.7 percent of his attempts in 21 games with the Nuggets last season.
He, along with Gallinari, will help space the floor and the DePaul alumnus can also create his own shot and take it to the hoop when necessary.
It's a win-win situation for both parties. The sooner that Chandler can get permission from his Chinese team to be released from his contract and FIBA approval to return to the NBA, the better.