NFL Draft 2012: First-Round Projects Playoff Losers Will Grab
February 21, 2012

Norm Hall/Getty Images
With the 2012 NFL Draft just around the corner, it's time to break down which playoff losers will snag fantastic projects that could return their teams to glory.
Great teams like the New England Patriots and Green Bay Packers will have late, first-round picks that could turn into amazing players if they find the right project they can mold. They key is finding a player that works for that team.
All of the following players may not be ready for the top ten of this draft, but with the right coaching and teammates, they will be stars in the NFL.
Mohamed Sanu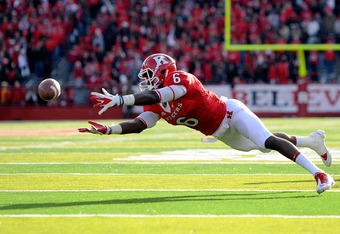 Patrick McDermott/Getty Images
When the New England Patriots pick at No. 31 in the first round this year, they will have already taken a player on the defensive side of the ball—most likely Janoris Jenkins.
Coach Belichick loves his offensive weapons and will waste no time making his second pick in the first round. The Patriots will take Rutgers wide receiver Mohamed Sanu.
While Sanu lacks the elite top-end speed that many receivers have, he is a crisp route runner and works great in the short-to-intermediate passing game. In layman's terms, he is the perfect receiver for Tom Brady and the Patriots' system.
Vontaze Burfict
While the Baltimore Ravens feel terrible that they couldn't make it all the way to the big game, they will have the chance to take the prospect that could be the steal of the draft in Vontaze Burfict.
The only reason Burfict would fall this far would be his questionable anger issues that have plagued him in college. Put him with a man like Ray Lewis and this rookie will be on the straight-and-narrow right away.
If Burfict keeps his head on straight and does what he is told by both his team and his mentors, we could be seeing the birth of the next Ray Lewis.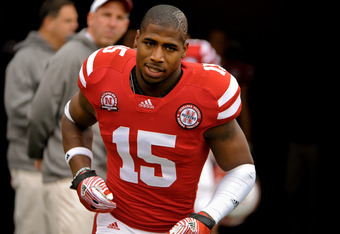 Eric Francis/Getty Images
Of all the teams on this list, the Green Bay Packers need the most work; especially in the secondary. With aging stars and unknown talents not living up to the hype, Green Bay needs a cornerback at No. 28.
That's where Alfonzo Dennard will fall before being snatched up by the 2010 Super Bowl champions. With Dennard and what's left of Charles Woodson in the secondary, the hope will be that they don't finish last in the NFL in pass yards allowed per game.
While Dennard has injury concerns that will cause him to fall this far, the Nebraska Cornhusker will be an excellent addition to a defense that needs all the youth it can find.
Check back for more on the National Football League as it comes, and check out Bleacher Report's NFL Page to get your fill of all things football.