NCAA Tournament 2012: Murray State and 10 Other Huge Tourney Pretenders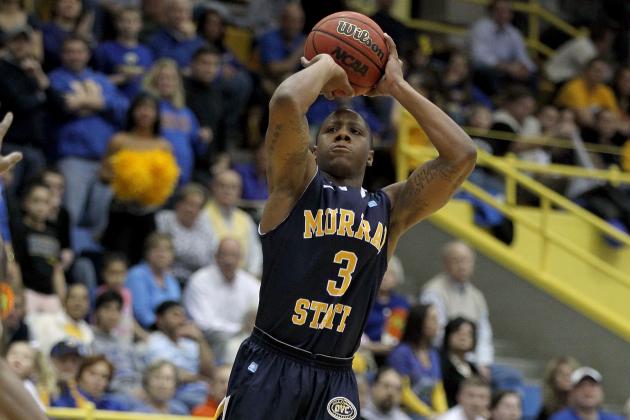 Andy Lyons/Getty Images

The most exciting time of year—March Madness—is literally only a few weeks away.
The best thing about the NCAA tournament is when Cinderella teams absolutely shock the world, just as George Mason did in 2006 by making it to the Final Four. And let's not forget about Butler's run to the national championship last year.
At the same time, though, there are teams that will surely make it to the tournament, but will likely not become Cinderella stories; these are known as "pretenders."
This college basketball season, there are a plethora of pretenders that will make the NCAA tournament; here are 11 of them.
Begin Slideshow

»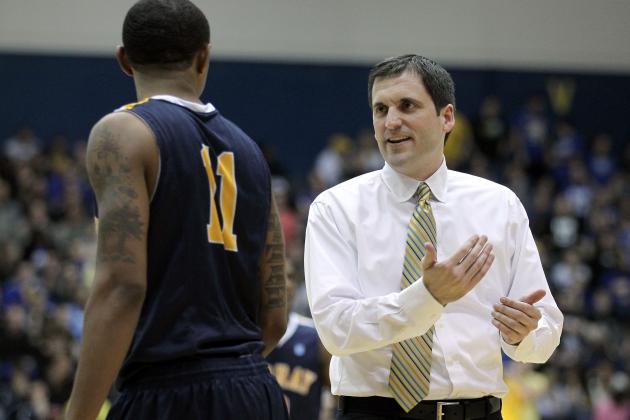 Andy Lyons/Getty Images

Let me be quite frank here, if I may—Murray State is one of the biggest "pretenders" in college basketball this season.
Sure, the Racers sit at 26-1 with a No. 14 ranking in the AP poll, but in all reality they haven't defeated a legitimate team this year.
Some may refute this claim by saying that the Racers just beat No. 16 St. Mary's rather convincingly. Well, that argument would hold some sort of stature if St. Mary's hadn't just got thumped by Loyola Marymount.
I think the sports world in general needs to take a step back and think before they put all their eggs in one basket. I mean, before getting down on your knees and completely praising a team/player, look at their complete and utter body of work.
I'm not saying by any means that Murray State is a bad team—they just haven't proven to me or much of anyone else that they can legitimately contend with a top-notch team. Put these Racers on the same court as Kentucky. If they can ball with the Wildcats, then that's when I will give my props.
Murray State is going to get in the tournament, but they'll be lucky to make it past the second round.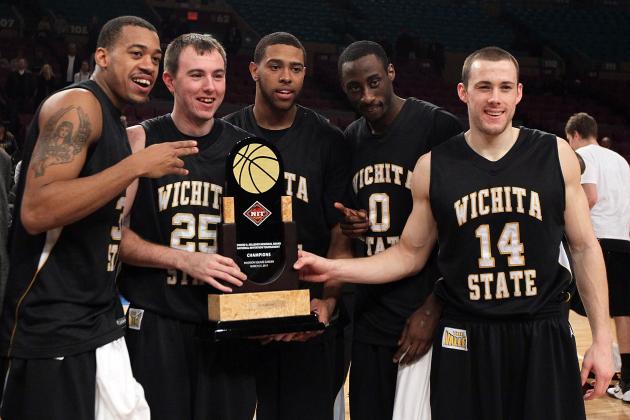 Jim McIsaac/Getty Images

Wichita State is basically just another Murray State—excellent record, but unproven legitimacy considering strength of schedule.
I'm sorry, but blowing away an overrated Creighton team that's lost three of their last five games does not constitute you as legitimate.
I'm really tired of all the major sports outlets praising teams for their records and not their body of work. If you want to look at legitimate teams, look at teams with those same gaudy records that play in power conferences.
I'm not trying to take away from the excellent seasons that these mid-major schools are having, but you aren't going to get respect until you can run with the big dogs—and on a consistent basis, I might add.
Wichita State plays in the Missouri Valley Conference, so I expect them to have a cake-walk of a schedule, but that still doesn't take away the fact that they haven't earned legitimacy.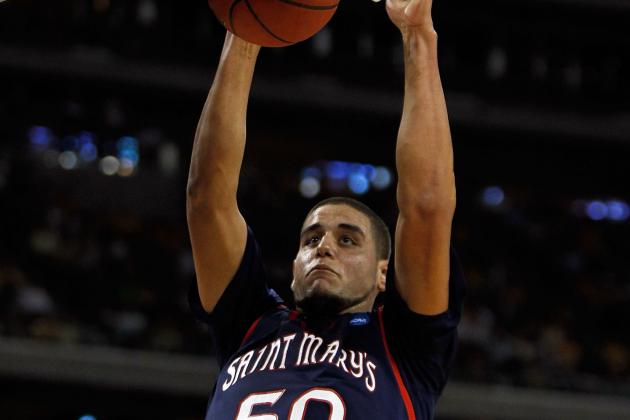 Jonathan Daniel/Getty Images

St. Mary's has lost all credibility as a potential player in this year's NCAA tournament.
In the last two games, the Gaels have lost by a combined 29 points at the hands of Loyola Marymount and Murray State.
Playing in the West Coast Conference, St. Mary's realizes that every game is of critical importance, considering they don't have much strength within their schedule. Well, by getting blown out in games that are supposed to be "winnable," they are severely hurting their chances of a tourney bid.
If the Gaels so happen to make it to the Big Dance this year, don't look for them to make it very far. That 23-5 record of theirs is oh so deceiving.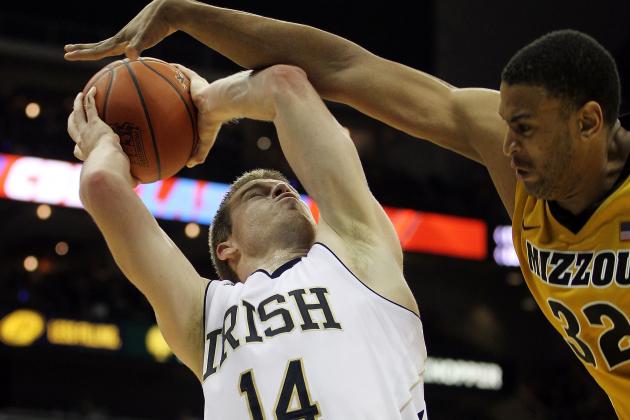 Jamie Squire/Getty Images

Notre Dame has had an up-and-down year, and their lack of consistency is what has me concerned about their legitimacy in this year's tournament
The Fighting Irish sit with a 19-8 record and an 11-3 record in the Big East, so that surely should get them tournament entrance.
Although they have a decent record, and even better conference record, they have bad losses to Gonzaga, Maryland, Indiana, Cincinnati, Connecticut and Rutgers. Their only marquee wins the entire year are against Marquette and Louisville.
I can see Notre Dame getting past the first round, but the second round could bode a problem for the Fighting Irish.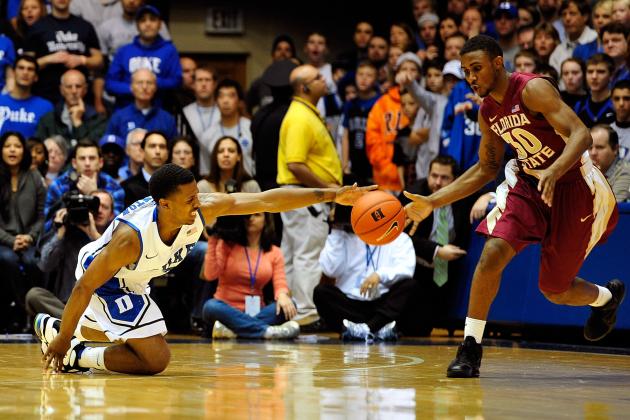 Grant Halverson/Getty Images

Florida State has shown some glaring vulnerabilities, to say the least.
The Seminoles are 10-1 in their last 11 games, with impressive victories over both North Carolina and Duke.
What do we have here, though? Florida State has some terrible losses to Harvard, Connecticut, Princeton and Clemson, just to name a few.
This seems like another example of consistency issues. The thing is, though, Florida State has been playing like a team to be reckoned with, and while they have bad losses, they also own really great victories.
The Seminoles seem like a wild card in this hoop drama. Whether they can be trusted or not is yet to be seen. If I had to categorize them right now, though, I am compelled to say pretender, just because of their hints of vulnerability with losses to teams like Princeton and Clemson.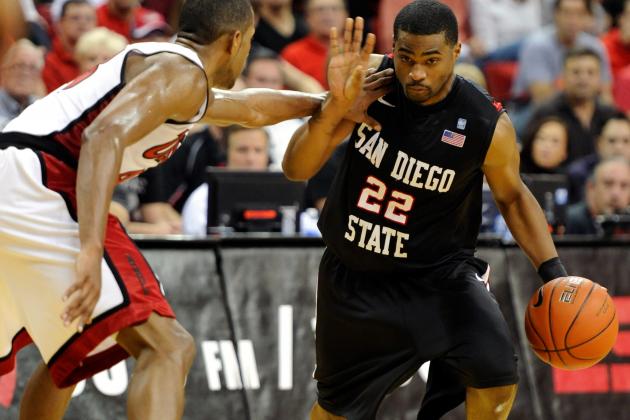 Ethan Miller/Getty Images

San Diego State sits at 20-6 and is tied for second place with UNLV in the Mountain West.
The Aztecs' best win the entire season is a two-point victory over UNLV back in mid-January. I don't know if that constitutes them as being a contender in this year's tournament.
It's typically teams like this from mid-major conferences that are vastly over-hyped.
Who knows which one of these mid-major teams could make a run in the tournament. My guess is going to be none of them, because every one I have listed has both consistency and/or legitimacy issues.
San Diego State is another one of those teams with a good record but bad losses (to Colorado State, New Mexico and Air Force). Not to mention, the Aztecs have dropped their last three contests.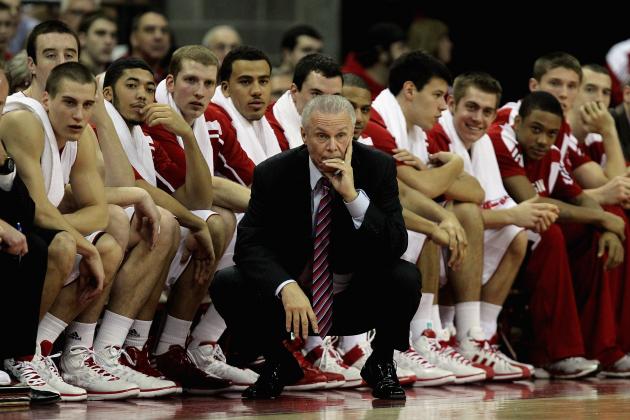 Jonathan Daniel/Getty Images

Wisconsin isn't one of the teams that has blown my socks off this year, and that's probably because they haven't done anything particularly memorable.
The Badgers are 20-7, which is an excellent record, especially in as competitive a conference as the Big Ten. All of their losses have come to ranked opponents with the exception of Iowa, which is good as well.
The thing about Wisconsin is that they don't have any marquee wins this season, at all. Their very best win this year came against Indiana.
The Badgers are one of those teams that I think could be scrappy come tournament time, but I give them Sweet 16 at best.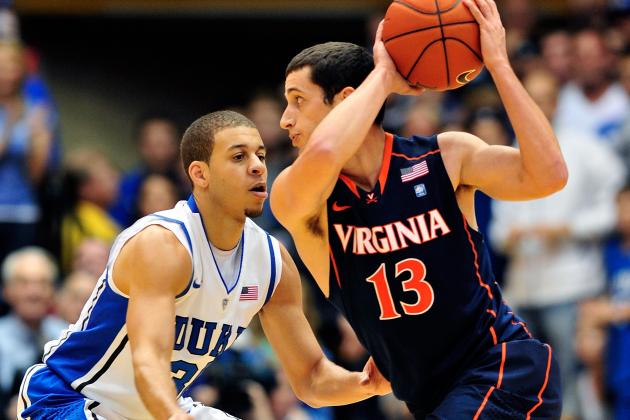 Grant Halverson/Getty Images

Virginia currently sits with a 20-6 record and fourth in the ACC standings behind Duke, North Carolina and Florida State.
The Cavaliers have given me every reason to believe they are pretenders, because of the simple fact that they have lost essentially every crucial game they've needed, including a 12-point Valentine's Day loss to a .500 Clemson team.
The best win Virginia has all year is in the early season against Michigan, who are currently No. 13 in the coaches' poll.
In three crucial ACC match-ups with Duke, North Carolina and Florida State, the Cavaliers have fallen all three times. Given their bad losses to TCU, Virginia Tech and Clemson, their resume will not be all that polished.
What the Cavaliers have proven to me is that they cannot step up in big games, so that compels me to throw the "pretender" tag on them.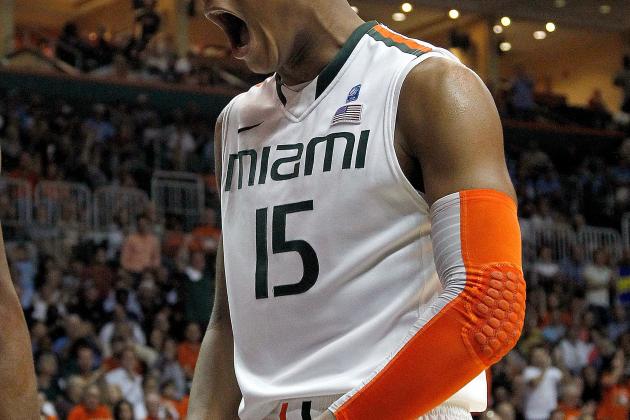 Mike Ehrmann/Getty Images

If the tournament started today, Miami may just get in by the last hair on their heads. If anything, it's their 36th ranked strength of schedule and No. 44 RPI that would gain them entrance to the Big Dance.
The Hurricanes' problem, like Virginia's, is that they've lost nearly every big game they've had.
A 5-6 record on the road also doesn't bode well for the Hurricanes. Like I said, if they get in, it's going to be because they have a decent record against a very difficult schedule.
Personally, Miami is a pretender in my eyes. They have one quality win all year, which came against Duke in overtime back on Feb. 5. Every other time they've faced a ranked team this season, they have lost.
Jim Larranaga's squad struggles on the road, and that presents a problem as the Hurricanes need a crucial win at Maryland tonight.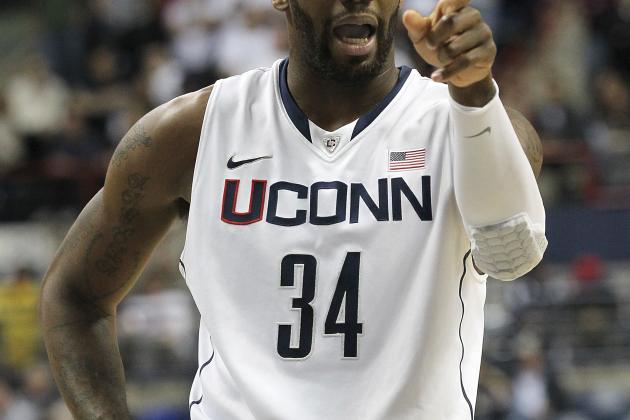 Jim Rogash/Getty Images

It's been a rocky season for Connecticut, and with good reason—they lost Kemba Walker to the NBA, and Jim Calhoun has gone on medical leave.
The Huskies are 17-10, but it will be hard for the tourney committee to ignore a team with the No. 23 RPI and the No. 1 ranked schedule.
In all likelihood, the Huskies are going to make the tournament based on those two factors. If you look at UConn's schedule, though, you'll notice that there isn't one thing that jumps off the page at you and makes you think this team is legitimate.
Back in mid-to-late January, the Huskies lost three straight games to Cincinnati, Tennessee and Notre Dame. In their recent big games with Georgetown, Louisville, Syracuse and Marquette, they have gotten plastered in all of them. This is not to mention their bad losses versus UCF, Seton Hall and Rutgers.
UConn's another one of those teams that has the decent record, good RPI and schedule strength to bail them out, but in the tournament is where they will be exposed. I mean, it took a near half-court buzzer beater by Shabazz Napier to beat an 11-15 Villanova team in overtime.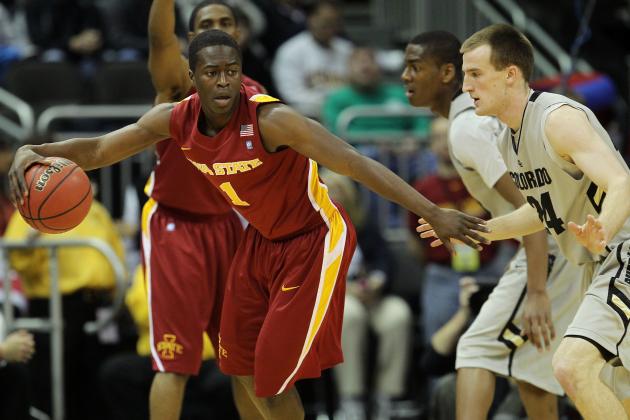 Jamie Squire/Getty Images

With a 19-8 record, Iowa State is sitting on a big bubble right now.
The Cyclones are in a prime position to notch their way into the tournament because of the recent collapses by other teams (Illinois, primarily).
The Cyclones have one marquee win the entire year—against Kansas back on Jan. 28. Other than that, Iowa State falls into that category of decent record, sloppy resume.
With bad losses to Northern Iowa and Oklahoma State, I don't trust this team as far as I could throw them. I'm sorry, but when you have bad losses, combined with a lack of marquee wins, you're a team nobody can trust. The Cyclones will get in the tournament in all likelihood, but they are a pretender.
Iowa State has four games left, three of them against Kansas State, Missouri and Baylor. The K-State and Mizzou games are both on the road. If the Cyclones can win two of those games, and not look past an 8-18 Texas Tech team tomorrow night, then that will all but solidify their placement in the NCAA tournament.