The 50 Most Overrated Coaches in College Football History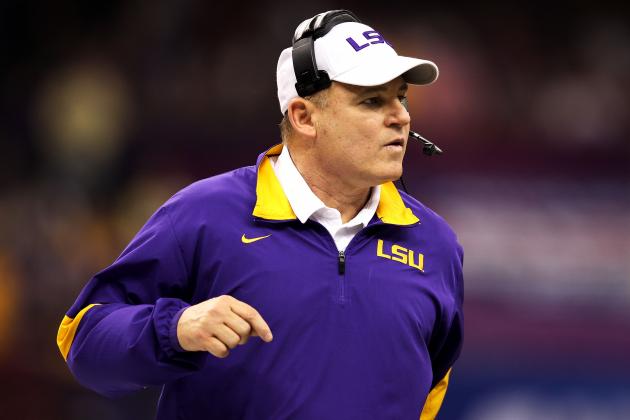 Andy Lyons/Getty Images

Trying to uncover the 50 most overrated head coaches in college football history is a little like naming the least deadly type of shark attack.
College football fans are so overtly loyal to their programs that the simple naming of any coach in the team's history of a list of overrated coaches is sure to spike blood pressure numbers.
While most coaches on this list have had varying levels of success, we've included them because they either didn't measure up to the standards everyone was expecting, or they don't quite measure up to the height of the pedestal on which fans have placed them.
Without further ado, here is our list of the 50 most overrated coaches in college football history.
Begin Slideshow

»
Otto Kitsinger III/Getty Images

After five seasons as the head coach at Air Force, Troy Calhoun has a decent record of 41-24.
That includes two bowl victories and, just as importantly, the Falcons have captured the all-important Commander-in-Chief's Trophy the past two seasons.
But Air Force has yet to win a conference title under Calhoun, and with the exception of his first season, the Falcons haven't really come close.
While coaching at a military academy is no picnic, Calhoun will need to start beating the top teams in the Mountain West if he's to stave off the "overrated" moniker.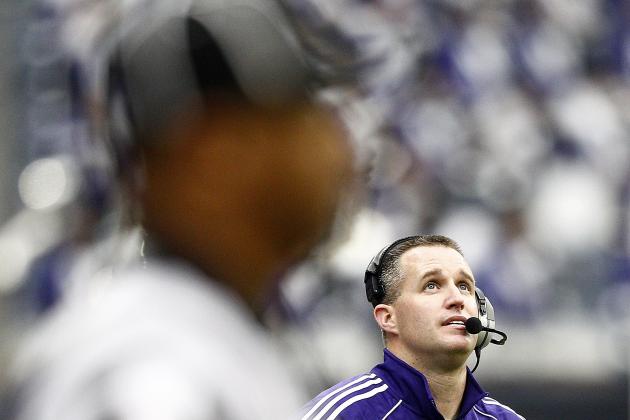 Bob Levey/Getty Images

We're willing to give Pat Fitzgerald a little leeway.
He is a Northwestern alumnus, and he is pretty young, but eventually, he has to start winning games, or he'll find his name permanently attached to "overrated."
At the time of his hiring, Fitzgerald was the youngest head coach in the FBS. After six seasons, this "youngster" has posted a record of 40-36, but has also led the Wildcats to four consecutive bowl games.
Of course, Northwestern hasn't won a bowl game since the Truman administration (and that's not an exaggeration), so we won't completely blame Fitzgerald... yet.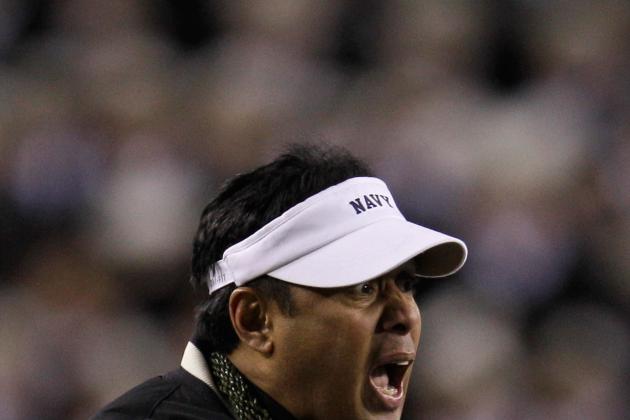 Rob Carr/Getty Images

After five seasons at the United States Naval Academy, Ken Niumatalolo has hit a speed bump.
For the first time in his coaching career, Niumatalolo has failed to guide the Midshipmen to a bowl game, posting an ugly 5-7 record in 2011 with the usually consistent Navy football program.
Niumatalolo is also 1-3 in bowl games in Annapolis.
The only thing that saves his bacon from really getting fried is his 5-0 record against Army. Now if only he can figure out a way to beat Air Force...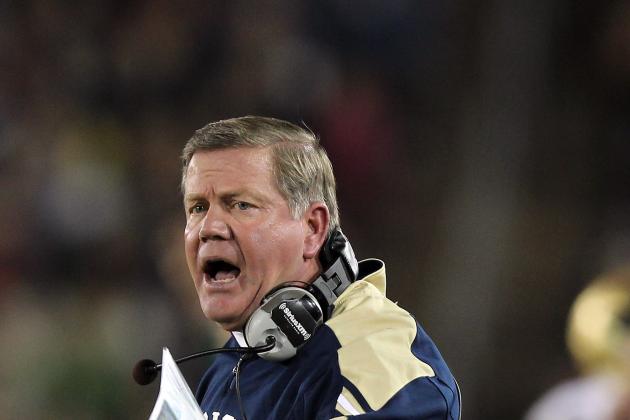 Ezra Shaw/Getty Images

Alright. It might be a little early to call this one.
But if you're an understandably anxious Notre Dame fan, you are starting to wonder if Kelly really could be overrated.
But how could that be? Kelly has an overall coaching record of 187-66-2. He118 games in just 13 seasons at Grand Valley State with two Division II NCAA National Championships. He single-handedly turned Central Michigan around, winning a MAC title. He made Cincinnati into a program people didn't laugh about any more, earning BCS berths.
So what is he waiting for?
While 8-5 doesn't look so terrible by itself, a 16-10 record isn't quite the light-em-up pace for which the Irish faithful were hoping.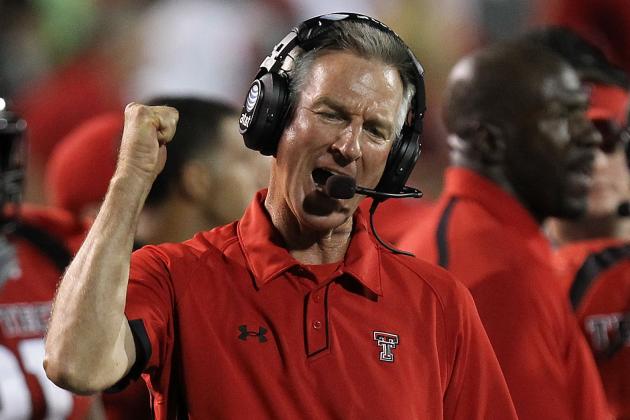 Ronald Martinez/Getty Images

The amazing love and devotion so many people have for Tommy Tuberville is a mystery for many.
Regardless of where he has coached, be it Mississippi, Auburn, or his current Texas Tech team, success has been a relative term.
By far his best performance was at Auburn, where he won just one conference title in ten seasons. Winning bowl games is great, but how many SEC teams are really shooting for a Citrus Bowl berth when the season begins?
After a massively disappointing 5-7 2008 season at Auburn, Tuberville resigned to take some time off.
He resurfaced at Texas Tech in 2010 in the wake of the Mike Leach saga, and has posted a bland 13-12 record in two seasons.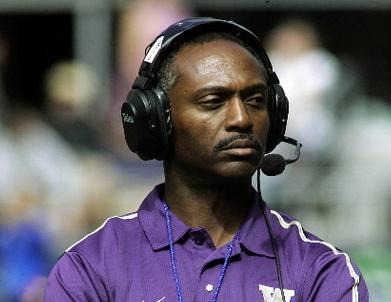 Ty Willingham took over a Stanford program from which no one was expecting much.
Willingham surprised more than just a few when his Cardinal team won an outright Pac-10 title in 1999, despite an 8-3 regular season record.
Although Stanford lost the 2000 Rose Bowl to Wisconsin, it didn't prevent the Cardinal from posting an improved 9-3 record two seasons later.
That was enough for Willingham to receive the college coaching job dreams are made of: Notre Dame.
Willingham took over as the head coach for the Irish in 2002, and promptly posted a 10-3 record, surprising even his harshest critics, some of whom said he didn't deserve the job.
But after a massive collapse the following two seasons, Willingham was quickly ousted in favor of another coach who appears on this list.
Willingham reappeared at Washington, where after four seasons, he had muddled through an record of 11-37 which included the disastrous 2008 season (0-12), posting a program-worst .229 win percentage during his coaching tenure.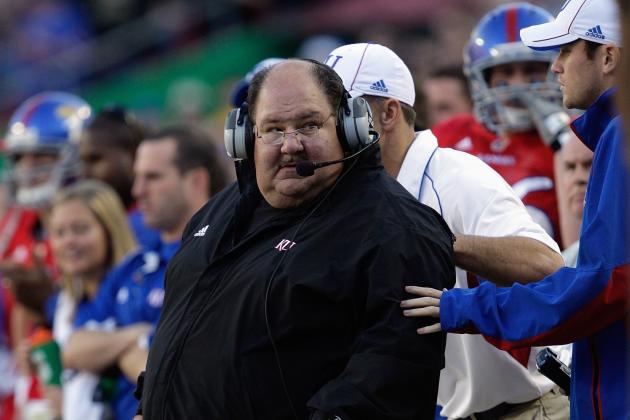 Jamie Squire/Getty Images

Mark Mangino took over a program in serious trouble.
After his first season (2-10), things weren't looking a whole lot better. Slowly but surely, things began to turn around, when all of the sudden, Mangino's Kansas Jayhawks put together a remarkable 12-1 record in 2007, winning the 2008 Orange Bowl.
But Mangino will likely be best remembered for his anti-BCS, anti-big program tirade as Kansas head coach.
As it turns out, Mangino's 2007 Jayhawks team turned out to be a flash in the pan. After slumping records and an investigation into his conduct towards his players, Mangino resigned at the end of the bowl-less 2009 season with a 50-48 record.
Steve Dykes/Getty Images

Rick Neuheisel was the coach that was supposed to turn things around at UCLA.
It is, after all, his alma mater, and who better to rebuild this proud program that a loving alumnus?
It was a sure thing, wasn't it? He was 66-30 at Colorado and Washington, and had three years of NFL assistant experience, so what could possibly go wrong?
After just four seasons and a 21-29 record, the UCLA powers that be weren't going to find out what else could go wrong.
Despite winning the Pac-12 South Division crown in his final season, Neuheisel was fired prior to the conference championship game.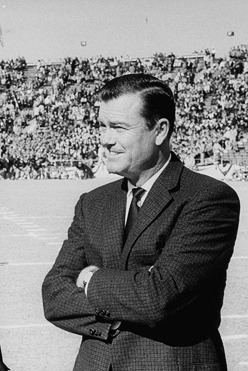 Darrell Royal probably stands as one of, if not the greatest coach in Texas Longhorns football history.
Over his 20 seasons in Austin, Royal put up a record of 167-47-5, which included 11 Southwest Conference titles (seven of which were outright titles), and three national championships (one shared).
So why does DKR find his way onto our list?
First, Royal was completely unimpressive in his pre-Texas days, posting a 17-13 record in three seasons at Mississippi State and Washington, and his years at Texas were pretty streaky.
In his non-title winning seasons, Royal was just 62-32-3. Under Royal, Texas was either great or decidedly not great, appearing in the final AP Poll just three times when non winning a SWC title (nine seasons).
Apparently, Royal's motto was either top ten or nothing.
If he had turned a few more of those "nothing" years into "something" seasons, he very well may be considered as one of the best by people from states other than Texas.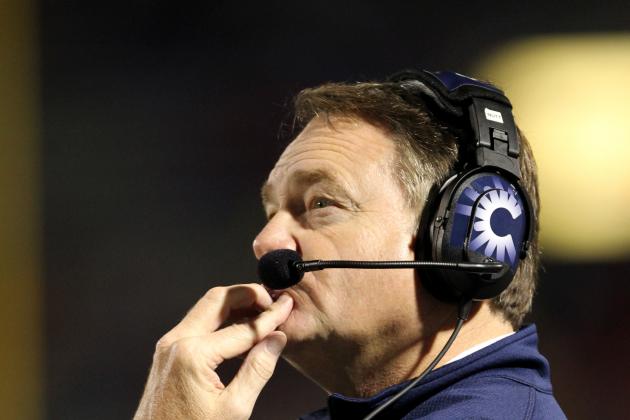 Joe Murphy/Getty Images

Arkansas and Ole Miss fans can probably tell us best about Houston Nutt.
All together now: did he live up to your expectations?
That loud shrieking noise you hear is thousands of fans yelling "no" all at once.
It might be hard to believe (or remember), but Houston Nutt was once the head coach at a little-known school with funny-looking turf named Boise State.
Apparently, that then-FCS program in the Big West wasn't good enough for him, and he beat a path out of town after just one season.
Remarkably, that one season in Boise was also the Broncos' last losing season to date.
Perhaps Nutt should have stuck it out a bit longer.
But instead we have a coach with a 135-96 record, without a conference title since his 1996 Murray State Racers won the Ohio Valley Conference championship.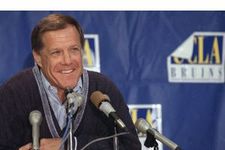 In his 20 seasons at the helm of the UCLA football program, Terry Donahue posted a decent 151-74-8 record, which included at least a share of five Pac-10 championships, and three Rose Bowl victories.
While the Bruins have been searching ever since for a coach that can bring anything close to the success Donahue saw, its important to remember that while the middle of Donahue's career was unimpeachable, the beginning and end had their fair share of downturns.
Donahue's teams went six seasons before catching a glimpse of a conference title, and the Bruins were similarly championship-less for the most part during the latter years of Donahue's tenure, winning just one shared conference title in his final eight seasons.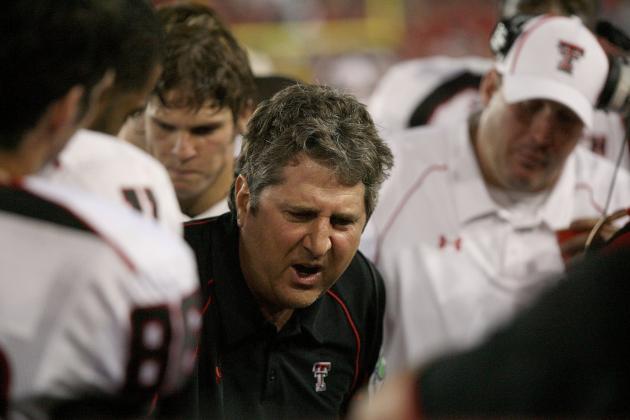 Thomas B. Shea/Getty Images

Mike Leach was fired under less than usual circumstances after the 2009 season, and the resulting legal action still has yet to be fully resolved.
Still, Washington State has given Leach an opportunity to improve upon his 84-43 record from Texas Tech, as Leach will take over for the 2012 season in Pullman.
The main strike against Leach is that his Red Raiders never once played in the Big 12 Championship Game during his ten seasons, and it remains a very large open question as to whether or not he'll be able to turn things around at Washington State to lead the Cougars to a Pac-12 title game in the cut throat Pac-12 North Division.

Texas Tech football has a long history of futility, and Spike Dykes epitomizes that feeling for Red Raiders fans.
Despite coaching the Raiders for 14 seasons, Dykes was able to capture just on conference title (1994 SWC), and was just 2-5 in bowl games over that span.
An uninspiring 82-67-1 record doesn't help matters, either.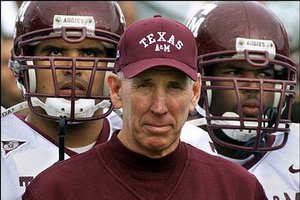 The story of R.C. Slocum at Texas A&M is the classic story of almost, but not quite.
Those four words probably sum up his coaching career best, as the Aggies were never quite able to reach a truly lofty national level under Slocum.
Despite three straight SWC titles from 1991 to 1993, the Aggies lost each successive Cotton Bowl, and never finished higher than No. 7 in the final AP Poll.
In all, Slocum's Aggies were just 3-8 in bowl games during Slocum's 14 season career.
The Aggies won just one Big 12 title after the conference reinvention in 1996, but again failed to win the resulting BCS 1999 Sugar Bowl invite.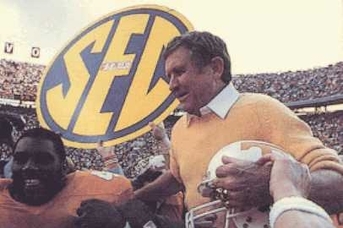 For a big name coach who led a couple of big time programs, Johnny Majors has a surprisingly average record.
Majors got his start at Iowa State before moving to Pitt, where he guided the Panthers to the 1976 national championship.
After that season, he headed to Tennessee, where he helped rebuild that program into an SEC contender, eventually winning three conference crowns before heading back to Pittsburgh.
Funny enough, if you take away his national championship year and his three SEC title seasons, the rest of his 29-year coaching career doesn't look so great.
His final record of 185-137-10 tells much of the story, and it's likely the only reason he's revered so at Pitt and Tennessee is the few fleeting moments of glory to which he's attached.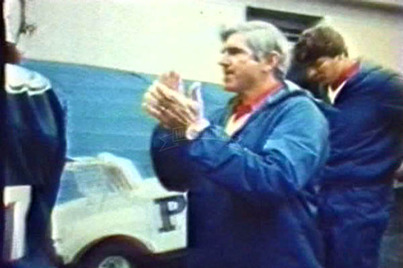 We're willing to bet that most of you know why Bobby Collins shows up on this lsit.
After seven ho-hum seasons at Southern Miss (48-30-2), Collins took over at SMU in 1982. Despite winning a SWC title in his first season and barely missing out on a national championship, Collins is best remembered not for his 43-14-1 record, but for what he presided over at SMU: the epic and shocking downfall of what was at the time a top program in the nation.
While the debate still rages over whether or not Collins knew about the massive pay-for-play scandal, the fact of the matter is he should have known, and he took no action to stop what was going on in his program.
The NCAA officially cleared him of any overt wrongdoing, but the SMU death penalty on his watch was enough to ruin his coaching career.
He hasn't been on any college sideline since.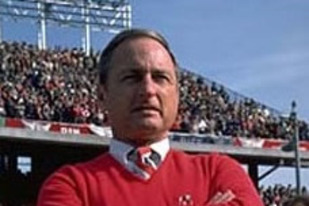 After coaching at Georgia for 25 seasons, a quick glance at Vince Dooley's record shows us two things.
One, under Dooley, UGA won a national championship for the 1980 season.
Two, there were an awful lot of awful seasons mixed in there.
Other than the 1980-1984 span, UGA finished ranked in the final AP Top 25 in back-to-back seasons just once (1975-1976) before Dooley's final two seasons.
And while Dooley's teams won at least a share of six SEC titles during his tenure, his teams also finished between fourth-or-worse ten times sprinkled across his career.
A national championship is nice, but sustained success over the long haul is even better.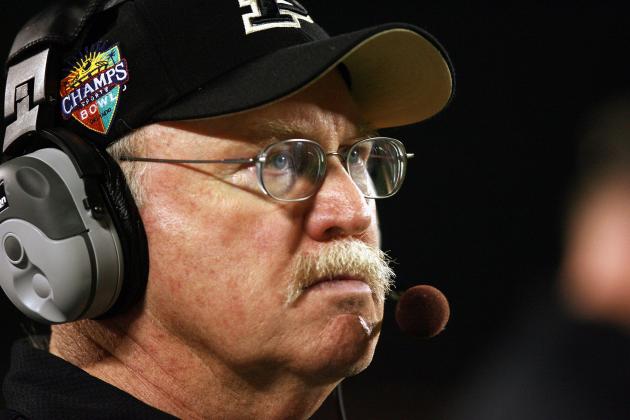 Doug Benc/Getty Images

For all the love shown to the Purdue football program, we're forced to wonder why.
Joe Tiller was the beloved face of Boilermakers football for a dozen years, and yet he only won 87 games to 62 losses over those 12 seasons.
Purdue only finished in the AP Top 25 five times during Tiller's tenure, and there is just the lone Big Ten (shared) title in 2000, which ended with a Rose Bowl loss to Washington.
Tiller's Boilers were predictable and lackluster through much of his career in West Lafayette, and never finished higher than a tie for fourth during his final five seasons.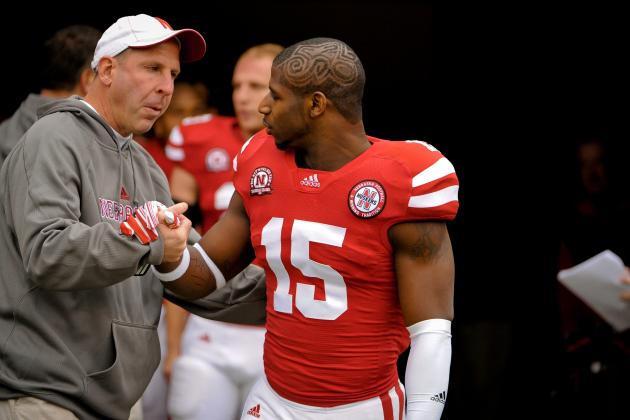 Eric Francis/Getty Images

Most Nebraska fans will swear by Bo Pelini, and what he's accomplishing at Nebraska.
But really, what has he accomplished so far?
In his four seasons at Nebraska, he has two Big 12 Championship Game losses, and two not quite seasons (one in the Big 12 and one in the Big Ten).
Plus, it appears that Pelini's Cornhuskers were a tad unprepared for the Big Ten this season, suffering embarrassing blowouts against Wisconsin and Michigan while dropping an shocking home game to Northwestern.
Pelini likely has a long way to go in his career yet, but as of right now, he's a little too overrated to not show up on our list.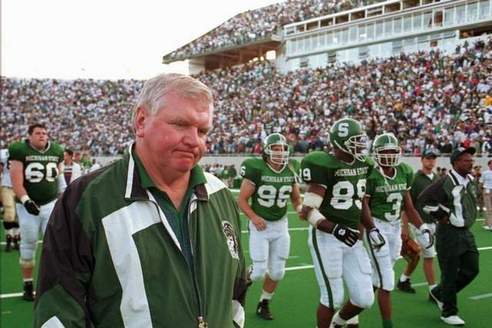 Despite winning two Big Ten championships at Michigan State, George Perles was fired by the MSU administration after an investigation uncovered a grade-fixing scandal that resulted in MSU forfeiting its entire 1994 schedule.
Taking into account the forfeits, Perles's record stands at 68-67-4 at MSU over 12 seasons.
Still, his two Big Ten titles, including a 1988 Rose Bowl victory over USC, has bought Perles a lot of love in East Lansing.
Probably understandable considering the Spartans didn't win another Big Ten title until 2010.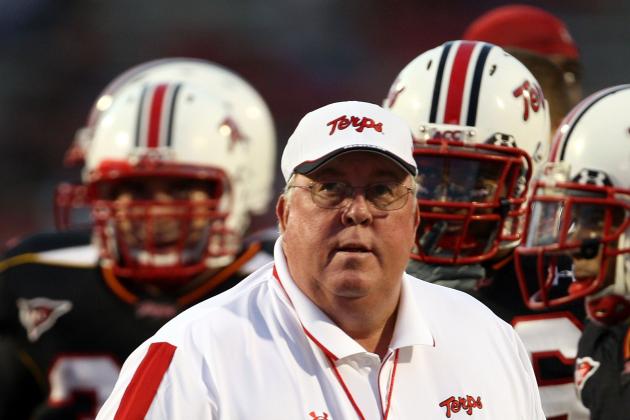 Jamie Squire/Getty Images

After his first season as a head coach, Ralph Friedgen was widely believed to be the next great thing for Maryland football.
A 10-2 record, ACC title, and BCS berth will do that.
After an 11-3 season and 10-3 record in 2002 and 2003, respectively, there wasn't much argument about Maryland's march to national promenence.
But you know when that special smells starts to disappear from that new car you bought? That happened for Maryland in 2004.
The Terps were just 5-6 that year, and things never seemed to run quite right after that.
Along with the new car smell, the warranty expired, and all of the sudden, there were squaks, clanks, and grinding noises coming from the engine. Before you knew it, Maryland had put up a 2-10 season in 2009, and the fan base (as well as the administration) had finally seen enough.
Friedgen was fired after the 2010 season.
In case any Maryland fan out there still holds any soft spot in your heart from Friedgen, you might want to take note of this. Friedgen burned his diploma from his alma mater, Maryland, after his firing, and said he would start cheering for Georgia Tech.
Ouch.
Rob Carr/Getty Images

It doesn't take long for Maryland fans to get all worked up, does it?
After guiding Connecticut to the program's first-ever BCS berth in 2010, Edsall beat a quick path out of the Nutmeg State for the seemingly greener pastures of Maryland.
But a 2-10 season in the ACC is a quick way to land yourself on the hot seat.
Realisitcally, did Maryland expect all that much different?
Edsall was, after all, just 74-70 at Connecticut.
A lot of older LSU fans fondly remember Charles McClendon, who led the Tigers program from 1962 to 1979.
While his 137-59-7 record looks pretty solid on the surface, scratch a little deeper and you'll discover that all of those seasons (18) amounted to just one SEC championship (1970) and not even a whiff of a national title.
LSU's best finish under McClendon was that 1970 SEC Championship season, when the 9-3 Tigers lost the Orange Bowl, and found themselves No. 7 in the final AP Poll.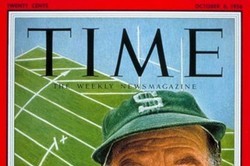 Duffy Daugherty is probably responsible for the greatest successes in the history of Michigan State football.
Daugherty's Spartans claim both the 1965 and 1966 national championships, and those years are still proudly displayed at Spartan Stadium in East Lansing.
Daugherty also deserves recognition for recruiting highly skilled black players that SEC and SWC programs refused to recruit. Some of those very players helped MSU to those back-to-back national titles.
But Daugherty's overall record at MSU stands at just 109-69-5. And worse, the NCAA investigated MSU several times while Daugherty was coach, and found the Spartans to be in violation of the rules on at least three separate occasions.
Daugherty's Spartans were on NCAA probation from 1965 to 1967 (while still winning national titles) for impermissible cash benefits to players.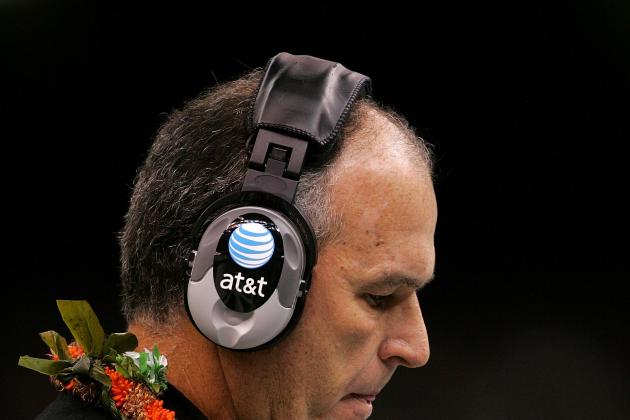 Matthew Stockman/Getty Images

June Jones spend nine wonderful seasons at Hawai'i, where he compiled a 76-41 record, which included guiding the Warriors to the program's first-ever BCS berth.
That BCS game turned out to be a farce, as the Warriors were embarassed by the Georgia Bulldogs, 41-10.
Jones beat a quick path out of Mano'a while the getting was good, taking the job at SMU.
Funny, but that doesn't really seem like a step up from Hawai'i, especially given the paradise-like environment on the islands.
Jones quickly found that coaching at SMU wasn't going to bring him quite the unqualified success he had hoped, as the Mustangs struggled to a 1-11 record his first season.
Jones did manage to return some respectability to a program long accustomed to futility when the Mustangs earned a bowl berth (and victory) following the 2009 season. SMU also earned berths in 2010 and 2011.
But Jones is still just 24-28 as head coach at SMU, and 100-69 overall.
While he's not a terrible coach by any standard, he's not the cure-all for which SMU fans were hoping. The Mustangs are still searching for that elusive conference title—something SMU hasn't had since the pre-death penalty days of the 1980's.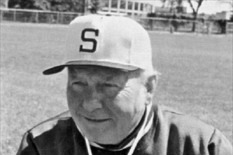 Frank "Muddy" Waters is something of a minor football legend in southeastern Michigan.
Waters got his start in coaching at now-Division II Hillsdale College. After posting an impressive 138-47-5 record, which included a then-Division II record of 34 consecutive victories from 1953 to 1957 (a record that stood until 2007), Waters moved north slighty to take over the new football program at Saginaw Valley State.
Despite a losing 25-26-2 record, Waters was finally given an opportunity to coach a major program when he took over at Michigan State in 1980.
It turns out Muddy should have stayed in the back woods of Hillsdale. Waters was just 10-23 in three seasons in East Lansing.
Curiously enough, Spartans players and fans carried him off the field after he was fired, despite losing that final game to Iowa.
Go figure.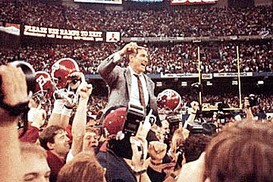 Gene Stallings appears on this list for two reasons.
First, despite his great win percentage at Alabama, he was just 97-61-2 when his Texas A&M record (27-45-1) is taken into account.
Secondly, even his years at Alabama (70-16-1) were marked by controversy, as his official record is actually 62-24-0, after the Tide were forced to forfeit (not vacate) eight games from the 1993 season after it was discovered that an Alabama player was ineligible because he had signed with a professional agent.
Stallings was implicated in the ensuing NCAA investigation, and the team was placed on probation which included forfeiting 30 scholarships.
It really wasn't until Nick Saban's arrival that Alabama fully recovered.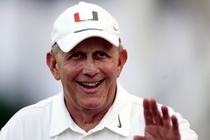 Larry Coker spent six seasons at the helm of the Miami Hurricanes program, and after a great start, his rising star fell fast and hard.
In his first three seasons, Coker's Hurricanes dominated the Big East, winning three conference titles, a national championship, and never finished lower than fifth in the final AP Poll.
In 2004, the slid down began. While 9-3 isn't the worst record in the world, it was far from the 11 and 12-win seasons Miami fans were beginning to expect.
Miami finished 11th and 17th the next two seasons before finally finishing a season unranked in 2006.
After finishing the regular season with a 6-6 record and a victory over Boston College on Thanksgiving, Coker stated publicly he would be back next season.
He was fired the next day.
But just when you thought we had seen the last of Coker, he's scheduled to make his FBS return in 2012, as he will guide Texas-San Antonio in its first FBS season. Coker coached UTSA in 2011 to a 4-6 record in the FCS, in the programs first-ever football season.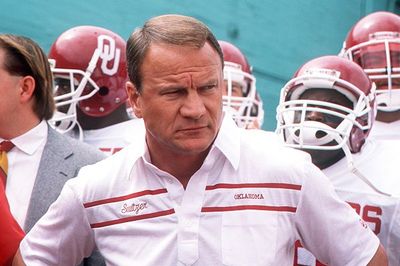 How could we put a coach with a 157-29-4 record, 12 Big Eight conference titles, and three national titles on our list of overrated coaches?
Simple. There's more to coaching than winning football games.
When it came to winning, there were few better than Switzer. When he resigned after the 1988 season, he has posted the fourth-best winning percentage of any Division I football coach in history.
But Switzer was ultimately forced out at Oklahoma because of his perceived lack of ability to control his players, some of whom had recently been charged with drug-related crimes. The NCAA had finally gotten involved, and Oklahoma had been placed on probation.
While Switzer vehimently denied being forced out, the rumors to this day persist (plus, it makes sense).
To his credit, Switzer said he would never coach at another college. And he didn't.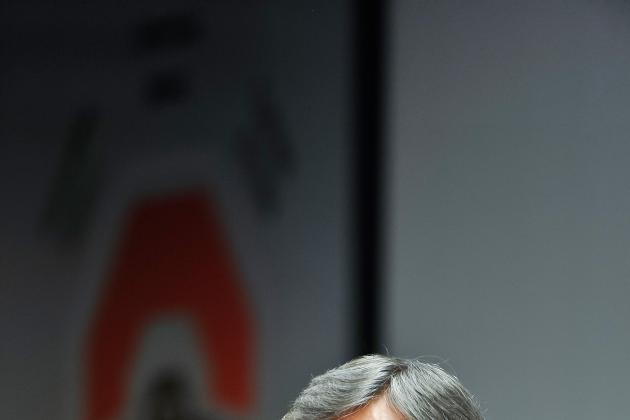 Jamie Sabau/Getty Images

Like the other Ohio State coach on this list, Jim Tressel's inclusion is probably due more to what his mark on the program was more than his win-loss record.
In his ten seasons at Ohio State, the Buckeyes were as close to unbeatable in the Big Ten as any team comes. The Buckeyes won seven shared or outright titles under Tressel, but were forced to vacate the seventh in wake of Tressel's coverup of the otherwise relatively minor tattoos-for-memorabilia issue.
Tressel also guided the Buckeyes to an unprecedented eight BCS bowls over his ten seasons, and finished at Ohio State with an official 94-22 record (after vacating 12 victories from the 2010 season).
It really is a shame, too. Tressel had every appearance of being "Mr. Integrity" (and held himself out as such). Tressel also had a strong past as the coach at FCS Youngstown State, where he was 135-57-2 with four NCAA National Championships over 15 seasons.
But again, those of us who live outside of Ohio will forever remember Tressel as the sleazeball who tarnished the good football name of Ohio State.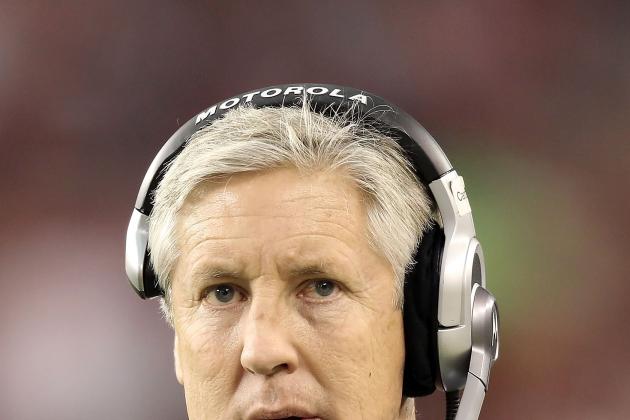 Christian Petersen/Getty Images

Since we mentioned Jim Tressel, we might as well throw Pete Carroll under the bus, too.
Say what you will about Tressel, but his coverup was at least about something comparatively minor.
Carroll's transgressions nearly brought down one of the mightiest programs in the nation, and it was for something a lot less in a morally gray area.
Carroll's USC program was complicit in one of the worst pay-for-play scandals we've seen in college football in quite some time, and it was bad enough to warrant the vacating of not just wins, but a national championship trophy, as well.
With every win from the 2005 calendar year vacated, Carroll's record stands at 83-19, with six Pac-10 titles, and one national championship.
Had the scandal never happened, it's likely Carroll would still be at USC, racking up the wins and trophies.
Instead, Carroll hurt his reputation even more by refusing to cooperate with the NCAA, and bolting USC, much like a rat leaving a sinking ship.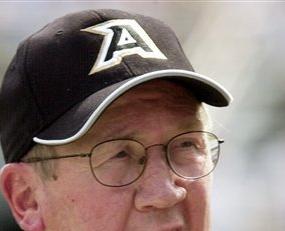 Pretty much throughout his career (including his pro stints), Bobby Ross seemed to enjoy a modicum of success surrounded by seasons of mediocrity.
He began his college coaching career at The Citadel, where he was a paltry 24-31. After a few seasons as an NFL assistant, he returned to the college game, this time in the FBS with Maryland.
Ross put together his best tenure with one team, leading the Terps to three-straight ACC titles from 1983 to 1985, but he ended his stop in Maryland with a 5-5-1 record in 1986.
He was hired by ACC rival Georgia Tech, where he began with a 2-9 record in 1987 before achieving his greatest coaching success, a national championships with the Yellow Jackets in 1990.
Still, Ross was just 31-26-1 in five seasons at Georgia Tech.
Ross then spent the next eight seasons as an NFL head coach before landing at Army in 2004.
After three pitiful seasons with a combined 9-25, Ross finally called it quits and retred.
Let's hope he stayed retired. Why he kept getting job offers is anyone's guess.
He coached 206 college games. He won exactly half of them.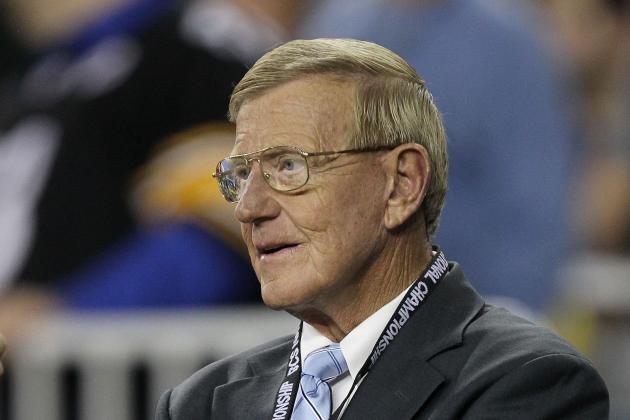 Ronald Martinez/Getty Images

Notre Dame may have erected a statue to Dr. Lou, but Holtz coaches a lot more than his 11 seasons in South Bend. When you take his career as a whole, it's far less impressive than one would initially think.
Holtz got his start in what is now the FCS, coaching at William & Mary for three seasons, posting a 13-20 record with one Southhern Conference title and Tangerine Bowl loss.
In 1972, Holtz moved to NC State for four seasons, posting a 33-12-3 record with one ACC crown, and a 2-1-1 bowl record.
That was good enough to get him the job at Arkansas. After guiding the Hogs to a 60-21-2 record over seven seasons which included one Southwest Conference title, Holtz moved to Minnesota.
Despuite going just 10-12 with the Gophers, Holtz was hired at Notre Dame, where he became a household name in college football.
After retiring after the 1996 season, Holtz was convinved to come out of retirement to coach at South Carolina, where he was a mediocre-at-best 33-37.
Really, if you remove Notre Dame from his record (100-30-2), Holtz is a pretty average 149-102-5.
Maybe there's something to be said about the right coach in the right job at the right time.
Because other than Holtz at Notre Dame from 1986 to 1996, Holtz didn't appear to be the amazing Hall of Famer he is.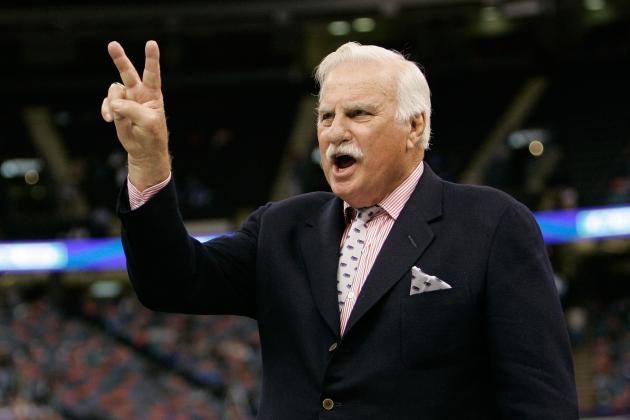 Chris Graythen/Getty Images

When you hear Howard Schnellenberger's name, the first thing most of us think about is rebuilding Miami and winning a national championship.
But beyond that magical 1983 season which ended with an Orange Bowl victory and national title, Schnellenberger's years as a coach were surprisingly lean.
Though his college coaching career spanned 27 seasons (22 FBS seasons), Schnellenberger's teams were invited to just six bowl games (although Schnellenberger was 6-0 in those bowl games).
His career record was also surprisingly close to .500 at 158-151-3.
Not the kind of record you'd expect from this national championship winner from Miami.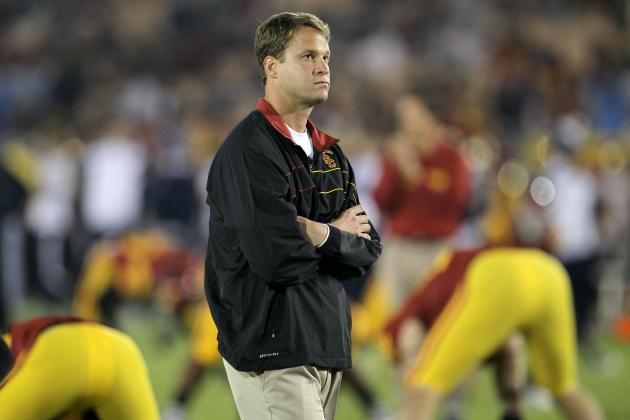 Stephen Dunn/Getty Images

Lane Kiffin has guided USC through the "lean years," and it's going to be very interesting to see how he performs now that bowl games and potential championships are on the line.
Last season was certainly a good rehersal for 2012, as the Trojans posted a 10-2 record.
While everyone was pretty high on USC by season's end, it's important to remember that the Trojans got the Pac-12 season underway with a narrow victory against Utah and a loss to Arizona State.
Moving forward, slow conference starts could be disasterous.
Still, Kiffin and USC are in a pretty favorable position. First, it is still USC, and the program pretty much recruits itself.
Second, the Trojans are the only, truly major program in Pac-12 South Divison. Yearly bids to the Pac-12 Championship Game are almost a foregone conclusion, as the Trojans need only to post a better record than Arizona, Arizona State, Colorado, UCLA, and Utah—not exactly the toughest competition the nation has to offer.
If Kiffin doesn't want to earn himself a permanent place on this list, he'll need to win more than Pac-12 South titles over the next few seasons.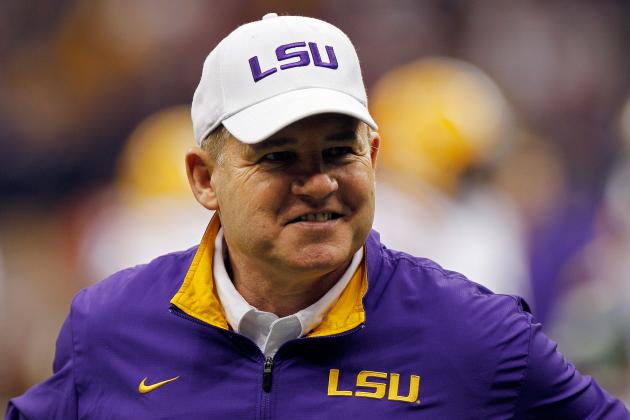 Chris Graythen/Getty Images

Okay, LSU fans. Get those keyboards ready, and break open that thesaurus to prepare your tirade.
Yes, Les Miles appears on our list of most overrated coaches in history, and no, it's not just because his Tigers seemed completely inept in the 2012 BCS National Championship Game.
Prior to arriving in Baton Rouge, Les Miles was the head coach at Oklahoma State, where he posted a mediocre 28-21 record.
After taking over at LSU, Miles was 34-6 in his first three seasons, with a BCS title coming at the end of the 2007 season.
The argument there is that Miles "won with Nick Saban's recruits."
That maybe true, but Miles was good enough to coach those recruits to a title.
Since then, however, Miles is 41-12, which is more than a few percentage points behind his win percentage "with someone else's recruits."
Miles also showed a lack of his typical imagination against Saban and the Tide last month, and we're left to question the narrow wins by the Tigers over the past couple of years.
Were those wins the result of gutsy coaching, or sheer luck?
Miles will have ample opportunity to prove he doesn't belong within spitting distance of this list. But right now, he's made at least a passing case for inclusion.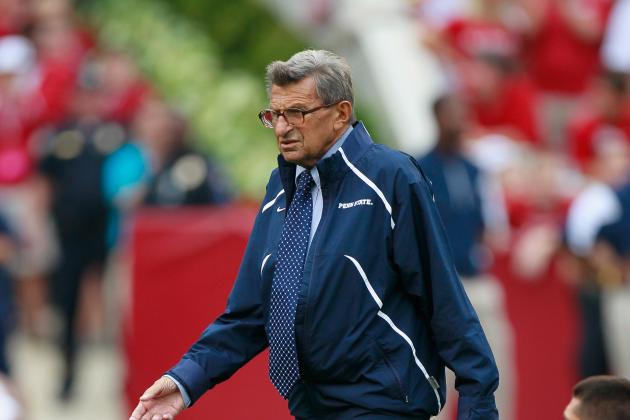 Kevin C. Cox/Getty Images

Joe Paterno is easily one of the all-time great college football coaches.
No one has more FBS victories than Paterno (409), and no one can match his longevity with one program (almost 46 years).
His dedication to Penn State, not only on the football field but in a larger sense is equally unmatched.
So why does the late, great Joe Paterno find his way onto our overrated list?
JoePa's Nittany Lions won just two national titles over those 46 seasons, and none after joining the Big Ten in 1993.
Also, in the 19 seasons Paterno coached in the Big Ten, his teams managed to win just one outright Big Ten title, and two more shared titles.
There's no question that Paterno's 409 wins will be nearly impossible to match, especially in today's climate of disposable coaches, but if you're looking for championships—either conference or national—Joe Paterno was not the coach for you.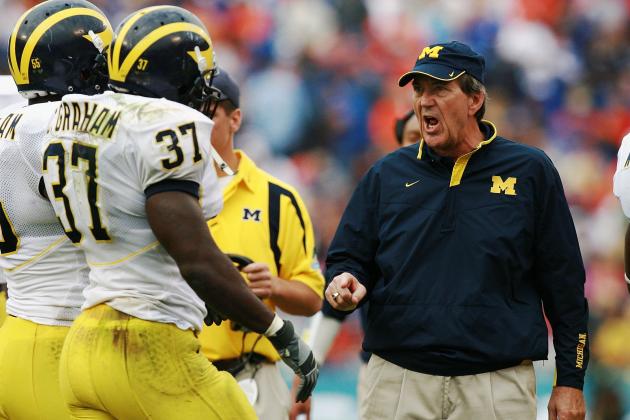 Doug Benc/Getty Images

We're clearly out to ruffle a few feathers in Ann Arbor, as we name another legendary Michigan coach to our list of most overrated coaches in history.
Lloyd Carr is by no means a bad coach, and his interviews (especially on-field interviews) as the stuff of legend.
But for all of the praise poured on Carr at Michigan, you would have thought he never lost a game.
The fact of the matter is that Carr lost plenty of games, including to one Appalachian State in what was supposed to be his grand national championship send-off season.
Carr coached Michigan for 13 seasons, far fewer than so many other coaches of legendary status, and posted a record of 122-40 with five Big Ten titles (just two outright), and one national co-championship (shared with Nebraska).
Carr also posted a 5-7 bowl record, including a 1-3 mark in BCS bowls and a 1-4 mark in the all-important Rose Bowl.
There is one thing many coaches today could learn from Lloyd Carr (Nick Saban, we're looking in your direction). A lot of coaches don't like talking to the media and Lloyd Carr was no different. But Carr's way of disarming the media with folksy tales or a little wise-cracking was not only humorous, but much kinder than an evil stare or condescending comment.
Just one example: As Carr was trotting off the field after the second quarter ended, a reporter asked him how the steady rain would affect his game plan. Carr quipped, "This is what we call a wet rain," and jogged away.
So much better than the stock answer or gruff response.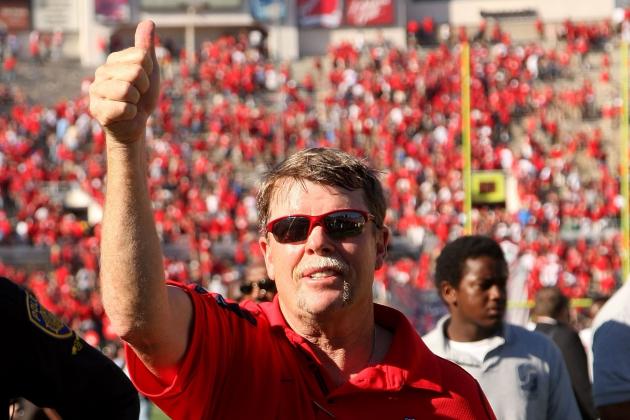 Stephen Dunn/Getty Images

Pat Hill was instrumental in instilling the "anyone, anywhere, anytime" attitude at Fresno State.
But in 15 seasons, Hill was 112-80 with just one conference title (1999, none since Boise State joined the WAC in 2001), and a pitiful a 4-7 bowl record, which included losses to such "powerhouses" as Northern Illinois, Wyoming, and Colorado State.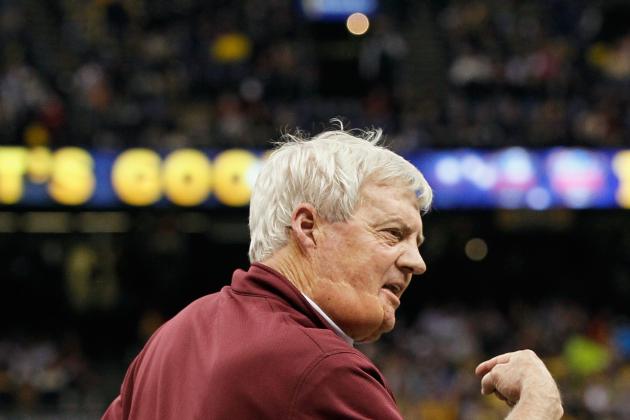 Kevin C. Cox/Getty Images

While Frank Beamer certainly wins plenty of awards for longevity, he and his Hokies aren't winning many other awards.
Since taking over at Virginia Tech in 1987, Beamer is 209-98-2 with just eight shared or outright conference titles, and no national titles. In fact, the Hokies have finished in the top ten just six times under Beamer—as many times as they've finished outside the Top 25.
Beamer is also 1-5 in BCS bowls (although he won the Sugar Bowl once each in the pre-BCS era).
Beamer clearly isn't a bad coach, but he's not quite Knute Rockne, either.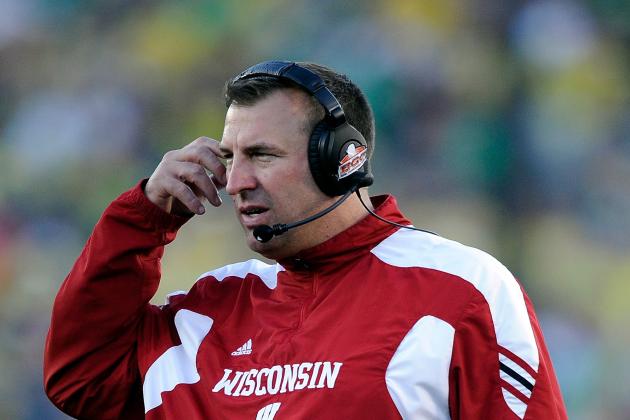 Kevork Djansezian/Getty Images

After six seasons at Wisconsin, it may still be just a little too early to call Bret Bielema overrated, but he certainly doesn't measure up to the lofty esteem is which he's held in Madison.
To talk to Wisconsin fans, you'd think Bielema is the second coming. While he's 60-19 as the Badgers' head coach, he has been unable to follow through on the two latest Big Ten championships, losing two straight Rose Bowl appearances.
The most recent loss drops Bielema's post-season record to just 2-4.
We can't harp too much on Bielema for not winning a national championship, though. After all, no coach has ever won a national title at Wisconsin.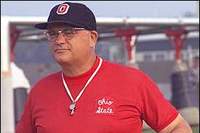 Yes, Woody Hayes. Yes, overrated.
Why?
This selection moves beyond his 205-61-10 record in 28 seasons at Ohio State, or his five national championships, or his 13 Big Ten championships (including seven outright titles), which even ignores his 33-11 record at Denison and Miami University before moving to Ohio State.
Hayes's inclusion on this list has to do with his legacy and personality that most Ohio State fans blissfully ignore.
The fact of the matter is Woody Hayes was fired from Ohio State because he punched a Clemson player in the throat on national television.
Surprisingly, this wasn't Hayes's first dust up due to his amazingly short temper.
He had previously been fined and suspended by the Big Ten for on-field abuse of officials and unsportsmanlike conduct, allegedly threw a punch at an LA Examiner reporter after Ohio State lost to USC, and at a 1965 Big Ten conference meeting, Hayes tried to start a fist fight with the Iowa athletic director.
So Hayes wasn't fired simple because he punched a Clemson player, he was fired because it was the final, most public straw in a long history of being an out-of-control hot head.
Unless you live in the state of Ohio, this is likely the Woody Hayes you're most familiar with, and because of the lasting smudge on Ohio State's reputation, Hayes finds a spot, albeit a low spot, on our list of overrated coaches.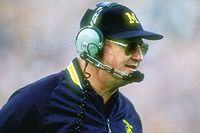 Since we've named one of the biggest icons of Ohio State football to our list, we might as well take a stab at upsetting the apple cart in Ann Arbor.
Bo Schembechler probably did more for Michigan football than any other single person over the last 50 years, but there's one small thing that annoys us about Bo's record in Ann Arbor: he never won a national championship—not once.
In his 21 seasons as Michigan's head coach, Bo put together an impressive 194-48-5 record with 13 Big Ten titles (including five outright titles).
Bo also began Michigan's long streak of bowl appearances in 1975 when the Wolverines were invited to the 1976 Orange Bowl. That streak didn't end at Michigan until 2008 under Rich Rodriguez.
Over his last few seasons, Bo was also the athletic director at Michigan, and famously fired head basketball coach Bill Frieder on the even of the March NCAA tournament because he had accepted the vacant job at Arizona State. Schembecher famously declared that "a Michigan man would coach a Michigan team." Frieder's last-minute replacement, Steve Fisher, led Michigan to six-straight victories in the tournament, capturing the National Championship.
Thus began the legend of what a "Michigan Man" is that still resonates in Ann Arbor to this day.
Still, that lack of a national championship...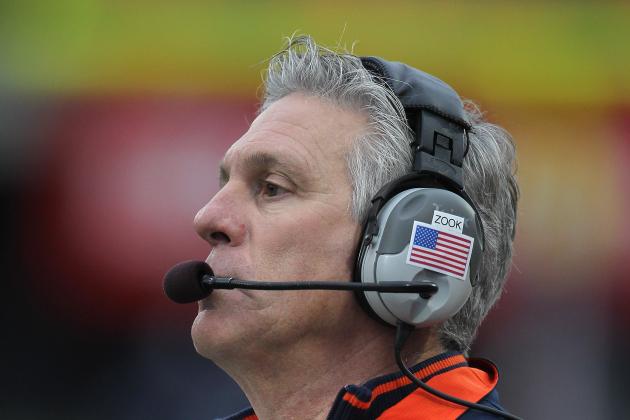 Jonathan Daniel/Getty Images

When it was announced that Ron Zook had been fired as the head coach at Illinois, Illini fans across the nation could finally heave a sign of relief.
Ron Zook was hired shortly after his firing at Florida, yet his new fan base curiously believed he would guide the Illinois football team into a new era of success.
That didn't happen.
Zook won just four games in his first two seasons at Illinois. He cooled his warming seat slightly in his third season, as Illinois beat then-No. 1 Ohio State during the regular season, and backed in to the 2008 Rose Bowl as the eventual Big Ten champion Buckeyes were selected to play in the BCS National Championship Game.
The Illini were soundly beaten by USC, and the team fell back into it's win some, lose some ways afterward.
When Illinois started 6-0 in 2011, it looked as if things might finally be turning around for the coach so many believed would be the next great Big Ten coach.
But after becoming the only FBS team in history to finish 6-6 after a start of 6-0, Zook was finally fired.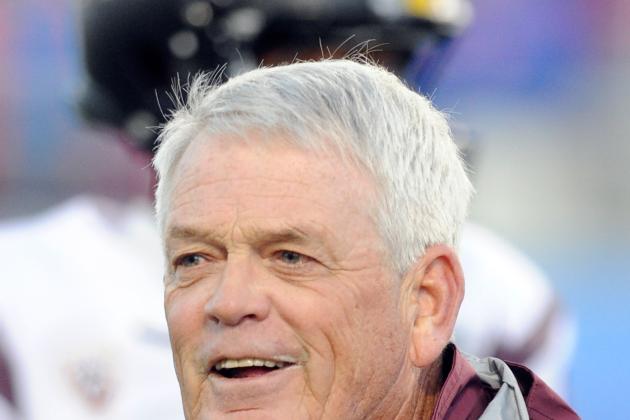 Ethan Miller/Getty Images

By now, everyone is perfectly aware that Dennis Erickson is not the savior of Arizona State every Sun Devils fan was hoping he would be.
After five seasons, Erickson was fired after posting a 31-31 record, which included an 0-2 bowl performance.
Not exactly what everyone was expecting from a coach with two national championships to his name from coaching the Miami Hurricanes.
Then again, both of those titles were won in his first three seasons at Miami, so maybe Erickson had less to do with it than we all thought.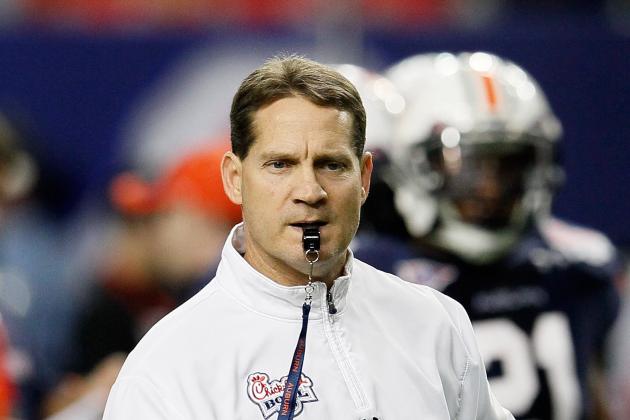 Kevin C. Cox/Getty Images

Gene Chizik is another coach who likely has quite a few years left in front of him.
But so far, his performance has been less than stellar.
Yes, his Auburn Tigers did win a BCS title in 2010, but if you remove that one 14-0 season from his record, Chizik is a paltry 21-29 as a head coach.
When Chizik was hired at Auburn, a lot of people—Auburn fans included—questioned his selection. He had only coached two seasons at that time, both at Iowa State, and had a record of just 5-19.
After an 8-5 season to start at Auburn, Chizik put together a BCS title season in 2010 (with a little help from Cam Newton, of course). After Newton's departure, Auburn was back to 8-5.
A 35-29 record certainly isn't hall of fame material, and a fourth-place finish in the SEC-West is not going to keep Tigers fans happy for long.
It's too soon to close the book on Chizik, but right now, he's clearly not a wonderful as Auburn fans think.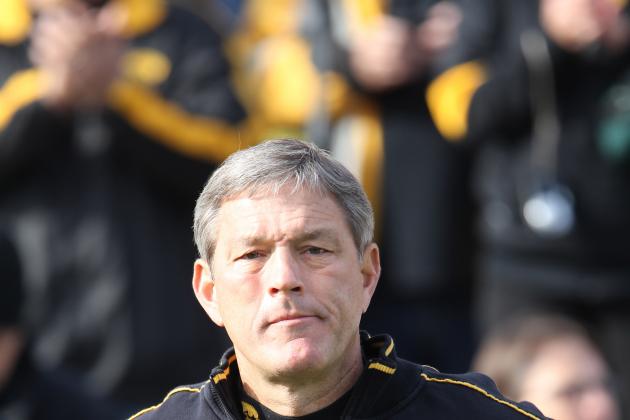 Reese Strickland/Getty Images

The fact that Kirk Ferentz is still the head coach at Iowa only leads us to believe that Iowa is perfectly fine with being a run-of-the-mill, middle-of-the-road Big Ten program.
In his 13 seasons at Iowa, Ferentz is 96-66 with a 57-47 conference record. While his Hawkeyes have captured two conference titles over that span, Iowa hasn't won a Big Ten title since 2004.
On top of that, both of Ferentz's Big Ten titles are shared titles.
Iowa also finished outside of the Top 25 more often than not under Ferentz, and the Hawkeyes seem to be in a perpetual "rebuilding year."
While Ferentz probably isn't bad enough to get fired, he's nowhere near good enough to bring national glory to Iowa.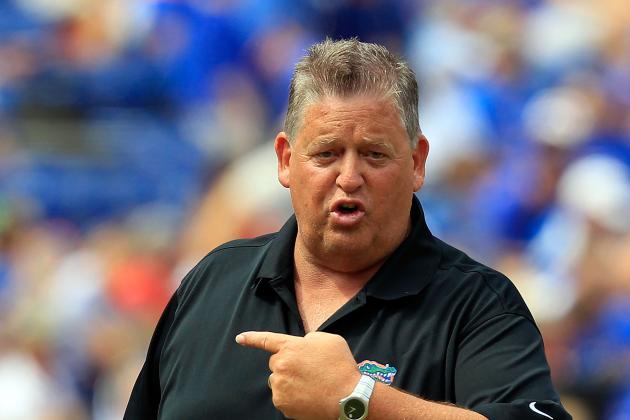 Sam Greenwood/Getty Images

This selection probably isn't a surprise.
Charlie Weis isn't the only Notre Dame coach on our list, but he's probably one of the most disappointing coaches.
Touted as an offensive genius, Weis was plucked from the New England Patriots to take over a Notre Dame program in desperate need of some success.
At first, things seemed to be headed in the right direction. Weis led the Fighting Irish to a pair of BCS bowls in his first two seasons in South Bend (both losses).
Then, things started to go south.
Over the next three seasons, Weis was a combined 16-21 before finally being fired after a 35-27 record over five seasons.
After licking his wounds for a season, Weis was picked up by Will Muschamp to take over as offensive coordinator for the Florida Gators in 2011.
Despite Florida's less-than-successful campaign, Weis was hired as the new head coach at Kansas, taking over in time for the 2012 recruiting cycle.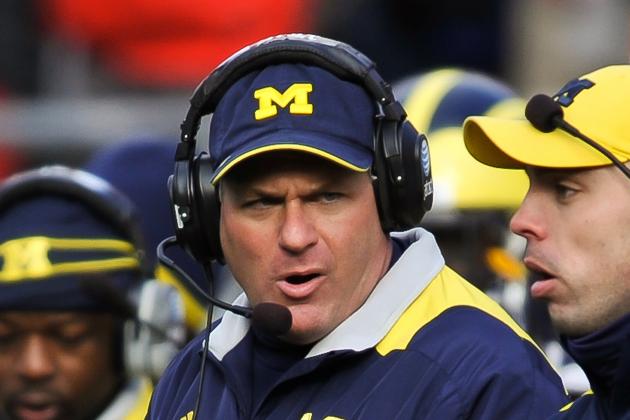 Jamie Sabau/Getty Images

It might not be fair to talk about guys who are in the midst of their careers, but Rich Rodriguez won't be the last current coach you'll find on this list.
This native of West Virginia got his head coach start at Division II Salem International, in West Virginia, before moving on to Glenville State, also a D2 West Virginia school.
Finally, in 2011, Rich Rodriguez was named the new head coach at his alma mater, West Virginia University.
Rodriguez put together a 60-26 record at WVU over seven seasons, which included at least a share of four Big East titles, and two BCS berths.
When Rich Rodriguez was named the new head coach at venerable Michigan after Lloyd Carr's retirement in 2007, it raised more than a few eyebrows. First, the academically elitist school was hiring a football coach who was, by all accounts, your typical Appalachian bumpkin. Secondly, and more importantly, his style of football wasn't was most would consider "Michigan football."
The marriage was doomed from the start as Rodriguez put together the worst season in Michigan's 130-year history, going 3-9. He was fired after just three seasons with a 15-22 record.
Rodriguez was recently named head coach at Arizona. It remains to be seen if he'll have any better luck out west.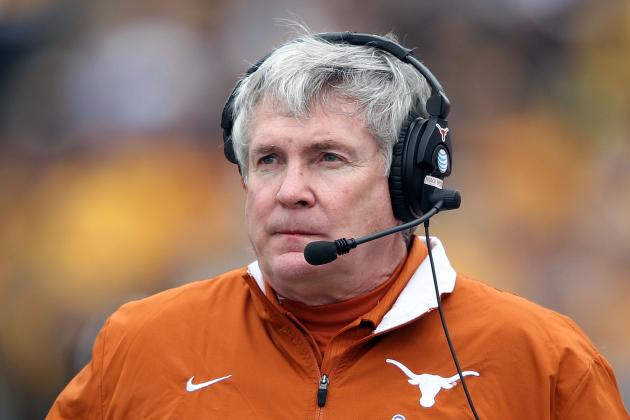 Jamie Squire/Getty Images

Some might think it's a bit of a stretch to put Mack Brown on this list. He is 141-39 at Texas, right? He has more than 225 wins all-time as a head coach, doesn't he? So what is it about Brown that makes him an overrated coach?
Well, there's more to coaching success than winning or losing games. At the end of the day, championships are what separates the good teams from the great teams, and Texas has been woefully short of championships under Brown.
Yes, Texas does have a BCS National Championship under Brown, but in his 14 seasons, Brown has only led the Longhorns to two Big 12 titles. Just two!
That's far fewer than what we're looking for from a truly great program. Compare those two with the conference titles for LSU (4), or Ohio State(7), or USC (5), or West Virginia (6) since Brown became head coach at Texas.
Worst of all, Oklahoma has seven Big 12 titles over Brown's tenure at Texas. Are Longhorns fans really ready to admit that Oklahoma is that much better of a program than Texas?