NFL Draft 2012: Highlighting the 5 Biggest Medical Concerns
February 21, 2012

Doug Pensinger/Getty Images
Before the NFL Combine turned into a full three-ringed circus of stopwatches, cameras, vertex measurements, accelerometers, cones and simulcasts, the primary reason the NFL Scouting Combine came into being was in order to get all draft prospects in one place for physical examinations and medical checks.
The importance of these medical examinations cannot be understated, even today. Despite the ever-growing interest in the drill portions of the combine, scouts and general managers still believe the interview and medical check portions of the week to be of utmost importance.
Today we will highlight five of the biggest medical concerns among draft prospects.
1. QB Brandon Weeden, Oklahoma State – Shoulder
Brandon Weeden came out of high school a baseball phenom, drafted by the New York Yankees in the second round, the team's first pick in that particular draft. By the time the Oklahoma State Cowboys got hold of Brandon, his shoulder was arguably too hurt to continue with his baseball career.
Yet somehow, despite having a worn out shoulder, Weeden emerged from the Oklahoma State depth chart and threw nearly 1,100 passes in the 2010 and 2011 seasons, averaging over 40 throws per game with no sign of shoulder trouble. His arm strength did not wear down during games. His offense often required an extreme tempo that could see him throwing consecutive fast balls less than 20 seconds apart from one another.
Teams will be anxious to see what is going on inside that shoulder of his. The stakes are high, as Brandon is one of the few quarterbacks in this draft who shows solid franchise level ability.
Rumors have persisted that Brandon's past shoulder injuries range anywhere from tendonitis to a torn labrum or even a torn rotator cuff. Considering Brandon's advanced age, this issue could make or break Brandon Weeden's draft stock.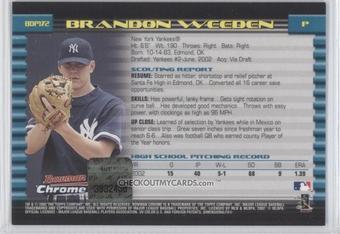 I believe everything will check out fine for Brandon Weeden. Not long ago, Brandon himself reached out to me in order to let me know that he never tore anything inside his shoulder, implying that his issues were limited to tendonitis. The change in throwing motion from pitching a baseball to throwing a football appears to have alleviated the inflammation.
2. OT Andrew Datko, Florida State – Shoulder
Andrew Datko had a string of 27 consecutive starts before a shoulder injury bled over from the preseason of 2010 into the regular season, forcing him to miss three games. He played the rest of the 2010 season despite the shoulder injuries, and had surgery to repair the shoulder after the season. However, the shoulder continued to bother him, and he only made it through four games of the 2011 season before being forced to shut down for the remainder of the year.
Datko has a good frame and continually stood out to me in 2010 for his mobility, lower body strength and mastery of technique. He always seemed to ooze coachability.
I questioned his ability to play left tackle at the next level, but part of that had to do with a lack of upper body strength that seemed conspicuous given the injury history. He has a lot to prove to the scouts in Indianapolis if he wants to be drafted despite his history of shoulder problems.
3. WR Ryan Broyles, Oklahoma – Knee
Prior to tearing his anterior cruciate ligament in a game against the Texas A&M Aggies, Ryan Broyles had set an NCAA record with his 349 career receptions. He became the second all-time leader with 4,586 career receiving yards. Despite missing the remainder of the season, he was a finalist for the Fred Biletnikoff Award given to the nation's best receiver.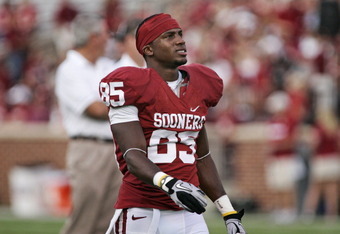 Brett Deering/Getty Images
Broyles will not be able to run at the combine, nor will he be capable of full workouts at any point prior to the NFL Draft. He will be in Indianapolis primarily for medical checks and interviews. Any team drafting Broyles will be flying relatively blind and will have to rely solely on his college tape and whatever encouraging signs doctors find in Broyles' progress this week.
4. DE Jared Crick, Nebraska – Chest
Prior to going down for the season with a torn pectoral muscle, I thought Jared Crick was on his way to first-round status. A natural stack and shed player with active hands, impressive mobility, strength and agility, the only key item missing from his tool box preventing him from being an elite prospect is great flexibility and lateral explosion.
He should be perfect in a 3-4 defensive alignment where he can put his stack and shed ability to good use, and will not be exposed as much to pure penetration, gap shooting and outside pass rushing responsibilities that would exacerbate his lack of flexibility and lateral explosion.
The first step in reclaiming his draft status will be showing the medical staff in Indianapolis that his torn pectoral muscle is healing properly with no complications. This injury typically takes between four and six months to regain normal functionality, which means that Crick is reaching the earliest stages in his rehab where he should be showing some encouraging signs.
5. DT Josh Chapman, Alabama – Knee
Deciding which among the many other medical concerns (ranging from minor to major) belong in the top five is not easy. Some players have medical concerns that will be a factor in their long-term outlooks. Other players have temporary injuries that will prevent them working out at the combine but are not major concerns in the grand scheme of things. Some players were never all that talented to begin with, others seem destined for top ten selection.
Josh Chapman's medical case is unique in all my years tracking professional and collegiate football. The standout second team All-SEC nose tackle from Alabama tore his anterior cruciate ligament as well as his meniscus on October 1, 2011. However, he only missed one game. He played the remaining eight games with the injuries.
I recall quarterback Phil Rivers playing in the AFC Championship Game with a torn ACL, but to me a nose tackle playing with the same injury (in addition to a torn meniscus) is a different animal. The reason I highlight him as a medical concern in this column is because playing that long at such a physically intense position with those injuries defies simple country wisdom.
Chapman only had surgery on his knee barely one month ago, but I believe the doctors in Indianapolis will want to take a deep look into his file to make sure that Alabama's coaches and doctors did not allow Chapman to make a costly mistake continuing to play on that knee.