NFL Combine 2012: Predicting Who Will Excel in Each Workout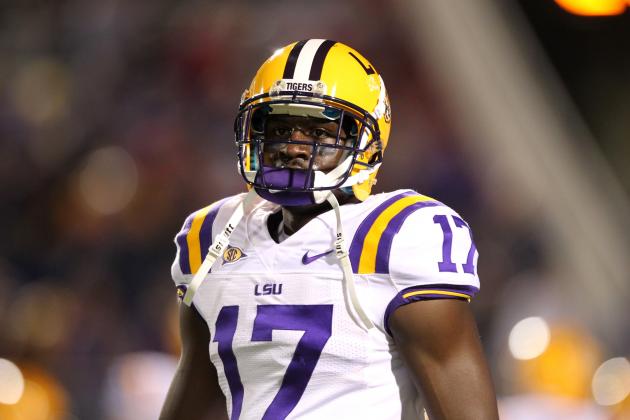 Joe Murphy/Getty Images

The NFL scouting combine is a huge part of the pre-draft process. The 40-yard dash gets the most publicity, but the other workouts are also extremely important.
Often, players' on-field performances indicate how well they will do in these drills. After all, the point of each workout is to analyze how good each player is in a certain aspect of the game.
A lot of people love watching the combine. It's fun to watch these insane athletes dominate athletically.
Here are the guys you should be paying attention to.
Begin Slideshow

»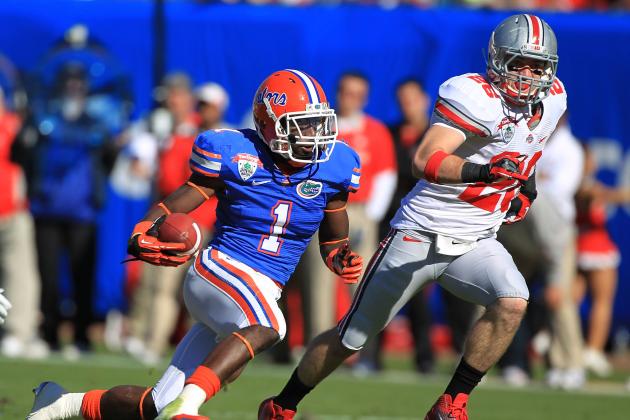 Scott Halleran/Getty Images

Players who should impress: Chris Rainey, RB, Florida; Zach Brown, LB, North Carolina
As everyone knows, the 40-yard dash is a drill that tests pure speed. The practicality of the drill can be argued to death, but it certainly garners the most hype.
Chris Rainey is as fast as any player in this draft. The 5'8", 178-pounder is explosive and possesses track-star speed.
At North Carolina, Zach Brown excelled in coverage. The speedy linebacker is practically a safety in a linebacker's body, and he will run like one.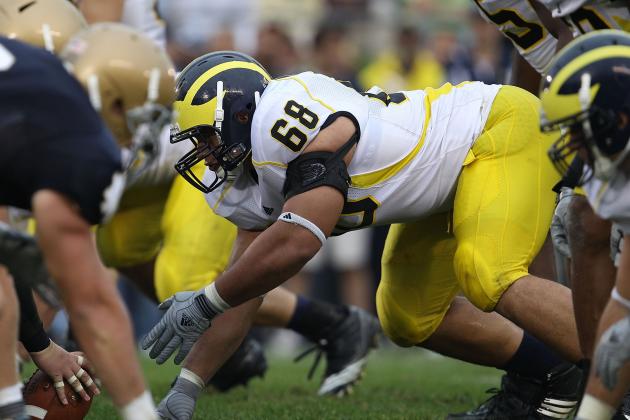 Jonathan Daniel/Getty Images

Players who should impress: Mike Martin, DT, Michigan; Cordy Glenn, OG, Georgia
The bench press is a measure of strength, but arm length is a huge factor. The shorter distance between the player's body and full arm extension, the more reps the player can push up.
Mike Martin is a 6'1", 307-pound former wrestler. The Michigan lineman is stout and incredibly strong. If it weren't for Stephen Paea's incredible performance last year, Martin would have a shot at the record.
Though Glenn doesn't have short arms like Martin does, he is extremely powerful. The Georgia lineman weighs in at 345 pounds at 6'6", and he may be the most physical player in the draft.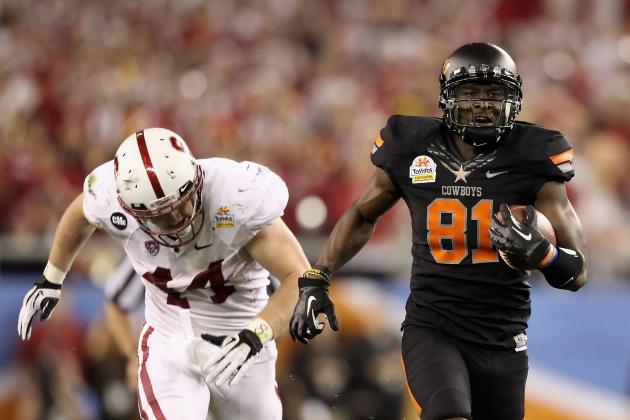 Christian Petersen/Getty Images

Players who should impress: Justin Blackmon, WR, Oklahoma State; Dre Kirkpatrick, CB, Alabama
The vertical leap is a measure of explosion. If a player can jump high, odds are that his leg muscles are powerful and, more importantly, quick.
On the field, Justin Blackmon isn't all that explosive. However, he can, by all accounts, really get up in the air. Blackmon's 6'1", 215-pound frame is far from ideal for the vertical leap, but if he can jump, he can jump.
At 6'3", 190 pounds, Dre Kirkpatrick has the better body for the drill. The Alabama cornerback is a superb athlete who can hang with the most freakish of wide receivers.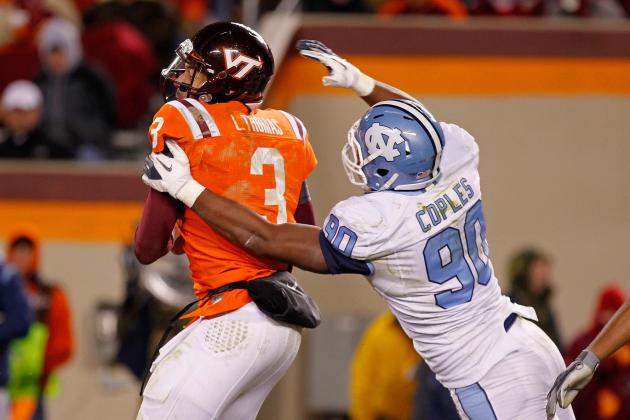 Geoff Burke/Getty Images

Players who should impress: Quinton Coples, DE, North Carolina; Trent Richardson, RB, Alabama
The vertical leap and broad jump are, in many ways, similar. However, the broad jump is more about power, while the vertical leap is more about explosion. It's a pretty fine line, though.
As a pass-rusher, Quinton Coples isn't the most explosive guy off the edge, but he is extremely powerful and his athletic ability cannot be denied. Coples' 6'6", 280-pound frame doesn't hurt either.
Trent Richardson is among the most powerful backs in all of football. The 5'11", 225-pounder is a good athlete, but his lower body is ridiculously strong. He simply explodes through contact, rarely allowing one defender to tackle him.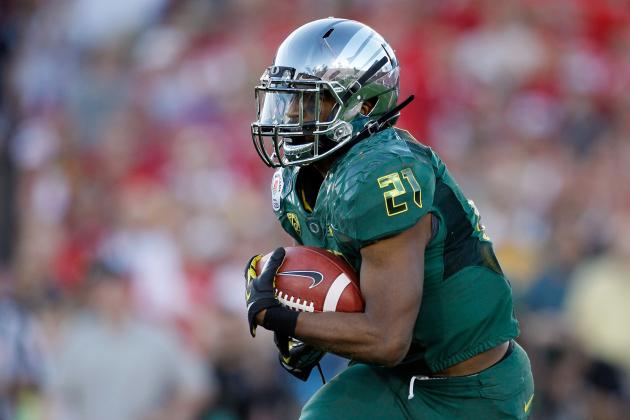 Jeff Gross/Getty Images

Players who should impress: LaMichael James, RB, Oregon; Morris Claiborne, CB, LSU
The 20-yard shuttle isn't a measure of speed but lateral ability. The drill tests how quick a player is in and out of his cuts, and whether he can accelerate with no forward momentum.
LaMichael James is not expected to run well in the 40-yard dash. He really isn't that fast when running in a straight line. He is extremely quick when moving horizontally, though, and that is what makes him such a valuable player.
At LSU, Morris Claiborne established himself as a terrific athlete, if not quite at former teammate Patrick Peterson's level. Claiborne is extremely quick and fluid, and this shows on the field as he shuts down the most explosive of wideouts.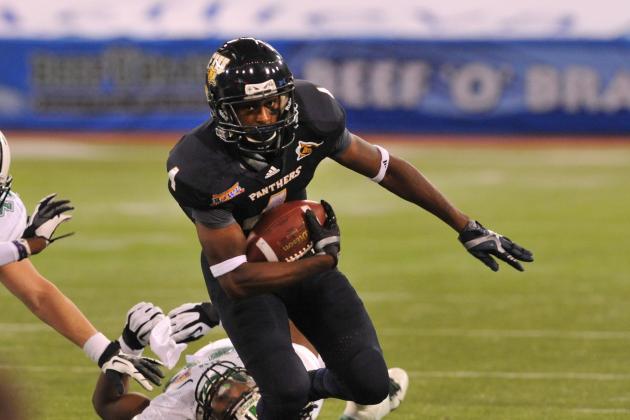 Al Messerschmidt/Getty Images

Players who should impress: Bruce Irvin, LB, West Virginia; T.Y. Hilton, WR, FIU
While the 20-yard shuttle is more about explosion in and out of cuts, the three-cone drill is more about smoothness. The three-cone measures how fluid a player is and, when it comes to pass-rushers, how well he can bend the edge.
Bruce Irvin fits that perfectly. The 6'3", 245-pounder effortlessly moves around offensive tackles, and he is as smooth as any pass-rusher in this draft. Irvin has his flaws, but his ability off the edge is incredible.
A return man, T.Y. Hilton needs to be quick. The FIU star weaves in and out of seams while losing almost none of his speed. That ability will show in the three-cone drill.