The 25 Most Underrated Heisman Trophy Winners in History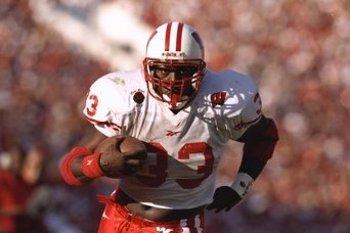 The Heisman Trophy is the award given to the player perceived as being the best of the season.
It has primarily been given to guys on the offensive side of the ball, usually a quarterback or running back.
As a matter of fact, only one primarily defensive player, Charles Woodson, has won the award out of the 77 that have been given out.
This list is about the Heisman Trophy winners who don't receive enough credit.
The guys whose stats or prowess on the field are still questioned, or who were so good they deserved more points in the vote in the year that they won.
From 25-1, here are the most underrated Heisman winners in history.
25. George Rogers, RB, South Carolina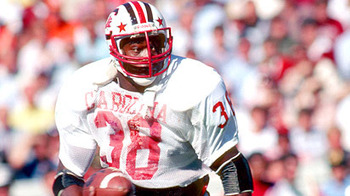 Herschel Walker did not win the trophy this season, though anyone living in the Athens, GA, zip code will argue that he should have.
Sometimes the fact the Rogers had a great season dwindles away under the scrutiny Georgia fans like to throw on this race.
Rogers had minimally more rushing yards, a better per carry average by .1 yard per carry, though Walker actually won the yards from scrimmage battle by one.
However, folks seem to forget that Rogers accomplished what he did with far less talent around him than Walker played with at Georgia.
The Dawgs boasted a whopping nine All-SEC players on their championship squad.
24. Ron Dayne, RB, Wisconsin

This video courtesy of YouTube

In our "what have you done for me lately" society, we forget quickly about guys like Dayne, who were busts in the NFL.
Even though he received plenty of votes when he won the award in 1999, his talent is still called into question.
Watch the video, the man, though big, was incredibly fast.
That is a defensive back he is pulling away from in this clip.
On top of that, "The Great Dayne" accomplished what he did when everybody in the stadium knew he was getting the ball.
Opposing defenses would try to stop him, but they just couldn't.
23. Glenn Davis, RB, Army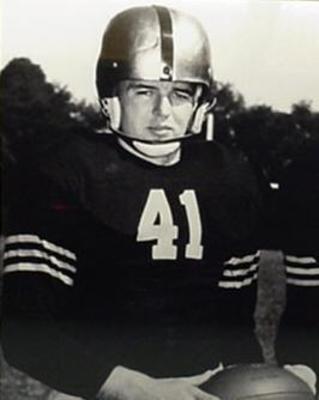 In a day and time when huge offensive numbers and hard-hitting defenders are the norm, we sometimes overlook Heisman winners of yore.
Case in point, Glen Davis, "Mr. Outside."
Davis scored a touchdowns every nine touches in his 1946 Heisman campaign.
That's right, nine.
Compare that to the most recent running back to win the Heisman, Mark Ingram.
He scored an average of every 13.7 touches.
22. Andre Ware, QB, Houston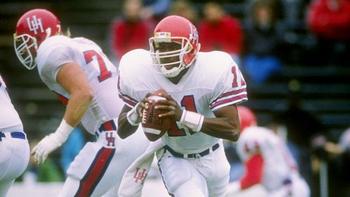 This is probably due much to the fact that playing for Houston Ware did not receive the television exposure during the 1989 season that other players at major powers were able to manipulate.
Ware had an incredible season, tossing 46 touchdowns, throwing for 4,299 yards, and achieving a 63.1 completion rate.
In spite of his fantastic season, the Heisman vote was relatively close, as Ware only pulled out the win by 70 points.
21. Eric Crouch, QB, Nebraska

This video courtesy of YouTube

Crouch's detractors pointed to his ability to rush better than pass to take away from his accomplishments, but this guy was legit.
He finished the 2001 season with 18 rushing touchdowns to only seven through the air.
He was a few years ahead of his time as a mobile passer, so he did not receive the credit that he should have.
As a matter of fact, Crouch took first place in the voting in only one region of the country out of six.
20. John David Crow, RB, Texas A&M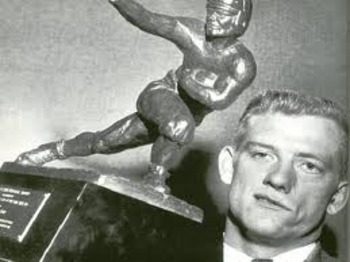 Crow came away with the Heisman in 1957, and some folks view him as one of the worst Heisman winners of all time.
But let's not kid ourselves.
Crow won in a landslide, amassing 1,183 points in the voting, to Alex Karras' 693.
He played in only seven games that season, due to early season injuries, threw for five touchdowns, rushed for six more, and intercepted five passes.
Take nothing away from his accomplishments, the man could play, and play well.
19. Les Horvath, QB, Ohio State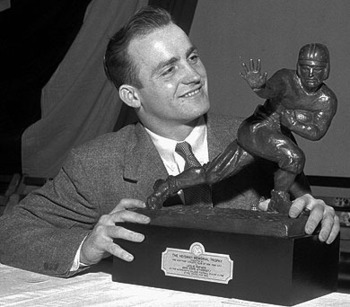 1944 was the year that Horvath walked away with the award.
That season, he led the Buckeyes to a perfect 9-0 season, totalling 924 yards rushing for a 5.7 yards per carry average.
He also completed 14 passes, six of which went for scores.
As the undisputed leader of the team, he kicked, played quarterback, ran the ball, and played defense.
His award is sometimes called into question due to the great season Army's Glenn Davis turned in, but the fact that Davis did not win should not in any way take away from Harvath's versatile performance.
18. Jason White, QB, Oklahoma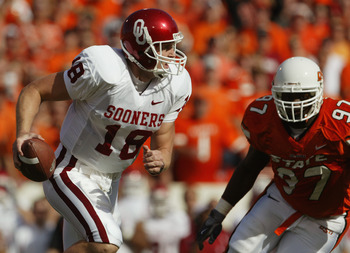 Jeff Gross/Getty Images
White hauled in the hardware in 2003 after an incredible season.
Unfortunately, he is remembered more for his inadequacies in the Sooners' two biggest games of the season, rather than his incredible regular season performance.
He threw for 40 touchdowns and six interceptions during the regular season, leading the Sooners to the Big 12 title game.
In that game against Kansas State, and the BCS title game against LSU, White scored no touchdowns, and threw four interceptions.
17. Leon Hart, End, Notre Dame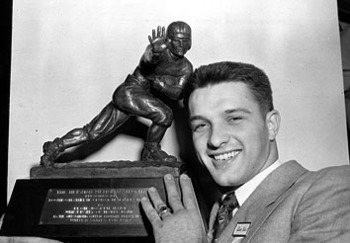 Doak Walker, the 1948 winner, was slowed by injuries during the 1949 season, and was unable to repeat his success.
Enter Leon Hart.
The man played end on both sides of the ball, caught passes, ran the ball, and terrorized opposing quarterbacks en route to a run-away Heisman victory.
He didn't have the numbers of a Cam Newton or Tim Tebow, but he certainly deserves all the respect he has been given.
16. Bo Jackson, RB, Auburn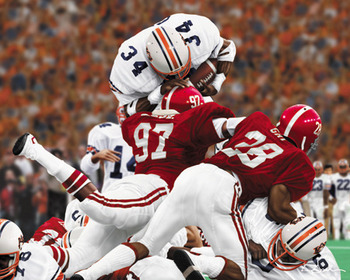 Only 45 votes separated Jackson and Iowa quarterback Chuck Long.
Ridiculous.
In spite of his inability to perform in the biggest games of Auburn's 1985 season against Florida and Tennessee, this guy was incredible.
How in the world anyone was even close in this race is still an enigma to me.
15. Reggie Bush, RB, USC

Video courtesy of YouTube

If you check the Heisman Trophy website, you will not find Reggie Bush anywhere among its list of winners.
Football purists may wish to skip this page, as it will praise Bush, and give him credit that he never receives anywhere except in Southern California.
The man was incredibly good, and even though Vince Young may have deserved the award, Bush was no slouch, and his accomplishments should not be ignored.
He was a key part of the Trojans' surge to the BCS title game, and even though they lost that game, he still totaled 177 yards from scrimmage and a score.
14. Chris Weinke, QB, Florida State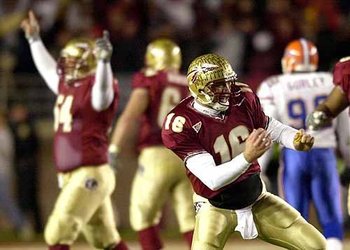 Weinke was nearly eligible to become a member of AARP when he won the award in 2000.
For that reason, he may have lost some of the votes he should have received in the balloting, but still pulled away.
He averaged over 347 yards per game in the season, and walked away with all kinds of Florida State passing records.
Forget the fact that he was more than half a decade older than most of his opponents, the man deserved the accolades.
13. Nile Kinnick, RB, Iowa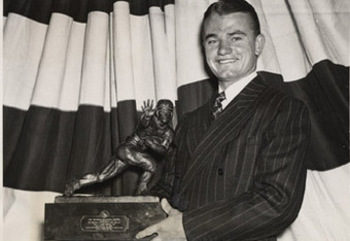 Kinnick was the greatest player in Iowa football history.
The man played 402 consecutive minutes of football in the 1939 season before being knocked out of the game against Northwestern with a shoulder injury.
11 of his 31 passes were touchdowns, and amassed 374 yards on the ground.
On top of all that, he was an effective punter for the Hawkeyes his entire time at the university.
Sadly, he disappeared in June of 1943 after crash landing his fighter jet in the ocean.
12. Charles Woodson, DB, Michigan

This video courtesy of YouTube

Quarterbacks just did not get it.
You don't throw the ball at Woodson, ever.
Not anywhere in his zip code.
As the only primarily defensive player to win the award in college football history, Woodson obviously earned this one.
It's tough to call the guy who swept all six regions for first place "underrated," but the fact that Peyton Manning did not win the award in 1997 seems to take away from his stellar season in many fans' minds.
11. Terry Baker, QB, Oregon State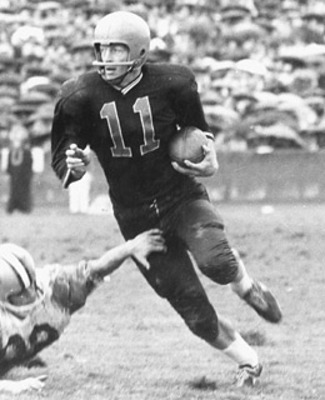 The 28th edition of the award went to Oregon State's Terry Baker.
Baker amassed 4,980 yards and fifteen touchdowns, as well as kicking 33 extra points.
His win was a major breakthrough for schools out west, as he was the first player from that region of the country to win the trophy.
His numbers were ridiculous for his time, as the explosive styles of offense to which we have grown accustomed were not in vogue back in 1962.
10. Davey O'Brien, QB, TCU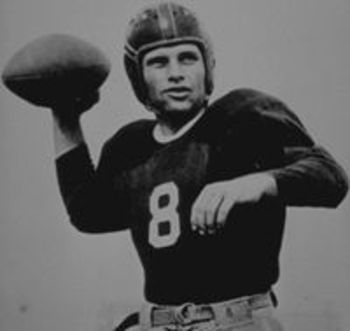 O'Brien took the trophy in 1938.
At 5'7", 150 pounds, O'Brien is the smallest player to ever win the Heisman.
In this season, in spite of his diminutive size, he completed 110 of 194 passing attempts, for 1,733 yards and 19 touchdowns.
He was involved in a ridiculous 400 rushing or passing plays in his senior season.
Other than the fact that he has a trophy named after him, most people don't know a thing about the guy, leaving him out of the limelight.
9. Matt Leinart, QB, USC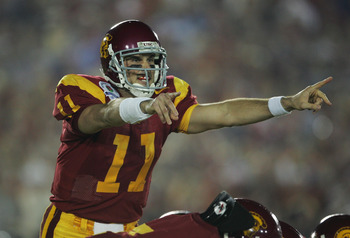 Stephen Dunn/Getty Images
Leinart was a great one.
He won the award in 2004, beating out a field that included Adrian Peterson, Reggie Bush, Alex Smith and Jason White.
Leinart led the Trojans to back-to-back championships, winning this award in a season where he accumulated 3,322 yards through the air to go with 22 touchdowns and only six picks.
We often talk about the Trojans' loss to Vince Young's Texas team in the next season but forget about what Leinart led them to in the previous two.
8. Mike Rozier, QB, Nebraska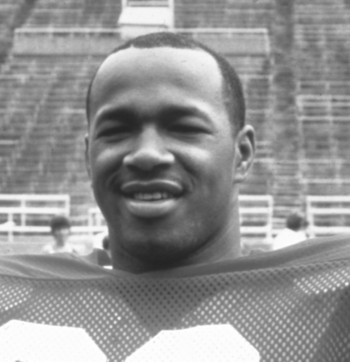 "I'm sorry, who."
That's the response you will receive from the majority of college football fans under 30 years old when you mention Rozier.
That's outside the state of Nebraska, of course.
What a shame.
He was a catalyst on the "Big Red Machine," averaging 7.8 yards per carry, and scoring 29 times on the ground.
Definitely one of the greatest of all time, and someone who deserves more recognition for his greatness than he receives.
7. Eddie George, RB, Ohio State

This video courtesy of YouTube

George was legit.
In the 1995 season, he rushed for over 100 yards in 11 out of his 12 games, and in that 12th game, he gained 99 yards.
It's a shame that Nebraska quarterback Tommie Frazier never won the trophy, but let's not take away from George's tremendous season.
6. Jay Berwanger, RB, Chicago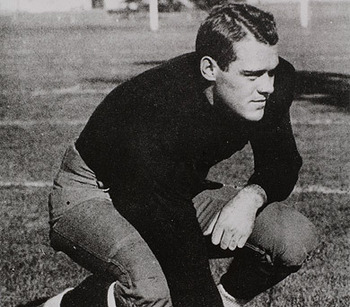 This man was the first winner of the Heisman.
Of course, at the time, it was known as "Downtown Athletic Club's Trophy to the Outstanding College Football Player East of the Mississippi River."
He did everything.
No specialized, individual position crap for this guy. He played quarterback, ran the ball, was a solid defensive back, returned punts, kicked off and punted the ball.
Talk about doing it all.
5. Robert Griffin III, QB, Baylor

Video courtesy of YouTube

192.31
That's all you need to know.
For all the arguments that Griffin was not as good as Andrew Luck, or that his team lost games against Oklahoma State, Kansas State and Texas A&M, this number outweighs them all.
It was the best quarterback passing efficiency rating in the history of the stat.
The man's deep ball is a thing of beauty as well.
Though he came away with the Heisman, he still has plenty of detractors, who should, in the words of ESPN's Mike and Mike, "Just Shut Up."
4. Ty Detmer, QB, BYU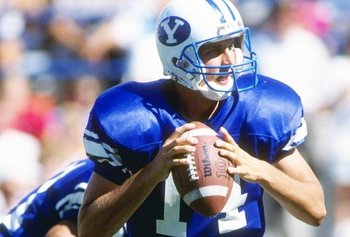 Detmer left BYU with a ridiculous 14 NCAA records.
His junior season, 1990, is the season that saw him win the Heisman, and included a stellar performance against the then No. 1 team in the country, Miami.
When the greatest quarterbacks in the history of the college football game are discussed, Detmer should always be near the top.
He finished the season with an amazing 5,188 yards and 41 touchdowns.
3. Doc Blanchard, RB, Army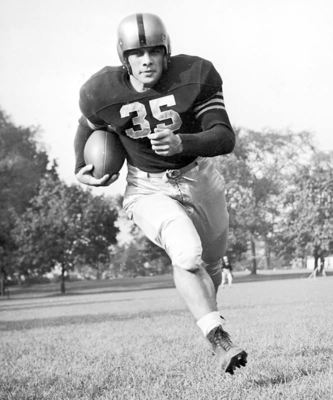 "Mr. Inside" shared the backfield with another Heisman winner, Glenn Davis, yet still managed to dominate during his time at Army.
In the 1945 season, in which he won the Heisman, Blanchard scored 19 touchdowns, in spite of splitting carries.
He deserves some major props as the first junior to ever take home the Heisman hardware.
2. Rashaan Salaam, RB, Colorado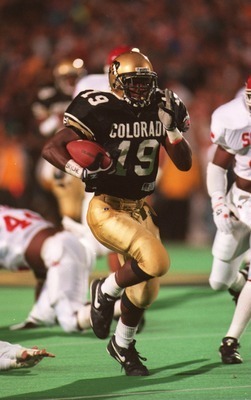 Salaam was an absolute bust in the NFL, and many seemed to feel at the time that Penn State back Ki-Jana Carter would be a better pick for the award.
Salaam could do his Rodney Dangerfield routine after hearing all the negatives about him.
However, consider this: Salaam was one of only four players to reach the 2,000-yard plateau rushing when he did so in 1994, en route to an 11-1 season for the Buffaloes.
He deserves all the credit he receives, and then some.
1. Barry Sanders, RB, Oklahoma State

This video courtesy of YouTube

He won the Heisman in 1988, by an extremely convincing margin.
As a matter of fact, USC quarterback Rodney Peete came in second with fewer than half of Sanders' 1,878 total points.
However, if you can peer beyond the grainy footage in this video and see the greatness every time the man touched the ball, you will understand why I believe the 156 voters that did not have him first on their ballot should have their voting rights revoked.
Keep Reading