Southwest Stakes: Split Field Sweep for Bob Baffert and Rafael Bejarano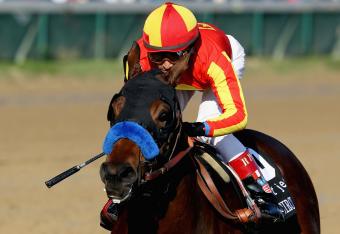 Matthew Stockman/Getty Images
The Southwest Stakes at Oaklawn Park was split in two divisions, and trainer Bob Baffert and jockey Rafael Bejarano swept the wins in both races.
The Southwest Stakes is the first major Kentucky Derby prep race of the year at Oaklawn Park. And you can thank the 21 horses entered for having the track authorities splitting the field, giving us the two-for-one treat.
Each race was run at the assigned distance of one mile and a G3 classification with a $250,000 purse.
The horse that everyone was expecting to see, 2011 Breeders Cup Juvenile Sprint champion Secret Circle, was the 1-1 heavy favorite in the second division.
And the question everyone wanted answered from Secret Circle was if he could manage to win at a two-turn race for the first time in his short career.
And he did so in dramatic fashion as he out-dueled the 10-1 feisty pacesetter Scatman.
The one-mile race starts right at the finish line at Oaklawn. This gives a short run for the horses to the first turn. Secret Circle, from post nine, had to break alertly.
And he did jump the break and tried to get to the lead, but Scatman engaged him from the three post under jockey Luis Quinones, and Bejarano opted to place Secret Circle right behind him as they managed the first turn.
From here on it was Scatman up front with Secret Circle stalking him to the top of the home stretch.
Do you think Secret Circle can be successful at classic distances?
The only horses to get near them were Apprehender at the half-mile pole, to a half-length in third place, and 4-1 second choice Cyber Secret, who got to within a length in third place at the three-quarter-mile pole, just as Secret Circle was engaging Scatman for the lead.
But they left their competition behind, and it was a beautiful mano-a-mano between Quinones and Bejarano down the stretch. As Scatman was still showing the head in front with a half-furlong to go, it was Secret Circle who prevailed over the stubborn Scatman at the wire.
It must have been a sight for sore eyes for the connections of Secret Circle with his great display in the win. He showed he can rate off of the leader and be resilient to win in a battle down the stretch.
More than anything, at least he handled the two turns diligently. The final time for Secret Circle was 1:37.08 for the mile over the fast track, and he was a half-length better than Scatman, who was 5.5 lengths in front of Adirondack King, who finish third.
Payoffs were $3.20, $3.20 and $2.40 for Secret Circle owned by Karl Watson and Paul Weitman's Wilmott Stables; $6.40 and $4.60 for Scatman and $3.00 for Adirondack King.
In the earlier race, it was 8-1 fourth betting choice Castaway who went home the winner for Baffert and Bejarano and owners Mrs. John Magnier, Michael Tabor and Derrick Smith.
And he did so in impressive fashion. Keep in mind again the short run from the gate to the first turn, and Castaway had the 11th and farthest post outside.
He broke well and was used a bit early by Bejarano to settle in second place behind pacesetter and 8-1 fifth betting choice Majestic Drive under jockey Carlos Marquez Jr.
Who has a better chance to make it to the Kentucky Derby?
But then in the middle of the final turn, Bejarano put some position over Castaway and he pulled quickly to the side of Majestic Drive.
And as they entered the home stretch, Bejarano was all over Castaway who pulled clear to win easily by three-and-three-quarters lengths over 15-1 betting choice Jake Mo, who split horses in the final furlong to finish second. Third betting choice Reckless Jerry at 9-2 was third.
Watch out for Jake Mo in a longer distance. He was beaten to a small space at the beginning of the final turn by 7-2 second betting choice Junebugred. He may not have challenged Castaway for the win, but maybe he could have been a bit closer at the end.
The favorite was Longview Drive at 5-2, and he finished in a dead-heat for sixth place with Junebugred and No Spin.
Castaway's final time was 1:38.09—a full second more than Secret Circle's final time.
The payoffs were $15.40, $9.40 and $7.20 for Castaway, $19.00 and $7.40 for Jake Mo and $4.20 for Reckless Jerry.
Now is the wait-and-see mode on Secret Circle and Castaway's future plans from Bob Baffert, who enjoyed winning four stakes races over the weekend. Can't wait to see what's up next.

This article is
What is the duplicate article?
Why is this article offensive?
Where is this article plagiarized from?
Why is this article poorly edited?