UFC 144 Bleacher Report MMA Full Main Card Predictions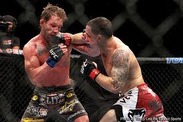 Frankie Edgar/Esther Lin for Yahoo! Sports
The UFC returns to "The Land of the Rising Sun" for the first time in over 12 years on Saturday and fans will likely see an early "Fight of the Year" candidate on UFC 144's main event.
UFC Lightweight Champion Frankie "The Answer" Edgar defends his title against Ben "Smooth" Henderson in a bout that promises to deliver fireworks.
The co-main event features former PRIDE star Quinton "Rampage" Jackson taking on former Ultimate Fighter winner Ryan Bader in a bout that will have major implications in future light heavyweight rankings.
Fans will also see Cheick Kongo take on Mark Hunt in a heavyweight clash, while home crowd favorite Yoshihiro Akiyama makes his welterweight debut against former 170-pound title contender Jake Shields.
Coming off a disappointing loss to UFC middleweight champion Anderson Silva, Yushin "Thunder" Okami looks to get back to his winning ways against Tim "The Barbarian" Boetsch.
In a featherweight bout with serious title implications, former Shooto and Sengoku star Hatsu Hioki will take on Bart Palaszewski.
A bout that is shockingly just the first one on the main card, the last ever WEC lightweight champion Anthony "Showtime" Pettis takes on submission specialist Joe "J-Lau" Lauzon.
Getting on board with the prediction team this week are Bleacher Report MMA Featured Columnists Dwight Wakabayashi, Dale De Souza, Jeffrey McKinney and myself, John Heinis.
Take a look inside to see who will be getting their hand raised on this rarely seen four-hour, seven-fight card.
Begin Slideshow

»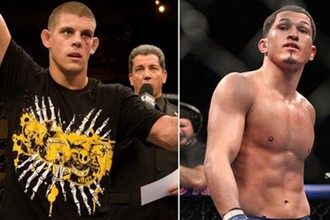 Photo Courtesy of BestofBJJ.com
John Heinis: This is a travesty if this is actually the first bout on the main card—this fight is way better than that.
Joe "J-Lau" Lauzon is fresh off of a massive upset victory over Melvin Guillard at UFC 136, immediately pushing "The Young Assassin" to the back of the line at 155 pounds and allowing Lauzon to leap frog several other contenders.
On the other hand, Anthony "Showtime" Pettis is coming off of a narrow split decision win over Jeremy Stephens, which also happened to take place at UFC 136.
Pettis, the last WEC lightweight champion, looked to be fast tracked to a meeting with UFC lightweight title holder Frankie Edgar—that is until Gray Maynard fought "The Answer" to a draw at UFC 125.
That forced Showtime into a keep busy fight with Clay Guida in June of last year, which he lost decisively, despite nearly coming up with a few submissions from his guard.
While both men have a purple belt in BJJ, Pettis should look to keep this fight standing. In 21 career wins, Lauzon has an astonishing 17 by submission, five of which have earned him "Submission of the Night" honors in the UFC.
Neither guy is much of a wrestler and Pettis is certainly the more dynamic striker, so as much as I'd like to pick the perennial underdog in Lauzon, I can't see him pulling off two big upsets in a row.
Anthony Pettis via unanimous decision (29-28)
Dwight Wakabayashi: This fight has heavy lightweight contender implications, as both of these young men are in a prime position to jump up in status with a solid win.
Lauzon is working on a two-fight win streak with his last one a stunning submission victory over Melvin Guillard in October at UFC 136. Pettis fought on that same card and got a solid victory over Jeremy Stephens.

These men fight very differently and whomever is able to set and maintain the pace of this fight is going to win.
If Pettis can use his fast-paced, diverse game on Lauzon and keep him on his heels all night, Joe will not get in his comfort zone and be able to slow the pace with grappling. If Lauzon gets a hold of Pettis early, it could make for a long night for the former WEC champ.

Pettis has a pace that is going to be the end of Lauzon. Pettis will score and move all night, and Lauzon will not be able to impose his jiu-jitsu game on him.
Pettis is just a bit too dynamic for Lauzon, and I always wonder which Joe is going to show.

Anthony Pettis via unanimous decision
Dale De Souza: Anthony "Showtime" Pettis is a Roufusport product who is famous for his unorthodox striking, but if there was any question about his wrestling, he was able to prove that fact against one Jeremy Stephens, who likely expected to get the same Anthony Pettis that was just so damn hard to submit in the WEC.
The fact that Pettis has dealt with serious BJJ black belts and seemingly studied the art of Joseph Benavidez's "Joe-Jitsu" before each of those aforementioned fights is something that almost makes one question if Joe Lauzon can actually submit Pettis in Japan.
For all of the obvious improvements in Lauzon's striking game and his ability to catch some fighters off-guard, his BJJ is what makes his entire game plan.
Both men are finishers, and both really do not like going to decisions, as is evident by Lauzon's 0-1 record in fights that have gone the distance—with the only time of Lauzon ever going to decision being the night that Sam Stout won a unanimous decision over the Bridgewater, MA, native.
Pettis should throw Lauzon off-guard with his striking and really neutralize Lauzon's BJJ before he even thinks about trying to beat Lauzon at his own game.
Meanwhile, Lauzon will look to pick his shots and drop Pettis whenever possible, but will either man elect to follow these game plans, or will they deliver on something that we haven't talked about yet?
Either way, the smart money might be to expect something new from Pettis, and if it does hit the ground, expect Pettis to successfully work his submission defense before he does what few believe he can do and submits Lauzon late into this fight.
Anthony Pettis by round 3 submission (Triangle Choke)
Jeffrey McKinney: Former WEC lightweight champion Anthony Pettis will be returning to action as he takes on submission expert Joe Lauzon.
Both Pettis and Lauzon are capable of finishing their opponents in different ways.
Each of Lauzon's wins have come by submission or knockout, but Pettis has never been stopped.
It's hard to pick against either of these fighters. Lauzon may be one of the most underrated fighters in the UFC, while Pettis has only lost in close decision fights.
This should be a good back and forth fight with the potential of being fight of the night.
My pick goes to Pettis, who with another win or two could find himself taking on the winner of the night's main event in the future.
Anthony Pettis by decision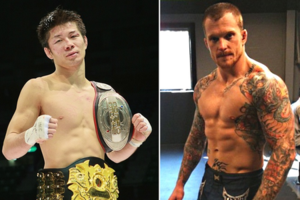 Photo Courtesy of MMA Mania
John Heinis: While fans of the UFC's 145-pound featherweight division are pumped up to see Jung Chang-Sung fight Dustin Poirier in May, let's not forget about another potential barnburner in Hioki vs. Palaszewski.
Hioki, a former Sengoku champion, also known for his success in the Shooto promotion, had his doubters when he made his UFC debut against George Roop at UFC 137.
While the "Iron Broom" made his debut a successful one, it's tough for me to truly have faith in the Japanese grappler.
He barely beat Roop (I honestly thought Roop won that fight), and in 24 wins, he's beaten three other quality opponents (Jeff Curran, Mark Hominick, twice, and Marlon Sandro, who is good, but nothing special).
Once he fights someone with defense wrestling and power in his hands, he will lose: enter Bart Palaszewski.
While many were shocked to see "Bartimus" (yeah, it's a pretty lame nickname) knock out Tyson Griffin, coincidentally also at UFC 137, many forget Palaszewski was the last man to defeat Anthony Pettis in the WEC (WEC 45 in December of 2009).
In 36 wins, the Warsaw, Poland, native has 17 KOs and 11 submissions. Another lesser known fact about Palaszewski is that he has a black belt in BJJ, so he will likely outlast any submission attempts Hioki has up his sleeve.
It's obvious who I'm picking, but I think we see a statement win here.
Bart Palaszewski via 3rd round TKO
Dwight Wakabayashi: Hatsu Hioki is just hitting his stride in his career, and he is one Japanese fighter who has had some success against western competition.
Hioki is 25-4 in his career, and has fought mainly in Japan. He has also competed in Canada under the TKO organization, where he has two title fight wins over Mark Hominick.
Hioki is a submission wizard with 12 of his wins coming via submission and nine via decision. He is a black belt in jiu-jitsu and will look to implement that game on his opponent Bart Palaszewski.
This fight has large implications on the featherweight title picture, and Hioki is on a five-fight win streak and favored to win.
Palaszewski is a seasoned veteran with 50 mixed martial arts fights under his belt in promotions big and small all around the United States. He is most known for his days in the IFL and WEC, and this is his second fight under the UFC banner.
Palaszewski defeated Tyson Griffin via TKO in his debut. He has big power in his punches and holds 19 knockouts in his 36 victories. He wants to keep this one standing and land the power shot on Hioki.
Bart Palaszewski via 2nd round KO
Dale De Souza: I'd be lying if I said I wasn't battling with this one.
I was one of the many that was amped for HatsuHioki's UFC debut, and I was one of the many that thought George Roop might get submitted, but unlike the rest of "the many," I was impressed with Hioki's outing against Roop despite the split decision.
The truth is that there are going to be Featherweights who will try to play the role of the spoiler against Hioki throughout his time in the UFC.
Some of them are going to try and create similar fights to Hioki's fight with Roop, but it's more about how Hioki responds to those challenges than how some make him out to look that ultimately makes the most significance.
You talk about the role of "spoiler"; Bart Palaszewski is one such guy who we should expect to actually get the job done against Hioki, even if he fighting Hioki on his home turf.
"Bartimus" has come off of a win over an overweight Tyson Griffin to take on a huge step up in competition in the form of the fluid submission master Hioki, who is one of nine Japanese fighters who is not willing to give up any victory inside the Octagon on Saturday night (US time).
However, Hioki's never had to stand and match the pressure that Palaszewski mounts in each of his fights.
I'll say it right now as I have said earlier this week: Palaszewski is the type of fighter that promoters put on cards whenever fans decide that they're just in the mood for a fun fight, and he will do his best to make this a fun fight.
I would expect Palaszewski's reach to give Hioki trouble, but after much thought, I'm inclined to think that maybe there will be no doubt about who won the fight.
It's hard to not like the veteran Palaszewski, but rest assured, Hioki will earn his respect back on this night.
Hatsu Hioki by round 2 submission (Armbar)
Jeffrey McKinney: Hatsu Hioki will make his return to Japan, as he takes on Bart Palaszewski.
Hioki is currently on a five-fight winning streak, which includes his UFC debut against George Roop.
A victory could put him in a title bout with Jose Aldo.
But it won't come easy, as he takes on hard hitting veteran Palaszewski.
Of his 36 wins, Palaszewski has 28 by knockout or submission. In his most recent fight, Palaszewski earned "Knockout of the Night" after he defeated Tyson Griffin at UFC 137.
I see this fight going in favor of Hioki, though.
After a less than exciting victory in his UFC debut, Hioki should be looking to put on an exciting show for his home crowd and perhaps earn a featherweight title shot.
Hatsu Hioki by decision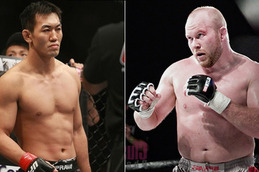 Photo Courtesy of MMA Mania
John Heinis: Okami has more or less been a ghost in the fight world ever since soundly being defeated by Anderson Silva in a middleweight title bout at UFC 134 back in August.
Clearly, the UFC wants to see "Thunder" bounce back sooner than later against journeyman grappler Tim Boetsch.
Boestch has been defeated every time the competition has been upgraded (Vladimir Matyushenko, Matt Hamill, Jason Brillz and Phil Davis), while Okami has only lost to the best of the best (Silva, Chael Sonnen, Jake Shields and Rich Franklin to name a few), so this one just seems obvious.
Normally, I get nervous when a big name fighter is significantly favored over his opponent...but this isn't one of those times.
Yushin is just a hands down better fighter, and another stint training with Sonnen and Team Quest should serve him well here.
Yushin Okami via 2nd round KO (right cross)
Dwight Wakabayashi:Yushin Okami is the strongest and best fighter coming out of Japan today. He is currently ranked as a top-five middleweight on most world rankings right now.
Okami has strength not usually seen in an Asian fighter, and he blends it with technique to bully and control his opponents in the cage.
Okami has fought all the best in his weight class and has some notable recent wins over Mark Munoz and Nate Marquardt.
He is coming off a loss to Anderson Silva in his last match and will look to bounce back in impressive fashion in Japan against Tim Boetsch.
Boetsch is enjoying a resurgence in his career since he dropped down to the middleweight division and has two straight wins over Kendall Grove and Nick Ring to show for it.
Boetsch has never looked as impressive as he has at middleweight, but I don't think he can throw with Okami.
Yushin Okami via unanimous decision
Dale De Souza: Many think that, should only one Japanese fighter prevail on this card, aside from the victor of Takanori Gomi vs. Eiji Mitsuoka, it will be Yushin Okami.
But, with the roll Tim Boetsch has been on ever since dropping to Middleweight and defeating the likes of Nick Ring and Kendall Grove, is it so far-fetched to think Okami might be in for a difficult fight?
After all, Boetsch is a big Middleweight who dropped to 185 after losing to Phil Davis at Light Heavyweight, and he's looked like he could eventually become a contender, whereas Yushin Okami is coming off of a loss to Anderson Silva in Rio.
Actually, now that we're mentioning it, Okami is actually a bit more well rounded than Boetsch, even despite the size difference, and Okami's really not that small for Middleweight in his own right.
Boetsch could just be the more powerful fighter, and that's why it'd be plausible to see Okami losing this fight, but he's never fought a fighter with the striking and the ability to tire opponents out the way Okami can.
You'll probably hear the reference to the fact of this card being in Japan a million times between now and the time of the actual fights, but imagine if you were fighting someone in your own hometown against a dude like Boetsch—would you want to drop that fight, even if Boetsch is a big dude?
No?
Neither would I, and whether you like Okami or not, he's got no intentions of losing this one either.
Yushin Okami by round 1 TKO (Punches)
Jeffrey McKinney: Yushin Okami is arguably one of the best fighters to ever come out of Japan.
Okami has only lost to Rich Franklin, Chael Sonnen, and Anderson Silva in his 13 UFC fights.
Okami was Silva's latest victim, and would love another shot at the title.
His road back starts with Tim Boetsch.
Boetsch had a first go 'round with the UFC, going just 2-2.
His second go 'round with the UFC has gone better, as he has gone undefeated since dropping to middleweight.
Both Boetsch and Okami have a good wrestling background.
But Okami has faced tougher competition and should be looking to get back on top of his game after the tough loss to Silva.
Boetsch won't go out easy though, so I see the fight going the full distance.
Yushin Okami by decision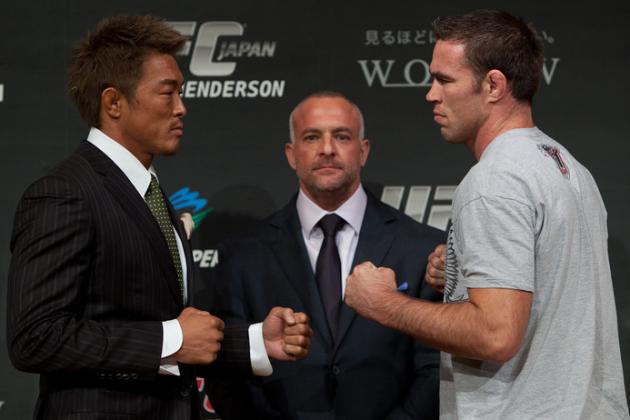 Yoshihiro Akiyama (left) and Jake Shields/Dan Herbertson for MMA Mania
John Heinis: "Sexyama" has the privilege of making his welterweight debut in front of a Japanese home crowd this Saturday, despite losing three middleweight fights in a row.
Akiyama is the classic case of a Japanese star who couldn't step up to the plate once he faced top-tier competition in America. The fact is a third dan black belt in Judo rarely translates to heavy success in the UFC.
His opponent, Cesar Gracie black belt Jake Shields, is not exactly what most would consider an "easy fight" either.
Despite suffering back-to-back losses for the first time in his career, GSP and Jake Ellenberger aren't exactly push overs and Shields still has defeated plenty of quality opposition in his career including Dan Henderson, Paul Daley, Martin Kampmann, Yushin Okami and Carlos Condit.
Akiyama has always had cardio issues, at least in the UFC, while Shields has not, so the American's smothering, non-stop pressure style will eventually wear on Akiyama to the point where he has no chance but to tap and get his pink slip from Dana White.
Jake Shields via 2nd round submission (guillotine choke)
Dwight Wakabayashi: They say timing is everything in the fight game and the timing is just not right for Akiyama. Fighting Jake Shields at this point and time is not going to be a pretty sight.
When Shields was on his incredible win streak a couple years ago and looking to provide a more entertaining fight for the fans, Akiyama may have had a chance to pounce on a Shields mistake.
Not now. Jake Shields is coming off of two consecutive losses for the first time in his career and he needs a win badly to keep himself relevant in the UFC.

When Shields game plans for victory, he must rely on his top heavy jiu-jitsu game and I see him smothering Akiyama in this one. He will look to lock up with Akiyama early and bully him down to the floor where he will stay on top and inflict damage.

Akiyama is a world class judoka and will be able to hang with Shields in the clinch, but he will not be able to deal with him once Shields gets on top of him. If the fight lasts, it could make for a very tough fight to watch.

Even though Akiyama is making a heroes return to fight in front of the Japanese fans who adore him, he is not going to beat Jake Shields. Shields needs a win badly to rejuvenate his career and place in the division.

Jake Shields by 3rd round TKO
Dale De Souza: I'll be as brief as possible: Yoshihiro Akiyama and Jake Shields are both former Middleweights, both went a long time being unbeaten before they came across certain fighters, and both are fighting for their jobs.
A drop to Welterweight was Akiyama's only way to stay in the UFC, but he intelligently did a test cut before he ever took the offer to fight Shields just to make sure he knew how to cut the weight properly, and many are thinking that Akiyama will have a few edges that he never had at Middleweight.
The drop to Welterweight for Shields has always been a question mark in my mind, because while he lost his father eighteen days before fighting Jake Ellenberger, and while there's no shame in losing to Georges St-Pierre, he didn't look that great against Martin Kampmann.
So to say Shields will have his work more than cut out for him is a Heavyweight-sized understatement.
I like the style matchup here, because Akiyama's Judo could prove more effective at 170 than it did at 185, even if it's against a fighter with the BJJ and the Wrestling of Shields, but Akiyama's striking is as much a problem for a 170-pound Shields as it would be for a 185-pound Shields as well.
Add in the Japanese crowds, and it'll take a well-calculated game plan for Shields to earn himself a win on Japanese soil.
"Time to say goodbye" for Akiyama?
I don't think so.
Yoshihiro Akiyama by TKO (Strikes) in early Round 2
Jeffrey McKinney: Yoshihiro Akiyama will face off against former Strikeforce middleweight champion Jake Shields in a fight where both men desperately need a win.
Akiyama has been in some exciting fights since coming to the UFC.
But despite winning three "Fight of the Night" bonuses, he is only 1-3 in the UFC.
Even his lone win against Alan Belcher came by a close split decision.
Shields has had similar luck. Although he came into the UFC on a 14-fight winning streak, Shields barely won his first fight against Martin Kampmann.
He lost his next two to Georges St-Pierre and Jake Ellenberger.
Both of these fighters know they need this win.
Although Akiyama will be fighting in front of the home crowd, I think Shields will leave it all out on the line.
Shields went through a lot last year with the loss of his father and the two losses back to back. I believe this will be his time to really prove how good he can be.
Jake Shields by 2nd round submission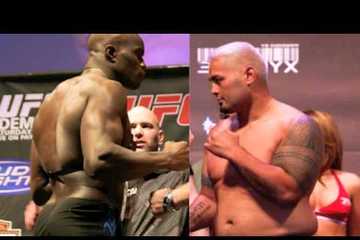 Photo Courtesy of MMAStreamed.com
John Heinis: "The French Sensation" Cheick Kongo is creeping back into many analysts top 10 heavyweight lists due to his four fight undefeated (3-0-1) streak, with his draw coming against Travis Browne at UFC 120.
More recently, Kongo methodically picked apart prospect Matt "Meathead" Mitrione at UFC 137, winning the majority of the exchanges on the feet and scoring on several takedowns as well.
Meanwhile, journeyman Mark Hunt looks to make some noise in the heavyweight division after back-to-back wins under the UFC banner.
Hunt's most recent win was nearly unwatchable as he and his UFC 135 opponent, Ben Rothwell, showed the technique and skill of a bar room brawl by the time the fight hit the third round.
Both fighters gassed in a way that no UFC fighter should gas, regardless what weight class is being discussed.
Still, a win is a win, and Hunt looks to make a statement here with a victory over a very game adversary in Kongo.
I don't see it happening, though.
Kongo is a way better striker, and overall just a way better fighter than his former training partner Hunt, so I'm actually a little disappointed this fight is so high up on the card.
Cheick Kong via 3rd round KO
Dwight Wakabayashi: UFC, Pride and K1 veteran Mark Hunt is enjoying a resurgence late in his career and that has landed him a chance to return to Japan where he started his journey years ago.
Hunt has two wins in a row with his last victory over Ben Rothwell showcasing the best Hunt we have seen in years. Hunt loves to throw caution to the wind and swing for the kill and he is a big man who can lean on you as well.
I'm pretty sure he will be looking to go out with a bang on Saturday.
Cheick Kongo is ready and waiting for Hunt and is in a very nice four-fight undefeated steak of his own. He dominated an off Matt Mitrione in his last fight and will be looking to use his technical striking advantage to pick Hunt apart and set up for the kill.
Kongo showed his improved game planning in his last fight to the dismay of Mitrione as he pressed him against the cage all night.
I don't think he will use that plan in this one, but he will be smart and won't stand in the middle and throw with the K1 striker.
In the end, I see technical efficiency being the deciding factor here with Kongo scoring more and Hunt throwing bombs and gassing out.
Cheick Kongo via unanimous decision
Dale De Souza: It's not easy to like Cheick Kongo at times, but it's hard to dislike Mark Hunt these days.
He was given the shot to perform for the UFC despite coming in on a five-fight losing streak, but then he went 2-0 in 2011 with wins over Ben Rothwell and Chris Tuchscherer.
Kongo also found success in 2011 with a come-from-behind win over Pat Barry and a three-round decision win over Matt Mitrione, and it's the style matchup in this one that makes this one pretty clear who has the edge on paper.
Both men have shown a willingness to go for takedowns in their past outings, with Kongo's takedown game probably being the slightly better of the two, but both are known for having some well-touted Kickboxing games, which could make this one a technical affair on the feet.
Hunt's looked better recently than he ever did in PRIDE, and it's like I've said before and will say now: I like Kongo (at times), but I like Hunt's head just a little bit more in this fight.
Hunt can take some punishment, and he'll be able to take some serious shots from Kongo here, but while the PRIDE and K-1 vet will be tough, the French sensation and Wolfslair product will work his way into securing a big win over a true veteran of the sport.
Cheick Kongo by unanimous decision (30-27)
Jeffrey McKinney: In what should be a heavyweight war, Mark Hunt will take on Cheick Kongo.
Hunt has had a career comeback recently.
After going on a six-fight losing streak, Hunt picked up back to back victories against Chris Tuchscherer and Ben Rothwell.
Kongo has also gone back to his winning ways.
After back-to-back losses to Cain Velasquez and Frank Mir, Kongo has gone 3-0-1 including victories over Pat Barry and Matt Mitrione.
Both Kongo and Hunt come from a kickboxing background.
Kongo is the more technical fighter, though. He is also the better conditioned fighter.
I believe that will be the difference in the fight.
Hunt has an iron chin, but I believe Kongo will find a way to put him out.
Cheick Kongo by 2nd round TKO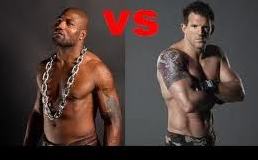 Photo Courtesy of MMAStreamed.com
John Heinis: "Rampage" is coming off just the second submission loss of his career when he was outclassed by UFC Light Heavyweight Champion Jon Jones at UFC 135.
Prior to that bout, he boasted back-to-back wins over Lyoto Machida and Matt Hamill. Jackson is pumped up to be back in Japan, where he had a very successful stint in Pride, but 41 fights deep in his career, can he recapture the magic from his early career?
Well, Jackson hasn't put an opponent away in over four years (Wanderlei Silva at UFC 92), but he has found ways to grind out decisions over top notch opposition with his aggressive boxing and great takedown defense.
Ryan "Darth" Bader said he plans on throwing Jackson off balance by utilizing kicks, punches and takedowns the way "Bones" Jones did, but I wouldn't hold your breath on that one.
Bader was also submitted by Jones at UFC 126, tapping to a tight guillotine choke, which is fine, but then tapping to an ancient Tito Ortiz guillotine at UFC 132 is simply unacceptable.
Sure, he rebounded with an impressive knockout over Jason Brilz at UFC 139, but there's a reason "The Hitman" is no longer on the UFC roster.
Bader, a former All-American wrestler at Arizona State University, has quality takedowns and heavy hands...but even a past his prime Rampage will be too much for the former "Ultimate Fighter" winner.
Quinton Jackson via unanimous decision (30-27)
Dwight Wakabayashi: Quinton "Rampage" Jackson is excited to return to the land where it all began for him in his mixed martial arts career.
I'm just not so sure he is as excited to fight, and that makes this fight a tough one to call. Rampage is not as motivated and not the fighter he used to be, but he is returning to a place where he has an incredible fan following—and that may be the juice he needs to get past Bader.

With Quinton, the game plan is always set around his punching power and improved head movement, and I think he will specifically be looking for the big bomb in this one.

Bader is looking for some redemption in his career and he is coming off a solid bounce back win over Jason Brilz. He will look to use his dominant wrestling strength to wear out the veteran and look to his his right hand to land the shot that spoils Rampage's return.

On paper, this one looks like absolute trouble for Jackson. His opponent is young and hungry, something that puts him at an immediate disadvantage.
Did Rampage want to be in Japan for the party and to see old friends and not so much for the fight? It says here that it really doesn't matter, because I am still not sold on the game of Ryan Bader.

Quinton Jackson via split decision
Dale De Souza: Quinton "Rampage'' Jackson isn't getting Mauricio "Shogun" Rua, but he is getting to fight in Japan. He's also getting to fight in Japan against a still-rising prospect in Ryan Bader, who packs a heavy set of hands and one hell of a wrestling game.
Rampage also has himself some heavy hands and a great wrestling game, but he also has the overall edge in experience over Bader, as well as something of a home-field advantage.
Rampage and Bader, according to Dana White, were originally scheduled to fight on a FOX card (unknown if it was the same one that'll feature Jim Miller and Nate Diaz), but the bottom line of this fight might be the matter of whether Bader can make this shot count.
Even Anthony McGann, one of Rampage's trainers at the Wolfslair MMA Academy, sees how a win over Rampage might instantaneously put Bader among the elite at 205, but it's likely not going to happen.
I'd like to think Bader will be unable to work his wrestling, and that he's getting dropped by Rampage en route to a vintage-style slam from Bader's guard.
However, if you want a vanilla prediction, Bader will come out like a gamer and yet still find himself unable to counter Rampage's best shots before getting dropped and finished on the ground.
Quinton "Rampage" Jackson by round 1 TKO (punches)
Jeffrey McKinney: Quinton "Rampage" Jackson will be making his long awaited return to Japan when he takes on Ryan Bader.
The last time Jackson was in Japan, he was one of the top contenders in PRIDE.
During his time in the now defunct company, Jackson was known for his knockouts, wars with Wanderlei Silva, and his memorable slams.
Now Jackson looks like a shell of his former self.
Although he still found ways to win during most of his UFC career, Jackson has not had a knockout since 2008.
Bader, on the other hand, is coming off a knockout victory over Jason Brilz.
Bader was 12-0 in his career before losing two straight fights by submission to Tito Ortiz and Jon Jones.
Submissions are one thing he won't have to worry about against Jackson.
Jackson always goes for the knockout and should be even more motivated since he will be returning to Japan.
Bader could surprise everybody, though, by spoiling the party.
Japan is the fight that Jackson has been wanting, though, and I don't believe that he will squander this opportunity.
Quinton Jackson by knockout
Photo Courtesy of MMAForum.com
John Heinis: Frankie Edgar is one of the best fighters in the world, but many are still doubting him against a very dangerous Benson "Smooth" Henderson.
Bendo is a former WEC lightweight champion who has other-worldly submission defense (with plenty of submissions of his own), crisp striking, great takedowns and ground and pound that is second to none in the lightweight division.
However, let's not write off "The Answer" just yet. After all, he has won seven in a row, avenging his only loss to Gray Maynard in impressive knockout fashion in his last outing at UFC 136.
Some doubt Edgar since his past four opponents have been Maynard and BJ Penn (both opponents warranted an immediate rematch), but I really can't understand why.
The Toms River, New Jersey, native consistently shows excellent boxing, great takedowns and a chin that just isn't fair for such a diminutive lightweight.
If the situation calls for it, his submissions aren't too shabby either (although there's not chance he's tapping out Henderson).
Henderson, who has gone 3-0 in the UFC defeating Mark Bocek, Jim Miller and Clay Guida, to earn his title shot, will give Frankie the fight of his life...but the champion will walk in and walk out of Saitama Super Arena wearing 12 pounds of gold.
Frankie Edgar via unanimous decision (48-47 x 2, 49-46)
Dwight Wakabayashi: The Lightweight Championship of the world is on the line when these two amazing athletes hit the cage and this one is a battle that may be too tight to call.
Edgar is the proven champion and his elusive boxing, relentless movement and quick switch takedowns will end up being too much for Henderson.

Benson is on an incredible roll right now and he has earned his shot with his skill, will and durability.
Henderson will find himself a step behind in the striking battle and will look to get a hold of the champion to throw him down to the mat. I believe this is where Henderson feels he has the advantage, but if Gray Maynard had a tough time keeping Edgar down and in control, then so will Henderson.

This one is going to be an entertaining war to the delight of the Japanese fans and will last at least until the championship rounds. It will go all over the cage and showcase many aspects of the MMA game.

In the end, Frankie Edgar's in-and-out boxing game will be the deciding factor and he will remain the champion.

Frankie Edgar via unanimous decision
Dale De Souza: How's this headliner for the Fight of the Year?
I know we've been saying that a lot lately, but it's not difficult to understand why we'd be saying that sort of thing for this bout between the former WEC Lightweight Champion, Benson Henderson, and current UFC Lightweight Champion Frankie Edgar.
Especially if one considers the styles that both men bring.
Both are good on the feet, though most would say Edgar's Boxing is better, and Edgar also rolls with Ricardo Almeida as well as Renzo Gracie, so some might argue that against Henderson, but just the same, Henderson is fighter with his own submission savvy.
If there's one aspect of this fight that'll be the difference, however, it's going to be the classic case of Edgar's iron chin vs. Henderson's iron neck.
Edgar got dropped in both of his now-classic bouts with Gray Maynard, and he went on to not only win the second round, but he definitively finished Maynard in the fourth round of the UFC 136 bout with "The Bully."
Meanwhile, Henderson has been locked in submission holds that would have won fights for Donald Cerrone, Jim Miller, or Clay Guida, but he survived both Miller and Guida en route to winning his fights with both of them.
He also survived the same submission attempts that had many thinking Cerrone won their WEC 43 classic.
Expect this one to be close, but don't be surprised if the champ gets his patented guillotine off and cannot force the tap.
And if Henderson does not tap, don't be surprised if "The Smooth One" is the guy packing 12 pounds of gold into his luggage on the return trip back to the states.
Benson Henderson by unanimous decision (48-47 x2, 49-46)
Jeffrey McKinney: What a main event this will be in Japan.
Lightweight champ Frankie Edgar will finally defend his title against somebody whose last name is not Penn or Maynard.
Once again Edgar will face a bigger, stronger, and will be looking to play the aggressor.
Ever since Henderson lost the WEC title to Anthony Pettis, he has been working his way back to a title.
With dominating wins over Jim Miller and Clay Guida, Henderson looks like he could be Edgar's biggest test.
But Edgar has proved time and time again over the past two years that he has the heart to overcome anything.
We know Henderson is going to try to use his size and be aggressive.
But Edgar has great wrestling of his own and has crazy energy.
Even after taking the beating he took in the early rounds of the Maynard fights, Edgar picked up the pace.
Originally I was going to go for Henderson.
But Edgar is one of those fighters that no matter how bad they're getting beaten, they find a way to come back.
I believe Edgar will prove to the world once again that he's here to stay as champ.
Henderson will cause Edgar some problems, but I believe Edgar will do enough to win a decision.
Frankie Edgar by decision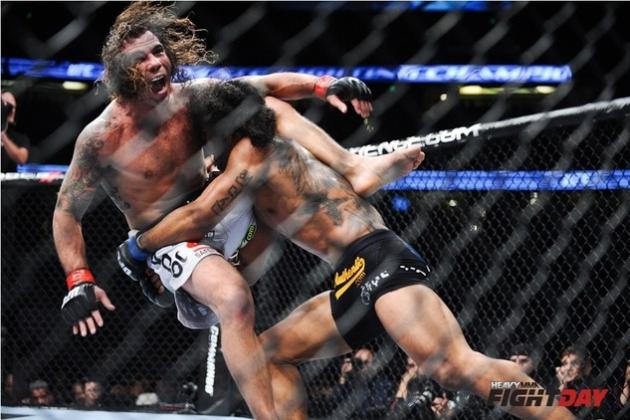 Photo Courtesy of Heavy MMA
John Heinis: Fight of the Night - Edgar vs. Henderson
Knockout of the Night - Cheick Kongo
Submission of the Night - Jake Shields
Dwight Wakabayashi: Fight of the Night - Edgar vs. Henderson
Knockout of the Night - Takanori Gomi
Submission of the Night - None
Dale De Souza: Fight of the Night - Edgar vs. Henderson
Knockout of the Night - Kid Yamamoto
Submission of the Night - Anthony Pettis OR Hatsu Hioki
Jeffrey McKinney: Fight of the Night - Edgar vs. Henderson.
Knockout of the Night - Quinton Jackson
Submission of the Night - Jake Shields