Dallas Mavericks Report Card: 1st-Half Grades for Every Mavs Player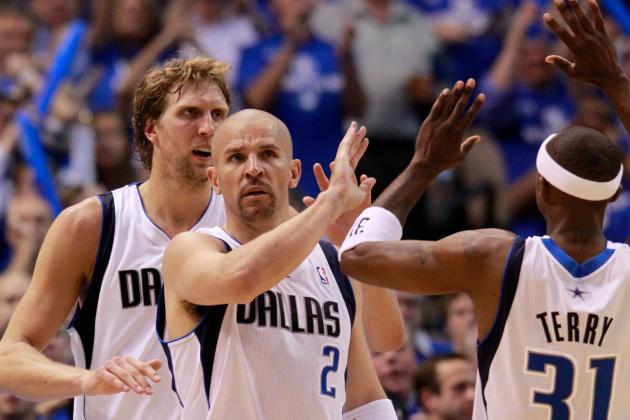 Tom Pennington/Getty Images

After a historic championship run last year, the Dallas Mavericks limped out of the gate to start this season. They dropped four out of their first five games and quickly learned that, as the reigning champs, they have a target on their back.
Since, they've responded respectfully. They recently just pumped out six straight victories and now find themselves in the top four squads in the Western Conference.
What they've learned thus far is that every year beckons for new roles for each individual player.
This year's team is not the same one that hoisted the Larry O'Brien trophy last June. Not only did they bid farewell to key ingredients from last year's group (particularly Tyson Chandler, and also J.J. Barea and DeShawn Stevenson), but they also possess aging veterans whose roles are dwindling and youngsters whose roles are increasing.
As we hit the All-Star break, now is the appropriate time to assess how every Mavs player is faring in their current role.
Here are their grades as we hit the halfway point.
Begin Slideshow

»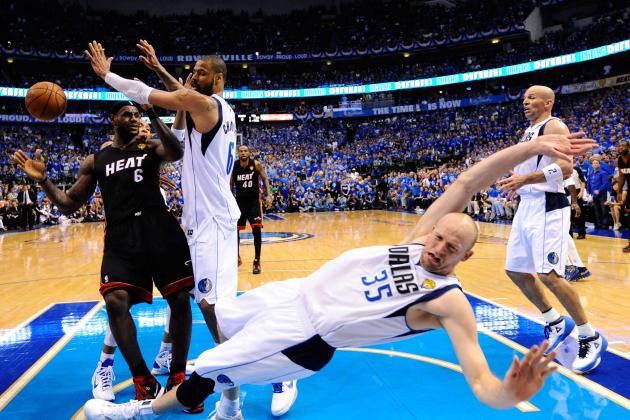 Pool/Getty Images
Cardinal will always bring the intensity on defense.
Brian Cardinal played a key reserve role in last year's title run, hitting timely three-pointers and making scrappy hustle plays. Throughout his career, he's been characterized as a "hustle player," and it's helped him remain in the NBA for 11 seasons.
Cardinal's never had impressive statistics because his value usually isn't identified on the stat sheet. With that said, his numbers are woeful this year (particularly his shooting percentage, which is currently below 20 percent). A percentage that atrocious cannot be overlooked.
But Cardinal, known as "The Custodian," is in the "Brian Scalabrine-mold," in which his value is more tied to his veteran tutelage, energy when given court time and even his ability to hype up the fans.
Thus, we won't grade him too harshly because of his dismal numbers, but there's certainly room for improvement.
Grade: C+
Ronald Martinez/Getty Images
Jianlian hasn't received substantial minutes all season.
Yi Jianlian pieced together a couple impressive outings in the D-League, and the Mavs subsequently recalled him to the NBA.
Jianlian, the 2007 sixth-overall pick, is still only 24, but has received limited court time since being added in mid-January.
It's hard to assess his potential, but it doesn't help that he recently underwent knee surgery, stemming from an injury that occurred while playing in China.
It's too early to label Jianlian as a bust, but he hasn't exactly done anything to prove he was worthy of being a top-10 draft pick.
Perhaps that'll change in the coming months, but a change of scenery would probably be best for Jianlian. He's unlikely to see significant minutes with Dirk Nowitzki, Lamar Odom, Shawn Marion and Brandan Wright ahead of him in the rotation.
Grade: C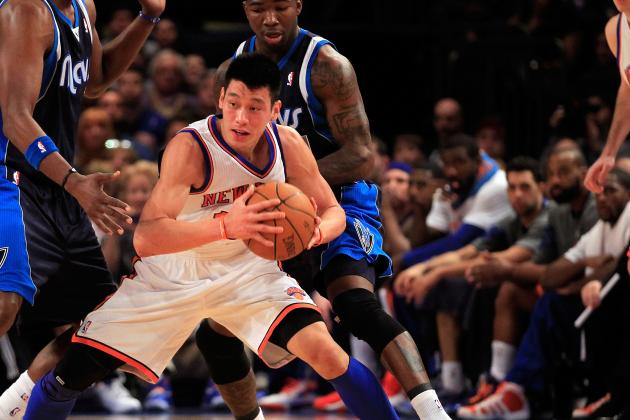 Chris Trotman/Getty Images
Jones' athleticism provides the Mavs with some versatility.
Second-year shooting guard Dominique Jones has been buried on the Mavs bench for most of the year.
Recently, he's had a few opportunities due to injuries (Jason Kidd, Delonte West) and Rodrigue Beaubois being absent due to his father's death.
Jones chipped in a solid performance in the recent win over Boston, tallying seven points and five assists in 25 minutes. Jones is listed as a shooting guard, but he's shown the ability to create for his teammates like a point guard.
The upside to this 23-year old is definitely there. The question is when he will receive more consistent minutes.
Mavs fans should be excited about how Jones could develop in the coming years.
Grade: B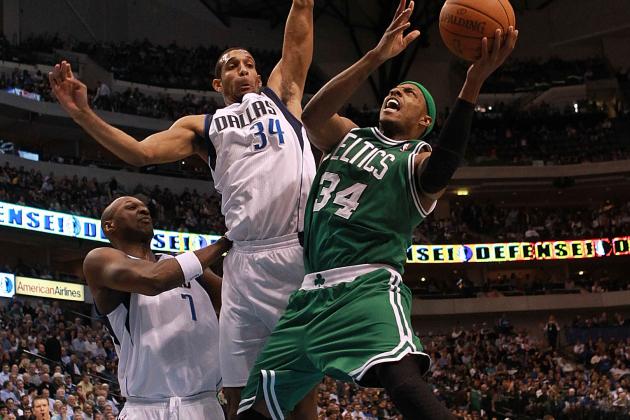 Ronald Martinez/Getty Images
Wright's given the Mavs an intimidating shot blocker.
2011-2012 newcomer Brandan Wright has seen a hike in minutes during the month of February. In January, he averaged just 7.9 minutes, but in February, that's increased to 18.4.
There's certainly a reason for that increase, and it's due to Wright's continued improvement and defensive length. His ability to block shots helps them fill the void created by the loss of Tyson Chandler.
Wright's currently averaging 5.9 points (on 57 percent shooting), 2.6 rebounds and an impressive 1.2 blocks per outing. His per-minute numbers are lofty, which is why coach Rick Carlisle has been plugging him into the rotation more readily.
Wright is only 24, and the Mavs have reason to believe this young power forward still has the potential to become something special.
He's undoubtedly proved that he's a worthy addition to this year's squad.
Grade: A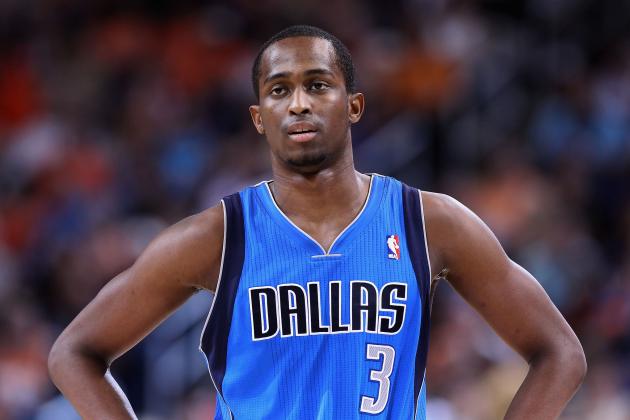 Christian Petersen/Getty Images
When will Beaubois prove he's worth the hype?
A couple years ago, Rodrigue Beaubois looked like a phenom in the making. He busted onto the scene as a 21-year-old and averaged 7.1 points per game (on 52 percent shooting and 41 percent from three-point) in only 12.5 minutes of action. His upside was loudly declared.
Last year, he battled an injury-plagued season and wasn't able to contribute in their title run. This year, he was expected to return to the form of his rookie year and potentially become one of Dallas' leading contributors.
But he hasn't met expectations. He's shooting a subpar 41 percent from the field and hasn't appeared to take his game to higher levels. The 8.1 PPG in only 18 minutes an outing is decent, but more consistency is surely desired.
He remains only 23, but it's easy to question if the "phenom in the making" hopes were premature. The concerns have recently reached a point in which Beaubois has been rumored to be on the trading block.
Grade: C-
Ronald Martinez/Getty Images
Manhinmi provides the Mavs with frontcourt depth.
Twenty-five-year-old Ian Mahinmi has provided production (6.5 PPG, 4.6 RPG) in his minutes off the bench. He showed value in the playoffs last year and has carried that momentum into this season.
Interestingly, Mahinmi's role appears to currently be dwindling, and it's not necessarily due to his lack of production. Youngster Brandan Wright is simply an emerging big man who provides the ability to block shots. Wright's stellar contributions are causing Mahinmi's minutes to suffer.
No matter what, Mahinmi is a valuable big man to have coming off the bench. He's a bruiser who works hard on the boards and can even provide some offense.
It will be curious to see how his minutes are monitored for the rest of the season, but his play hasn't signified that he should be regularly riding the pine.
Grade: B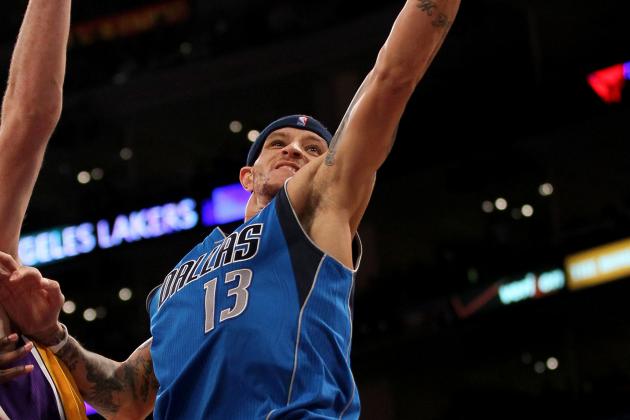 Stephen Dunn/Getty Images
When healthy, West has averaged 8.3 PPG and 3.4 APG.
Newcomer Delonte West has battled injuries in the past, and this year has been no different. His fractured right ring finger is expected to keep him out another three to five weeks.
When West has been healthy, he's provided the Mavs with some versatility, giving them a combo guard who can create his shot and also set up others.
The Mavs guards are aging (Jason Kidd, Vince Carter and Jason Terry), and West provides some pop when he's healthy. He figures to be a major contributor once he returns, but his injury-prone label is a major cause for concern and certainly forces his first half grade to suffer.
Grade: C
Stephen Dunn/Getty Images
Odom's struggles have been quite perplexing.
Lamar Odom was clearly out of sync when he first arrived in Dallas in December. His subpar play has unfortunately lingered for most of the season.
He's shooting career worsts from the field (36 percent) and from the charity stripe (58 percent). What's more, his points, rebounds and assists numbers are about half of what he averaged last year with the Los Angeles Lakers.
Odom is not far removed from being a high-caliber player, and it appears his struggles this year are more mental than anything.
He could still prove to be a wise acquisition if he makes major contributions in the playoffs, but there's no denying the fact that thus far, he's been a major disappointment.
Grade: D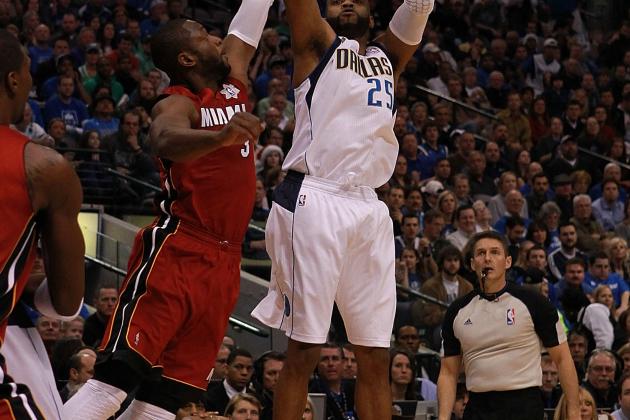 Ronald Martinez/Getty Images
Carter is shooting a career-high percentage from three-point range.
There wasn't much reason for Mavs fans to be excited when the club brought in 35-year-old Vince Carter in the offseason. "Vinsanity" is a shell of the player he once was.
But Carter has made steady contributions this season. The Mavs didn't sign him to be one of their primary weapons, but to simply be another weapon who can create his shot and keep defenses honest with his three-point shooting. He's been this and more.
Carter is averaging 10.6 PPG in an average of 24 minutes of action. He's cashing in on a career-high 44-percent of his threes.
He has struggled some recently, and it will be curious to see how his body holds up for the remainder of the season. But Mavs fans cannot complain about the presence of Vince, as he's providing needed offensive results.
Grade: B+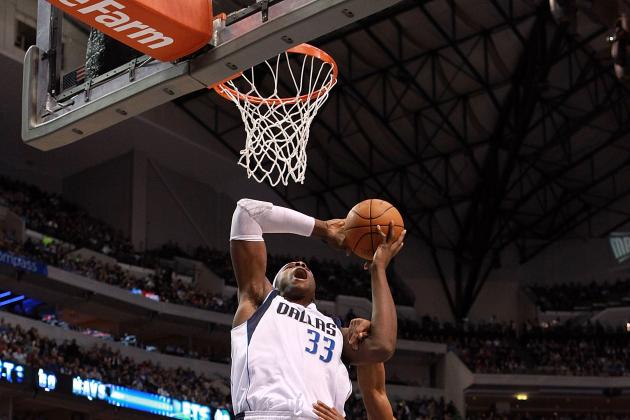 Ronald Martinez/Getty Images
Haywood's averaging 5.4 PPG and 6.7 RPG.
The biggest frustration with Brendan Haywood is his hefty contract which runs for numerous more years. That's a sickening thought for Mavs fans.
The 32-year-old Haywood can still contribute on the boards and occasionally block some shots, but his offensive ability is highly limited and his free-throw shooting is horrendous (46 percent).
He's receiving more minutes this year due to the departure of Tyson Chandler, but young, promising big men Brandan Wright and Ian Mahinmi are quickly stealing time from the veteran Haywood.
It will be difficult for the Mavs to find a way to trade Haywood, so they will have to continue to gobble up his contract and make the most of his ability to snag rebounds and clog up the lane.
Grade: C-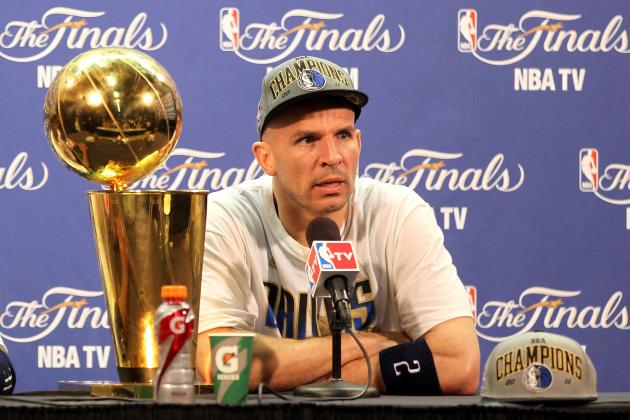 Mike Ehrmann/Getty Images
Kidd's career has truly been a special one.
Jason Kidd's career is complete. He needs to add nothing more. He's a lock for the Hall of Fame and garnered his first championship ring last June.
The 38-year-old even just recently passed Michael Jordan for second on the all-time steals list. His name is undoubtedly etched into the record books.
All that to say, it's time for Kidd to bid farewell to the league. Injuries and the grind of the season are wearing on his body, and his production is a mere glimmer of what it used to be.
Kidd provided the Mavs with the point guard they needed to win a championship. Now, it's clear that it would be wise for him to soon hang up the sneakers.
His first-half grade for this year is nothing impressive, but his career in the hearts of Dallas fans should always be cherished.
Grade: C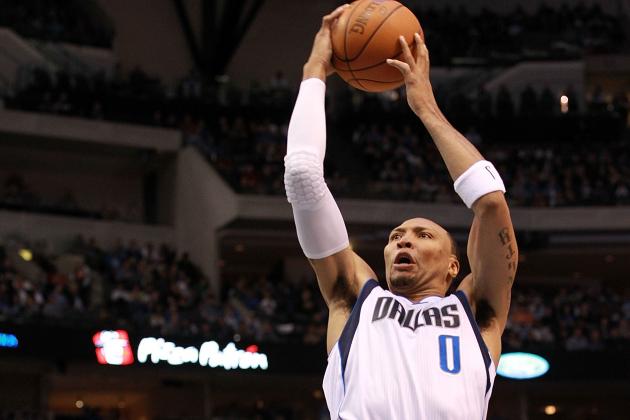 Ronald Martinez/Getty Images
Marion continues to contribute in a handful of ways.
Shawn Marion's three-year stint in Dallas has certainly been a success. Consistency has been his key.
His steady contributions on the boards and his ability to score as a slasher make him such a versatile weapon. At this point, fans simply know what to expect out of "the Matrix," and rarely does he disappoint.
Marion's field-goal percentage has taken a hit this year, but that's largely due to the fact that he's hoisting more threes this season.
By and large, he's producing at essentially the same rate he did last year, when he was a pivotal member of the Mavs' epic title run. His game is right where you'd expect it to be, which is reflected in his first-half grade.
Grade: B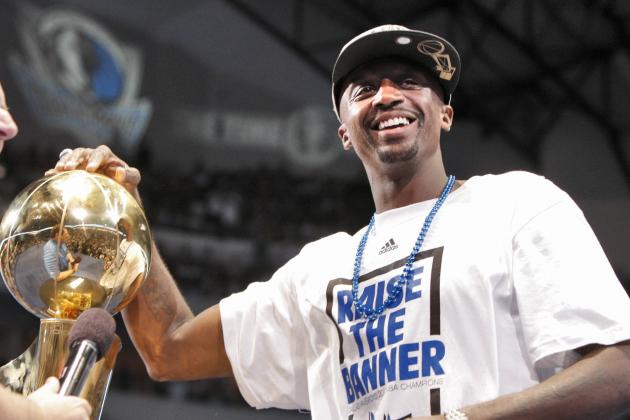 Brandon Wade/Getty Images
Terry is now a Dallas Mavericks legend.
"The Jet" became a Dallas sports legend with his remarkable play in last season's playoffs. His clutch scoring ability, particularly in the Finals, will be forever heralded by Mavs fans.
This season, the 34-year-old Terry continues to provide spark off the bench, as he's been doing for years. Like Marion, he's providing what you'd expect, and his grade reflects this.
Moreover, Terry's playoff experience is invaluable come playoff time. If the Mavs do make another deep playoff run, we all know "the Jet" will be a crucial factor.
Grade: B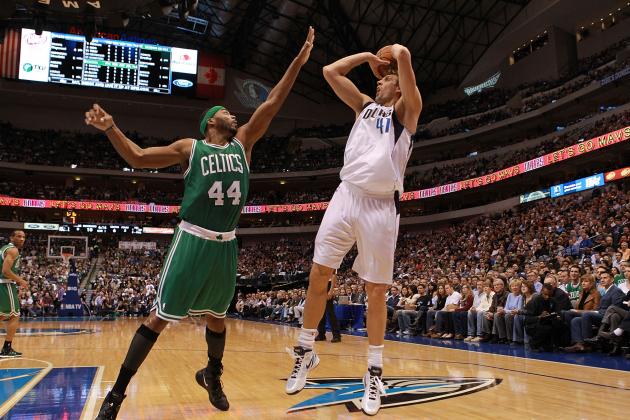 Ronald Martinez/Getty Images
Dirk's been on a tear as of late.
The reigning NBA Finals MVP endured a slow start to this season, and you may be surprised at my generosity towards him in his grade.
This generosity is necessary because Nowitzki was slowed by a bum knee, which surely limited his early season production.
Now, he appears to be finding his health, and the Dirk were accustomed to seeing has returned. In his last 10 games, he's averaging 25.4 PPG on 50 percent shooting. It's safe to say there's nothing wrong with Dirk.
Some have argued that he's not deserving of another All-Star appearance, but he's currently proving that he's undoubtedly still among the game's elite. Truthfully, this man is only eight months removed from governing one of the most legendary playoff runs. He's still "re-dirkulous" and will be feared by all come the playoffs.
His recent play and ability to bring the Mavs back into the thick of things out West warrant his admirable first-half grade.
Grade: A-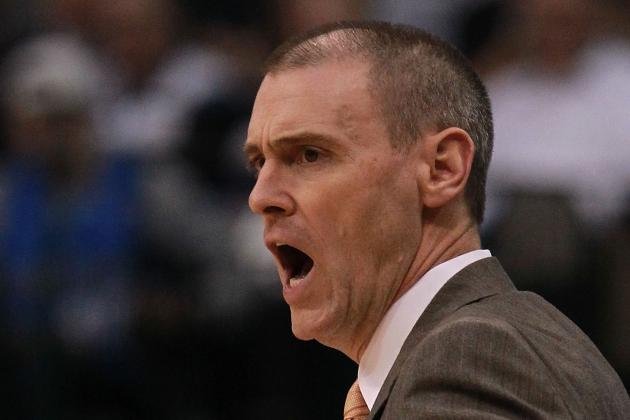 Ronald Martinez/Getty Images
Carlisle continues to show coaching wisdom this season.
Rick Carlisle made a name for himself during their title run last season, and he's continuing to show value this season.
It's not easy for a coach to have the target on his back as an NBA champion. He's dealing with that in every game this year. Furthermore, this year's team features a bevy of newcomers in which Carlisle has the responsibility of creating their niches.
At the midway point, it's safe to say Carlisle has done a respectable job, and he figures to have the Mavs situated for another deep playoff run with their veteran roster.
He deserves to be respected as a coach, and he hasn't done anything to cause people to question his coaching intellect.
The highlight of his season, which can't go unmentioned, was when he kicked the ball into the stands in frustration, nailing a young boy in the head. He later apologized, but he and owner Mark Cuban undoubtedly supply their share of entertainment.
Grade: B+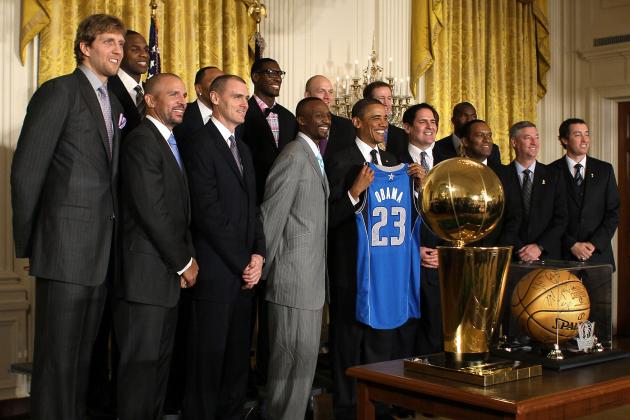 Mark Wilson/Getty Images

The Mavericks are currently situated third in the Western Conference behind the loaded Oklahoma City Thunder and the arch-rival San Antonio Spurs.
Truthfully, it's been a commendable first half of the season for Dallas. They lost a handful of players from last season's squad, have endured numerous injuries and have the target on their back as the league's reigning champs.
They've certainly responded well after their 1-4 start. It will be difficult for them to make another championship run, but it's certainly not outside the realm of reason. Dirk has been on fire lately, and the newcomers (particularly Lamar Odom) should grow more comfortable as the season progresses.
Many figured the Mavericks would be a one-year wonder, but their convincing start has some wondering if the 2011-2012 Mavs will bring a second championship banner to Big D.
Texans like to dream big, so this thought is certainly what Mavs fans should envision.