CONCACAF Qualifying: Early Predictions and Questions for the Region
February 21, 2012

Kevork Djansezian/Getty Images
It is that time once again, fellow CONCACAF fans. The time where intercontinental friends turn to foes and battle for the chance to compete on the global stage in 2014.
At the beginning of each new World Cup qualifying campaign, there always are questions to be asked and predictions to be made. While the Round 3 fixtures are still months away, it is never too early to take a quick look at what we will be enjoying over the next two years. Here are the top questions and predictions going into the third round of the World Cup Qualifying cycle. 
Who is going to have a breakout campaign?
There is always one young starlet during a CONCACAF qualifying campaign that really breaks out and makes a name for himself. Just a few years ago, it was Bryan Ruiz who received ample amounts of attention after scoring six goals throughout qualification. Who will it be this time around is an excellent question.
On the American side, young players like Mix Diskeruud and Freddy Adu could permanently establish themselves in the USMNT picture. As for Mexico, Javier Aquino, Nestor Calderon and Marco Fabian all look like possible candidates to have a huge qualifying campaign. As for a player outside of the big two federations, No. 2 overall MLS superdraft pick Darren Mattocks is destined to have a breakout campaign. 
Which team is on the rise in the region?
When you look at raw potential, the CONCACAF team that really has the opportunity to surprise during the campaign is Jamaica. Over the last couple of years, the MLS has developed a pipeline with the Caribbean country and plenty of the national team's top players are establishing themselves in the North American league. From Dane Richards to Omar Cummings, this team has a lot of athleticism on the attack that can cause even the USMNT and Mexican defenses problems.
When you look at the last couple of tournaments, the Jamaican's struggles have been more based on unluckiness than inferiority. Jamaica was knocked out of last Summer's Gold Cup by a determined US team on their home soil, and during the last World Cup qualifying campaign were placed in the Group of Death with Mexico, Honduras, and Canada. If the stars line up for this talented Jamaican team, their first World Cup bid of the new millennium is certainly possible.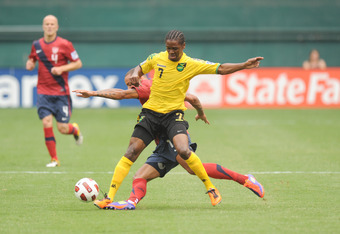 Mitchell Layton/Getty Images
Is Canada a force to be reckoned with in CONCACAF?
With all the talent that Canada has developed over the last few years, doesn't it seem like the perfect time for the Canucks to be a force in the region? With more players playing overseas than ever before, star Dwayne De Rosario coming off an incredible year with DC United, and with Stephen Hart finally being able to put together a solid back line, this very well could be the year Canada asserts itself in the region.
Canada is also coming off a dominant second round of qualifying in which it scored eighteen goals and conceded merely one. Will Canada compete for a top two spot? Maybe not. But a 2014 World Cup bid is certainly relevant for Les Rouges. 
What is a CONCACAF preview article without predictions, right?  Here are unnecessarily early projections at who will be heading to Brazil and who will have to wait another cycle before competing against the World's best. I give you the February 2012 CONCACAF Power Rankings: 
1. Mexico
2. USMNT
3. Costa Rica
4. Honduras
5. Jamaica
6. Panama
7. Canada
8. Cuba
9. El Salvador
10. Guatemala
See you next month for another CONCACAF Region Update!