NFL Trade Speculation: One Player Each Team Would Be Tempted to Deal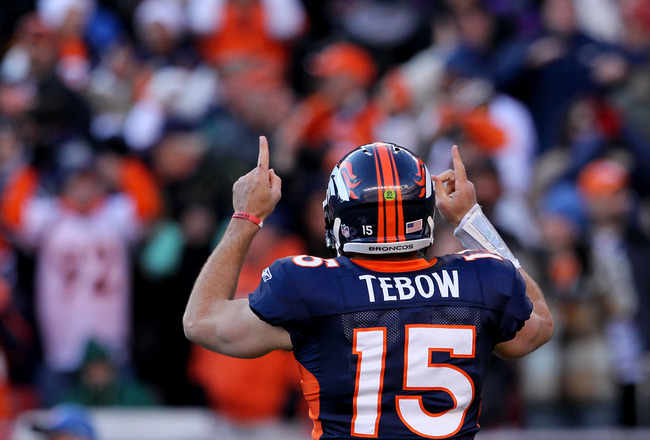 Jeff Gross/Getty Images
Trades in the NFL are not commonplace like they are in the NHL, NBA and MLB. It is difficult for teams to make player-for-player trades because of the vastly different rating systems for the different positions.
That is why free agency and the NFL draft are such big events for teams—because they are the most accessible ways to build winners.
Still, there are times when contracts and players demand that trades take place. A lot of teams just do not participate in the trade market, while others are more open to discussion.
The following list is not one of surefire deals that can and should take place, but rather interesting situations that could be beneficial for both sides if the right pieces were offered in exchange for these players.
Arizona Cardinals: Kevin Kolb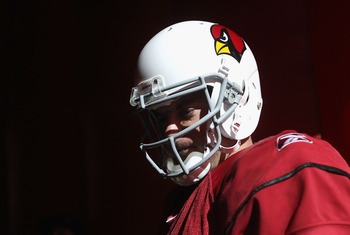 Christian Petersen/Getty Images
The Kevin Kolb investment didn't pay immediate dividends like the Cardinals had hoped that it would.
The evidence of that are the rumors that swirl constantly about Peyton Manning being desert-bound and possibly heading to Arizona.
The Cardinals paid huge money for the services of Kolb, and if they were to part ways with him it would be at a huge loss for the franchise, but if the right package came along and the team felt like they had a stable quarterback on their roster, don't think they wouldn't listen.
Sometimes the best decision is to admit a mistake and find a way to walk away with something at the end.
Atlanta Falcons: Tony Gonzalez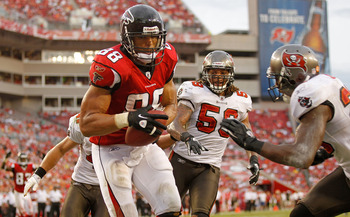 Mike Ehrmann/Getty Images
The Falcons know that every year with Tony G could be the last year that he plays in the NFL, but this could be the first year that they plan for life after him.
Whether it is via free agency or the draft, the Falcons are going to have somebody ready to try to fill the void, and if the time comes when an offer is on the table for Gonzalez to be a rent-a-player for a team with a chance to win a title, it could happen.
The Falcons offense has grown a lot since Gonzalez arrived, and even though he is still productive and a safety valve for Matt Ryan, they will make a deal instead of letting him retire for nothing.
Baltimore Ravens: Cary Williams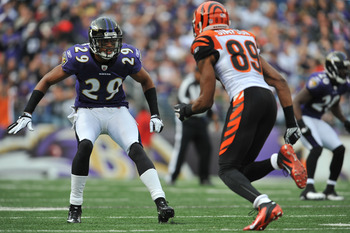 Larry French/Getty Images
The Baltimore Ravens are always going to have options on defense, and with young emerging players at cornerback like Lardarius Webb and Jimmy Smith, they may have some flexibility at the position to part with a veteran like Williams.
Teams are always looking to add depth, and Williams offers more than that, considering he would likely start on most teams in the league.
The Ravens know that age and the open market may pillage other positions, so finding a draft pick for Williams might be an enticing option.
Buffalo Bills: CJ Spiller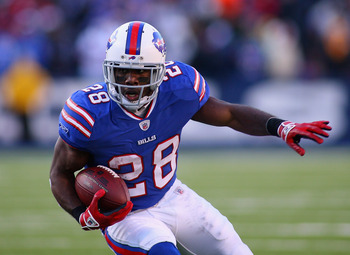 Rick Stewart/Getty Images
The ideal situation for the Bills on offense is to have Ryan Fitzpatrick at quarterback and Fred Jackson at running back.
Despite an impressive showing in relief for an injured Jackson, CJ Spiller doesn't seem to be the back of the future for Buffalo.
Still, his impressive play was a sweet sight for the Bills, who now know that he may have some value in the trade market if Jackson comes back healthy and ready to continue on in the same capacity at which he left.
Carolina Panthers: Chris Gamble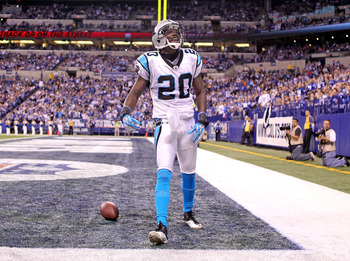 Andy Lyons/Getty Images
The Carolina Panthers have made a huge investment in Chris Gamble at cornerback, and will continue to do so in the coming years—unless someone makes an offer to take the heavy contract off their books.
A good cover cornerback is something that teams will pay a lot of money for, which is evidenced by the contract that Gamble is operating under.
However, if a team finds themselves with a need due to injury or being exposed by an opponent, the Panthers might listen if the deal would help them continue to grow.
Chicago Bears: Jay Cutler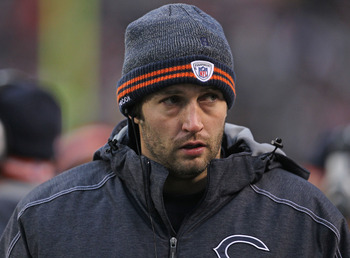 Jonathan Daniel/Getty Images
Jerry Angelo made the deal to acquire Cutler and knew full well that it may be what costs him his job.
In the end, it may not have been Cutler, but rather the inability to support him with a serviceable backup that spelled doom for Angelo.
Regardless, the new regime has no pride or esteem on the line when it comes to Cutler, and if they find an opportunity to part ways with the sometimes-maligned quarterback and receive great value in return, they will do it.
Cincinnati Bengals: Ray Maualuga
John Grieshop/Getty Images
The troubled linebacker is drawing the wrong kind of attention to the Bengals, and with Andy Dalton as the new soft-spoken face of the franchise, the team could be persuaded to part ways with the linebacker.
It could take a change of scenery and a different regime to help turn around the immensely talented player, and as the Bengals have shown, they are not afraid to let talent go and see what they have waiting in the wings to step up.
Cleveland Browns: Colt McCoy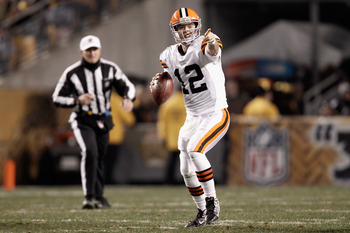 Jared Wickerham/Getty Images
There is too much smoke around quarterback rumors in Cleveland involving Robert Griffin III and even Matt Flynn for there not to be a fire.
That means that signals are likely being sent around the league that Colt McCoy is on the market for anyone who wants him.
There may be teams out there willing to take a chance with a late-round pick to see if their offensive staff can pull the potential out of McCoy that so many teams saw while he was at Texas.
Dallas Cowboys: Felix Jones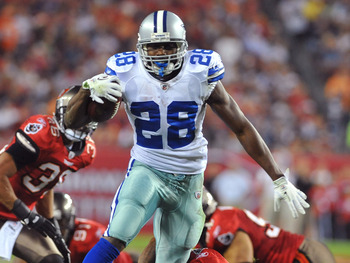 Al Messerschmidt/Getty Images
The emergence of DeMarco Murray in the Dallas running game already laid the tracks for Tashard Choice to leave Dallas, and if the opportunity arises it may move Felix Jones out as well.
Murray is a younger, cheaper option for the Cowboys, and if a deal came about that helped the team retool for a deep Super Bowl run immediately then Jerry Jones would not pass it up.
A healthy Dallas offense with Murray and Romo seems productive, so parting ways with Jones to help the defense could be a wise move.
Denver Broncos: Tim Tebow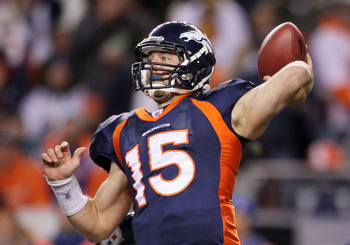 Jeff Gross/Getty Images
The problem with Tim Tebow is that it is equally likely that Denver could be tempted to trade him as they could be to keep him long-term.
The decision seems to rest solely on the left arm of the quarterback and how well he demonstrates the ability to use it.
The interesting part is that he would need to play better in the passing game to net a decent trade opportunity, but if he does play better then how can the Broncos expect the fanbase to accept his departure?
It will continue to be one of the NFL's most intriguing storylines for next season.
Detroit Lions: Nate Burleson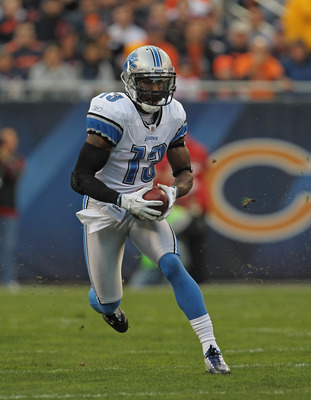 Jonathan Daniel/Getty Images
The Detroit Lions will obviously spend every last dime they have in keeping Calvin Johnson and may try to divert cash over to the running back position as well.
This means that someone may be put on the block to try to free up some space, and that person could be Burleson for the right deal.
Titus Young made strides as a rookie, and the Lions could find more help at wide receiver for a value in the draft.
The youth movement is always on in the NFL, and even though Burleson is not old, he isn't young, either.
Green Bay Packers: AJ Hawk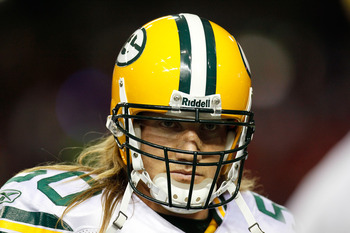 Kevin C. Cox/Getty Images
The Green Bay Packers have already cut AJ Hawk once to try to save some cash, but when push comes to shove it may only be Rodgers, Matthews and potentially Charles Woodson who are untouchable on the Packers' roster.
There are plenty of teams looking for solidarity in the middle of their defense, and that is exactly what Hawk can offer to the highest bidder if someone is interested in making a deal that would cause the Packers to want to part with their linebacker.
Houston Texans: TJ Yates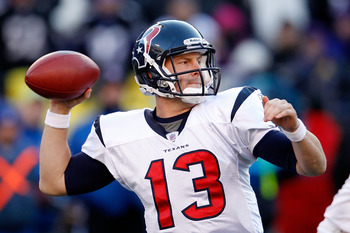 Rob Carr/Getty Images
The timing just may not be right for Yates to want to stick around in Houston and wait to become the man.
A healthy Matt Schaub is a better option for the Texans, but the strong play from Yates makes him an interesting commodity.
A team may be willing to trade a late draft pick for Yates and look at it as simply drafting him after a year in the NFL, being willing to dedicate a little more time to cultivate his talents.
Indianapolis Colts: Dallas Clark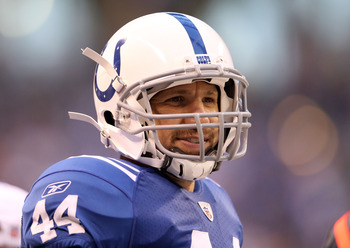 Andy Lyons/Getty Images
Nobody is going to make a deal for Peyton Manning when it is well documented that he will likely be cut and free to restructure a contract somewhere else.
Dallas Clark, on the other hand, is a player whose contract could be moved and also could generate some great value from teams who miss out on tight ends in the free-agent market.
It might be tough for Colts fans to see Clark in another uniform, but that same sentiment was shared when talks of Manning leaving seemed unreal.
Jacksonville Jaguars: Tyson Alualu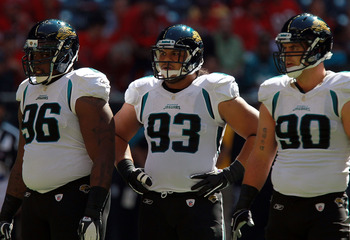 Ronald Martinez/Getty Images
The former first-round pick of the Jacksonville Jaguars has battled injury since he stepped foot on the Jaguars facilities.
A clean bill of health could help him gain the form that he was supposed to have with Jacksonville.
Or it could be a change of scenery that might do the trick if Jacksonville gets an offer to allow the talented young defender to ply his trade elsewhere.
Kansas City Chiefs: Glenn Dorsey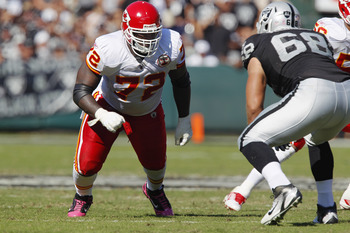 Brian Bahr/Getty Images
High hopes followed Dorsey to Kansas City with the fifth overall pick, along with a lot of money that Kansas City would potentially like to redirect if Dorsey were inquired about.
Dorsey is not a total bust, but he isn't a star worthy of the fifth overall pick, either.
A new head coach is never tied to the players on the roster like the person in charge when they were brought there.
Miami Dolphins: Yeremiah Bell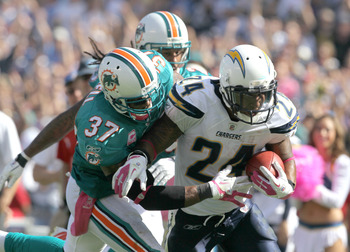 Stephen Dunn/Getty Images
Bell has been a solid producer for the Dolphins, but he is also nearing the end of his contract.
In the grand tradition of trying to get something for someone as opposed to just letting them walk away, the Dolphins could listen to offers for teams looking to beef up their secondary.
Minnesota Vikings: Jared Allen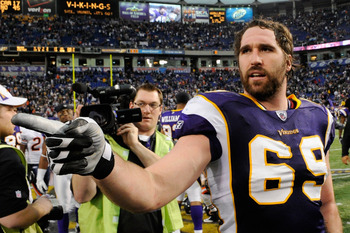 Hannah Foslien/Getty Images
The game-changer at defensive end could become too rich of an extravagance for the Vikings as they try to grow around Christian Ponder and Adrian Peterson.
Teams with cash to spend could save it up to take on the contract of Allen and have a guaranteed double-digit sack-master on their roster.
New England Patriots: Sebastian Vollmer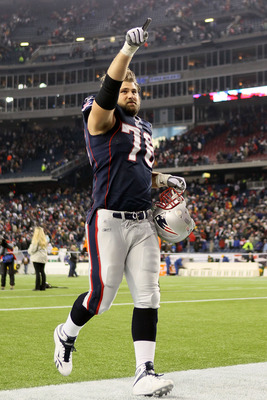 Elsa/Getty Images
Anyone on the market for a starting-caliber tackle could probably steal Vollmer from the Patriots for a great price.
With the plan for Nate Solder to become the full-time starter for New England, Vollmer offers experience and low cap hit for teams in need of solidarity on the end of their line.
New Orleans Saints: Chris Ivory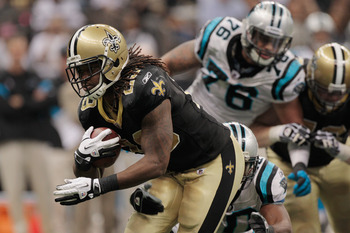 Chris Graythen/Getty Images
With Mark Ingram and Pierre Thomas locked up in longer contracts, the Saints could risk letting Ivory walk away at the conclusion of the season or try to get some value for him.
He has been a productive back and could be worth the chance to see what he can do in an expanded role for the low price of a draft pick.
Another added benefit is the chance to secure him long-term with minimal risk financially if it doesn't work out.
New York Giants: Osi Umenyiora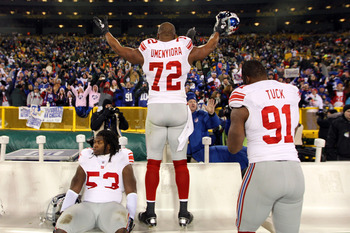 Jamie Squire/Getty Images
Even though Umenyiora has promised to be more quiet this coming season after his Giants won the Super Bowl, there is still the unavoidable truth that he is underpaid and in need of an extension.
The Giants may not be able to afford that extension, and even though their defensive line is their strength, they can part ways with the star player for a great deal and likely still be competitive.
In fact, with all of the good feelings from the Super Bowl, Umenyiora and the Giants can work together and take their time to make other teams give them the deal that they both want.
New York Jets: Mark Sanchez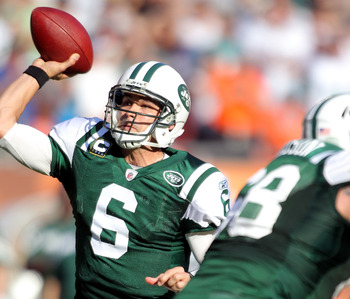 Marc Serota/Getty Images
If the Jets sign a capable backup this season and find that things just aren't working out with Sanchez, you bet they would take a team up on an offer to try to make a reclamation project out of the "Sanchize."
Who knows? Perhaps Pete Carroll is interested in being the one who gets the rare honor of telling Sanchez "I told you so" as well as "I can make you a winner."
Oakland Raiders: Taiwan Jones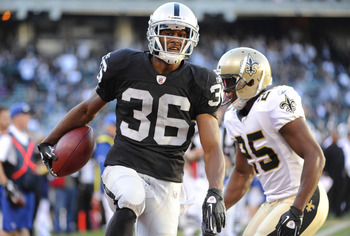 Thearon W. Henderson/Getty Images
Despite the injury troubles of the players ahead of him, Jones' talents are viewed as wasted by many in Oakland not garnering more carries.
A healthy return of Darren McFadden could make Jones expendable and available for a deal if a team is willing to part with a much-needed draft pick for the Raiders.
Philadelphia Eagles: DeSean Jackson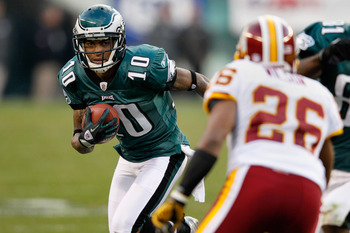 Rob Carr/Getty Images
The Eagles' troublemaker in the locker room is also a playmaker on the field, and teams are always interested in making deals for playmakers.
It could be unlikely that the Eagles part with their big-play threat, but the right deal could convince Philly to part with the headaches that come along with having Jackson on the roster and allow them to be somebody else's problem.
Pittsburgh Steelers: Rashard Mendenhall
Justin K. Aller/Getty Images
The sad truth that is coming out of Pittsburgh is that Mendenhall could miss the entire 2012 season as a result of his ACL injury.
That could hurt his trade value, but it also means that the Steelers may need to make the future become the present in the backfield.
If other plans need to be made and they end up working out, Rashard could be a player that another team is willing to part with a draft pick for in order to wait and see if he comes back strong.
San Diego Chargers: Jacques Cesaire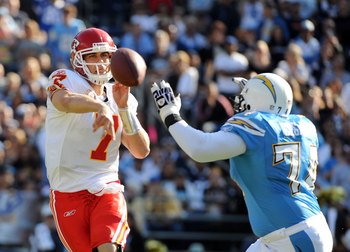 Harry How/Getty Images
Cesaire is a free agent at the end of the 2012 season and, depending on what the Chargers do this offseason, he could be a player that may be moved for the right deal.
Teams are always looking for help at the defensive end position, and sometimes that is a position best left to upgrade via trade or free agency.
San Francisco 49ers: Parys Haralson
Ezra Shaw/Getty Images
The emergence of Aldon Smith and the sheer depth that the 49ers boast on defense could make Haralson a target for teams looking to score a talented player for whom they would look to extend a contract.
The Niners cannot keep everyone, so part of being a team known for developing talent is having a plan to get the right things in return when they know that players are going to move on with or without their consent.
Seattle Seahawks: Ben Obamanu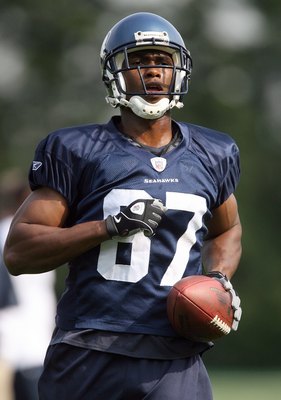 Otto Greule Jr/Getty Images
Doug Baldwin has become a serious threat on the outside for the Seattle Seahawks, and whoever ends up playing quarterback is going to have a young core of receivers to grow with, including Golden Tate and Zach Miller at tight end.
This means that Obamanu could be a player that teams could look to add depth with and not take on a huge contract.
St. Louis Rams: Fred Robbins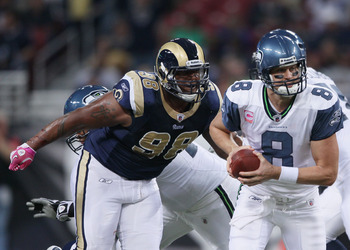 Elsa/Getty Images
Big men in the middle are always a hot commodity in the NFL, and the Rams have Fred Robbins, but he isn't locked up for long.
If the team thinks they aren't going to be able to extend him then they may look to move him for some value before they let him walk away.
Tampa Bay Buccaneers: Adrian Clayborn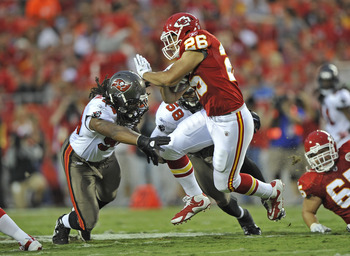 Peter Aiken/Getty Images
Clayborn is a great player for the Buccaneers, and he is going to outgrow his contract before long.
New coach Greg Schiano may want to think about acquiring blocks to help build the team in his image, and if someone is willing to offer a pick or two for Clayborn, he may think about it.
Tennessee Titans: Matt Hasselbeck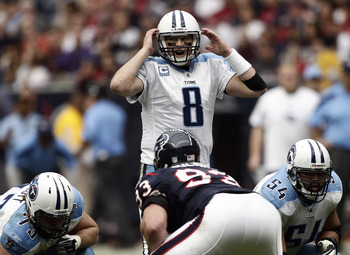 Bob Levey/Getty Images
There are enough teams in the league with questions at quarterback to make Hasselbeck a viable option for trade.
The fact is made more possible based on the resurgent play of Hasselbeck last season and the fact that the Titans just can't keep him past this season with the investment made in Jake Locker.
There are teams that could use the kind of steady hand that Hasselbeck has to offer, and head coach Mike Muchak needs to feel like his team is good enough all around to hand the reins over to Locker sooner than later.
Washington Redskins: Jabar Gaffney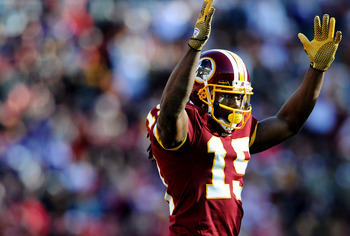 Patrick Smith/Getty Images
Gaffney makes sense as trade bait only because his former employer, the New England Patriots, might want him back.
With the return of Josh McDaniels, a man who has already moved to get Gaffney once, there is hope that the Redskins could generate some value for Gaffney as they continue to build a functional offense in Washington.
Keep Reading