Deron Williams and New Jersey Nets Stop the "Linsanity"
February 21, 2012

It was not long ago that Jeremy Lin had his breakout game against the New Jersey Nets and a phenomenon started. However in their second matchup, Deron Williams looked like a man determined to not be caught with his pants down again.
Since Lin's breakout game on Feb 4 against the Nets, no team has really had an answer for how to stop him. In that game, the Knicks were trailing and in an act of desperation, turned to the unheralded backup point guard Jeremy Lin. Lin scored 25 points with seven assists and five rebounds, in 36 minutes.
This started the emergence of "Linsanity" and a million other puns. Since that game against the Nets, Lin has averaged 25 points and just over nine assists per game. There has really yet to have been a team or player that has been able to figure him out and shut him down.
Many questioned whether the returning Carmelo Anthony would be able to be compatible with Lin. While Lin and Anthony both struggled it was for other reasons than their ability to play together.
Anthony just had some court rust. As for Lin, he was shut down by All-Star point guard Deron Williams.
Williams came out with a chip on his shoulder. After the game in his postgame interview on YES, he admitted that he was sick of being asked about Lin. Williams was nailing down three-pointer after three-pointer. Williams was very physical with Lin and didn't allow him to get in any rhythm. It felt as if Lin was not even in the game. Lin managed to score a quiet 21 points but failed to spark any major runs for the Knicks.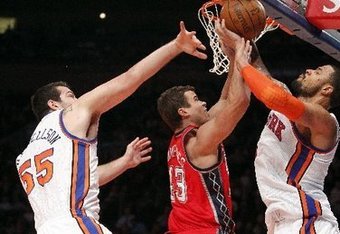 This Nets team had a different attitude and that their energy was able to trump the energy that has been so high for the Knicks since the inception of the Lin phenomenon. They definitely didn't seem like a team that was playing in their third straight game.
The Nets players were able to get under the skin of the Knicks. DeShawn Stevenson finally made an impact since joining the Nets and caused Anthony to not get comfortable and caused turnovers. Humphries was getting physical with basically everyone on the Knicks and almost got Tyson Chandler thrown out of the game.
The Nets have been a team that has struggled with consistency all season. However as a team against the Knicks, they shot 39 percent from the field and 48 percent from beyond the three-point arc.
Williams ended the game with 38 points and six assists, however those numbers would have been even higher had he not gotten into foul trouble. He hit a career-high eight three-pointers and had 18 points alone in the third quarter. Lin's three-pointer that rimmed out at the end of the third quarter summed up the night for him and the Knicks.
The Knicks found some momentum in fourth quarter however it wasn't enough. The Nets defeated the Knicks 100-92, and temporarily stopped all the "Linsanity."
This was the first Nets game in a while that had me on the edge of my seat and really into it. While this is not the end of Jeremy Lin's surge, it was a big statement by Williams and the Nets.