New England Patriots Position by Position Offseason Preview: Quarterback
February 21, 2012

Rob Carr/Getty Images
It's called Bradying. It's similar to Tebowing. One is done out of respect, while the other is an eponymous mocking pose (Bradying is the latter).
You're seated on the ground with your legs stretched out in front of you and your feet apart. Your hands are together, as if praying, and your head is bowed down. It's a pose of defeat, something Brady has become too familiar with during the playoffs.
While Brady remains one of the elite quarterbacks in the NFL, you get the sense his status is slipping after two recent Super Bowl losses. Even after passing for a career-high 5,235 yards, his career is being redefined for coming up short in the clutch.
Never mind that Brady drove the offense for the go-ahead score in Super Bowl XLII before the defense dropped two interceptions during the Giants' game-winning drive. Or that two catchable passes fell through the receivers' hands on back-to-back plays during Super Bowl XLVI. Either one would have earned the Patriots a first down and enabled New England to kill the clock and win a fourth Lombardi Trophy.
The endings haven't been like Brady's Super Bowl wins, but that doesn't make him any less of a passer. He was spectacular in the regular season, completing 65.6 percent of his passes with a 3-to-1 touchdown to interception ratio. It was the third time Brady had a QB rating of more than 100 in his career.
Brady is still elite and he isn't going anywhere. However, the pecking order behind Brady will most likely be changing.
Brian Hoyer has been Brady's understudy for three years, but is now a free agent. Even though his career consists of just 43 pass attempts, he's viewed as a solid backup because he sat behind and learned from one of the best.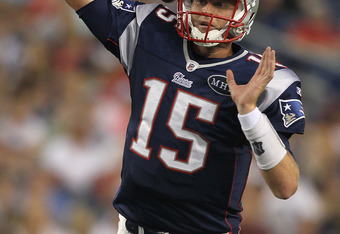 Jim Rogash/Getty Images
Even if Hoyer wants to stay, he faces tough competition in Ryan Mallett. Hoyer held off previous challengers in the past, but none as talented as Mallett. Mallett had a first round grade in the 2011 NFL Draft, but dropped to the third round because teams' questioned his maturity.
Mallett is a classic pocket passer with a rocket arm. He has to improve his pocket awareness and develop his touch, but otherwise Mallett has all the tools. His potential is good enough that New England kept him as the third quarterback, something the Patriots hadn't done in years.
It's expected that New England lets Hoyer walk, confident that Mallett will take the next step in his development. But Mallett won't be unopposed, as the Patriots will bring in a young quarterback (probably a rookie free agent) to compete with Mallett during training camp.
If Mallett holds off the challenger as expected, he's viewed as Brady's successor in the future. Not anytime soon, though. The Patriots is Brady's team and he's not going anywhere.
Question? Comments? Email me at: talktome@randolphc.com.