2012 NFL Draft Projections: Predicting the Worst Rookie at Every Position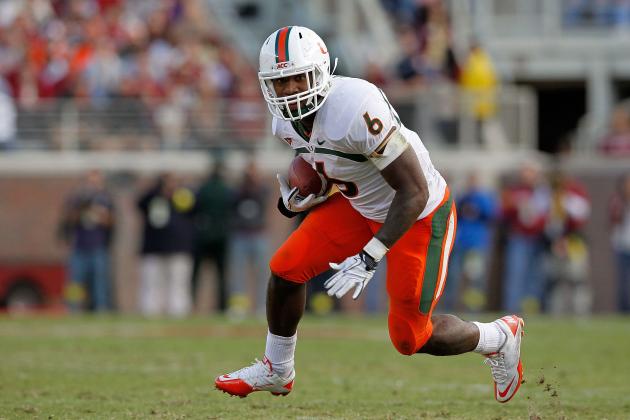 Mike Ehrmann/Getty Images

The 2012 NFL draft class is not considered a strong unit. It has its stars, of course. However, it will be compared and contrasted with recent drafts and ultimately fall short of being called "stellar."
Now that B/R Contributor Scott Bischoff has highlighted some players who should make a big splash during their respective rookie campaigns, it is time to look at the other end of the spectrum and decide who will struggle as first-year NFLers.
Join B/R on our journey through a gauntlet of dissidence as we respectfully disparage the talents of nine players set to enter the NFL.
Begin Slideshow

»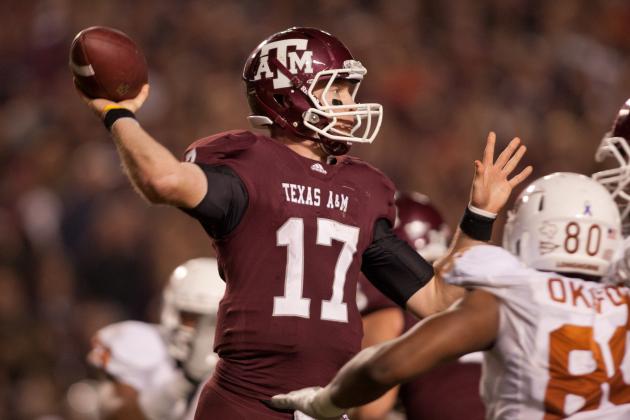 Darren Carroll/Getty Images

Ryan Tannehill
Although he is tough and athletic, Tannehill will struggle with decision-making early on in his career. Assuming a team in need drafts him, let's say Washington in the second round, he should play early.
He has prototypical size for the quarterback position at the next level and has an average arm; however, he has shown the tendency to rely too heavily on his No. 1 target, receiver Jeff Fuller. (More on Fuller shortly.)
Though he's gotten away with it because Fuller is 6'4" and can jump out of the building, he will not have that luxury in the NFL.
Tannehill sometimes forces throws, and that will lead to many interceptions. Don't be surprised if he throws more interceptions than touchdowns in 2012.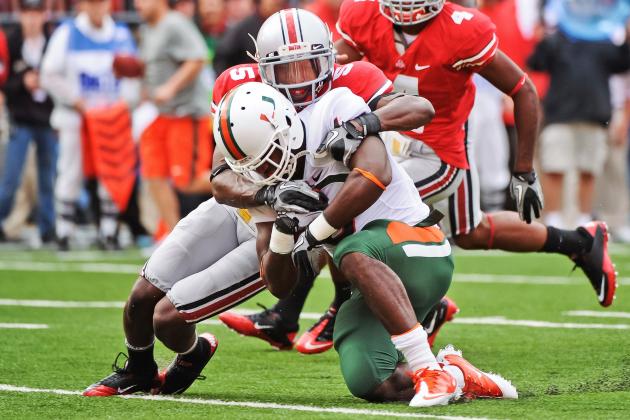 Jamie Sabau/Getty Images

Lamar Miller
Not every first-round prospect turns out to be a good professional.
Expected to be a mid-to-late first-round pick, this former University of Miami star is all speed and little else.
He shows the ability to make great cuts and cause people to miss, but lacks overall strength and ability to break tackles. Scouts Inc. said it well:
(Miller) runs with decent balance but not with a wide base. (He) gets cut down too easily. Lacks power to consistently break tackles.
Some may look to Tennessee Titans' running back Chris Johnson as a comparative measure, although Miller is heavier than Johnson is and not as fast. The way they play, however, is very similar.
Miller could see playing time early in his rookie year, but his yards per carry will be dismal because of his inability to break tackles.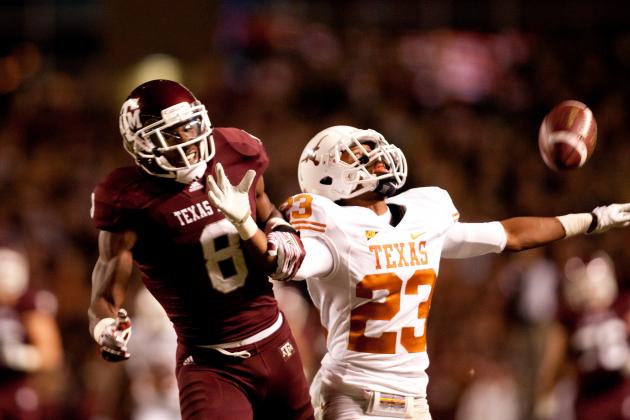 Darren Carroll/Getty Images

Jeff Fuller
As mentioned in the Tannehill slide, Fuller is 6'4". He has some down-the-field speed, but does not have adequate route-running ability to separate from defenders on any other route.
According to Russ Lande of SportingNews.com, Fuller was the fourth-least impressive player at the recently completed Senior Bowl week. Said Lande:
He (Fuller) failed to create any separation from corners and consistently struggled with body control. He showed extremely stiff hips, which caused him to struggle creating natural separation out of his breaks. He was unable to bring in several balls cleanly and had too many drops on easy balls.
I stated here that Fuller could help his draft status with a good showing at Senior Bowl week, and that did not happen.
In fact, he did the opposite.
He will not only struggle to be selected in the first three rounds of late-April's draft, but also he will struggle on the field as a rookie—if he plays at all.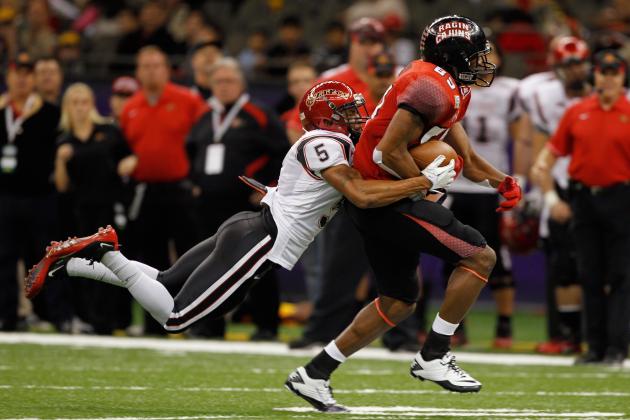 Chris Graythen/Getty Images

Ladarius Green
The former Louisiana-Lafayette stand-out is long and athletic. He has big hands and catches the ball well away from his body. Where he will struggle at the next level, though, is with his health.
Green reportedly has tendonitis in his knees, so not only can that affect his draft stock, but also it may shorten his NFL career.
Beyond that, he needs to put on around 20-25 pounds of muscle to be a factor in the passing game. At 6'6" and about 230 lbs, he will be routinely knocked off his routes in the NFL. The major concern with potentially putting on 20 pounds is the tendonitis.
Will his knees be able to handle the added weight without causing too much pain for him to manage?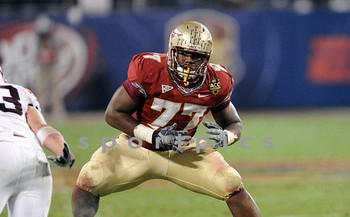 Zebrie Sanders
Before the Senior Bowl, Sanders was a rising star. So much so that ESPN NFL draft authority Mel Kiper Jr. had him going as high as No. 29 overall at one point.
The post-Senior Bowl fallout has not been kind to the former Florida State Seminole. B/R Featured Columnist Jon Dove had this to say about Sanders' week in Mobile, Alabama:
During the week of practice, Sanders routinely found himself off balance and getting pushed back into the backfield. His struggles against the bull rush will be something every NFL pass-rusher will be able to exploit.
His draft stock is falling fast, and if he doesn't have a great showing in Indianapolis at the combine next week, he may fall out of second-round consideration.
His lack of strength will haunt him in the long run.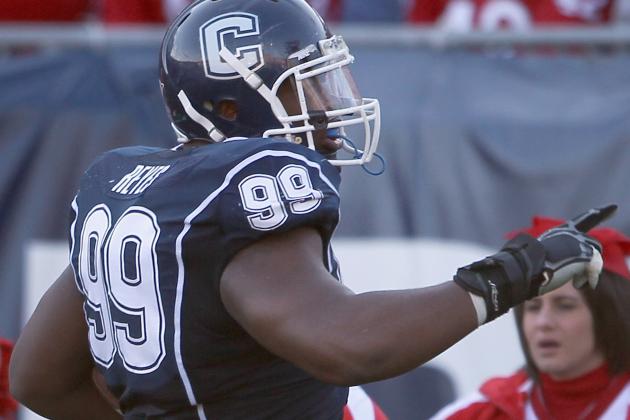 Elsa/Getty Images

Kendall Reyes
Reyes could be bigger. He weighs 300 pounds, but standing at 6'4", putting on 15-20 pounds would help him. Going into the combine, Scouts Inc. rates him as the No. 8 defensive tackle in the 2012 class, but he should perhaps be a bit lower.
He could end up being a solid player down the road.
As of now, though, he will get eaten alive by interior linemen. He has a tendency to play too upright at times, and that will only make things worse for him in the NFL.
Scouts Inc. said this of Reyes:
(He is) too much of a one-dimensional power rusher at this point. (He was able to) shed blocks quicker as a run defender than did as a pass rusher. Doesn't close as well as some other defensive tackles in class but has enough quickness and agility to develop into a productive interior pass rusher at the next level.
Being a one-trick pony in the NFL does not work all that well.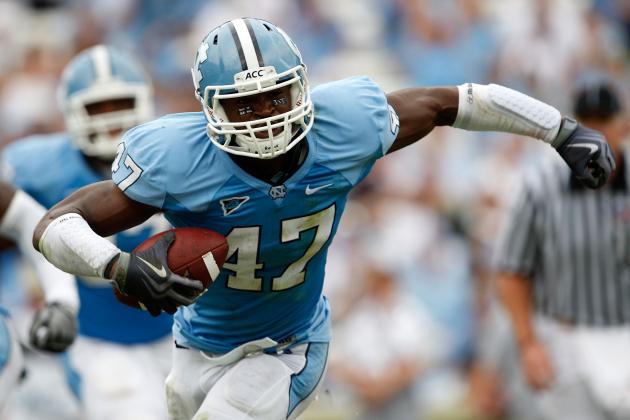 Streeter Lecka/Getty Images

Zach Brown
At 6'2" and just 230 pounds, Brown will likely rate out as the fastest linebacker in the draft.
That's about all he has going for him. Brown's tackling ability is problematic. He fails to wrap up on a consistent basis, and being so weak, he is unable to make arm tackles—even on smaller ball carriers.
His major problem is that he does not break down before he attempts a tackle, causing him to be left in the dust by the most rudimentary of juke moves.
He can also be engulfed by blockers, causing him to lose track of where the ball is.
Of all the prospects I have analyzed for this upcoming draft, Brown is by far the most overrated. How he is expected to be taken anywhere near the top three rounds is beyond me.
Eric Francis/Getty Images

Dennard will be drafted as a cornerback. That will be his downfall in 2012, as he may be better suited for the safety position in the NFL.
We go back to B/R Featured Columnist Jon Dove, who said this about the former Nebraska corner following Senior Bowl week:
Dennard's play raised questions about his long speed and hip fluidity. These issues have left many questioning his ability to be a top-level cover man.
He would be a great fit at free safety at the next level, so a team may take him in the second round as a corner with the intention of eventually converting him.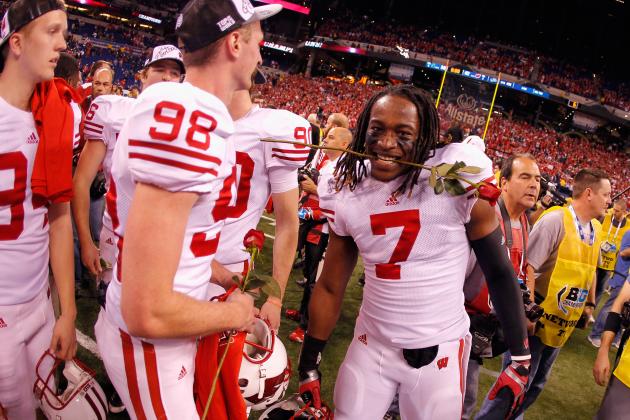 Gregory Shamus/Getty Images
Aaron Henry (7) celebrates a victory in the inaugural Big Ten Championship game
Aaron Henry
A converted corner, this former Wisconsin Badger is still learning the safety position.
When he is caught out of position, he lacks the speed necessary to recover. He could develop into a decent player and will receive playing time mainly through special teams, but for now he has a lot to learn.
He struggles at tackling, and is not good at defending the run. Scouts Inc. saw it this way:
Willing to take on much bigger blockers but got engulfed and not an in-the-box safety. Inconsistent tackler. More times than not ducked head and launched at ball carriers' legs. Ball carrier hurdled him at one point and others can do the same.
Someone with a late-round pick and a good safety tandem should take him only to develop him into something resembling an NFL prospect.