NFL Draft 2012 Fact or Fiction: Ducks' RB LaMichael James Will Be a Stud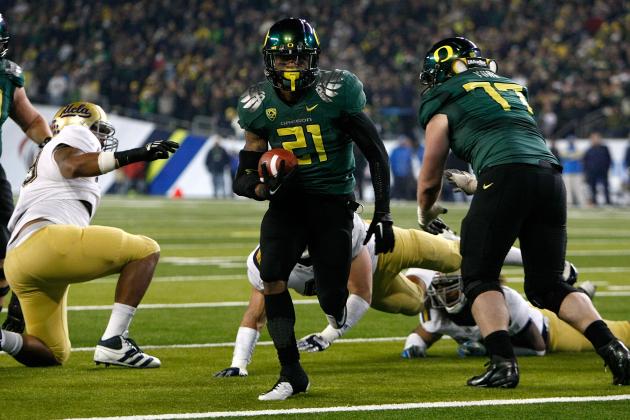 Jonathan Ferrey/Getty Images

As we get closer and closer to the April NFL draft, more and more people have differentiating opinions on the University of Oregon product, LaMichael James.
Although highly regarded around campus, people question whether or not he could succeed in the NFL.
There are those people who believe that he could end up being like a Darren Sproles type of back who is used in many different sets in the New Orleans Saints organization.
Then there are people who think that he was only good because he was a product of Chip Kelly's spread-option, rushing attack.
Come April, not only will James be drafted by a team, but he will also develop into a stud running back because of the skills and talents that he possesses.
Begin Slideshow

»
In a matter of seconds, LaMichael James can get the ball on a hand-off and quickly scan the line of scrimmage for the opening.
In Chip Kelly's system, there are times when the running back has to choose what hole he is going to have to get through and break free.
BuffaloBillsdraft.com had this to say about James' vision.
"has great vision in the open field for setting up his blocks"
He always seems to find the opening in the offensive line.
One of his best assets as a runner is his patience.
James will wait for the blocks to appear and not try to press his luck by diving into the pile.
He will not force himself into holes that are too small and if nothing opens up for him, he has the quickness and the speed to reverse directions and bring the ball around the other side.
Once he does find the hole, he uses his explosive speed to get to the second level of the defense.
There are two types of "fast."
There is the fast that can be measured by the 40-yard dash and in practice. Then there is gameday fast.
James is gameday fast. He knows how to turn up his speed. What is really impressive is the fact that he maintains his speed.
He has a great initial burst past the line but manages to keep his same speed for what can be 70 yards. It even seems like the closer he get to the goal line, the faster he goes.
Pick any spot in the video and just watch.
James has the ablility to break ankles and shakes people out of their shoes.
Combined with his short stature, he can weave in and out of defenders making them miss and slipping by them at breakneck speed.
His change of pace ability is some of the best in the country.
Scroll to the 52-second mark of the video and just sit back and watch the next two plays.
Although James is only 5'9" and 195, he still packs a punch. He is more than willing to take on defenders just like Jeramiah Masoli did against OSU in the Holiday Bowl.
He can run into the linemen but has the strength and power to come out the other side and keep his legs moving.
If you were to compare Trent Richardson, Montee Ball and LaMichael James, who would have the most carries?
James, by a lot.
Over this three-year career with the Ducks, James has amassed over 770 carries. That is over 200 more carries than Ball and Richardson had.
He might not be an every down back, but there are becoming less and less of these types of backs because teams are switching to a two-back system where they have both a speed and a power back (look at the New York Giants and Seattle Seahawks).
In the video above, on his last carry against Stanford last year, he pulls of a 76-yard touchdown. His LAST carry.
LaMichael James came to Oregon in 2011 wanting to prove to everyone that he can be a complete back.
He wanted to get more involved with the passing game and he developed better hands because of it. He did not get as many catches as he wanted though, because his fellow running back, Kejon Barner, was the third-down receiving back.
Since Cliff Harris was kicked off the team, James took over returning punts and excelled at it. In 2011, he has 15 returns for 139 yards and one touchdown.