College Basketball Forecast: Texas Could Be a Bear Trap for Baylor
February 20, 2012

Jamie Squire/Getty Images
Tonight's "Big Monday" isn't so big overall, but it does feature four teams that are desperately in search of a win.
The first game has the slumping Connecticut Huskies heading to Philadelphia to take on a Villanova Wildcats team that is in rebuilding mode this season and looking for a win to hang their hats on for the season.
For the night game, the ice-cold Baylor Bears are on the road against a hot Texas Longhorns team that's fighting for a spot in the NCAA tournament.
Both of these games will have NCAA tournament implications and will be the ones to keep an eye on tonight.
One to Focus On
No. 14 Baylor Bears (22-5, 9-5) @ Texas Longhorns (17-10, 7-7) – 9:00 PM ET ESPN
Key to the Game: Which Baylor team shows up tonight.
The spotlight is going to be shining bright on this game since it's the only notable one tonight. Both teams need this one badly though.
The Baylor Bears are in a rough stretch right now, dropping three of their last four games, currently playing themselves out of a one seed.
Now, Baylor has to head to Austin, Texas to face the Longhorns, who have won four of their last five and are 14-2 at home this season.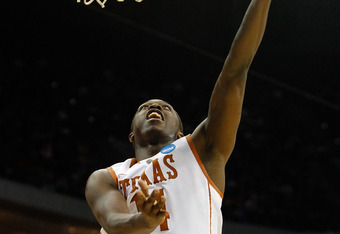 Tom Pennington/Getty Images
This game has the making of a bear trap.
Baylor has struggled on the road as of late, posting a 2-2 record and getting crushed in the losses at Kansas and at Missouri. They are also averaging only 61.5 points per game over the last four, thirteen points down from their season average.
Texas has been playing well lately. They are led by junior point guard J'Covan Brown who is a dynamite athlete for the position and can create his own shot. Brown doesn't have much help around him though and is in charge of the second youngest team in the Big 12.
Both of these teams have been playing very solid defense this year and do a good job of challenging shots. With Baylor's struggles at the offensive end recently, they could have a really hard time finding their shot tonight against Texas tonight.
Baylor needs to desperately step up tonight and get of this slump that they are in. In their last three losses, the Bears are shooting 37.2 percent from the field, over ten points down from what they normally shoot. From three—where Baylor is shooting 38.8 percent on the season, good for 23rd in the nation—are only making 26.3 percent of their shots.
Texas has struggled a bit defending the three this season, so this could be a good game for Baylor to get on track there. The Bears have been marred by inconsistent shooting over this recent rough stretch. They need to find a way to create high quality shots in this one. Baylor simply can't afford to drop another one due to bad shooting.
Texas could really use this game to boost their résumé. They are a bubble team right now that has gone 0-5 against RPI top 25 teams. A win like this would be huge.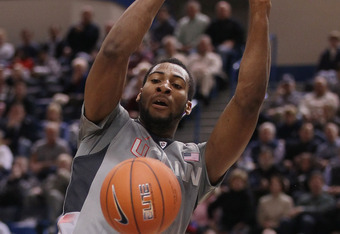 Elsa/Getty Images
This game is really tough to predict. Both of these teams are playing much differently since the last time they faced. Baylor is slumping, Texas is surging, and they both need a win tonight. The one thing you can't analyze is heart, and that's the biggest question with Baylor right now, a team that has just seemed to lack it at times this season.
Texas is actually favored in this one, but I'm going to predict Baylor to squeeze this one out, though I'm not confident in that whatsoever. The Bears are an extremely talented team with Quincy Miller, Quincy Acy, Pierre Jackson, and projected lottery pick Perry Jones. If they don't pick-up a win tonight, it's going to be hard to trust them at any point again going forward.
Final Score Predication: Baylor 67, Texas 66 
One to See
Connecticut Huskies (16-10, 6-8) @ Villanova Wildcats (11-15, 4-10) – 7:00 PM ET ESPN
This game features two of the youngest teams in the Big East that have each experienced difficulties this year because of it.
Both Connecticut and Villanova have had recent struggles, with the Huskies going 2-7 in their last nine and the Wildcats at 1-5 in their last six.
Villanova's only shot at the NCAA tournament would be a magically run to win the Big East tournament, but that is highly unlikely. Doesn't mean this team is going to lie down; that's just not the Jay Wright way.
Connecticut can't lose a game like this when they are one of the most controversial bubble teams right now. They have tons of talent, but just have yet to put it together. It certainly doesn't help that Ryan Boatright missed games due to suspension, the man that is suppose to take over at point guard for Kemba Walker.
Villanova has struggled mightily against the RPI top 100 this year. They are 0-6 against the RPI top 25—Connecticut is 24th—and 2-14 against the RPI top 100.
The Huskies should be able to take this game with relative ease, and they really need to. Talent-wise they are one of the best in the nation; they just haven't put it all together on the court yet.
I have noticed that Connecticut's key problem is they are playing like a young team. Their shot selection has been very questionable throughout most of the season. They aren't moving the ball around as much as they should and taking early, contested jumpers. Also, the Huskies seem to always die out at the end of half's. The depth on this team isn't very good, at it shows then.
If Villanova can take advantage of UConn's two key weaknesses—shot selection and the way they end halves—than the Wildcats should be able to pull off the upset. The Huskies can't afford to lose this one though.
Again, this is another very tough game to predict overall. Young teams also typically struggle on the road, and UConn is no different there, going only 2-6 on the road this season. I'm going to lean towards Connecticut in this one because they are simply more talented and Villanova struggles a lot shooting the three. If the Huskies move the ball around and display their ability to dominate in the paint with big men Andre Drummond and Alex Oriakhi, then they will avoid the loss. Can't trust a team that hasn't consistently done that all season though.
Mid-Major Flavor 
Texas Southern Tigers (10-15, 9-4) @ Mississippi Valley State Delta Devils (15-11, 14-0) – 7:00 PM ET ESPNU
The slow night in college basketball and lack of television coverage for the Atlantic Sun (sorry, Belmont) leads us to talking about this game in the Southwestern Athletic Conference.
The last time a SWAC team won an NCAA tournament game outside of a play-in or opening round game was when the Alcorn State Braves defeated South Alabama 70-62 in 1980. The good news is that this game involves the SWAC leaders and the probable NCAA tournament representative from this conference, Mississippi Valley State.
The Delta Devils have gone undefeated in SWAC play so far, with only six of those fourteen wins coming by single digits. One of those close wins was against the Tigers of Texas Southern.
TSU comes into tonight with a three game winning streak. Not nearly as impressive as the fourteen in a row that MVSU has, but they do have some momentum right now.
Texas Southern dominated regular season SWAC play last season before losing to Alabama State in the conference tournament finals. The Tigers lost three of their top four leading scorers from last year, including leading assist man Kevin Galloway, who ranked eighth in the nation with 6.2 per game.
Against a team in Mississippi Valley State that is the most experienced team in the nation, losing those seniors from last year for Texas Southern is an even bigger deal.
The Tigers pose a threat because they play good, pressuring defense and the Delta Devils have been sloppy with the ball this season, turning it over 15.6 times per game, 301st in the nation. However, Texas Southern is seventh to last in turnovers per game—17.0 per—and Mississippi Valley State is coming off a game where they had seventeen steals, the third highest mark in all NCAA games this season.
Texas Southern hasn't defeated an RPI top 200 team in either this season or last and if they want to do so tonight, they will need to shoot much better than they did the last time these two played (38.6 percent from the field).
This game will come down to which team wins the turnover battle. I would expect a lot of them in this contest, but it should be another close game in the SWAC with the Delta Devils edging it out because of their experience.