WWE Elimination Chamber 2012: What Happens to Big Show Now?
February 20, 2012

Big Show was one of the six participants in the SmackDown Elimination Chamber match last night. At the time he was in a great feud with the World Heavyweight Champion, Daniel Bryan.
Since the TLC: Tables, Ladders and Chairs PPV in December, Bryan has been the bane of Big Show's existence.
After beating Mark Henry in a chairs match, he was DDTed by Henry against a steel chair. This allowed Bryan to come out to cash in his Money in the Bank briefcase and win the title, resulting in Bryan beginning to turn heel.
Since then, Bryan has narrowly avoided the Big Show's wrath, from making Mark Henry attack him to win by disqualification, to having his girlfriend AJ get run over by the 441-pound behemoth, to escaping out of a steel cage at the Royal Rumble.
At the Elimination Chamber PPV, he dominated in the early goings of the match, throwing Wade Barrett, Cody Rhodes and Santino Marella like rag dolls, and even eliminating The Great Khali with a spear.
However, he was the second man to be eliminated in the match, thanks to the tandem of Cody Rhodes and Wade Barrett (after Barrett delivered an elbow drop off the top rope).
But now that Daniel Bryan will likely be facing Sheamus for the World Heavyweight Championship at WrestleMania, where does Big Show fit into the upcoming card?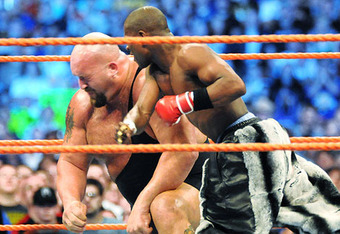 There have been reports of Shaquille O'Neal negotiating with the WWE to wrestle the Big Show at WrestleMania, and it would certainly make sense.
It would be a battle between two giants and legends in their respective areas. In addition, a match such as this would get a lot of attention from casual wrestling fans, as well as the media.
It's not like something like this hasn't been done before. Celebrities like Snooki, Donald Trump and Mickey Rourke have all been part of the big event. And NFL legends William "The Refrigerator" Perry and Lawrence Taylor have both wrestled on the card (Perry in a battle royal at WrestleMania 2; Taylor won a match against Bam Bam Bigelow at WrestleMania 11).
Even adding more to this possible match is the fact they had a run in back in 2009, when Shaq guest hosted an episode of Monday Night RAW.
But when you think about it, is this all that Big Show is good for nowadays at WrestleMania? Some sort of sideshow character used to entertain the general masses?
"Come one, come all, and watch as a seven-foot, 441-pound wrestling behemoth gets beaten by someone who's never even fought in the ring before."
I mean, isn't it enough that Big Show was beaten by boxer Floyd Mayweather Jr. back at WrestleMania 24? Or am I the only one who remembers (or even bothers to remember) that atrocity? Now we have to throw in Shaquille O'Neal too?
Who's next? "The Situation" from Jersey Shore? Yeah, he'd be perfect, since WrestleMania 29 is in New Jersey, let's put him in a match (I hope I didn't give WWE any ideas right there).
I get the fact that this is used to generate more PPV buys. But with a card featuring John Cena versus The Rock, CM Punk versus Chris Jericho, HHH/Undertaker III, Daneil Bryan versus Sheamus and the Money in the Bank match, is this really necessary to add? And just how many more buys would a match like this add?
Wouldn't it be better to push a mid/upper-card wrestler by having him beat the Big Show at WrestleMania?
How about Wade Barrett? He currently has nothing going for him, since he threw Randy Orton down a flight of stairs (and is currently out with a concussion, thus not be allowing to participate in last night's Elimination Chamber).
And it was because of him delivering the elbow drop off the top rope that resulted in him being eliminated, so wouldn't it make sense for them to have a feud? Wouldn't this be a good way for Barrett to become even more established within the company by defeating nearly 200 pounds more than his own weight?
The two could have a decent back-and-forth match that ends with Barrett delivering Wasteland and getting the pin.
Wouldn't that be much better than having Shag throw a bunch of punches, and possibly using some way to cheat like Mayweather did, to win the match? Wouldn't Big Show versus Barrett be a whole lot more entertaining?
For now, Shaq is still negotiating, so we really could get Barrett versus Show in six weeks.
What would you rather see?