2012 NFL Free Agency: Putting Together a 4-3 Defensive Front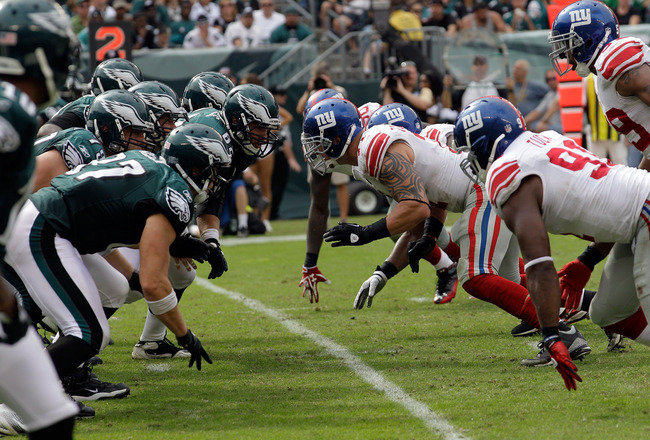 Rob Carr/Getty Images
The 2012 NFL free-agency market contains some ideal building blocks for those looking to construct a stout 4-3 base. Players like Houston Texans star Mario Williams and Detroit Lions youngster Cliff Avril represent the most coveted prospects as natural edge-rushing defensive ends.
While hard-tackling, intelligent linebackers like Cleveland Browns' D'Qwell Jackson and Atlanta Falcons defensive linchpin Curtis Lofton are ideal fits for the role of the 4-3's chief playmaker, the mike linebacker.
The advantages of a defense that was first invented and utilised in the pro setting are clear. Roles are more clearly defined in a 4-3. Linemen attack, linebackers and safeties read. It is a more simplistic system than the 3-4, but its effectiveness can be just as overwhelming.
Both the Buffalo Bills and Miami Dolphins have signaled their intentions to switch to a 4-3 in 2012. The success of the Super Bowl Champion New York Giants' ferocious four-man line has returned some of the lustre to the 4-3.
The possibilities are endless for any defense that can consistently rely on a four-man rush. Here is a quick guide to assembling a 4-3 defensive front from this year's free-agent class.
Criteria for Selection and Type of 4-3 Used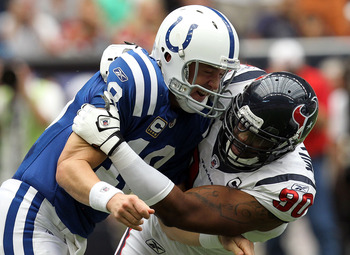 Ronald Martinez/Getty Images
This list will only concern itself with front seven players. This decision is made based on the honest belief that for the most part, the responsibilities of secondary players do not alter that much between 4-3 and 3-4 defenses.
Also, as far as possible, the list will try to reflect a loose appreciation of financial realities and salary cap restrictions. This means that the 4-3 front seven listed here is unlikely to include every star name available at each position.
The specific type of 4-3 these players have been selected for is a traditional pro set, which means there is a linebacker aligned on the tight end side of the formation and the defensive tackles shift towards the strength of the offense.
This should avoid any confusion regarding "over" and "under" shifts, or any of the other numerous variations of a 4-3.
Weak-Side Defensive End: Mario Williams, Houston Texans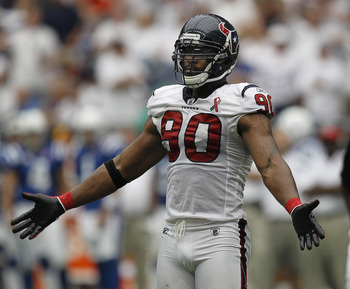 Bob Levey/Getty Images
Mario Williams is the ideal choice as this scheme's primary pass-rusher. Aside from Williams, the 2012 NFL free-agent crop is not loaded with talented 4-3 weak-side defensive ends.
John Abraham of the Atlanta Falcons is the best option aside from Williams, but Abraham is 33 and has played a more limited role in recent seasons. Williams is 27 and is entering his peak years.
The 6'6" 283 pounder is blessed with an intimidating combination of raw power and explosive speed. In this defense, Williams would align in a 6-technique on the outside shade of the left offensive tackle. This alignment creates the best pass-rushing opportunities. The former 2006 first overall pick would be free to wreak havoc from the open side of the formation.
Williams is a dream pick for this position. The only downside is that it would likely require a massive contract to pry him away from the Texans. This means that concessions would have to be made elsewhere along the front in terms of elite talent and cost.
Weak-Side Defensive Tackle: Pat Sims, Cincinnati Bengals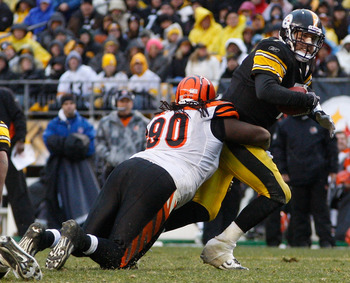 Jared Wickerham/Getty Images
While there is no shortage of 3-4 nose tackles to choose from such as Antonio Garay, Sione Pouha and Paul Soliai, there is a lack of elite 4-3 defensive tackles in this year's free-agent class.
In a normal alignment against an offensive set with the tight end to the strong side, the weak-side tackle aligns in a 2-technique, directly over the left guard. He is the one two-gap player in a 4-3.
This player needs to be a powerful and aggressive run defender with the ability to anchor the interior. Perhaps the best option is Red Bryant of the Seattle Seahawks, but Bryant is pivotal to the success of the Seahawks defense and would likely command a major salary.
After much deliberation, mammoth Cincinnati Bengals youngster Pat Sims was chosen as the best free-agent prospect for the weak-side defensive tackle role.
Sims has deceptive first-step quickness for a player weighing 330 pounds. He is able to cause havoc for opposing blocking schemes and would create a tricky dilemma for opposition left tackles from this position.
His size, aggression and technique would make Sims too much for most guards to handle one-on-one. If the left tackle was forced to come over and help, the weak-side defensive end could enjoy some clear routes to the backfield.
If Sims can prove he is over the debilitating ankle injury which led to him ending 2011 on injured reserve, he would be a great asset for any 4-3 team looking to get bigger in the middle, such as the Tennessee Titans.
Strong-Side Defensive Tackle: Derek Landri, Philadelphia Eagles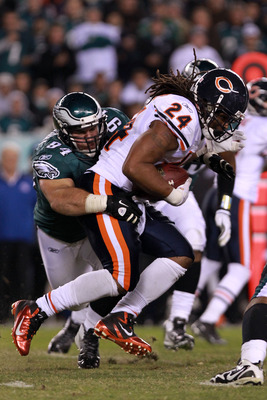 Nick Laham/Getty Images
This position is manned by a player who aligns in a 3-technique on the strong side. Journeyman Derek Landri is an ideal choice.
While a quicker interior rusher like Jason Jones of the Tennessee Titans may have added more of a pressure threat, Landri was chosen because this author believes that having two big bodies at the defensive tackle positions is crucial to the success of the 4-3.
The 28-year-old has plenty of 4-3 experience, having played in the system for both the Philadelphia Eagles and Carolina Panthers.The 6'2" 290 pounder is a natural plugger who plays with great leverage and is extremely powerful at the point of attack.
Landri is no pass-rush artist, but he is able to generate consistent push and move the pocket backwards. From his position in the strong-side B-gap, Landri would be able to draw double teams, after playing a similar role in the Eagles' double 3-technique schemes during 2011.
Remember, in the traditional 4-3, these tackles are versatile and can switch alignments depending on the perceived strength of an offensive formation. Pairing Sims and Landri together would keep constant pressure on the pocket and ensure that the run defense would be stout and intimidating.
Strong-Side Defensive End: Israel Idonije, Chicago Bears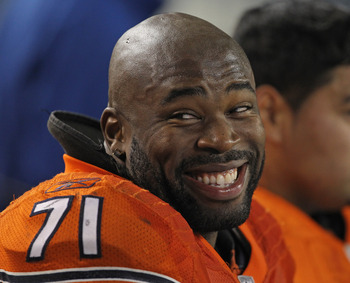 Jonathan Daniel/Getty Images
Eight-year veteran Israel Idonije would be a cheaper, but arguably just as effective, aside from Cliff Avril. Idonije has logged 13 sacks in the past two seasons and has the speed, length and range to cause a host of problems on either side of the line of scrimmage.
The 6'6" 275 pounder is quick and technically sound enough to be responsible for the strong-side C-gap, which is the outside shade of the right offensive tackle. Idonije can stand up well against the run and also has the versatility to slide inside to tackle in nickel packages.
The 31-year-old faces plenty of competition in a crowded defensive line rotation with the Chicago Bears. Earlier this month, ESPN.com reported that Idonije may be allowed to test the free-agent market. He could face a reduced role if he stays in Chicago for the 2012 season.
Weak-Side Linebacker: Rocky McIntosh, Washington Redskins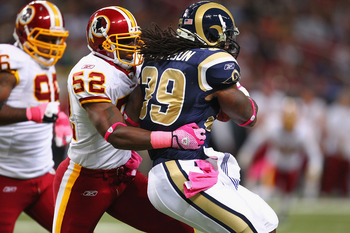 Dilip Vishwanat/Getty Images
Rocky McIntosh needs to return to a 4-3 front. The 29-year-old has struggled badly to adjust to the Washington Redskins move to a 3-4 defense.
McIntosh is a nice fit for the weak-side spot in this scheme. This player needs to be kept away from the tight end and given the freedom to chase plays down.
McIntosh is an athletic linebacker with the speed and smarts to make plenty of plays in the right system. The six-year pro possesses good coverage instincts and underrated blitz ability.
Any 4-3 team looking for help at linebacker should seriously consider bringing McIntosh on board for the 2012 season.
Middle Linebacker: Joe Mays, Denver Broncos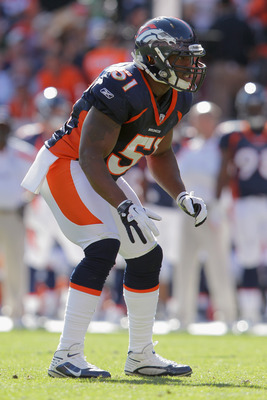 Doug Pensinger/Getty Images
Joe Mays may not be as heralded as some of the other more high-profile free-agent middle linebackers like Jackson, Lofton or Stephen Tulloch of the Detroit Lions, but the Denver Broncos' tackling ace would be the ideal player to man the middle in this 4-3 defense.
At 5'11" and 250 pounds, Mays has the frame to plug the middle and be a stout force against the run. He is a fierce and sure tackler who would be the focal point of the rush defense.
With Mays protected by hulking tackles like Landri and Sims, there would be very little room for running backs to exploit. In this system, Mays would play an aggressive, downhill style and be encouraged to shoot the gaps on a regular basis.
The ends would be told to force plays back inside towards Mays and the tackle tandem. The 26-year-old is a rising star and retaining him should be a priority for the Broncos.
Strong-Side Linebacker: Manny Lawson, Cincinnati Bengals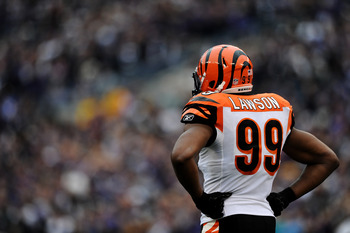 Patrick Smith/Getty Images
The strong-side linebacker usually aligns on or near the line of scrimmage in a standard 4-3 front. He tends to be a taller player—in order to match up well with tight ends—and must also pose a good pass-rush threat.
Manny Lawson of the Cincinnati Bengals is an ideal fit. The former San Francisco 49er made a successful transition from a a 3-4 to a 4-3 after the Bengals signed him on a one-year deal late in the 2011 free-agency period.
The 6'5" 240 pounder has the size to be a stout force against the run and also be able to cover tight ends and running backs in underneath areas. The 27-year-old is not a standout pass-rusher by any means, but his experience as a rush linebacker with the 49ers has taught Lawson useful blitzing skills and timing.
Surrounding a big body in the middle like Mays with the speed and tenacity on the outside offered by Lawson and McIntosh creates the perfect complement for a set of 4-3 linebackers.
Some Quality, but Costly 4-3 Players Available, but 3-4 Talent Will Lead the Way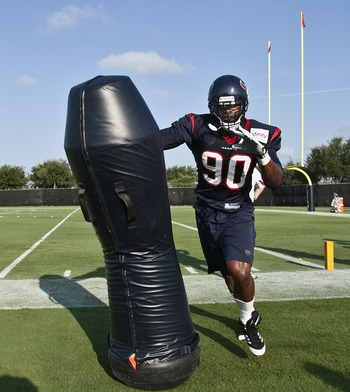 Bob Levey/Getty Images
For the growing number of teams looking to make the switch back to a 4-3, there are some quality options available in free agency. But these players will come at a steep cost.
The likes of Mario Williams and Curtis Lofton would be ideal core players for a 4-3 front. But the pair will command huge money on the open market. Sadly, behind a sparse number of elite names, there is very little game-changing talent available to 4-3 teams.
The year's teams have spent trying to copy the successful 3-4 templates of teams like the Pittsburgh Steelers and New England Patriots, and it has changed the way defensive players are assessed in both the draft and free agency.
This is reflected in the 2012 NFL free-agent crop, where a solid 4-3 like the one laid out in this list can be constructed, but the biggest contracts and attention will still be reserved for 3-4 practitioners.
Keep Reading