Chiefs Sign Stanford Routt, Paving the Way for Brandon Carr's Departure
February 20, 2012

Peter Aiken/Getty Images
The Kansas City Chiefs signed veteran cornerback Stanford Routt to a three-year, $20 million-dollar deal on Monday.
Now the question becomes, does this change how the Chiefs will deal with their own impending free agent cornerback, Brandon Carr?
Routt was able to sign before free agency because the Raiders released him from under contract.
Let's first start by discussing Routt. He will be entering his eighth year, and he will be 29 when the season begins. The Raiders didn't dismiss Routt because he wasn't a good player, but because he was overpaid.
Late owner Al Davis loved to reward home-grown players. When Nnamdi Asomugha left the Raiders last offseason, Davis rewarded Routt. Routt, who had improved steadily throughout his first six years in the league, would now be Oakland's top cornerback with the departure of Asomugha.
So, Davis signed Routt to a five-year, $54.5 million-dollar deal with $20 million guaranteed. The deal was actually for three years and $31.5 million.
But, when new GM Reggie McKenzie took over, he made it a point to rid the Raiders of "out-of-whack contracts." Routt's contract was one of those. It didn't help Routt that he was coming off an up-and-down season.
While Routt was a solid player for the Raiders overall, in 2011 he allowed eight touchdown passes while committing 17 penalties. The penalties were the most against one player in the entire league. The penalties against Routt were also more than the entire Green Bay Packers' defense in 2011.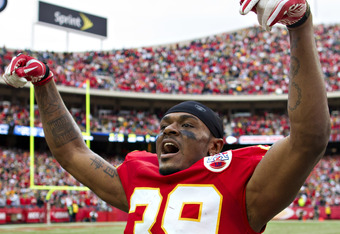 Wesley Hitt/Getty Images
Now keep in mind, NFL officiating can be questionable, but where there is smoke, there is fire. Routt got picked on often this year and he struggled at times. Going back and watching some of Routt's games though, he wasn't as bad as those stats indicate. Simply, he was just making too much money for a team trying to start over in many ways.
So, with the signing of Routt, what happens to Carr? Carr, who will be 26 in May, will be entering his fifth season in the NFL. Possessing good size and speed, Carr will get plenty of attention on the free agent market.
Some even speculate that Carr will be the top defensive player pursued. While I wouldn't go that far, Carr is very good.
Young cornerbacks entering their prime get paid in the NFL. The Chiefs, more than $60 million under the salary cap before signing Routt, shouldn't have a problem in retaining Carr or fellow free agent, wide receiver Dwayne Bowe. But, the organization has proved to be quite thrifty in past years.
Re-signing Carr should be a priority, but the Chiefs may not want to be in a bidding war. Signing a good, solid veteran in Routt, to pair with another good, young cornerback, Brandon Flowers, gives the Chiefs leverage if Carr's price is too high.
With Romeo Crennel as head coach, the Chiefs will continue to have a good defense. The signing of Routt shows the team will play more man-to-man coverage, Routt's specialty.
But, with the NFL now a passing league, wouldn't it be a priority to retain Carr? I would think so, but perhaps the Chiefs are sending a message to players around the league that they will not be used to drive up player salaries.
The contract Routt received from the Chiefs is more in line with how Routt should be paid. He is simply not an elite cornerback, but a good one. Presumably, he will now be the Chiefs' No. 2 cornerback.
Credit the Chiefs for being proactive in protecting themselves if Carr leaves. The team shouldn't have to decide now to place the franchise tag on Carr or Bowe. Undoubtedly, Bowe gets the tag and Carr tests the market.
Carr will probably get offers in the $9-10 million per-year range, assuring his departure from Kansas City.