Pau Gasol Trade Rumors: Los Angeles Lakers Won't Send Gasol to the Bulls
February 20, 2012

Christian Petersen/Getty Images
Kobe Bryant chastised the Los Angeles Lakers front office a day after new rumors suggested Pau Gasol might be headed to the Chicago Bulls in exchange for Carlos Boozer and another player.
While a number of potential destinations have emerged in the speculation about Gasol's future, chances are that Gasol isn't going anywhere. At the very least, there's very little reason to believe he'll end up with the Bulls.
From Chicago's standpoint, Gasol would certainly be an upgrade over Carlos Boozer at power forward. Gasol is longer, has a championship pedigree and would fit nicely alongside the ruthlessly energetic Joakim Noah. 
Unfortunately for Chicago, this trade makes little if any sense for the Lakers.
With the continued emergence of Andrew Bynum (who's averaging 16.3 points, 12.5 rebounds and 2.1 blocks in his first All-Star season), Boozer may be an acceptable third option on a Los Angeles team looking for some new life. However, he's certainly not an improvement over Gasol, so the Lakers would look for add-ons to sweeten the deal.
The best (realistic) scenario for Los Angeles would require Chicago to throw in point guard C.J. Watson and one of either Taj Gibson or Omer Asik.
Watson probably isn't the Lakers' long-term solution at the point, but he'd reason to start ahead of Derek Fisher and Steve Blake. Chicago, however, would find itself with only the little-used John Lucas and Mike James to back up Derrick Rose.
Given Rose's recent struggle with back spasms, the Bulls would almost certainly want either Fisher or Blake included in the deal as an insurance policy. In a world where Chicago's at all worried about Rose's health, though, you'd have to believe it would rather hang on to Watson.
As for Los Angeles, the deal may not be worth doing for Watson alone. Rumored to be interested in acquiring Ramon Sessions from Cleveland, the Lakers could do better than C.J. Watson without having to lose Gasol. And with Gilbert Arenas emerging as an option that wouldn't cost Los Angeles any players whatsoever, Watson looks less and less like a reason to go the route of a blockbuster trade.
Meanwhile, a throw-in like Taj Gibson or Omer Asik may give Los Angeles reason to think twice. Both are young bigs and would amount to a substantial improvement over the Lakers' current depth (apologies to fans of Josh McRoberts and Troy Murphy if such fans do in fact exist). Gibson, who played college ball at USC and is under contract for another season, would be especially attractive. 
Asik may be the more likely option, however. He may become a very expensive backup in Chicago, as he'll be a restricted free agent this offseason and in line to make some money.
In either case, the Bulls would be trading vital depth at two positions (point guard and forward/center) in exchange for the 31-year-old Gasol. The club would also be removing itself from the Dwight Howard sweepstakes and any other opportunity to surround Rose with young, dominant talent.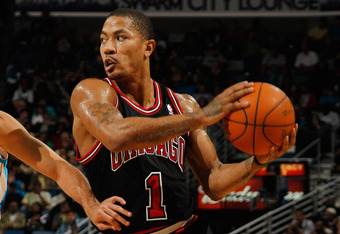 Chris Graythen/Getty Images
Even if Rose's wishes are indeed the principal reason for the Gasol rumors, it's hard to imagine Chicago taking those kinds of risks in the midst of yet another incredibly successful regular-season campaign.
With Lakers GM Mitch Kupchak suggesting any moves will likely be small adjustments rather than blockbuster overhauls, this deal probably doesn't make much sense for the Lakers either. If Kupchak could somehow convince Chicago to part with Boozer, Watson and Luol Deng, of course the Lakers would pull the trigger (and begin making arrangements for another championship parade).
However, if Kupchak could convince the Bulls to do something like that, Bulls general manager Gar Forman would soon be looking for a new job.
While it's understandable for fans and their itchy trigger fingers to clamor for a big deal that will restore the Lakers to dominance, there's little chance such a deal will involve Gasol. Unless they're able to acquire the likes of Kyle Lowry and Luis Scola (from the Rockets), Los Angeles is better off solving its point guard problems more subtly.
And if the Lakers finally silence the rumor mill surrounding Pau (as Mr. Bryant bluntly suggested they do), Gasol just might start playing like a guy no one would want to lose.
Follow me on Twitter @StephenBabb