In Their Helmets: What Every NFC North Team Is Thinking Today
February 20, 2012

Jonathan Daniel/Getty Images
The NFL Scouting Combine is this week, so there's no doubt that there are some rookies on the minds of all four NFC North teams. Free agency is also a pressing issue, with each team looking to retain its own players as well as pick up a few much-needed components.
Whether it's free agency or the draft, it's the time for teams to think about making some new additions and difficult decisions. Here are the areas the four teams of the NFC North are most concerned with today.
The Chicago Bears are Thinking About Veteran Wide Receivers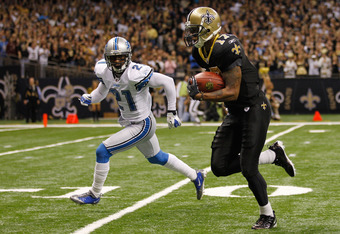 Chris Graythen/Getty Images
Chicago Bears quarterback Jay Cutler went on the record today about his desire for the team to add talent at wide receiver this offseason. Speaking to ESPN 1000 in Chicago, Cutler again praised his former Denver Broncos teammate Brandon Marshall before going in detail about his team's current receiver situation.
Cutler went on to say that quarterbacks in general aren't happy "unless we're getting offensive guys year in and year out, more toys to play with," and added that any receiver "over 6'2" at this point is going to look good." It was a not-so-subtle hint that he'd like a tall playmaker along Marshall's mold to be added this offseason.
There are a number of veteran receivers who are set to hit free agency next month, but their numbers appear to be dwindling somewhat.
The Kansas City Chiefs' Dwayne Bowe is unlikely to leave his team, and Brandon Lloyd said today he'd not be opposed to a reunion with Josh McDaniels by joining the New England Patriots.
Look for Chicago to target either the New Orleans Saints' Robert Meachem, the San Diego Chargers' Vincent Jackson and the New York Giants' Mario Manningham next month. They should likely sign one and will also pick up a receiver in the draft, potentially in the first round for the first time since 2001.
The Minnesota Vikings are Thinking About CB Brandon Carr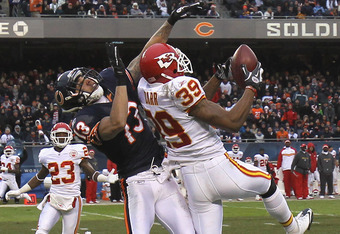 Jonathan Daniel/Getty Images
The Minnesota Vikings were one of a number of teams interested in street free agent cornerback Stanford Routt, formerly of the Oakland Raiders. However, he agreed to join the Kansas City Chiefs today.
Though the Vikings lost out in a sweepstakes they weren't likely to win in the first place, the Chiefs' addition of Routt could serve to help the Vikings after all. Signing Routt means the Chiefs will likely part ways with cornerback Brandon Carr, who is set to be an unrestricted free agent in March.
The Chiefs' addition of Routt sparked all kinds of Carr-to-Vikings discussion, practically immediately. It's an expensive option, but well worth it for the Vikings, who need all the secondary help they can get this year.
The Detroit Lions are Thinking About Improving their Running Game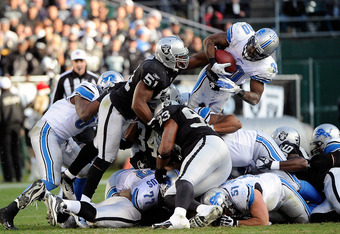 Thearon W. Henderson/Getty Images
It's no secret that on offense, the Detroit Lions struggled to run the ball consistently in 2011. Losing running back Jahvid Best to a concussion aided in that, but the most blame goes to their offensive line.
While Detroit may snag a running back in this year's draft, the No. 1 way for the team to improve the run is to improve the offensive line. It handled pass protection well last season but ranked a dreadful 31st in run blocking according to Football Outsiders.
Obviously, an upgrade to their offensive line won't come via free agency. Teams don't let their best offensive linemen walk away as free agents generally, so that means the Lions will have to try to get a top player with their first round draft pick.
Georgia guard Cordy Glenn and Ohio State offensive tackle Mike Adams are on a number of teams' radars, the Lions included. The Lions will be watching these two intensely at this week's scouting combine.
The Green Bay Packers are Thinking About the Franchise Tag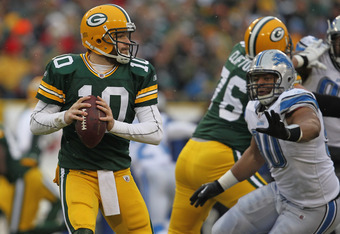 Jonathan Daniel/Getty Images
The Green Bay Packers have three key unrestricted free agents about whom they need to make decisions between now and March 5: tight end Jermichael Finley, quarterback Matt Flynn and center Scott Wells.
It seems to be a foregone conclusion that Flynn won't get tagged and will be allowed to shop his talents around the league.
A number of teams are likely interested in him, including the Miami Dolphins, who hired Flynn's former offensive coordinator, Joe Philbin, to be head coach. The Seattle Seahawks, the Cleveland Browns and the Washington Redskins have also shown interest.
The Packers could have a change of heart regarding Flynn, especially if the aforementioned teams are destined to enter a bidding war for his services. The franchise tag for a quarterback this year is in excess of $14 million. The Packers could franchise him in hopes of getting some serious trade value in return.
Ultimately, it's less risky for the team to franchise either Finley or Wells, the former being the more likely recipient.
Finley would get $5.5 million from the franchise tag—a $4 million increase over his 2011 salary—while the Packers aren't committed to him for more than one season, which will allow them to evaluate him one last time and see if he can have a more consistent 2012.