Hall of Game Awards 2012 Results: Winners, Highlights and Review
February 20, 2012

Theo Wargo/Getty Images
Cartoon Network's second annual Hall of Game Awards show was taped over the weekend in Santa Monica, Calif. Some of the biggest athletes in the world were on hand to receive trophies in offbeat categories like "He's Got Game" and "That's How I Roll."
The show was hosted by none other than Superman himself, Shaquille O'Neal. His unique sense of humor and natural charisma will no doubt made him a natural choice for the show. We shall see how he did tonight. 
Matthew Stafford crashed the festivities with his girlfriend Kelly Hall. He was wearing a nice tuxedo, so saying that he "crashed" the party might not be an accurate representation.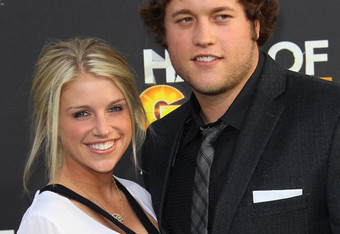 Even if you have no interest in watching the former NBA superstar introduce hosts and crack jokes, you can see him confirm his appearance at WrestleMania 28. 
We will have spoilers on all the results, winners, losers, surprises and everything in between. So if you want to be kept in the dark, wait to read this until 8:30 p.m. EDT. 
When: Monday, Feb. 20 at 7 p.m. EDT
Watch: Cartoon Network
Host: Shaquille O'Neal
***WARNING***
THE FOLLOWING SECTION CONTAINS SPOILERS 
Award & Nominees
HE'S GOT GAME
 LeBron James, Miami Heat
 Dirk Nowitzki, Dallas Mavericks
 Derek Jeter, New York Yankees
 Aaron Rodgers, Green Bay Packers
  Winner: LeBron James
SHE'S GOT GAME
 Hope Solo, Soccer
 Lindsey Vonn, Skier
 Maria Sharapova, Tennis
 Maya Moore, Minnesota Lynx
  Winner: Hope Solo
WE GOT GAME
 Dallas Mavericks
 Boston Bruins
 Green Bay Packers
 St. Louis Cardinals
  Winner: Green Bay Packers
CAPTAIN CLUTCH
 David Freese, St. Louis Cardinals
 Abby Wambach, Soccer
 Tim Tebow, Denver Broncos
 Dirk Nowitzki, Dallas Mavericks
  Winner: Tim Tebow
DYNAMIC DUO
 LeBron James and Dwayne Wade, Miami Heat
 Clayton Kershaw and Matt Kemp, Los Angeles Dodgers
 Matthew Stafford and Calvin Johnson, Detroit Lions
 Blake Griffin and Chris Paul, Los Angeles Clippers
  Winner: Matthew Stafford and Calvin Johnson
MOST AWESOME MASCOT
 Sacramento Kings' "Slamson"
 Jacksonville Jaguars' "Jaxson de Ville"
 San Jose Sharks' "S.J. Sharkie"
 Cleveland Indians' "Slider"
  Winner: "Sharkie"
ALTI-DUDE
 Ryan Sheckler, Skateboarding
 Shaun White, Snowboarding
 Kelly Slater, Surfing
 Steve McCann, BMX
  Winner: Steve McCann
GNARLIEST NEWB
 Cam Newton, Carolina Panthers
 Jeff Skinner, Carolina Hurricanes
 Trevor Bayne, NASCAR
 Craig Kimbrel, Atlanta Braves
  Winner: Cam Newton
DANCE MACHINE (BEST CELEBRATION)
 Victor Cruz, New York Giants
 Novak Djokovic, Tennis
 Minnesota Lynx
 Carl Edwards, NASCAR
  Winner: Victor Cruz
THAT'S HOW I ROLL (STYLIN' AND PROFILIN')
 David Beckham, Los Angeles Galaxy
 Dwayne Wade, Miami Heat
 Serena Williams, Tennis
 Brian Wilson, San Francisco Giants
  Winner: Dwayne Wade
In addition to all these winners and losers, which can also be found on Market Watch, there is supposed to be an entrance from Shaq that is a can't-miss. 
Unlike all of these big, flashy Hollywood awards shows, this one only takes 90 minutes to get through, and will be more about celebrating the fun and lighter side of sports. 
Plus, you can tune in to see David Beckham be honored with the Icon Award.