What If These 25 College Football Plays Never Happened?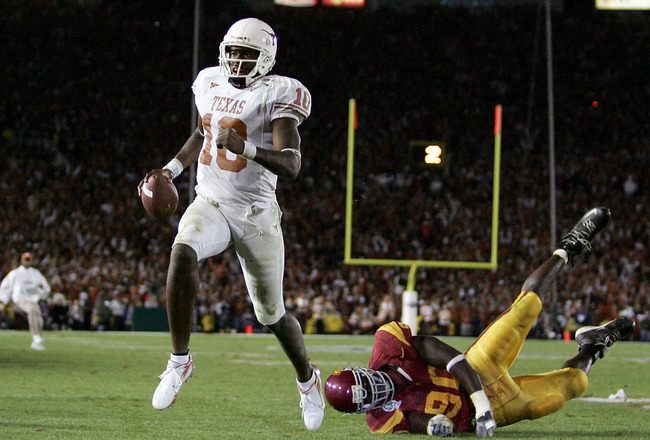 Harry How/Getty Images
What if Jim Tressel and Ohio State hadn't benefited from that late pass interference flag against Miami in the 2003 Fiesta Bowl?
What if Boise State had failed on that famous Statue of Liberty play against Oklahoma in the 2007 Fiesta Bowl?
Some single plays in college football history, like those just mentioned, are so pivotal that they define coaches, players, programs and championships. Some have even changed college football as a sport.
Amazing to think, as a play takes mere seconds.
So, how might things be different if these 25 plays ended differently? Read on.
Osborne Goes for Two: 1984 Orange Bowl
With the national championship on the line and less than a minute to go in the Orange Bowl, Nebraska found a way to pull within one of Miami after Jeff Smith ran the ball into the end zone from 24 yards out.
Tom Osborne, rather than kick the PAT and take a tie, decided to go for two and the win.
QB Turner Gill was not able to convert and Miami held on to claim the national championship 31-30.
This win is what turned Miami into a national power. The Hurricanes probably wouldn't have become the powerhouse it was during much of the '80s and '90s if it weren't for Osborne's gutsy decision.
Miami Goes for Two in Catholics vs. Convicts: Miami at Notre Dame (1988)
Ironically, Miami would later fail to win a national championship because it bet the farm on a two-point conversion. Even more odd, the score was exactly the same as it was for Nebraska's ill-fated two-point attempt: 31-30.
As the saying goes, those who do not learn from history are doomed to repeat it.
Miami's title hopes came crashing down when QB Steve Walsh threw the ball right to Notre Dame DB Pat Terrell, who simply batted the ball down.
Had the Hurricanes decided to take the PAT and the tie, it might have won a share of the 1988 national championship.
If Miami had converted and won the game, that would have given the Hurricanes the national championship.
Ouch.
The Buckeyes Run Out of Time: Ohio State at Michigan State (1974)
Ohio State's Woody Hayes is another coach who balked at the prospect of a tie and ended up with a loss instead.
Trailing Michigan State by three and with the clock under a minute, Ohio State's Champ Henson attempted to punch in the winning touchdown using the power running game.
However, the Spartan defense held firm. With no timeouts remaining, the Buckeyes weren't able to get another play off before time expired, giving Michigan State the 16-13 victory.
Had the Buckeyes taken the field goal and the tie, they could have been in position for a national championship. This decision all but eliminated them.
Stoerner Fumbles the Championship Away: Arkansas at Tennessee (1998)
I bet that this play lives on in Arkansas QB Clint Stoerner's nightmares.
With only 1:43 left to go and up 24-22, all the Razorbacks had to do was get one more first down and run down the clock.
Instead, disaster struck as Stoerner fumbled the ball and Tennessee's Billy Ratliff recovered. The Vols would subsequently win 28-24, and it wouldn't have been possible if it weren't for this fumble.
Tennessee would go on to win the national championship, and that's something else that wouldn't have happened had Stoerner not put the ball on the carpet. And don't forget that Arkansas had an outside chance of winning it all had it taken down the Volunteers.
Dyer's Not Down: 2010 BCS National Championship Game
Although Cam Newton gets a lot of credit for Auburn's national championship, and rightfully so, it was Michael Dyer who came up with the play of the game against Oregon.
Dyer was seemingly tackled at the Auburn 46, but his knee never touched the ground as he rolled over a defender. The Ducks thought the play was dead, and Dyer caught them napping as he ran for an additional 20 yards.
That play proved critical as it set up the game-winning field goal for the Tigers.
True, Newton probably could have come up with a big play or this game may have simply gone into overtime, but having Dyer make this play is huge given the scandal that's surrounded Newton.
Clawson Takes out Bradford: BYU vs. Oklahoma (2009)
No play had a greater impact on the 2009 season than when BYU's Coleby Clawson sacked Heisman Trophy winner Sam Bradford. Bradford fell awkwardly on his throwing shoulder and separated it.
Although Bradford would try to tough it out, he didn't fully heal while at Oklahoma.
The Sooners finished a disappointing 8-5 that season, and had Bradford not gotten hurt, I'm sure they would have done much better than that. They may have even gone to another BCS National Championship Game.
Alabama Ices McCoy: 2010 BCS National Championship Game
The moment that Alabama's Marcell Dareus hit Texas QB Colt McCoy's shoulder, it was all over.
I'm not sure what Mack Brown and the Longhorns were thinking with that option play against that powerful Crimson Tide defensive front, but losing McCoy with over 11 minutes to go in the first quarter was something Texas just couldn't overcome.
I would have loved to seen this game with a healthy McCoy. At least it wouldn't have turned into a blowout.
Les Miles Fails at Clock Management: LSU at Ole Miss (2009)
Sometimes, Les Miles appears to be a brilliant coach. After all, mediocre coaches don't win national championships or go through the regular season undefeated.
But sometimes you have to wonder about the Mad Hatter.
In a crucial game against Ole Miss, LSU threw away a possible Sugar Bowl bid due to terrible clock management. Down by two points and within easy field goal range with one timeout remaining, LSU''s Jordan Jefferson spiked the ball as time expired.
How on earth was the field goal unit not ready?
This poor decision making on both Miles and Jefferson's part would foreshadow the 2012 BCS National Championship Game against Alabama.
Woody Hayes Punch: 1978 Gator Bowl
Coaches are rarely fired over one play, but that's exactly what happened to Ohio State legend Woody Hayes.
Of course, most coaches don't punch members of the opposing team.
Hayes lost his temper as Charlie Bauman picked off Art Schlichter's pass and looked at the Ohio State sideline. He ran up to Bauman and punched him in the throat.
Hayes was fired the next day.
I'm sure Hayes would have been head coach at Ohio State for many seasons had he been able to control himself, but one serious lapse in judgment—something he coincidentally never apologized for—was simply unforgivable.
Sharp Misses Wide Right: Oklahoma State at Iowa State (2011)
Oklahoma State was all but a lock into the BCS National Championship Game going into Ames, Iowa. Plus, it was a 27-point favorite.
Then, as it often does in college football, pure bedlam broke loose a week early.
The Cowboys failed to put away the Cyclones, although they had plenty chances to do so. Quinn Sharp had a chance to effectively end the game by hitting a 37-yard field goal with 1:17 to go, but instead, he missed wide right.
Given how Oklahoma State would dominate Oklahoma in the Bedlam series, the Cowboys and not the Crimson Tide would have gotten a shot at LSU in New Orleans had this kick split the uprights.
Crabtree Breaks Free: Texas at Texas Tech (2008)
After beating Oklahoma in the Red River Rivalry, the Longhorns controlled their own destiny heading into this game.
Unfortunately for the Horns, the BCS Championship not be in the cards after Michael Crabtree's phenomenal catch for Texas Tech. The wide receiver managed to stay in-bounds and score with no time remaining to upset then-No. 1 Texas.
With Oklahoma later defeating the Red Raiders, the Big 12's fate was put into the BCS ranking's less-than-capable hands, and Oklahoma was given the nod over Texas. I don't know if the Longhorns could have beaten Tim Tebow and Florida had they been given a chance, but I would have liked to have seen it.
Jefferson Throws the Championship Away: 2012 BCS National Championship Game
The Tigers were only down 12-0 halfway through the third quarter.
Then, Jordan Jefferson made the worst mistake he's ever made on the field, shovel-passing the ball right to C.J. Mosley.
In case you didn't watch this game, C.J. Mosley plays for Alabama.
It's hard to say if LSU would have been able to win had Jefferson not made this mistake as Alabama was playing inspired football, but this is the point when I knew the game was over.
And I think the Tigers knew it was over as well.
Florida State Goes for Two: Miami at Florida State (1987)
Perhaps against his better judgment, Bobby Bowden let himself get talked into going for two when down by only one against Miami.
That decision may have cost Florida State the 1987 national championship.
Seminole QB Danny McManus was one of the main parties in favor of going for two. And instead of hitting a wide-open Ronald Lewis, he threw into double coverage.
Had the Seminoles decided to take the tie, they could have at least claimed a share of the national championship. Instead, Miami went undefeated that year and won the title for itself.
Hail Flutie: Boston College at Miami (1984)
In this play against Miami, Doug Flutie became a college football legend.
With six seconds to go, Flutie took the snap on the Miami 48-yard line, but Flutie was flushed all the way back to his own 37 before launching a deep pass into 30 mph winds.
Incredibly, Gerald Phelan was able to come up with the ball for the winning touchdown.
Flutie would have still won the Heisman even if he hadn't won this game, but this play is why there's a statue of him at Boston College. Without this play, Flutie may have been forgotten in the annals of college football.
The Bluegrass Miracle: LSU at Kentucky (2002)
One of the cardinal sins of college football is to give your coach a Gatorade bath before the game is well and truly over.
Kentucky players committed that sin.
LSU had the ball on its own 26 with just enough time for a desperation heave.
As it turns out, two seconds was more than enough time. Marcus Randall's pass was deflected off Michael Clayton's hands and into the waiting arms of Devery Henderson for the winning score.
If it weren't for this play, future players may have foolishly underestimated the arm of a QB. It also would have been a major feather in the cap for Kentucky, as the Wildcats don't often win games against big-time opponents like LSU.
Upset in the Big House: Appalachian State at Michigan (2007)
Down by two with six seconds left, No. 5 Michigan seemed to be in position to beat FCS power Appalachian State.
This was certainly an ugly game for the Wolverines, but it looked like the nightmare would soon end as Jason Gingell ran onto the field to attempt the game-winning 37-yard field goal.
Then, the unthinkable happened.
Corey Lynch blocked the would-be winning field goal and sealed the greatest upset in college football history.
This game effectively put an end to Lloyd Carr's coaching career. Yes, he went on to coach for the rest of the season and even was able to beat Urban Meyer and the Gators in the Capital One Bowl, but he was done as a head coach as soon as that game went final.
What would have happened had Appalachian State not accomplished the impossible?
For one, Carr might still be the coach at Michigan. What's more, we might still believe that certain things are impossible in college football.
Brotzman Misses Wide Right: Boise State at Nevada (2010)
Tied at 31 with time running out, Boise State's Kellen Moore and Doug Martin connected for a 79-yard pass, setting up a short 26-yard field goal for senior kicker Kyle Brotzman with only two seconds to go.
Oh, did I mention that a Rose Bowl berth, if not better, was on the line?
Inexplicably, Brotzman pushed the ball wide right. Brotzman would miss a second field goal in overtime, and Nevada came away with the win.
So, what would have happened had Brotzman split the uprights?
With Oregon and Auburn both finishing undefeated, I doubt that the Broncos would have broken into the BCS National Championship Game, but what I do know is that it would have been Boise State, not TCU, that would have faced Wisconsin in the "Granddaddy of Them All."
Broncos Miss Again: TCU at Boise State (2011)
This game once again demonstrated that there is no margin for error for a team from a non-Automatic Qualifying conference.
It also proved that the dreaded "Smurf Turf" at Bronco Stadium isn't altogether impenetrable after all.
With this missed field goal, the Broncos fell from a Sugar Bowl bid all the way to the Las Vegas Bowl. The frustration must have been maddening, particularly since this was the second year in a row that a missed field goal meant missing a BCS bowl.
This might be part of what drove the Broncos into their illogical deal with the Big East.
Charles Woodson Takes It to the House: Ohio State at Michigan (1997)
Playing Ohio State brought out the best in Charles Woodson.
In 1997, he made a pick in the end zone and caught a 37-yard pass for a touchdown.
And then there's this punt return for a touchdown.
What would have happened had Ohio State caught Woodson?
This play solidified Woodson's bid for the Heisman Trophy. After all, he beat out Tennessee's Peyton Manning by 282 points.
In other words, the only defensive back to ever win the Heisman might not have won had this not happened.
Vince Young Stuns USC: 2006 Rose Bowl
Coming into this game, ESPN analysts Kirk Herbstreit and Mark May called this USC squad the second-best college football team in the 50 years. The Trojans were looking at winning their second national championship in a row, and few thought Texas could stop them.
The Longhorns had other ideas.
Vince Young literally willed his team to victory. On 4th-and-5 with only 26 seconds left on the clock, Young scored the winning touchdown on a quarterback keeper, making the final score 41-38.
So, what would have changed if the Trojans had stopped Young short?
USC would have been crowned national champions, but it would have been short-lived. Reggie Bush would still have been ruled ineligible by the NCAA and the Trojans would have been forced to vacate this win and the national title.
Miracle Bowl Hail Mary: 1980 Holiday Bowl
Down 45-25 with only four minutes to go, BYU pulled off two rare plays in order to get back into the game: a successful onside kick and a blocked punt.
But down by six with only three seconds to go, the Cougars needed one more.
And they got it.
Standing on the BYU 47, Jim McMahon threw a Hail Mary that Clay Brown managed to catch between two SMU defenders. The subsequent extra point gave BYU the victory in the greatest comeback in bowl history.
So, what would have happened had McMahon's pass missed the mark?
This win put BYU on the map for the first time. The Cougars' National Championship of 1984 might never have materialized without the "Miracle Bowl."
Fifth Down: Colorado at Missouri (1990)
Clearly, Colorado benefited from the biggest referee bungle in college football history. The Buffaloes scored the game-winning touchdown on 5th-and-goal with no time remaining.
Colorado quarterback Charles Johnson spiked the ball on first down, running back Eric Bieniemy failed to punch into the end zone on second and third down and Johnson spiked the ball again on fourth down.
Then, inexplicably, Johnson took the ball into the end zone on fifth down.
So, what if the officials hadn't made this monumental mistake?
For one, Missouri would have scored a major upset. Besides that, this win kept Colorado's national championship hopes alive. In fact, the Buffaloes finished No. 1 in the final coaches poll, but Georgia Tech took the top spot in the AP.
The Play: The 1982 Big Game
Legendary quarterback John Elway was one win away from going to his first bowl game. Elway got Stanford within field goal range down by two late in the fourth quarter, and Mark Harmon split the uprights with only eight seconds to go to give the Cardinal the lead, 20-19.
Stanford got called for excessive celebration, which moved the ensuing kickoff to the 25 instead of the 40. Stanford decided to squib kick it and try to run out the clock.
Instead, "The Play" happened.
After five laterals and some tackling of the Stanford band, Cal was able to return the kickoff for the wildest kickoff return in college football history.
So, what if the kickoff return had failed?
John Elway would have been able to strut his stuff at the Hall of Fame Classic, and left Stanford on a winning note.
Also, the rivalry between Stanford and Cal would not be as intense.
Pass Interference Call Against Miami: 2003 Fiesta Bowl
This is the most controversial play to ever happen in a national championship game. On 4th-and-3 on the Miami 5-yard line in overtime, Ohio State's Craig Krenzel's pass to the end zone fell incomplete and the Miami bench stormed the field.
But a late flag for pass interference sent the Hurricanes back to the sidelines. The Buckeyes scored and eventually prevailed in the second overtime to claim the national championship by a score of 31-24.
So, what might have changed had the ref kept his flag in his pocket?
First, Miami would have claimed its second national championship in a row. And who knows? Maybe Miami wouldn't have been caught in the tailspin that cost Larry Coker his job in 2006.
Also, I'm not sure that Jim Tressel would have gotten the leeway that he did by having a national championship on his resume. Maybe Tressel wouldn't have been so comfortable with covering up "Tat-gate."
Maybe having Miami win this one could have been better for both the Hurricanes and Buckeyes in a round-about way.
Statue of Liberty: 2007 Fiesta Bowl
This is the play that launched a new college football dynasty.
Many wrote off the Broncos as being too gimmicky or as not worthy of a bowl bid due to playing in a weaker conference. This was the first real chance that a non-AQ team like Boise State got at a big-time program like Oklahoma.
To put it lightly, Boise State proved to the critics that it belonged.
So, what might have happened had Oklahoma not been fooled by this game-winning Statue of Liberty play?
I think that this would have hurt the team's recruiting and their future position at the top of college football. The Broncos would have been hard-pressed to make it to their second Fiesta Bowl against TCU.
Also, this play had a massive effect on future BCS busters. I don't think that Utah would have gotten a shot at Alabama in the 2009 Sugar Bowl, although it probably would have played against a lesser opponent in a BCS bowl.
Also, TCU wouldn't have been able to play in the 2011 Rose Bowl thanks to new rules about non-AQ BCS busters.
No play has had great impact on those outside of the "Big Six" than the Statue of Liberty.
Keep Reading