Toronto Blue Jays vs. Boston Red Sox: Who Has the Better Team?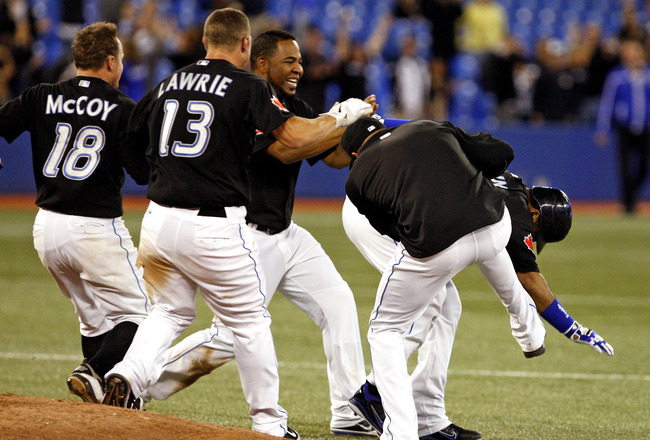 Abelimages/Getty Images
The Toronto Blue Jays are hoping for a big year in 2012, but they know they play in the AL East, the toughest division in the game.
One team standing in their way is the Boston Red Sox, who despite falling apart late last year remain a talented and formidable opponent.
Here's a position-by-position breakdown of the two teams and a prediction of which team will come out on top.
1B: Adam Lind vs. Adrian Gonzalez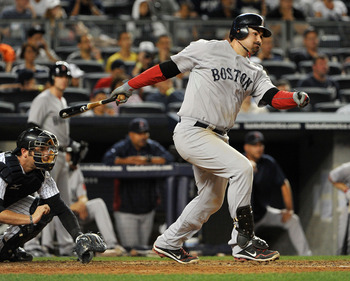 Christopher Pasatieri/Getty Images
Adam Lind has been one of the Jays' best hitters and plays a respectable first base. Adrian Gonzalez is an MVP-caliber player and one of the premier first baseman in the game.
Advantage: Boston
2B: Kelly Johnson vs. Dustin Pedroia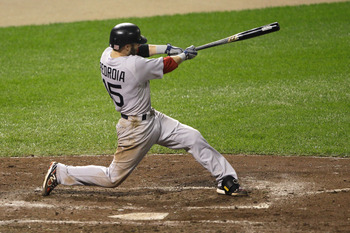 Rob Carr/Getty Images
Kelly Johnson hits a lot of home runs for a second baseman, but Dustin Pedroia already has won an MVP. He's a very good hitter, excellent defensively and is only 28.
This isn't even close.
Advantage: Boston
SS: Yunel Escobar vs. Nick Punto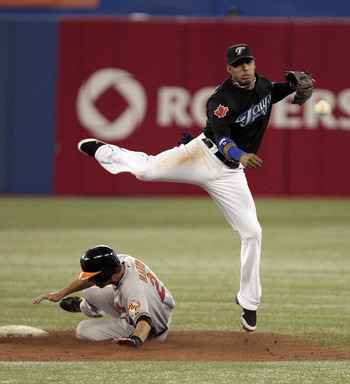 Abelimages/Getty Images
Yunel Escobar proved to be the leadoff hitter the Jays needed last season. Nick Punto is just a serviceable shortstop. He's also 34 years old and hasn't played as many as 150 games since 2007. Punto will be at the bottom of the order while Escobar is right at the top.
Advantage: Toronto
3B: Brett Lawrie vs. Kevin Youkilis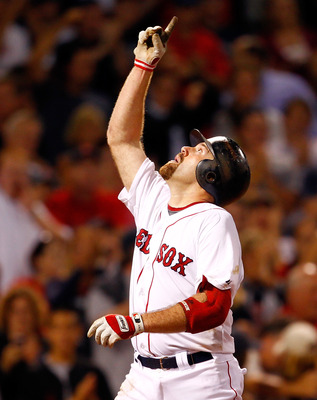 Jim Rogash/Getty Images
Brett Lawrie showed he has the potential to be one of the elite third baseman in the game. Kevin Youkilis already is one of the elite third basemen, and although his numbers dropped last year, I still would take him over Lawrie this season.
Advantage: Boston
C: J.P. Arencibia vs. Jarrod Saltalamacchia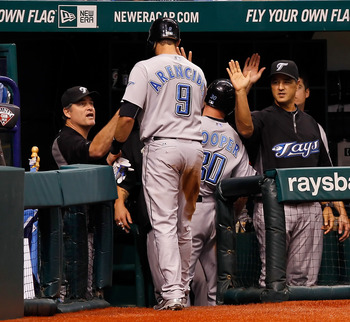 J. Meric/Getty Images
Last year was J.P. Arencibia's first full season in the big leagues, and although he didn't hit for average, he did hit 23 home runs and had a slugging percentage of ,438. Jarrod Saltalamacchia hit for a higher average last season, and his power numbers were fairly similar. But he's also been in the big leagues for four years.
This one is close, but I expect Arencibia to improve a lot this season, and Saltalamacchia to be relatively the same.
Advantage: Toronto
LF: Eric Thames vs. Carl Crawford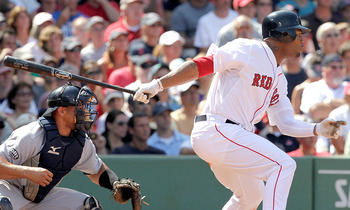 Jim Rogash/Getty Images
Eric Thames is a nice young player for the Jays and has the potential to put up nice offensive numbers. However, he is a well below-average left fielder, Despite having an off year, Carl Crawford is still a good player and an excellent fielder.
Advantage: Boston
CF: Colby Rasmus vs. Jacoby Ellsbury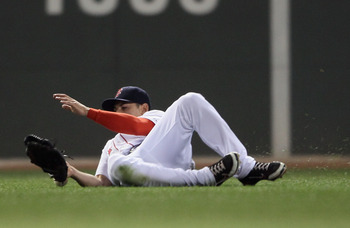 Elsa/Getty Images
Colby Rasmus was one of the top prospects in the game a few years back, according to Baseball America, but has yet to show that he can hit at a consistent level in the big leagues. Ellsbury is arguably the best center fielder in the game.
Advantage: Boston
RF: Jose Bautista vs. Cody Ross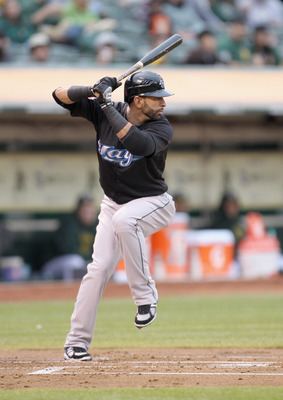 Ezra Shaw/Getty Images
Jose Bautista is the best home-run hitter in the game and has one of the best arms from right field. Cody Ross isn't bad, but he's not going to hit 50 home runs this season or play a Gold Glove-caliber right field.
Advantage: Toronto
DH: Edwin Encarnacion vs. David Ortiz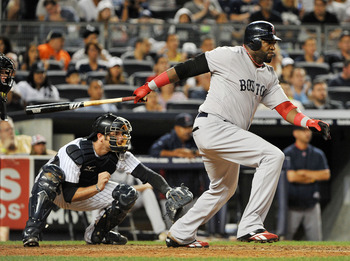 Christopher Pasatieri/Getty Images
Although disliked by many Jays fans because of his defense, Edwin Encarnacion is actually a good hitter. He had a .787 OPS last year and seemed to hit better when he didn't have to worry about playing third. Ortiz is one of the greatest designated hitters of all time and still is one of the best despite being 36 years old.
Advantage: Boston
Ace: Ricky Romero vs. Jon Lester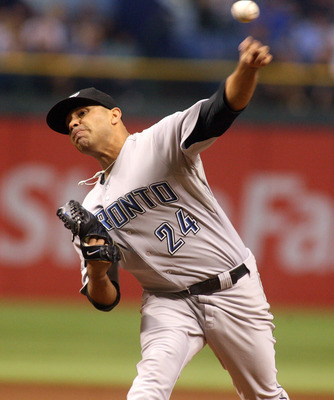 Charles Sonnenblick/Getty Images
Despite having little run support last year, Romero still was able to win 15 games, the same number as Jon Lester, and he did so with a lower ERA (2.92 vs. 3.47) and WHIP (1.14 vs. 1.26). Lester has accomplished more in his career, but Romero gets better every season.
Advantage: Draw
Closer: Sergio Santos vs. Andrew Bailey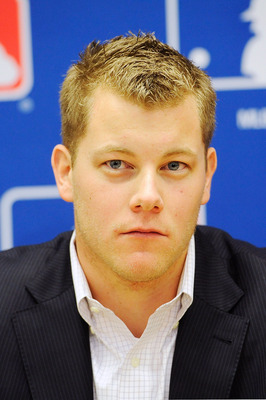 Patrick McDermott/Getty Images
Santos fared well in his first season as a closer, reaching 30 saves with a WHIP of 1.11. However, despite pitching poorly compared to his first two years, Bailey had a lower ERA and WHIP than Santos.
Advantage: Boston
Winner: Boston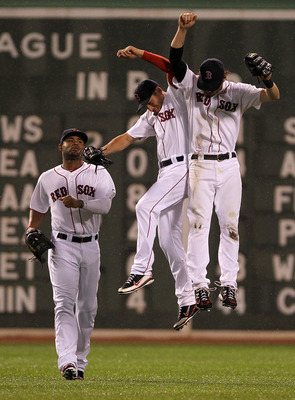 Jim Rogash/Getty Images
Toronto has a bright future, but Boston is more ready to compete in 2012.
Final Score: Boston 7 Toronto 3
Keep Reading

Toronto Blue Jays: Like this team?