WWE Elimination Chamber 2012: Gullo's Grades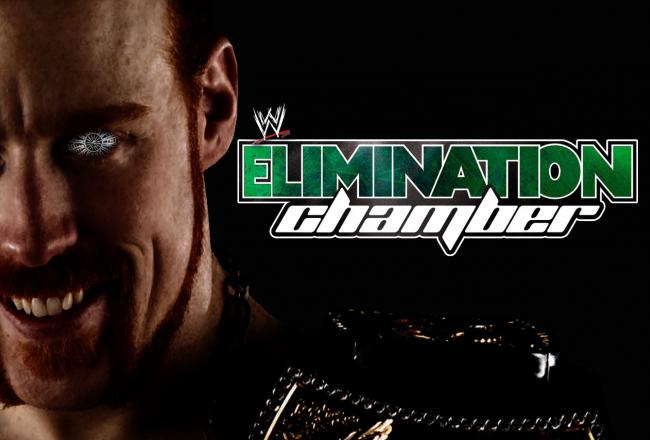 The fact that its taken me at least five minutes to figure out how to start this article should have been my cue to not even write this damn thing in the first place.
That or the fact that I woke up this morning to my credit card mean-mugging me right before it slapped me across the face for using it for last night's WWE Pay-per-view event Elimination Chamber.
You know your event is in trouble if midway through its live broadcast members of your audience have the following discussion:
My Friend: So, I'm thinking that we should just DVR the rest and watch Walking Dead tonight. Because if we're going to sit here and watch something revolving around lifeless people I'd rather watch the option with much better storytelling.
My Girlfriend: I say we just play Mario Kart!
Me: (In my best Booker T voice while I hold my hand out in front of my face) I am the reigning five-time, five-time, five-time, five-time, five-time 150cc Grand Prix champion of the world right now! I'd put my title on the line against you bums any day, place or time.
...For the record, against my friend's will, we watched the rest of Elimination Chamber.
I'm not really quite sure everyone from the WWE was on the same page with this event, or sure if there should've even been an event in the first place.
If you literally looked at the card for this event and picked the most obvious winner for each match then (Spoiler Alert!) you booked the pay-per-view all by yourself.
The only match that had some intrigue going in was the Raw Elimination Chamber match and whether CM Punk would lose the WWE championship to Chris Jericho leading into their showdown at WrestleMania 28. All that intrigue was quickly put to rest when:
A. The match came on first.
B. Jericho was given a "concussion" midway through the match; Proving that all the insane bumps he took along his career was nothing compared to being kicked and falling four feet onto a cameraman.
... for those of you not familiar with sarcasm, this is it.
C. Jericho's "injury" pretty much put a damper on any action that happened in the ring because it was such a bizarre occurrence, sealed the outcome, and provided one of the lamest excuses to fuel their match for WrestleMania.
D. All of the above.
I understand the need to plot Punk and Jericho's collision course for WrestleMania, and the fact that god forbid the WWE actually has to let Jericho get pinned prior to that, but how creative do you exactly have to be to get to write this stuff?
They could have "accidentally" knocked out the ref, had Punk tap to the walls of Jericho, Jericho wakes the ref up, only to be met with a "GTS", and you get the same result minus all the confusion, and lame excuses Jericho gets.
Not exactly original, but it sure beats the hell out of the "Well, you kicked me in the head and I fell down, and I wasn't medically cleared to compete anymore. I never got pinned, so I deserve a re-match" BS we're going to have to hear about.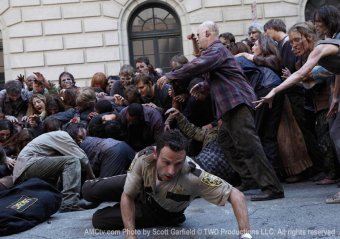 There's more life in this photo then last nights WWE event.
Could you imagine trying this excuse in the real world?
"I was going to come and kill it at that big presentation, but on my way there I tripped, fell, and couldn't get up...So, I'd like my chance to present now."
"Sorry, chief, life doesn't work that way. This was a one-time shot. Unfortunately for you (expletive deleted) happens"

Life's tough, Jericho, get a helmet!
Now that we got that out of the way, I think it's relatively safe to start handing out the grades for this event. I just hope midway through my chair doesn't give out and I hit my head on the floor, giving me a viable excuse to my editors why I couldn't finish the article.
WWE Championship Elimination Chamber Match
This was the first time I have ever seen a pay-per-view open with the WWE championship match, and it pretty much set the tone for the oddness, randomness and complete lack of effort that seemed to follow.
The match itself was decent (as all chamber matches usually are), but I'm not sure the WWE fully mapped this one out. It kinda reminded me of a sports team that has a big game against a rival on Monday, but had to get through a game with a lesser opponent on Sunday first.
This is what is known in the sports world as a "let-down game", and its obvious the WWE was looking ahead to tonight's Raw and WrestleMania rather then on the Elimination Chamber.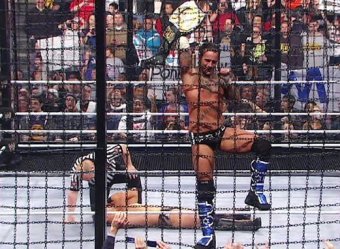 I remember roughly three things from this match: Kofi doing his contract-mandated "high-flying" spot where he jumped off the top of the pod, Chris Jericho trying to secure a spot in the next Life Call commercial, and the halfway decent ending involving The Miz and Punk.
That either says two things:
1. I wasn't paying much attention to the match in the first place; or
2. The match didn't really command your attention, or leave any resounding moments in your brain.
I'll let you decide which one was probably the case, but the fact is the match just didn't live up to any, if at all, hype they pumped into it.
I'm going to be generous with this only for the fact we got to see Jericho and Punk wrestle for roughly the amount of time it takes you to watch that Life Call video.
Grade: C+
Beth Phoenix vs. Tamina (WWE Divas Championship)
If there is one thing the WWE does that no other company or product can accomplish; It's there ability to suspend reality. To make the viewer believe, if only for a moment, that the underdog has a shot at doing the unthinkable. To the WWE's credit, they did that twice last night, and this match provided one of those moments.
As Tamina soared through the air and landed on top of a motionless Beth Phoenix I believed, if only for two seconds, that Tamina was going to win the Divas championship. It was one of the few times, in recent memory, that I got excited for a spot in a Divas match.
The match was nicely paced, a tad bit on the rugged side, and revealed that, in fact, the WWE is capable of putting on decent Women's matches.
With Beth Phoenix retaining her title, it assures that we'll continue to get good championship matches out of the Divas division. Until Ms. Phoenix eventually runs out of all her good Kharma...
...You see what I did there?
Grade: B
Promo With Johnny Ace and his Campaign for Absolute Power
My Friend: This is the worst-run campaign this year! I thought Rick Perry's campaign was a disaster, but this is just plain wrong. Do bad guys even know they are bad guys? Do they not look around to notice the company they hang out with or align themselves with?
You know it's an off WWE pay-per-view night when the event contains a promo. They could've thrown a Tag Team titles match in this space, but I keep forgetting the WWE cares about that division just as much as I care about TNA.
If you didn't happen to catch the Elimination Chamber last night then you missed out on one of the oddest promos you'll likely ever see.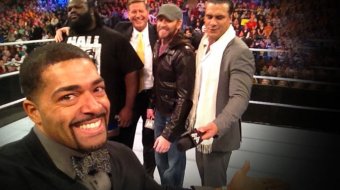 photo via WWE.com
A group consisting of: Mark Henry, a returning Alberto Del Rio, a returning Christian, and David Otunga all endorsed Johnny Ace as general manager of both Raw and Smackdown.
The promo has hilariously highlighted by a photo op that Mark Henry begrudgingly took part of.
I felt like this would have had a much bigger impact on Raw tonight than on a pay-per-view I'm pretty positive only 1 out of every 10 wrestling fans ordered, but what do I know.
I'm sure we'll see more of the campaign process tonight, and hopefully more photo opportunities; Hopefully one that involves Triple H sticking his foot up Johnny Ace's ...
Grade: C-... Only because Christian got a chance to utter the phrase "one more match."
Jack Swagger Vs. Justin Gabriel (United States Championship)
(cough, filler, cough)
I actually like seeing younger talent get a shot at some gold during pay-per-views, but where the hell did this one come from? I blame Teddy Long for once again giving us a frustratingly obvious match after a frustratingly bad backstage promo set it up.
I could just give this entire segment an "F" and move on, but where's the fun in that? So I'll let these actual comments tell the story...
My Friend's female friend who he refuses to acknowledge as his girlfriend: Did she just fart? Is she pregnant or something?
My Friend: Since when did Justin Gabriel suddenly earn a title shot? I would walk around talking smack to every wrestler with a championship within ear shot of Teddy Long hoping he'd randomly give me title shot after title shot. What a bogus GM decision. Maybe I'll get behind that Johnny Ace GM campaign after all.
My Girlfriend: Where's the Funkasaurus?
Yup, these are the types of comments and people I constantly have to deal with while watching something as serious as professional wrestling.
Grade: D
World Heavyweight Championship Elimination Chamber Match
For the record this match was surprisingly better than the Raw one. While it didn't nearly have the star power as its counterpart; it had one thing going for it which absolutely had the ability to make even the most smug person a fan of wrestling...Santino.
Now before all you jack wagons start getting uppity about how Wade Barrett got "buried" because he got pinned by Santino you need to understand that, first of all, you can't get buried by losing a six-person elimination match, and that Santino has a massive appeal outside of our tiny colony known as the online wrestling community.
It was the perfect way to play off of the excitement, passion and sheer giddiness the ending to Smackdown brought us all when Santino won a spot in the chamber match.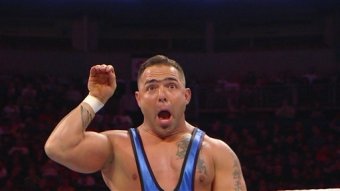 Even though it would have made absolutely no sense in the long run, I was hardcore rooting for Santino to do the improbable, and to tell you the truth I actually wish they let him win because it would have completely saved this Pay-per-view.
Before I die, I now want to see Santino, in his current gimmick, as World Heavyweight Champion.
Santino has done something that no other wrestler in recent memory has done for me. He has returned the joy that was missing in wrestling for awhile. His backstage Rocky-esque clips were hilarious and entertaining, and the excitement of the live crowd during the ending of the match was amazing.
Big Show climbing into Daniel Bryan's pod was a good spot, but was ruined when my friend said "I'm pretty sure it's just wiser to pin people first then just take Daniel Bryan one on one".
My Girlfriend: Daniel Bryan...DB.. You know what DB should stand for instead of his name? It should stand for...
...and that's where I have to end that statement.
Grade: B
John Cena Vs. Kane (Ambulance Match)
In case you missed it, or fell asleep like my friend/hardcore John Cena fan did, we saw the return of Super Cena at the end of this match.
This match reminded me of the type of matches me and my friends use to put on back in middle school.
We would throw some punches, hit each other with random objects, and then throw some more punches as we went from the living room, to the basement, and then the garage. It wasn't very entertaining...
...And where the hell were Zack Ryder and Eve? They were a big part of this story line (for whatever reason) and they pull a complete no call, no show during the story's crescendo. That just seems wrong.
Besides the distraction of my friends snoring, and my girlfriend giggling every time someone used something from the ambulance as a weapon, I couldn't even concentrate on the match.
I had to literally hit my friend to wake him up so he could witness John Cena give Kane the Attitude Adjustment off the top of the ambulance. If this wasn't indicative of the entire night, I don't know what was...
Now that this feud has a neat little bow tied over it, we can finally move on to what we've been waiting for for almost a year. The Rock and John Cena hyping their match at WrestleMania...while Kane just becomes another guy who couldn't get over the Cena hump.
Grade: C
I'm seriously debating calling my bank and telling them that the $55 charge for Elimination Chamber was a fraudulent charge. Maybe they'll credit it back to me. If they ask me for any proof, I'll just tell them to watch the event...
How could they not give me my money back after a sham like that?
Overall Grade: C-
...and that's being extremely generous because I love the WWE and mostly enjoy everything they do, but whenever your credit card holds a grudge after a purchase the following day, you know something was wrong.
This article is
What is the duplicate article?
Why is this article offensive?
Where is this article plagiarized from?
Why is this article poorly edited?