Predicting Every MLB Team's Opening Day Starter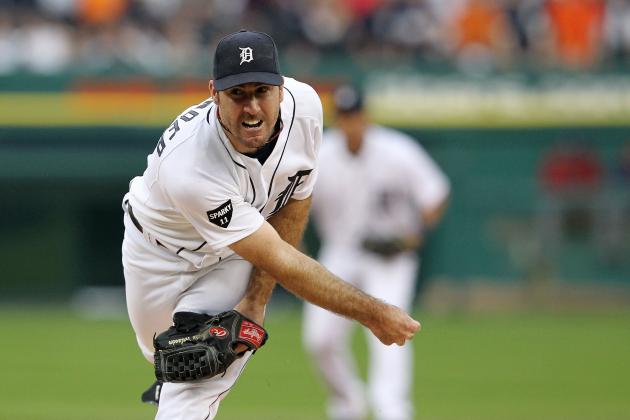 Leon Halip/Getty Images

Sure, spring training is underway. However, I don't know about you all, but I'm definitely excited for the start of games on Opening Day.
Opening Day gives every team a chance to see what it is like to be undefeated. Obviously, it is virtually impossible to sustain that for a very long time, but Opening Day is when that experience is shared by the greatest number of athletes.
Therefore, that victory on Opening Day is also incredibly important. Every team tries to put its best arm out on the mound to start the season on the right note.
Let's take a look at who I think will start on Opening Day for every Major League Baseball team.
Begin Slideshow

»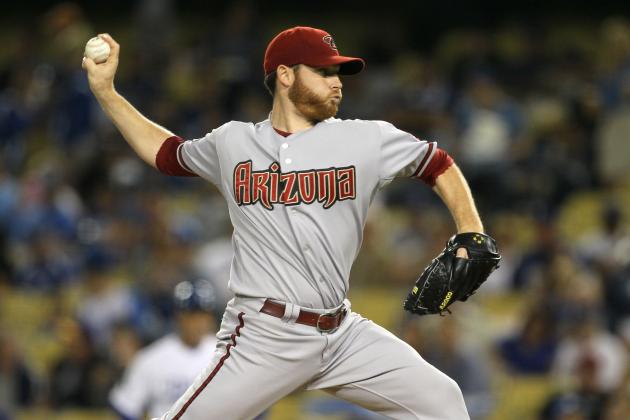 Stephen Dunn/Getty Images

This one shouldn't be much of a surprise. Last season, Ian Kennedy burst out with a 21-4 season in the desert. He coupled that with a 2.88 ERA and a very tidy 1.09 WHIP. He was the undisputed ace in 2011, and I don't necessarily expect that to change for 2012.
The Arizona Diamondbacks do have other talented pitchers, but I would say that this one is a virtual lock.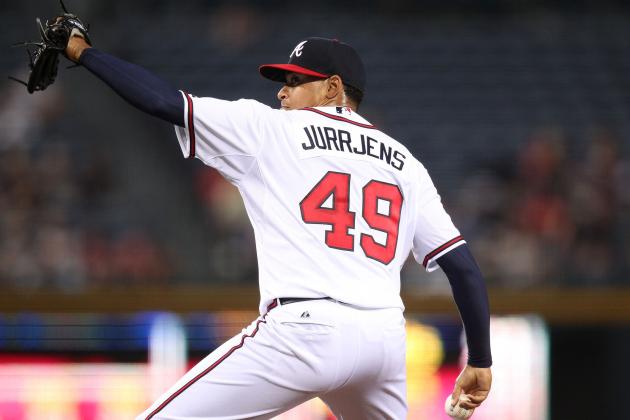 Mike Zarrilli/Getty Images

Jair Jurrjens will most likely still be wearing an Atlanta Braves uniform when they leave Florida and head back to Turner Field. Because of that, he will probably be their Opening Day starter after putting up a 13-6 season last year.
He started off last season 7-1, but on Opening Day, the Braves will take a record of 1-0 when it is all said and done.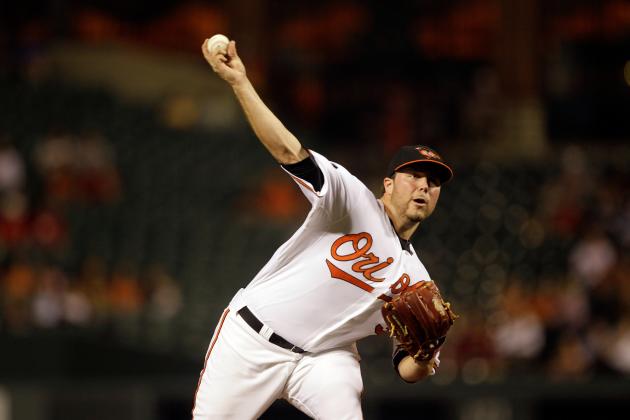 Rob Carr/Getty Images

After trading Jeremy Guthrie, the top of the Baltimore Orioles' rotation will probably belong to Tommy Hunter. He had a difficult 2011, but when he was pitching for the Texas Rangers in 2010, he went 13-4 with a 3.73 ERA.
The Baltimore Orioles don't necessarily have the strongest rotation, but Hunter is probably the most likely option to start their first game.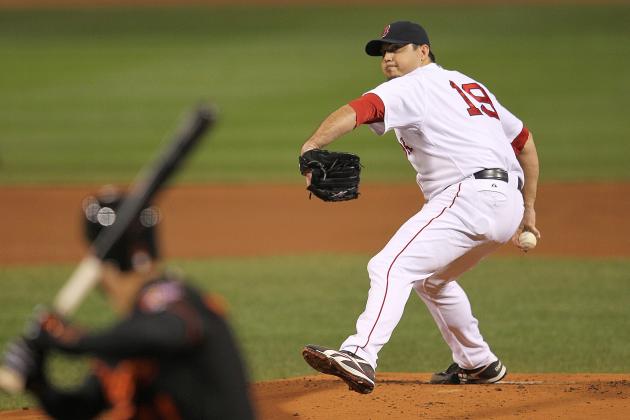 Jim Rogash/Getty Images

This is my first decision that might be controversial. However, Josh Beckett had an excellent year in 2011 as he went 13-7 with a 2.89 ERA, a 1.03 WHIP and a .211 batting average against. While he didn't have as many wins as teammate Jon Lester, all of his other stats were better in 2011.
The Boston Red Sox will want to start 2012 in a much better way than they ended 2011, so they should send Josh Beckett to the mound to make that happen.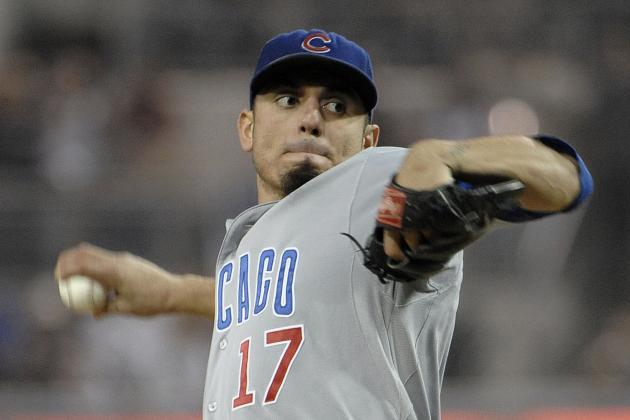 Denis Poroy/Getty Images

Although he was one of the most popular names on the trading block this winter, Matt Garza will still be with the Chicago Cubs at least for the beginning of 2012. Although he was only 10-10 last season, he struck out almost a batter per inning and only has a 3.32 ERA.
Garza might be on the move before the end of 2012, but at least he will be there for Opening Day, and he will probably be on the mound then.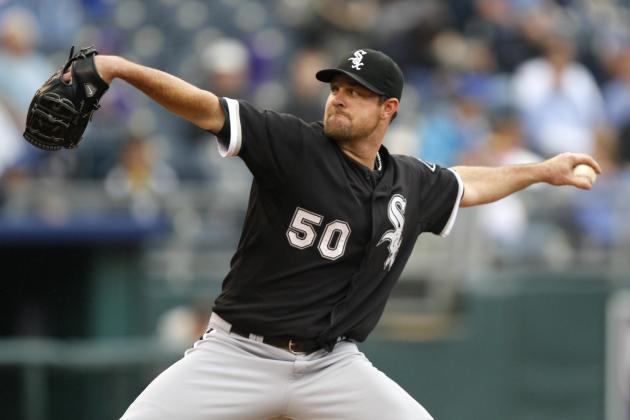 Ed Zurga/Getty Images

John Danks will be with the Chicago White Sox for a while after signing a very nice extension this winter. Even though he only went 8-12 last season, he still had a decent 4.33 ERA. The 2011 season was among his worst professional seasons, and it wasn't even that bad.
Because of that, the Chicago White Sox will be expecting a return to normal, and they will expect Danks to become their ace once again.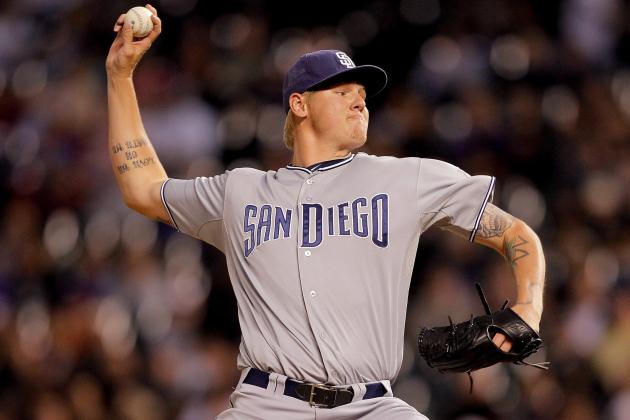 Justin Edmonds/Getty Images

Mat Latos is definitely a good pitcher. Some Cincinnati fans felt that the Reds overpaid for him, though. His 9-14 record last season will not turn any heads, but he had a very good 3.47 ERA. Part of the reason for that lower record was that he was playing for the San Diego Padres and received limited run support.
He will not have that problem in Cincinnati. The Reds' management will be eager to show off their new acquisition, and I expect to see him out there on Opening Day.
Jason Miller/Getty Images

Ubaldo Jimenez followed up a monster 2010 with a strictly average 2011. He went from 19-8 and a 2.88 ERA to 10-13 with a 4.68 ERA. However, he obviously still has amazing potential and is only 28 years old.
It entirely possible that Jimenez will rebound to at least some degree of his 2010 form and should be at the top of the Cleveland rotation.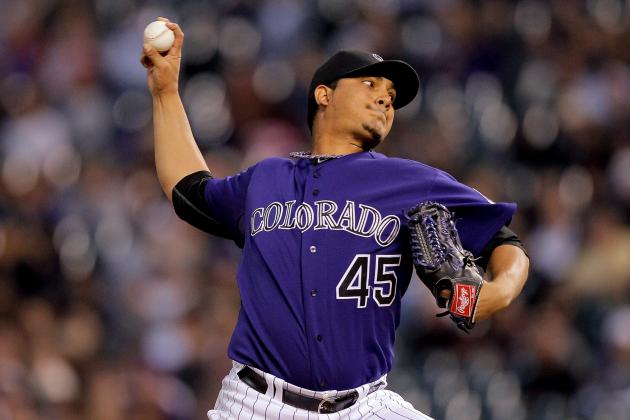 Justin Edmonds/Getty Images

Jhoulys Chacin had an unattractive 11-14 record last season. However, it is very impressive that, even though he was pitching in the very offensive-friendly Coors Field, he was able to post a 3.62 ERA. Chacin has only been with the Rockies for two complete seasons, but he has already started turning heads.
Chacin might not be the ace on many teams, but for the Colorado Rockies, he is the closest thing they have.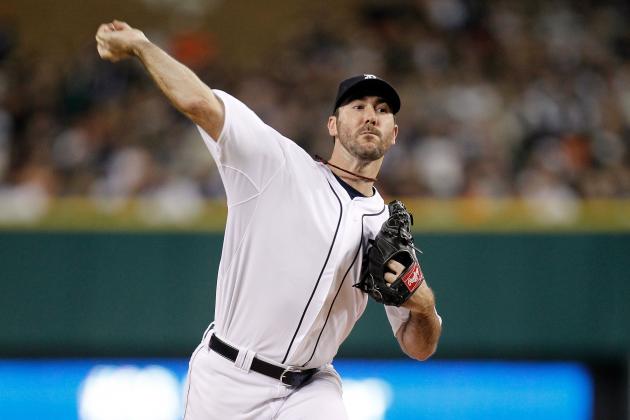 Gregory Shamus/Getty Images

I bet this was a major surprise, sarcasm intended. Obviously, Justin Verlander should begin defending his Cy Young Award performance of 2011 on Opening Day. He went 24-5 last season with a 2.40 ERA, 250 strikeouts, a .192 batting average against and a 0.92 WHIP.
Verlander is quite possibly the best pitcher in baseball right now, and he will be on the mound for the Detroit Tigers when they begin 2012.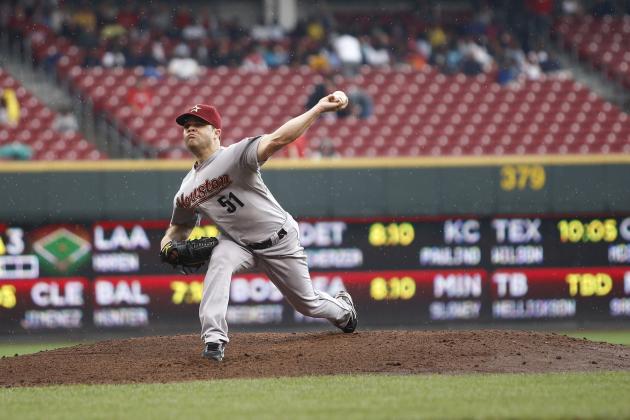 John Grieshop/Getty Images

Wandy Rodriguez had many potential suitors this winter, but he was never traded away from the Houston Astros. Last season, he went 11-11, but if he would have had more run support, his 3.49 ERA would have helped to a better record.
Brett Myers could be another option on Opening Day, but I think that Rodriguez will ultimately pitch for the rebuilding Astros.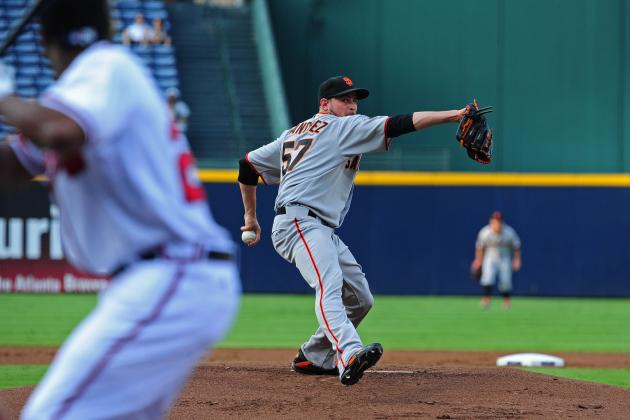 Scott Cunningham/Getty Images

Jonathan Sanchez came to the Kansas City Royals this winter through a trade with the San Francisco Giants. The 29-year-old left-hander battled injuries last season and was only able to post a 4-7 record with a 4.26 ERA.
Nevertheless, he has had great moments at times throughout his career, and if it able to demonstrate improved control during spring training, I wouldn't be surprised to see him on the mound on Opening Day.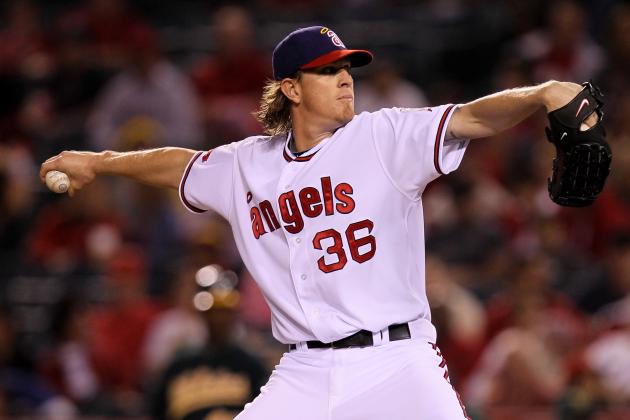 Stephen Dunn/Getty Images

Jered Weaver will most likely start on Opening Day for the Los Angeles Angels of Anaheim, even though they might be excited to show off new pitcher C.J. Wilson. Last year, Weaver went 18-8 with a 2.41 ERA. He barely let runners reach base, though, as demonstrated by his 1.01 WHIP.
Weaver has never won fewer than 11 games in any of his five professional seasons, and there is reason to believe that 2012 will be more of the same. The Los Angeles Angels of Anaheim have a fabulous rotation, but he is at the top of the list.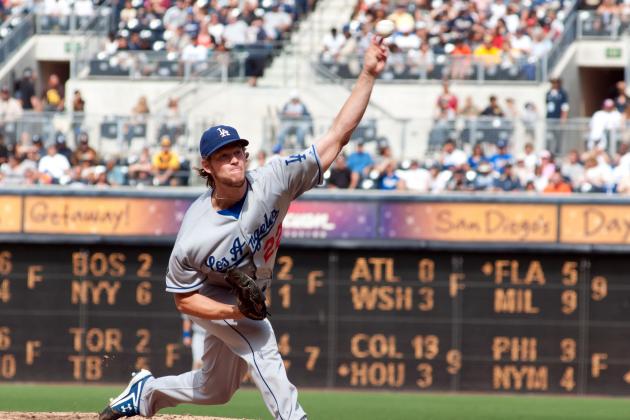 Kent Horner/Getty Images

It is hard to believe that Clayton Kershaw has only been on the Los Angeles Dodgers for four seasons. Last season, he showed how high his ceiling truly is. He went 21-5 with a 2.28 ERA, 248 strikeouts and a WHIP of 0.98.
While it would be kind of ironic for the reigning National League Cy Young award winner not to start on Opening Day, that shouldn't happen with Kershaw.
Kevin C. Cox/Getty Images

Josh Johnson has had a difficult career. Whenever he is on the mound, he pitched very well. However, injuries have kept them off of that mound more often than not. In 2011, he was limited to only nine starts and went 3-1 with a 1.64 ERA.
He is definitely one of the better pitchers in baseball when he is healthy, and he will be the one that the Marlins turn to as they begin the 2012 campaign.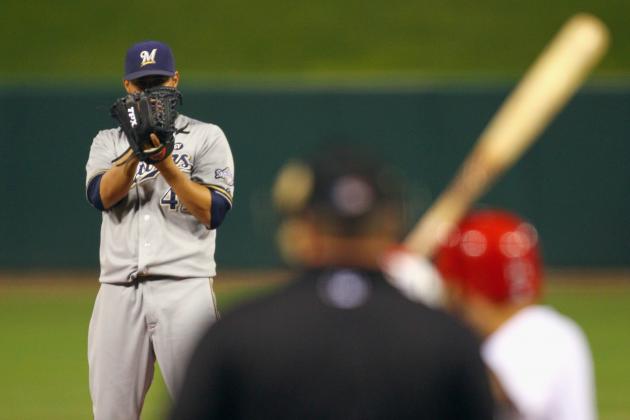 Dilip Vishwanat/Getty Images

Yovani Gallardo established himself as the ace of the Milwaukee Brewers' rotation in 2011. He went 17-10 with a 3.52 ERA and almost struck out a batter per inning. He has been consistently getting better for the past few years as well, so that trend could continue in 2012.
Zack Greinke could be another legitimate option for the Milwaukee Brewers to pitch on Opening Day, but most likely Gallardo will be out there to continue his run of improvement.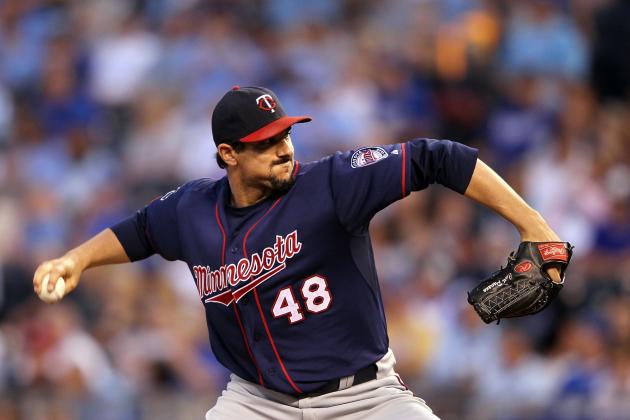 Jamie Squire/Getty Images

The Minnesota Twins had an all-around difficult 2011. Carl Pavano struggled similarly with a 9-13 record and a 4.30 ERA. However, in 2010 he won 17 games with a 3.75 ERA. Part of the reason that his record was not as attractive in 2011 was surely because of a lack of run support.
If the Twins are able to start putting runs on the board, Pavano should rebound similarly and will probably start 2012 at the top of their rotation.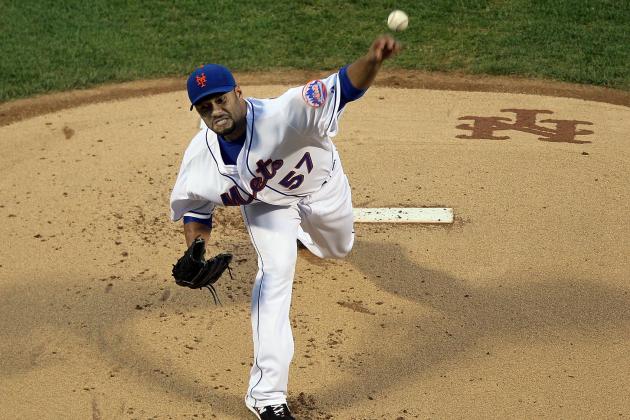 Jim McIsaac/Getty Images

Johan Santana missed all of 2011, but prior to that, he was one of the best pitchers in baseball. He is a two-time Cy Young Award winner, and he has become the poster child for what great things can happen because of the Rule Five Draft.
It is always hard to tell how an injury will affect a pitcher, but the Mets need some excitement. They might as well go with Santana on Opening Day and hope that he will be able to rebound to his former self.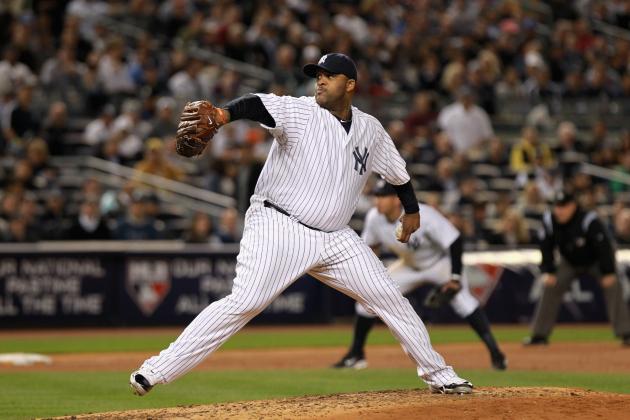 Nick Laham/Getty Images

There are plenty of new arms on the New York Yankees, but CC Sabathia will probably take the hill on Opening Day once again. He went 19-8 last season with an even 3.00 ERA. That was his lowest ERA since joining the New York Yankees in 2009.
If last season was an improvement over the season before, will this season even be an improvement over last season? If so, the Yankees will be in a great position at the top of their rotation. Hopefully he will start off on the right foot in the season opener.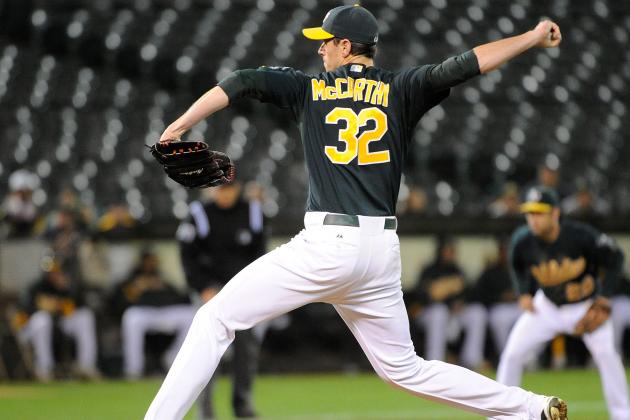 Thearon W. Henderson/Getty Images

With the departure of Gio Gonzalez, the Oakland Athletics will need someone else at the top of their rotation. Brandon McCarthy quietly put together a very solid year in 2011. He only went 9-9, but he put together a 3.25 ERA and only walked 25 batters in 170.2 innings.
The Oakland Athletics are obviously trying to rebuild and acquired future ace Jarrod Parker. However, in the meantime, Brandon McCarthy will have to step up and be the top arm in the rotation.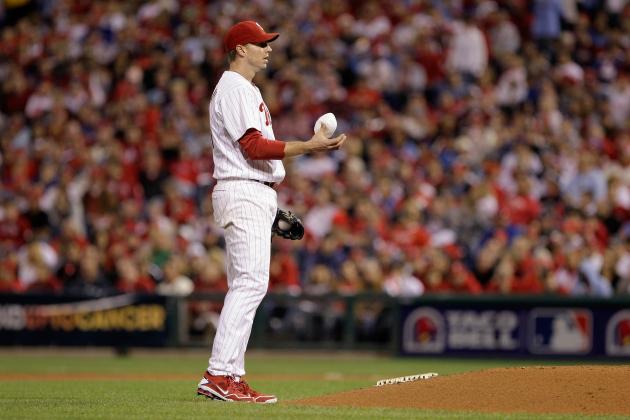 Rob Carr/Getty Images

The Philadelphia Phillies have one of the top rotations in Major League Baseball, and Roy Halladay is the leader of that pack. Last season, he went 19-6 with a 2.35 ERA. He threw eight complete games and demonstrated again that he has one of the most durable arms in baseball.
Roy Halladay finished second in the Cy Young voting last season, and even though the Phillies could pitch Cliff Lee or Cole Hamels on Opening Day, Halladay should get the nod.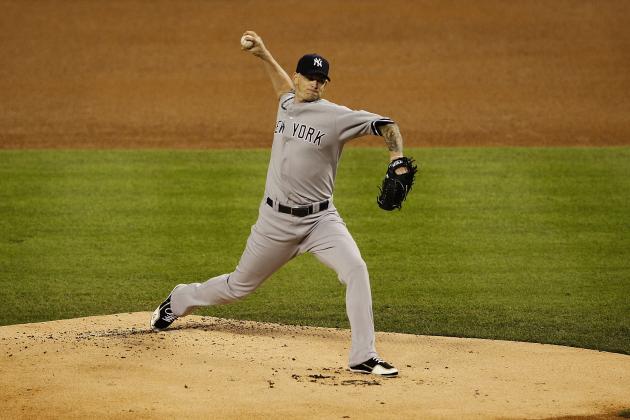 Leon Halip/Getty Images

The Pittsburgh Pirates didn't trade for A.J. Burnett for nothing. Although he had problems in the New York spotlight, he still has quite a bit of potential and is a talented pitcher. Even though last season was disappointing, he still managed to go 11-11 with a 5.15 ERA.
Burnett could very well have a good year in Pittsburgh. Their team is coming together relatively nicely, and I think that they will want to showcase their new acquisition on Opening Day.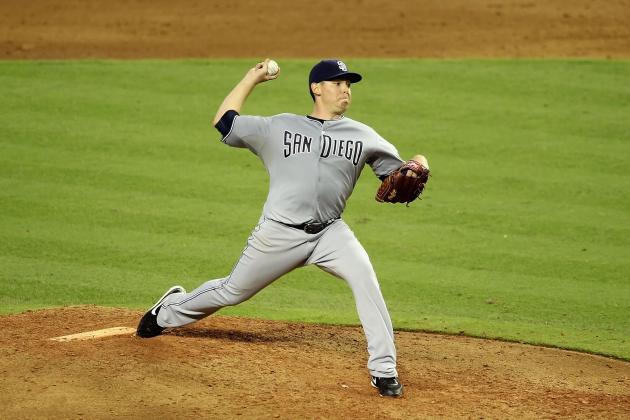 Christian Petersen/Getty Images

Tim Stauffer has a career losing record. However, if you can get beyond that fact, you would realize that he has a pretty decent 3.92 career ERA. He also has a very respectable 1.25 WHIP. He is much more than his record indicates.
Last year, he went 9-12, but the San Diego Padres have improved their offense this year, so hopefully he will receive more run support. With more support, that record will look a lot better. The Padres should be looking to him for that first victory on Opening Day.
Christian Petersen/Getty Images

Tim Lincecum had even worse luck than Tim Stauffer last year for the San Francisco Giants. He posted a 2.74 ERA, but the Giants offense was not able to muster very much run support for him. Therefore, he ended up with a 13-14 record.
Despite his record, Lincecum is still one of the best pitchers in baseball. He has a powerful arm and is truly deserving of receiving the ball on Opening Day.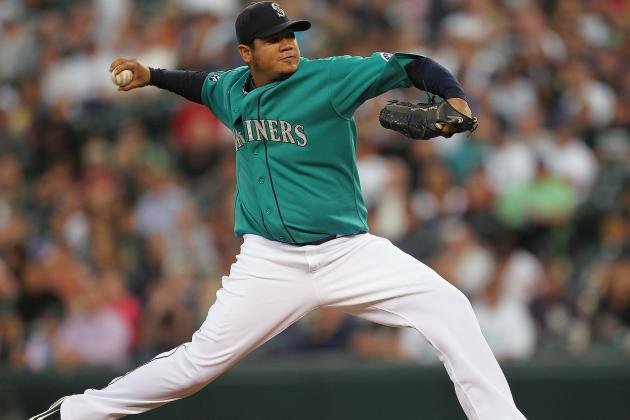 Otto Greule Jr/Getty Images

It would be a major surprise for Felix "The King" Hernandez not to receive the ball on Opening Day. Ever since he arrived in Seattle in 2005, he has been regarded as one of the better pitchers in baseball. Another hard-luck loser last year, Hernandez went 14-14 last season with a 3.47 ERA.
It is surprising that Hernandez has been around for so long but is only going to turn 26 in early April. He has a lot of talent, and the Mariners will look to him for an Opening Day victory.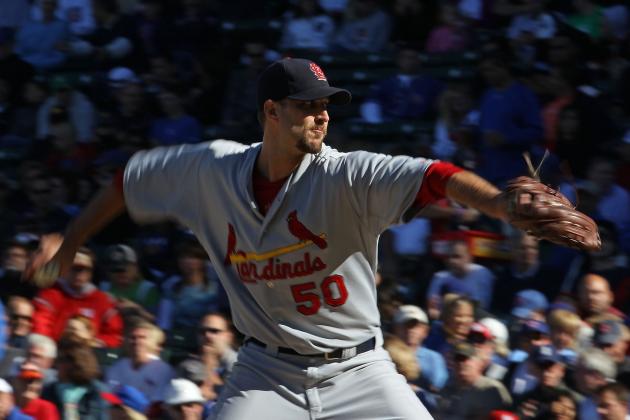 Jonathan Daniel/Getty Images

Adam Wainwright is another pitcher who missed all of 2011. However, the St. Louis Cardinals should be excited to have him back, and they will probably demonstrate that excitement by handing him the ball on Opening Day.
In 2010, Wainwright went 20-11 with a 2.42 ERA. In 2009, he went 19-8 with a 2.63 ERA. He obviously has a track record of extraordinary success. Hopefully his recovery will be complete, and he will return to top form in 2012.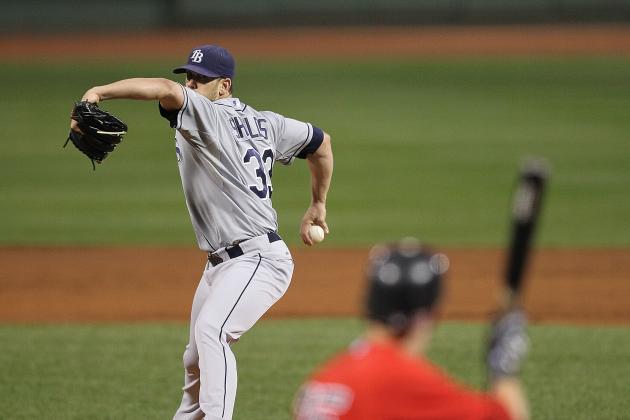 Jim Rogash/Getty Images

There were rumors that James Shields would be traded by the Tampa Bay Rays this winter. That never materialized, and Shields will bring his 16-12 record and 2.82 ERA back to Tropicana Field for another season.
There will be a lot of hype around Matt Moore, and of course David Price will still be playing for Tampa Bay, but James Shields had an excellent 2011 and should be on the mound to start 2012.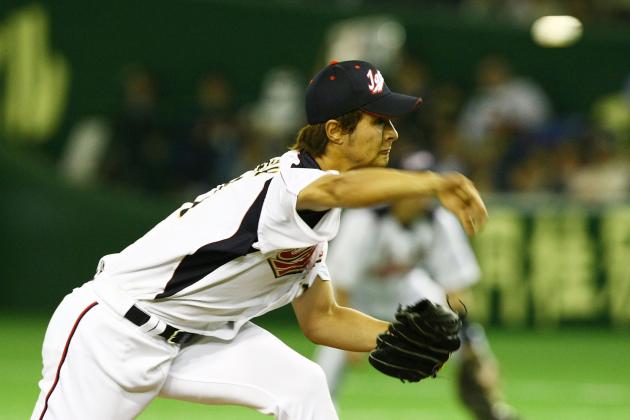 Junko Kimura/Getty Images

I know that this one might be a little bit controversial. However, C.J. Wilson used to be the ace for the Texas Rangers, and he departed for the Los Angeles Angels of Anaheim. The rest of the pitching staff is definitely talented, but Yu Darvish has a lot of hype around him.
Fans around the world are dying to see how Darvish will fare in Major League Baseball. He was extraordinarily successful in Japan, and I think that the Rangers will put Darvish out there on opening day. He has substantial talent, and nobody can wait for that debut.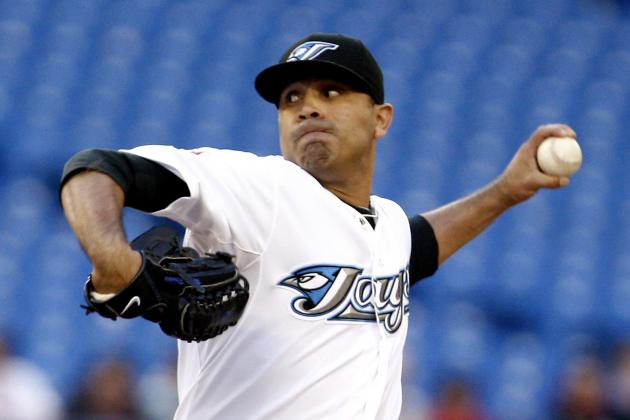 Abelimages/Getty Images

Ricky Romero proved himself once again in 2011 as the ace of the Toronto Blue Jays. He went 15-11 with a 2.92 ERA. That low ERA is particularly impressive because he was put in the high-powered American League East.
Romero has only been in Major League Baseball for three years, but he has been extraordinarily consistent so far. He is very quickly becoming a household name as one of the best young pitchers on the rise, and he deserves to have the ball to begin 2012.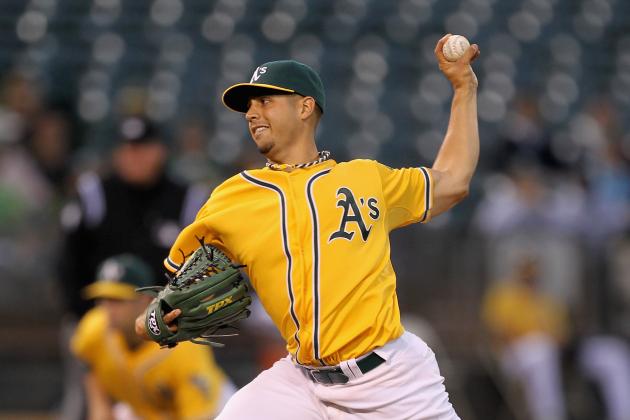 Ezra Shaw/Getty Images

This was one of my most difficult decisions. Stephen Strasburg has been one of the most highly-regarded pitching prospects in quite a while. However, I believe that right now Gio Gonzalez will get the ball on Opening Day.
He went 16-12 last year for the Oakland Athletics with a 3.12 ERA. With more offensive support, that record could have been even better. He is a talented pitcher, and he has a very substantial track record of success. He knows how to win, and that is what the Nationals should look for on Opening Day.
Whether you think I know everything or nothing about Major League Baseball, you should follow me on Twitter and keep in touch. I love hearing what you all have to say!

Follow @spinkickers