Minnesota Vikings: 7-Round Mock Draft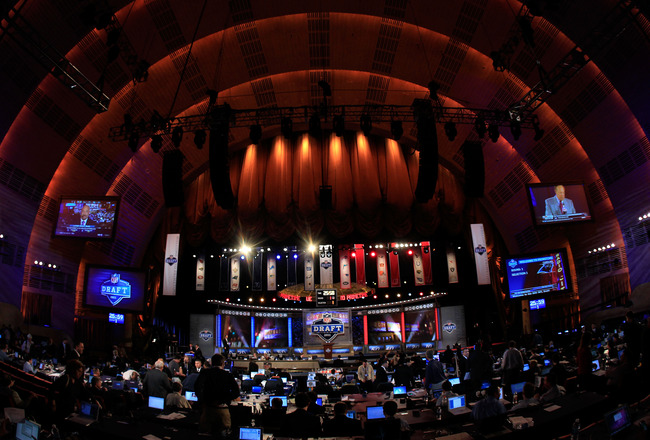 Chris Trotman/Getty Images
The NFL combine starts this week, which means the 2012 NFL draft is just around the corner.
The Minnesota Vikings are in dire need of some improvement in several positions, and the fact that they've got a new GM on top of it makes the draft all that much more important.
After selecting their "QB of the future" in 2011, I imagine that this draft will be heavily focused on Ponder's protection and on putting weapons around him.
The Vikings will have 10 picks in this draft and should be able to get some solid talent for both sides of the ball.
Let's get mocking.
1. OT Matt Kalil, USC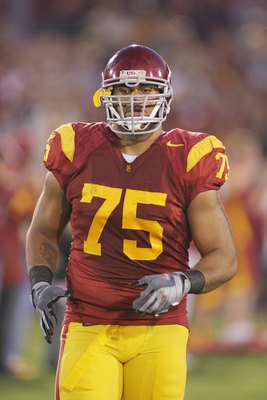 Jeff Golden/Getty Images
Although I'd prefer the selection of Justin Blackmon to give Ponder a top-notch target, I'm assuming the Vikings will get the insurance plan for the house they bought last year. Matt Kalil isn't just the top offensive line prospect in the draft, he's the best non-QB prospect in the draft.
The Vikings' offensive line was in shambles by the end of last season. Charlie Johnson just isn't cutting it at left tackle anymore and the guards are looking old and fragile.
The addition of Kalil as an anchor instantly makes this line better. It allows the Vikings to move Johnson to right guard, taking a lot of pressure off of Steve Hutchinson and Jon Sullivan.
An improved offensive line doesn't just help Ponder, either, the run game suffered quite a bit in 2011 as well. When Adrian Peterson returns from re-constructive knee surgery in 2012, the Vikings need to be able to open up some holes for him.
Justin Blackmon may be my favorite prospect at this point, but Kalil makes the whole offense better.
2. CB Chase Minnifield, Virginia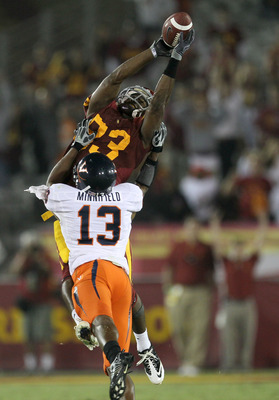 Stephen Dunn/Getty Images
This is going to be a very CB-heavy draft with how much talent there is. I imagine that teams will get trigger happy in the first round on CBs much like they did with QBs in 2011.
Virginia's Chase Minnifield is a solid prospect for the Vikings. He's touted as a smart player with good size and speed.
He may not be the flashiest DB, but I think this will play in his favor with the Vikings.
With a solid combine, his selection would make a lot of sense for the Vikings.
3. DT Alameda Ta'amu, Washington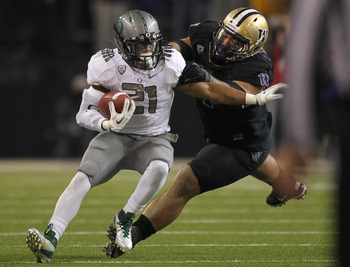 Otto Greule Jr/Getty Images
Vikings nose tackle Remi Ayodele did not play very well in 2011. He was not able to fill the void left by Pat Williams and will likely either see the bench or the waiver wire in the near future.
Washington product Alameda Ta'amu is a very raw prospect, but his size, power and speed make him a very attractive prospect for teams with good defensive line coaches.
Fortunately, that is a good thing for the Vikings. Defensive line coach Brendan Daly, who is returning to Minnesota after a stint in St. Louis, made the Vikings known for their ability to stop the run at the height of the "Williams Wall."
Ta'amu would bring the fire and vigor the Vikings need on their line. They were already the best pass-rushing line in the NFL in 2012, but with Ta'amu they could return to the stout rush defense that they were just a few seasons ago.
4. RB Lamichael James, Oregon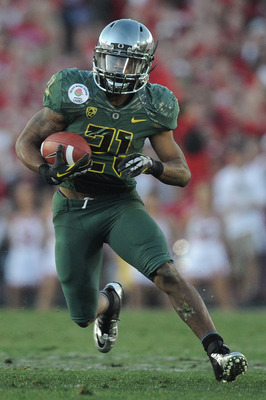 Harry How/Getty Images
With Adrian Peterson and Toby Gerhart both injured this offseason, it wouldn't be at all surprising to see the Vikings grab a RB in one of the middle rounds to carry the load for the first few weeks of the season.
Lamichael James has been one of college football's icons over the last couple of years and could make a dynamic back in the right system.
The Vikings have not had a solid third-down back since they lost Chester Taylor. The addition of James would give them a receiver-back that could be a true threat on the ground and in the air. James' utility on special teams could make him attractive to Minnesota as well.
James' stock has dropped considerably because of his injuries, off-the-field problems and fumbling issues. In spite of those issues, he does have a lot to offer some NFL teams. As a change-of-pace RB, he could end up looking like a young Darren Sproles.
4. WR Brian Quick, Appalachian State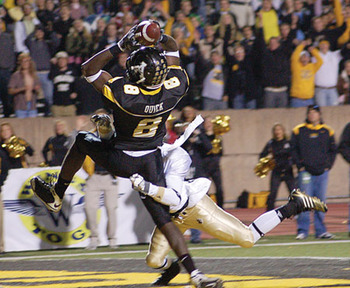 First, I feel that I should note that the reason I have the Vikings possessing three fourth-round picks is because of the compensatory picks they'll receive for having lost Ray Edwards and Sidney Rice last season. They very well could end up being third-round picks, but I figured I should keep my expectations low.
That being said, I think it's about time the Vikings grab a WR.
Brian Quick had a very good Senior Bowl, which I'm sure caught the attention of the Vikings who coached his team.
Quick has great hands and solid size. His speed is nowhere near elite, which could hurt his stock along with how small his school is, but he could be a nice red-zone threat for the Vikings.
4. SS Harrison Smith, Notre Dame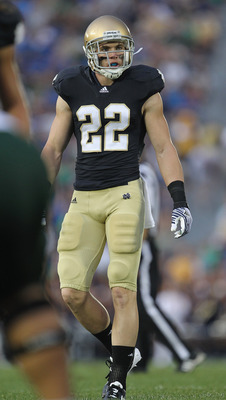 Jonathan Daniel/Getty Images
Harrison Smith's zero interceptions could hurt his stock for the 2012 draft, but he would be a nice addition for the Vikings.
He's got good size and could help himself with a good combine, but he's known for being a smart player and a sure tackler, something there isn't enough of in the Vikings' secondary.
If Smith falls this far in the fourth round, expect to see him in purple.
5. OLB Terrell Manning, North Carolina State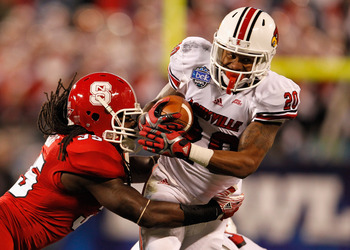 Streeter Lecka/Getty Images
The Vikings need to add some depth at linebacker. They could end up losing both Erin and E.J. Henderson and Kenny Onatolu, which would not just impact the starting lineup, but terrorize the depth as well.
If the Vikings end up losing any of those guys, Terrell Manning could be a solid answer for depth.
The NC State product could step in and be a nice backup, or contribute on special teams.
6. WR Ryan Broyles, Oklahoma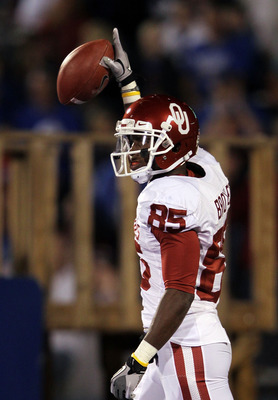 Jamie Squire/Getty Images
Ryan Broyles had an impressive career at Oklahoma, but his 5'10" frame could hold him back in the draft.
Percy Harvin pretty much has the slot receiver spot locked down for the Vikings, but the fact that they use him in the run game as both a blocker and a ball-carrier out of the backfield could warrant the need for another smaller, speedy guy in the slot.
Broyles could be a steal this late in the draft.
7. S Kim Royston, Minnesota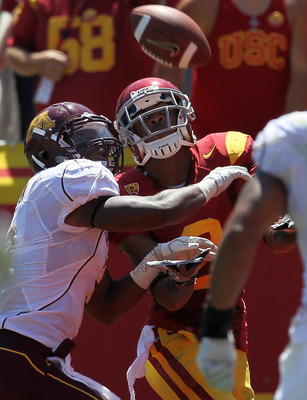 Stephen Dunn/Getty Images
This late in the draft, it's tough to pick who the Vikings will take.
I imagine that they'll take a look at some local guys and bring a guy from the University of Minnesota that might not get a look otherwise from other teams. They've done this occasionally over the last few years, but CB Marcus Sherels got his chance in 2011 and took it by becoming the Vikings' return man, and he saw the field quite often because of injuries to other players.
Royston was the Gophers' leading tackler for the last two seasons, and because he's a safety, that tells you the kind of shape that program is in right now.
Still, Royston could work himself into a nice position because starting spots in the secondary are up for grabs right now. Royston could also be a great addition as a hit man on special teams as well.
Nothing is for certain this late in the draft, but if Royston is drafted by an NFL team, I fully expect it to be the Vikings.
7. QB Case Keenum, Houston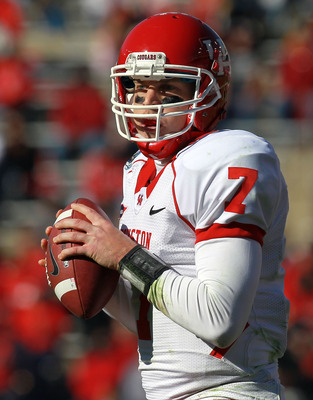 Ronald Martinez/Getty Images
This pick comes from the trade with the New England Patriots for Randy Moss.
It appears the Vikings have all of their eggs in Ponder's basket, but with the potential loss of Sage Rosenfels to free agency and an apparent distaste for Joe Webb, they might look to add a backup late in the draft.
Case Keenum had an impressive run with Houston in 2012. He might not be starter material for quite some time, but he could be a solid candidate to hold a clipboard on the sideline with Ponder calling the plays on the field.
Taking Keenum with a second seventh-round pick wouldn't send any kind of message, but it would add some depth in case Ponder were to get hurt again.
Thanks for reading.
Follow me on Twitter @MCNick92
Keep Reading

Minnesota Vikings: Like this team?