NFL Draft 2012: Prospects We Wish We'd See at Scouting Combine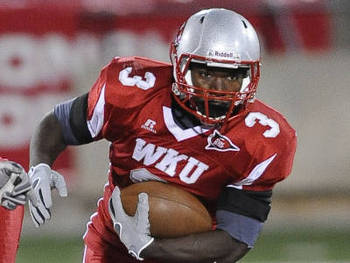 The scouting combine is just a few days away, and they've already released the list of invitees.
As usual, the combine staff have covered most of their bases and gotten in the majority of the top prospects. However, just like every year, there are a few prospects who'll miss out on one of the bigger events in the offseason.
Here are the players we wish were going to show their stuff at the scouting combine this year.
1. Scott Wedige, C, NIU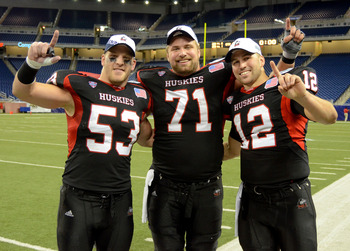 Mark A. Cunningham/Getty Images
This is one of the bigger snubs this year. Scott Wedige was a second-team All-American at center, and his excellent run-blocking was a big part of what allowed NIU to rush for more than 234 yards per game.
He's also big (314 lbs) and fast for a center—his 40 time is listed as under five seconds.
One thing that's keeping him from being a very high pick is that he played at a small school. Having him work through drills with the interior linemen from bigger schools would give him a chance to show he's just as good as them.
After all, isn't that what the scouting combine is for?
On the bright side—for me at least—maybe this means he'll stay on the board long enough for the Tennessee Titans to steal him in the fourth round.
2. Lonnie Edwards, OG, Texas Tech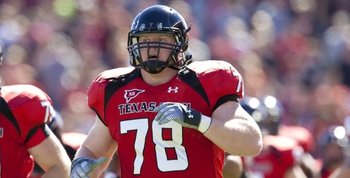 Lonnie Edwards had a great senior season and was a great run-blocker. Why he isn't invited is anyone's guess.
He was an All-Big 12 second-team selection in his junior season and an honorable mention in his senior year, he started for three full seasons and pretty much all his tape is good.
He's strong as both a pass-blocker and a run-blocker, and even though he isn't a first-rounder, he seems like a late second-day or early third-day selection.
He should be at the combine showing everyone just how good he is.
3. Levy Adcock, OT, Oklahoma State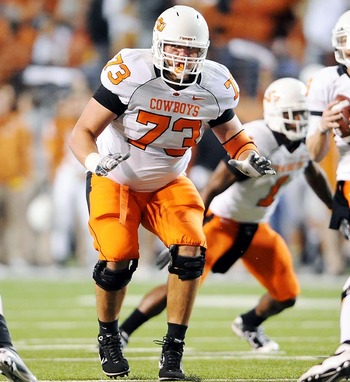 I have Levy Adcock as one of the top 10 right tackle prospects on my big board.
He's got some injury problems in his history, and that is a concern, but he's still a great right tackle prospect. In his last regular-season game, he shut down Frank Alexander, whom I have as one of the better defensive end prospects in this class.
His injuries might have made him look worse than he really is, and the combine would've been a great way for him to improve his stock.
4. Bobby Rainey, RB, Western Kentucky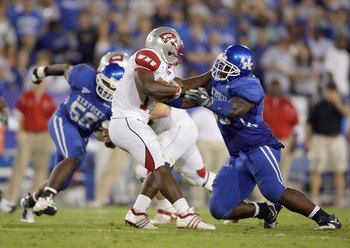 Andy Lyons/Getty Images
Bobby Rainey broke pretty much every record that Western Kentucky kept track of this season.
He rushed for more than 1,600 yards in both 2010 and 2011 and has 34 career touchdowns. He's kind of small at 5'8", but he's listed as 205 lbs, which is plenty big for the NFL (after all, he's about the same size as Maurice Jones-Drew).
He'll probably just be a rotational back, but since a lot of people were looking at him as a sleeper Heisman prospect at the beginning of the season, he's worth seeing at the combine.
5. Dan Persa, QB, Northwestern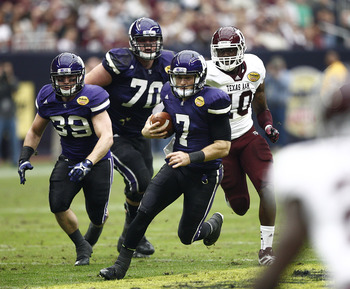 Bob Levey/Getty Images
The only quarterback I really wanted to see at the combine whom they didn't invite was Northwestern signal-caller Dan Persa.
Persa has always been accurate. For the last two years, he completed 73.5 percent of his throws for 4,957 yards. Unfortunately, he has been constantly sidelined by injuries, which is why he isn't being discussed as an early pick.
However, he's also a pretty powerful runner with a lot of strength. If he had a chance to show off his athleticism at the combine, that, together with his super-accurate arm and probably super-high Wonderlic score, might get him drafted higher up.
6. Evan Rodriguez, TE, Temple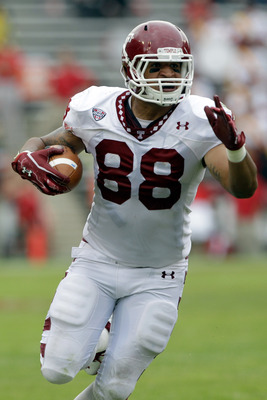 Rob Carr/Getty Images
He's a little short for a tight end, but Evan Rodriguez was Temple's leading receiver this season, and at 250 lbs he's still heavy enough to be a physical target.
Rodriguez amassed 871 yards receiving in his career, which is a good bit for a tight end. Like many players on this list, Rodriguez's biggest problem is that he comes from a small school, so he's fighting an uphill battle.
He'll have to wait until his pro day to show off his stuff to NFL scouts.
7. Nicolas Jean-Baptiste, NT, Baylor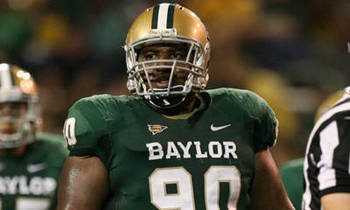 The combine did a pretty great job with defensive invites, covering the top three nose tackles by inviting Dontari Poe, Alameda Ta'amu and Josh Chapman, but missed out on maybe the next best nose prospect, Baylor's Nicolas Jean-Baptiste.
Baylor had a pretty poor defense this season, and with Robert Griffin III and Kendall Wright getting all the attention, Jean-Baptiste flew under the radar. He broke out in the Shrine Game, where he was a matchup problem for every offensive lineman he faced.
Getting to appear at the combine would let him ride the momentum he already built up in the postseason and secure his spot in the higher rounds.
8. Chris Marve, ILB, Vanderbilt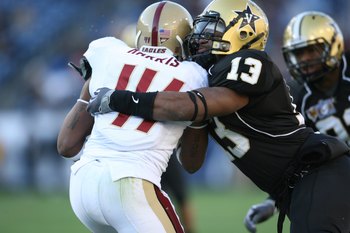 Andy Lyons/Getty Images
Vanderbilt was surprisingly good this season, especially on the defensive side of the ball. The leader of that defense was Chris Marve.
Marve had 91 total tackles in 2011 (up from 80 in 2010), 51 of them solo. He also had 8.5 tackles for loss, 2.5 sacks, four broken-up passes and an interception. He's an all-around great inside linebacker.
He's only 6'0", which is just a little short, but at more than 240 lbs he's far from undersized.
With great on-field production and good size, it's a shame we won't get to see him show off his athleticism with the other linebackers at the combine.
9. Jerry Franklin, LB, Arkansas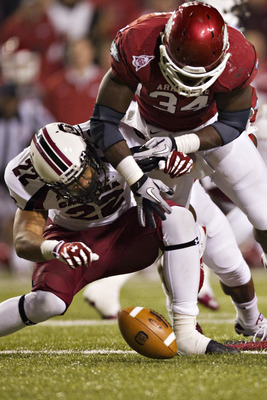 Wesley Hitt/Getty Images
It's hard to say where Jerry Franklin fits as a prospect—he could play either linebacker position or the defensive line, maybe even 3-4 rush linebacker.
You know what would be a great way to see how he projects? Invite him to the scouting combine and watch his performance.
At 6'1" tall and 245 lbs, Franklin could be looked at by teams for several positions, so now, since he's missing out on the combine, he's going to have to figure for himself where he projects and focus on that at his pro day.
If nothing else, the combine drills could've given him a dry run at what scouts see in him and allow him to adjust accordingly. Hopefully he'll get that on his own.
Keep Reading