WWE Elimination Chamber 2012 Results: Grading Each Competitor's Performance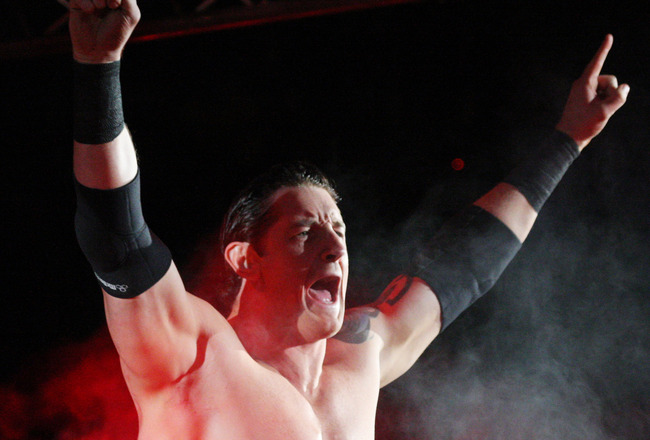 Gallo Images/Getty Images
With the curtains closed on Elimination Chamber 2012, who were the night's biggest stars? Who left the Bradley Center stinking of failure?
Elimination Chamber 2012 was certainly more than a stepping stone for WrestleMania. It featured some standout performances from some unlikely sources.
The risk-takers and the swift-kickers, the awkward and the plodding all shared the spotlight.
How well and how poorly did they do? The report cards are ready to be sent home.
CM Punk-Raw Elimination Chamber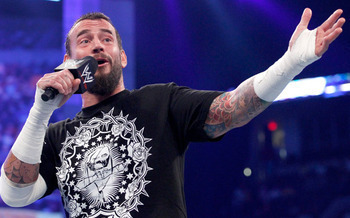 As good as his chemistry was with Chris Jericho near the end of the match, CM Punk's work with Kofi Kingston at the outset was uninspired.
Was he saving himself for the rest of the match or saving himself for WrestleMania? Or was the WWE Champion hurting?
He seemed somewhat tentative to open the match and had some sloppy chain wrestling with Kofi. There were a few visible called spots that took away from the action as well.
Punk did come off as heroic and gutsy for the most part. Lasting the entire match, rising after every blow he took and staggering to a win despite the odds made him look more than worthy to carry the title.
Grade: B
Dolph Ziggler-Raw Elimination Chamber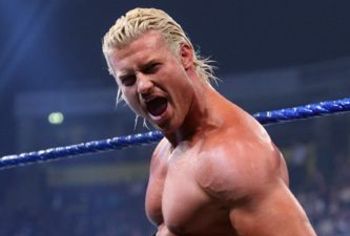 Photo from wwehub.com
A first-timer to the Elimination Chamber, Dolph Ziggler was one of the biggest highlights of the match.
Seeing him hang on the chamber's chains and do a little exercise was entertaining. Most of what Ziggler did in the ring was fun to watch.
His moves were crisp and he took some of the bigger bumps on the steel grate outside the ring. He sold everything his opponents threw at him extremely well.
Ziggler made everyone else look better and energized the match.
Grade: A-
R-Truth-Raw Elimination Chamber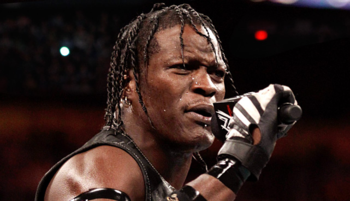 Photo from wwe.com
R-Truth's time inside the chamber was an easily missed blur.
After a splash out on the grate and a few spurts of athleticism, he was gone. Truth did the most he could with the limited time he was given.
The Smackdown Elimination Chamber match could have used his corkscrewing ways.
Someone had to be eliminated first, and Truth's quick exit made room for Jericho, Kofi, Punk and Ziggler to be the stars of the show.
Grade: Incomplete
Chris Jericho-Raw Elimination Chamber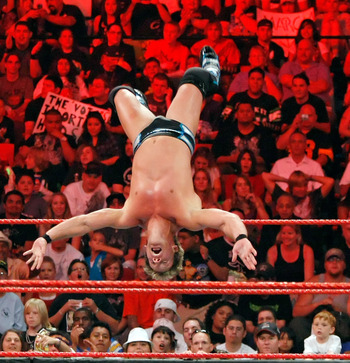 Ethan Miller/Getty Images
Cementing his status as a heel, Jericho played both the coward and the merciless brute.
He hid inside the chamber pod to demonstrate the former and pounded on Kofi Kingston post-elimination to demonstrate the latter.
When Jericho entered the match, all eyes in the arena zeroed in on him and Punk. The crowd, unenthused to that point, perked up.
Since WWE is steamrolling towards a Jericho vs. Punk match at WrestleMania it's fortunate that they have such good chemistry in the ring. Punk wasn't quite himself until face to face with Jericho.
Grade: A
The Miz-Raw Elimination Chamber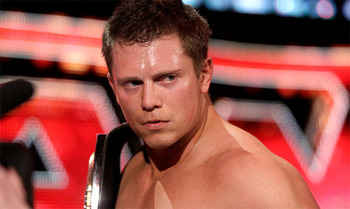 photo from tv.ign.com
Aside from a few flurries, the Miz was largely absent from this match.
He played the part of the angry, focused man left out of the spotlight quite well. Miz also sold one of Punk's kicks like crazy, looking like he was legitimately knocked out.
Though the Miz did a fine job in his first Elimination Chamber match, lying on his back for so long and a few unimpressive moves lowers his grade. The most obvious of these is a tepid clothesline he threw early on.
Grade: C+
Kofi Kingston-Raw Elimination Chamber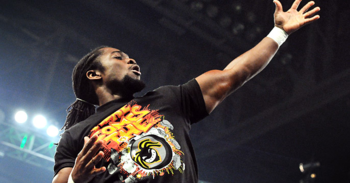 Photo from wwe.com
Neither the champ nor the eventual challenger, Kofi Kingston, was the big winner of this opening bout.
Even with some groggy opening moments with CM Punk, Kofi excited fans, starting with a leapfrog over the top rope. His pulsating emotion and his risk-taking made his work some of the most memorable of the night.
He played Spiderman with the chamber chains, climbed to the top of a chamber pod for a crossbody and sold every grate-rattling bump to perfection.
Grade: A+
Beth Phoenix-Divas Championship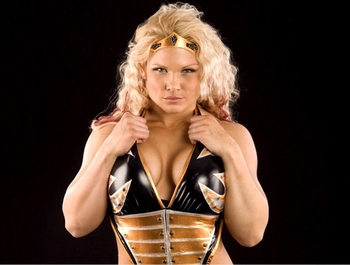 Photo from prowrestlingwiki.com
The snide and arrogant heel may not be the ideal fit for Beth Phoenix, but she's playing it with an enticing gusto.
From telling Tamina to leave the ring before the bell even rang to channeling Chris Jericho with an "ask her!" routine, Phoenix heightened the action with her character.
A few too many rest holds dampened an otherwise impressive Diva's match. Phoenix was aggressive, cocky and has a potential long Tamina vs. Phoenix rivalry looking quite tasty.
Grade: A-
Tamina Snuka-Divas Championship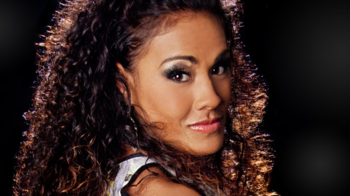 Photo from wwe.com
It's not Tamina's fault that every other word out of the announcers' mouths was a reference to her father. At some point, we're going to have to let her be her own wrestler.
A fierce and feisty performance was a surprising treat. It's been awhile since a Diva's match has had fans so enthralled.
Tamina delivered a gorgeous superkick and a graceful Superfly splash. Her dependence on that move made famous by her father hampered her performance a bit.
It felt like after every other move Tamina was heading to the top rope to raise her hands Superfly-style. Even still, she did show off her potential and likely made a few new fans.
Grade: B+
Daniel Bryan-Smackdown Elimination Chamber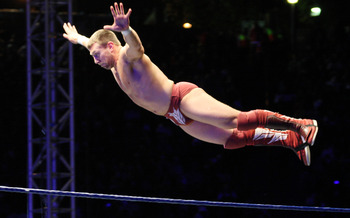 Gallo Images/Getty Images
Even with a botch on a move in the corner and less than crisp moves here and there, the World Heavyweight Champion proved he belonged on top.
A knee from the top rope, a corner dropkick and the usual submissions from Bryan were some of his best moments in the ring and improved the match overall.
Some of his best work, though, was done with just his face. When he was in the pod goading Big Show and when he realized Santino was the only thing stopping him from retaining the title, Bryan told a story with his expressions.
He didn't overact, instead trusting the audience to get it.
Toss in some of the bumps he took like getting flung through the chamber pod glass, and you have a performance just short of excellence.
Grade: B+
Wade Barrett-Smackdown Elimination Chamber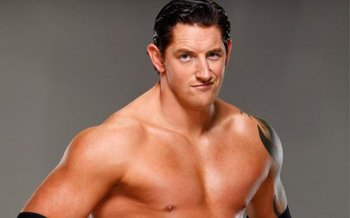 Photoo from ring-rap.com
WWE and Barrett would both like to erase those few minutes with Big Show from our collective memories. Other than that clunky beginning, Barrett did quite well.
Fans chanted, "Boring, boring" as he and Show slugged it out.
The two men created a lethargic energy that was only rectified when Santino entered.
As the match went on, Barrett became the resourceful, prowling villain we know he can be. Locking Santino's arms in the chamber's chains and smashing Bryan's head in the pod door are both lasting images.
Barrett showed sound strategy in teaming up with Rhodes and pinpointing Big Show's legs, which made him look smart. Had he not been made to lie on his back so long and had he started the match with more momentum, his grade would be much higher.
Grade: B-
Santino-Smackdown Elimination Chamber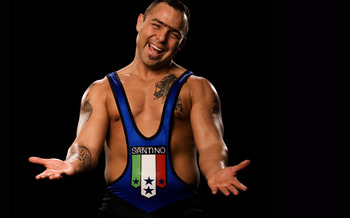 Photo from wwe.com
Santino earned the biggest crowd reaction of the show. When he entered the match and when it looked like he might pull out the ultimate upset, the crowd was the most engaged they'd been all night.
I couldn't imagine how Santino would fit in the context of the match. Did WWE foresee how much energy and fun he'd bring to the table, or did they just get lucky?
His eliminations and near-eliminations were some of the most nerve-wracking moments. The beaten down underdog appeared at times poised to win the whole thing and shock the world.
Seeing him come as close as he did was brilliant booking, and Santino made the most of his chance, throwing himself headfirst into the action.
Grade: A+
Big Show-Smackdown Elimination Chamber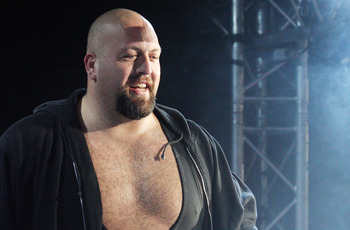 Gallo Images/Getty Images
Like Barrett, Big Show got rolling after a slow start.
His feud with Daniel Bryan became the focal point of the match. Having him tear off the pod chains and enter the pod with Bryan was certainly creative and had my heart beating a bit faster.
Unfortunately, it seemed like he lost some steam after an initial barrage of punches on the champ.
At times the World's Largest Athlete played the dominant giant to a tee and at others, he moved especially slowly and had some clunky moves.
Grade: B-
The Great Khali-Smackdown Elimination Chamber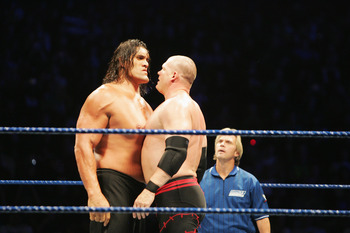 Gaye Gerard/Getty Images
Khali was eliminated even more quickly than R-Truth.
A few brain chops, one powerful version of the Punjabi Plunge and one sloppy one were the total of his offense before he was pinned.
It's probably for the better because Khali seemed to be out of breath after that little bit of action and was hands down the least talented man in the match.
Grade: Incomplete
Cody Rhodes-Smackdown Elimination Chamber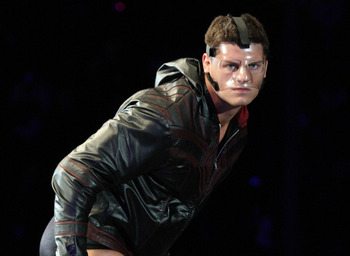 Gallo Images/Getty Images
I had big hopes for Cody Rhodes here, but he mostly served as everybody else's punching bag.
Besides being out of action for too long, his overall performance was surprisingly lackluster. Was it apathy, fatigue or the inevitable bad night?
Rhodes called a few spots too visibly.
He didn't make much of a dent in the match. Fans will remember Bryan and Show's rivalry, Santino's near upset and perhaps some of Barrett's brutality, making Rhodes an afterthought on this night even with that trio of Beautiful Disaster kicks on Big Show.
Grade: C
Jack Swagger and Justin Gabriel-United States Championship
Gallo Images/Getty Images
Not much to report from this extra match.
Swagger exhibited some brute force, did some push-ups—all of Swagger's staples. Gabriel had some moments of impressive quickness and was smooth with his counters.
With no real feud (fighting over cheese doesn't count) and such little time to work within a match that was bound to be forgotten anyway, you can't blame Gabriel and Swagger for giving a Smackdown midcard performance.
Grade: C- for both Gabriel and Swagger
Kane-Ambulance Match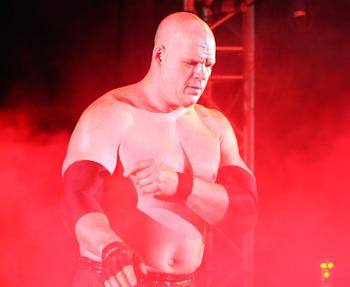 Gallo Images/Getty Images
Kane delivered some decent brawling, but was nowhere near as psychotic or vicious as he's been in the past.
Given the match stipulation and that this feud needed to wrap up because of the Rock and Cena buildup set to happen, I expected something more than the same kind of action we've been seeing on Raw between Kane and Cena.
Kane's chokeslam of Cena through the table was one of his least impressive.
He did sell well for Cena, helping make his punches and steel step offense look more devastating.
Grade: C
John Cena-Ambulance Match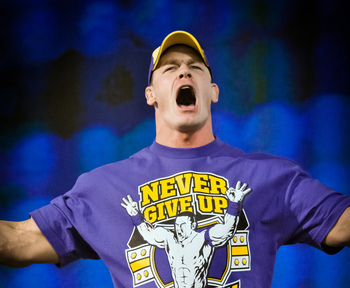 Photo from Reckless Dream Photography on flickr.com
The last emotion we'd expect to see at this point in their feud is goofy exuberance.
Cena was too smiley for an Ambulance Match with a guy who broke his friend's back. His brawling was fine and he played the resilient hero like he's been doing for quite some time.
I give him props for the mid-air dropkick and exciting fisticuffs on top of the ambulance.
What inspired the worst grade of the night was Cena's poor job in looking knocked out. When Kane was dragging him out of the ring, Cena clearly lifted his leg and scooted himself towards danger.
He did the same thing when being pushed in the wheel chair. Cena completed the hat trick of ruining the kayfabe when he was supposed to be knocked out on the gurney and kept readjusting his hands and squirming.
Had this not been the main event, I might have been less harsh. But it was largely Cena's performance here that left us feeling dissatisfied at the end of the pay-per-view.
Grade: D-
Keep Reading