WWE: There's Something About Santino Marella—Should He Be Pushed?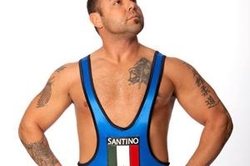 The young lad stares off into space

Glad I was at a local bar watching the event. The divas match, Gabriel vs Swagger match and the ambulance match were all big rip offs. As a whole, the Pay Per View was a true stink-fest.
But the second elimination chamber match had something in it that really caught me off guard. Santino received the biggest pops of any of the contenders, and put on a pretty good showing.
I have never been a fan of Santino. I think the comedy act of his detracts from him as a wrestler. You know you cannot be a top contender when your finishing maneuver is the 2000s version of Socko.
But he does have something going for himself the fans love. Perhaps the WWE fans love comedic wrestling. Or maybe there's something else about Santino I am not seeing that the fans enjoy.
Once it was down to Daniel Bryan and Santino, I knew who was walking out of the match with the gold. Not once was I ever convinced Santino had any shot at the title—which is sad, honestly.
I did believe Wade Barrett could actually walk out with the belt, and then have a program with Sheamus before Wrestlemania. That's one bad thing about WWE—when you have a guy like Santino and Bryan in a match alone, you can predict exactly what will happen.
And what was even sadder is the tap out finish. If you have a guy who is getting that good of a pop, and a champion who is known for cheap victories, why not spare Santino the clean defeat with a cheap victory by Daniel Bryan instead? You might as well go to the well, and be predictable there, so Santino can be built up elsewhere in a program with another wrestler.
After the elimination chamber match, I am left wondering if Santino could be an IC or US champion.
What do you guys think about Santino? Do you think he should be pushed?
Edit: I think Santino has me won over after tonight...
This article is
What is the duplicate article?
Why is this article offensive?
Where is this article plagiarized from?
Why is this article poorly edited?