2012 NFL Draft: 5 Picks That Will Make Cincinnati Bengals QB Andy Dalton Smile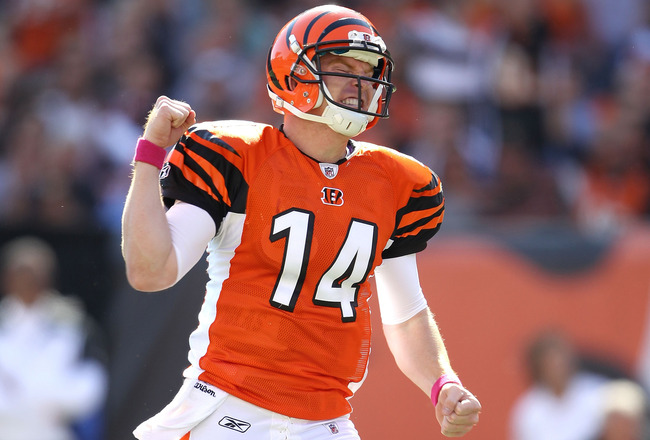 Andy Lyons/Getty Images
Quarterback Andy Dalton was one of the biggest reasons the Cincinnati Bengals overachieved in the NFL the way they did in 2011. He already looks like he can be the franchise quarterback.
The Bengals did everything they could to try and keep their last franchise quarterback, Carson Palmer, happy. Having a malcontent at such an important position can possibly wreck an entire season, as was shown last year when Palmer decided he would rather retire than play for Cincinnati again.
It's not as if the Bengals should try and use every personnel move to appease Dalton, but if the quarterback is optimistic about the future, it's going to rub off on the entire offense.
However, i's important that Cincinnati does whatever it can to support Dalton because at this young stage in his career, he needs all the confidence he can get going forward. If he struggles, it could be a significant step back in his development.
Here are five first-round picks that might put a grin on Andy Dalton's face.
David DeCastro, OG, Stanford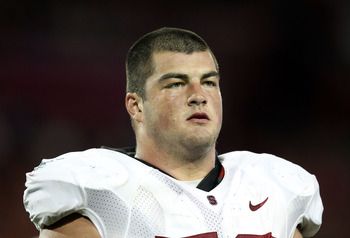 Christian Petersen/Getty Images
One of the biggest needs for the Bengals is an interior lineman, and what makes a quarterback happier than having an offensive line in front of him that he can trust?
With two picks in the first round, most draft experts have Cincinnati giving Stanford guard David DeCastro a look.
You generally don't see a lot of guards selected in the first round because they don't have the same kind of impact as a tackle, and there's a lot of depth to be had in the later rounds. However, the Bengals need someone they can start right now, and DeCastro could be that guy.
He is a good pass-blocker and an even better run-blocker, and he has very good quickness off the ball for his size (6'5", 312 pounds).
Unfortunately, DeCastro might not be available at the No. 17, but if he is, the Bengals won't hesitate in snapping him up.
Lamar Miller, RB, Miami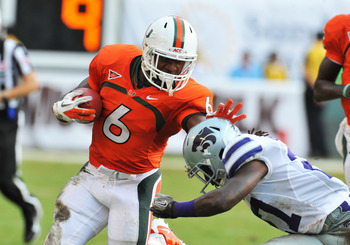 Al Messerschmidt/Getty Images
A good running game is essential for a balanced offense. Should Cedric Benson re-sign with Bengals this offseason, it's clear that at 29, his best days are behind him.
The team needs to start looking for a long-term replacement. There are other free-agent options, but more than likely the Bengals will pick up a running back in the draft.
Lamar Miller could be one option. He only played two years at Miami, running for 1,918 yards and 15 touchdowns in those two years.
Miller is the opposite of Benson. He does his best running on the outside and with lots of space in front of him and he's not going to break too many tackles.
It would be an ideal situation to sign Benson for another year and play with a two-back system in 2012, with Miller getting used to the pro level.
Cordy Glenn, OG, Georgia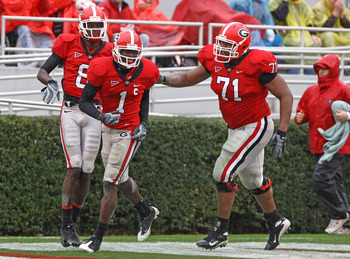 Mike Zarrilli/Getty Images
If David DeCastro is off the board, the Bengals will look to Cordy Glenn.
He's got great size (6'6", 346 pounds) for an interior lineman. And with that size, you know he's very powerful.
Glenn showed a lot versatility at Georgia as he played both guard positions early in his college career and then moved to left tackle for all of his senior season. He even managed to make the first-team All-SEC last year.
However, Glenn definitely projects as a guard in the NFL.
He looks to be an excellent run-blocker, but his pass-blocking can be a bit inconsistent at times. For as big as he is, Glenn has good quickness and can really get downfield on the run. Right off the ball, though, he can be a bit slow to get into position.
The good thing about Glenn in terms of the draft is that he should be available at either No. 17 or 21, so they could draft an impact player secondary player like Janoris Jenkins or Mark Barron while still getting substantial improvement for the interior line.
Trent Richardson, RB, Alabama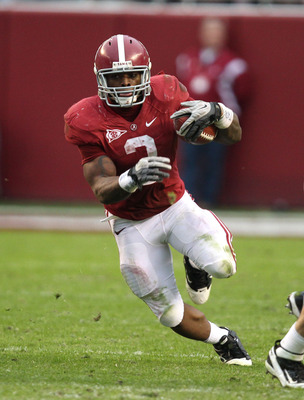 Mike Zarrilli/Getty Images
It's definitely not a year for impact running backs in the draft. By almost all of the draft experts' calculations and projections, Trent Richardson is the best running back available. They all seem to have him going in the top 10 as well.
If the Bengals want Richardson enough, they have the pieces that can get them into a position to draft him.
The question is whether they want/need him that badly.
Trading up for Richardson would probably mean losing both first-rounders and a second-rounder at the very least. Much like wide receiver, running back is a position the team needs, but probably not more so than either cornerback or lineman.
That's why waiting to draft a guy like Lamar Miller would make a lot more sense.
Michael Floyd, WR, Notre Dame
Jonathan Daniel/Getty Images
What quarterback isn't happy when a team goes out and gets another wide receiver?
Notre Dame receiver Michael Floyd might be available to Cincinnati at either the No. 17 or 21 pick. He had a very good career with the Fighting Irish, with 271 receptions for 3,686 and 37 touchdowns over his four-years at the school. Floyd doesn't have the greatest speed, but he has good hands and is very athletic in the air.
The position isn't one of the Bengals' biggest concerns. They just used a first-rounder on a wideout last year, and while it worked out, the Bengals have more pressing needs in the defensive secondary and offensive line.
However, selecting the right receiver now could mean the Bengals are set for the next five years at the very least.
Keep Reading

Cincinnati Bengals: Like this team?