Michigan Football: 5 Studs That Will Step Up in 2012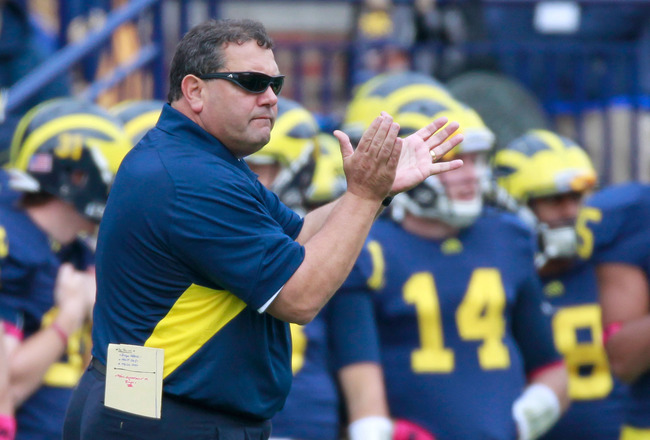 Gregory Shamus/Getty Images
Just last month, the Michigan Wolverines capped only their fifth 11-win season in program history with a Sugar Bowl victory over Virginia Tech. In Brady Hoke's first season, he led the Wolverines to a place nobody foreseen them being before the beginning of the 2011 season.
It's only February, and national signing day just ended a few weeks ago, but it's never too early to start talking about the 2012 season.
Michigan just landed the eighth-ranked recruiting class nationally, and barely loses anyone to the NFL. Believe it or not, the Wolverines have a chance to surpass their 2011 record.
Here are five studs that will step up for the Maize and Blue in 2012.
Denard Robinson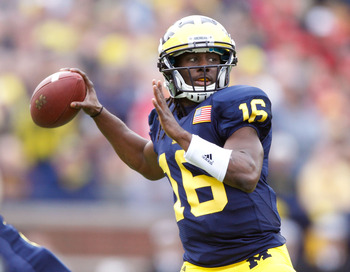 Gregory Shamus/Getty Images
Yes, the almighty Denard Robinson has actually a lot to improve on.
To begin the 2011 season, Robinson showed signs of struggling in Al Borges' pro-style offense. He was completing only around 54 percent of his passes.
In the latter half of 2011, Robinson improved as Borges tailored his offense more around the skill set of Robinson. In his last three games, he completed 68 percent of his passes with five touchdowns to only two interceptions.
Since the beginning of 2010, the Michigan offense has been Robinson's. Al Borges is smart enough to realize that when he tailors the offense around Robinson's skill set, the offense is successful; thus why Robinson's numbers will be even better in 2012.
It is hard to claim this almost because of Junior Hemingway's departure. Hemingway was often Robinson's bailout in hectic situations. Improved wide receiver play, especially from Jeremy Gallon, will aid Robinson's progression though.
Roy Roundtree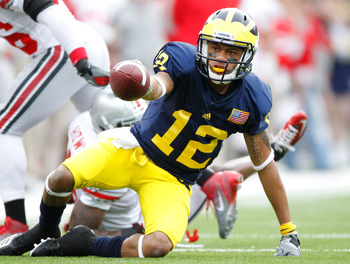 Gregory Shamus/Getty Images
Roy Roundtree had quite an unproductive season in 2011 to say the least.
Coming off a year in which he had 72 receptions and almost 1,000 yards receiving, Roundtree only managed to snag 19 balls for a meager 355 yards.
The reason Roundtree will step up in 2012 is because he has to. Junior Hemingway is gone, and he was the unquestioned leader of the Michigan receiving corps. Roundtree has been the leader before, now he must do it again.
How production drops over 50 receptions in a year is a bit baffling. It's understandable that there was a change in offensive scheme, but a playmaker is a playmaker. Hemingway thrived in this offense, so it's strange that Roundtree couldn't hit his stride as he did in 2010.
Thomas Rawls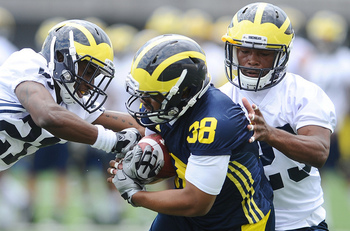 You're probably like, what? Well yes, Thomas Rawls will have a breakout year in 2012.
Michigan has a wealth of depth at the running back spot, led by Fitzgerald Toussaint. Toussaint had a breakout season himself in 2011, being the first back at Michigan with 1,000 rushing yards since Mike Hart in 2007.
In all likeliness, Toussaint will remain Michigan's starting running back in 2012.
Thomas Rawls is entering his sophomore season, and he has the stature of someone Al Borges is looking for in a pro-style offense. This is the reason why we will see more production from him in 2012, that and the fact that Michael Shaw is gone.
Rawls didn't receive much playing time in 2011 with Toussaint, Shaw and Vincent Smith around. Now that Shaw will be gone, and Smith may move to a slot receiver position, expect to see more of Rawls in the backfield.
In the little time Rawls did appear on the field, he looked impressive. Ten of his 13 carries were against Minnesota, and he rushed for 73 yards. Rawls runs with determination, and he has good side; expect good things from this young athlete.
Brandon Moore
To say that Brandon Moore has been non-existent is a complete understatement. The 6'5", 250 lb.-tight end is going into his senior year and only has two career receptions for 28 yards.
2012 is going to be a huge leap for Moore, as he is the prime candidate to be Michigan's starting tight end. Kevin Koger is gone, now it is Moore's time to shine for the first time in his career.
Moore has excellent size for a tight end, and I believe he is going to thrive in a system that is working toward implementing tight end production.
As a senior, Kevin Koger didn't put up immaculate numbers in 2011, but he made his presence known with his blocking on the outside and his four touchdown receptions.
With Moore being the likely starter at tight end, he is going to see a lot of action for the first time in a long time and that in and of itself will constitute as him "stepping up."
Blake Countess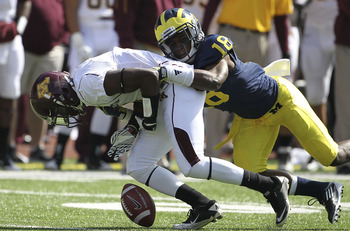 Leon Halip/Getty Images
Blake Countess is a future shutdown corner in the Big Ten.
As such a highly-touted recruit, he saw early playing time and took advantage of it. Sure he had some true freshman lapses, but overall he displayed true promise.
Countess is likely to start opposite of J.T. Floyd this fall, and that's a secondary to be reckoned with, including Jordan Kovacs and Thomas Gordon.
Brady Hoke and Greg Mattison are slowly turning Michigan back into a defensive team.
Countess will likely share time with true freshman, and No. 5-rated corner, Terry Richardson. Expect Countess to play most of the time, and impress while doing so.
Keep Reading

Michigan Wolverines Football: Like this team?