New Jersey Devils: The Pros and Cons of Keeping Zach Parise
February 21, 2012

Paul Bereswill/Getty Images
With less than a week until the NHL trade deadline on Feb. 27, the New Jersey Devils have made it clear that they are not looking to part with Zach Parise.
Parise, an unrestricted free agent come July 1, is a huge contributor to the team in every way.
Before a long-term injury cost him all but 13 games last season, Parise led the team in goals and assists in 2008-09 and 2009-10, as well as leading in goals and points in 2007-08. This season, he also became the ninth captain in team history, joining the likes of Scott Stevens, Kirk Muller, Jamie Langenbrunner and Scott Niedermayer, among others.
Unfortunately for Devils fans, his staying in New Jersey presents as many problems as it solves, and there's a lot to consider in the situation.
Pro: Team Presence
The most obvious pro of keeping Parise is that the Devils get to keep Parise. He's currently tied for second on the team in goals, with 22, and third on the team in points, with 51. Just as important as his production, though, is what he brings to the rest of the team.
After a troubling year and a half, Ilya Kovalchuk finally seems to have found his stride with the Devils. While Kovy's an astoundingly athletic and talented player, the chemistry he's found with Parise is a large part of both players' production this year.
Besides Kovy, there's another Devil who's feeling a lot of benefits from Parise's presence: Adam Henrique.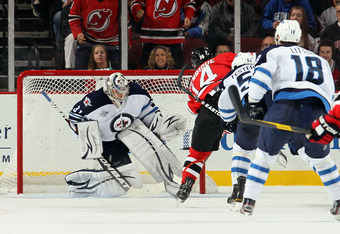 Jim McIsaac/Getty Images
Henrique, the Devils' third-round pick in 2008, is in the midst of an impressive (and largely unexpected) rookie season. Among rookies, he currently leads in assists and points, is second in goals and fourth in plus/minus. Parise is a huge part of those numbers.
Pro: Persistence
It's cliche, it's impossible to prove, but I'll say it anyway: Parise tries as hard as anyone in the game. Every game, every shift, his work ethic shows.
While you'll see Zach rushing down the ice on a lot of odd-man rushes, you'll also see him skating as hard as he can to get back on defense. His forechecking is constantly improving and was already up there with the best in the league.
This is most evident on the penalty kill, where he spends more than two minutes per game. Besides helping the team to the second-best penalty kill in the league (88.4 percent), he has helped turn the Devils into the most dangerous shorthanded team in the league.
Not only do the team's 13 shorthanded goals lead all teams, but Parise, Henrique and Kovalchuk currently occupy the top three spots in the league in terms of shorthanded points.
Apparently, Parise has also picked up the workhorse quality from Kovalchuk, as Parise is second in the league in time on ice per game behind his linemate.
Pro: Clutch Factor
Perhaps the best example—and certainly the most famous—of Parise's clutch ability would be the goal he scored in the Olympic gold medal game. With less than 30 seconds left and down by one, Parise scored to send the US to overtime against Canada. He would undoubtedly have been one of the national heroes (along with Ryan Miller) had America been able to finish the game out.
Though his career game-winning goal total is not especially high—as of today, he has 36—it's in the shootout where Parise shines brightest. Lifetime, Parise is an astonishing 45 percent, good for 11th among active skaters with at least 30 shots.
He is also fifth among active skaters in shootout goals, just three behind the all-time record of 30, which is currently being defended by both Pavel Datsyuk and Jussi Jokinen. 
Con: Playoff Ready?
The Devils have been playing great hockey of late, and Marty's starting to look like vintage Brodeur and skaters are actually consistently scoring. But don't be fooled; this team is far from complete.
The most pressing issues on the team seem to be the absence of a good puck-moving defender, and the lack of depth at center. Quite frankly, as a die-hard Devils fan, I don't understand how they're playing so well.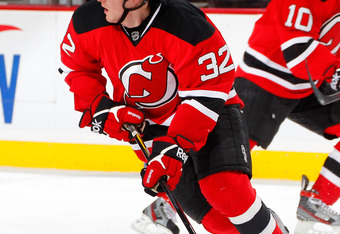 Paul Bereswill/Getty Images
Perhaps the team will have a run similar to last season's near-miracle finish, but more likely, at some point, the weaknesses will start to show themselves on the scoreboard.
Parise has had modest success in the playoff—28 points in 37 games—but has not produced at a level one would expect of a player his caliber. Admittedly, he has had limited opportunity to produce.
If a Parise trade had gone down, the Devils would have received some very valuable pieces that the team needs.
Though all the Devils need to do is keep playing at a top level, and it's really not an issue.
Of course, while the decision to keep Parise in New Jersey for this season is promising for the team's performance, there are a lot of extenuating circumstances that make this controversial.
Con: Lost Trade Opportunity
While this is a similar issue to the Devils' preparedness for the playoffs, the key difference is that the return here would be to build for the future and not to try to solidify the roster this year.
The Devils are currently fourth in the Eastern Conference and look ready for the playoffs. However, regardless of what happens this year, there are changes that will soon be made in the Devils organization.
For one, Martin Brodeur is a free agent next season. While it wouldn't surprise me (I'm actually expecting this) for him to sign a one or two-year deal to play 25-35 games, he is not going to be the team's starting goalie moving forward. 
Backup Johan Hedberg is also a free agent, and just about as old as Marty. Though the tandem has looked solid this year, they clearly won't hold long-term.
Parise seemed to be the best option for the Devils to pick up a high-quality goalie. In various trade rumors, the names Ryan Miller, Cory Schneider and Jonathan Bernier had all been thrown around as possible returns.
While none of those rumors ever got past speculation, it isn't a far-fetched idea that Parise is worth at least any of those—especially considering each team has another good option for goalie. By keeping Parise, the Devils have lost the chance to gain anyone easily.
Sure, there will be some great goalies headed to restricted free agency—Tuukka Rask and Schneider are among them—but dealing with RFAs can be a tricky situation. It can lead to lots of lost picks and headaches, and of course, there's always a distinct possibility that it will lead to nothing.
Speaking of which...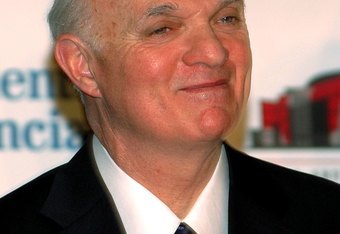 Andy Marlin/Getty Images
Con: Parise Can Walk
Sure, if the Devils do well in the playoffs, maybe make it to the ECF or further, then it was a great idea to keep the captain. But if the Devils pull off one of their patented first-round exits, then Lou starts to look a little crazy.
The picture, as Zach's father, J.P. Parise, has painted it, is that, while money will be a factor, it is the chance to win that will lead to the winger's decision:
"He likes to win, he likes to have a chance, he likes to compete. ... That's why he decided to accept a one-year contract. He wants to see where [the Devils] are heading."
In other words, if the Devils don't look like a team capable of winning the Cup, they become considerably less likely to re-sign Parise.
Unfortunately, there may also be another issue facing the Devils' signing prospects.
Con: Financial Turmoil?
It's hard to say for sure where exactly the Devils' financial situation stands. During the All-Star break, it came out that the Devils were receiving advanced loans from the NHL. Few details have come out since then, but the issue has been hyped to no end anyway.
However, according to a story that the NY Post put out today, the financial problems have been solved, at least temporarily. 
Ignoring how much of the situation is unsure, it has to be a thought in Parise's head that the team may not be able to sign him even if both parties are interested. If nothing else, the coverage of the story has raised a lot of doubts for some about the future of the franchise.
Pro: No One's Screwed Up Yet
When it comes down to it, the Devils will probably not get nothing. Even if they are unable to re-sign Parise this offseason, they still have the option of trading his negotiating rights to another team. The payoff would be paltry compared to what he'd get in a trade now, but it would be something.
And meanwhile, the Devils are fourth in the Eastern Conference standings—tied for second in points—and look as ready as any Eastern team for the playoffs. Whether that turns into actual success can't be known, but it's hard not to look at the Devils as contenders right now, and there doesn't seem to be a whole lot of reasons Parise wouldn't want to stay in New Jersey*.
*Except that it's, y'know, New Jersey.