Atlanta Braves: 10 Lessons Learned from 2011's Epic Collapse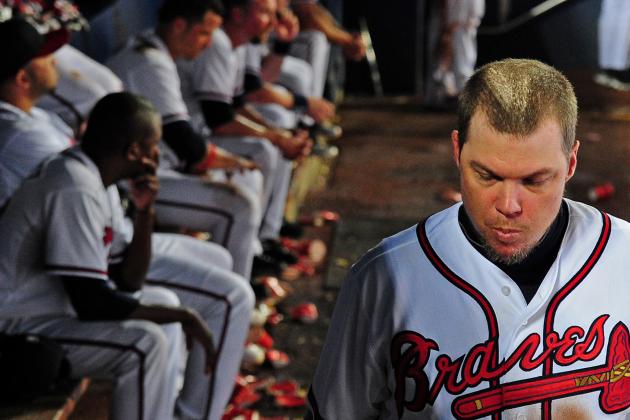 Scott Cunningham/Getty Images
Chipper Jones and a dejected Braves' dugout in late-September.
As spring training is just getting underway, the scars from the epic collapse in September are still fresh for many players and fans. The Atlanta Braves were a near lock for the playoffs as a wild card before completely unraveling in September and losing out on the playoff spot to the St. Louis Cardinals on the final day of the season.
Just when some started to get over the epic collapse, the Cardinals ended up winning the World Series.
The collapse is something that the team will likely learn from, and it's making the players hungry going into the 2012 season. This article discusses 10 lessons that the Braves learned from their September collapse.
Begin Slideshow

»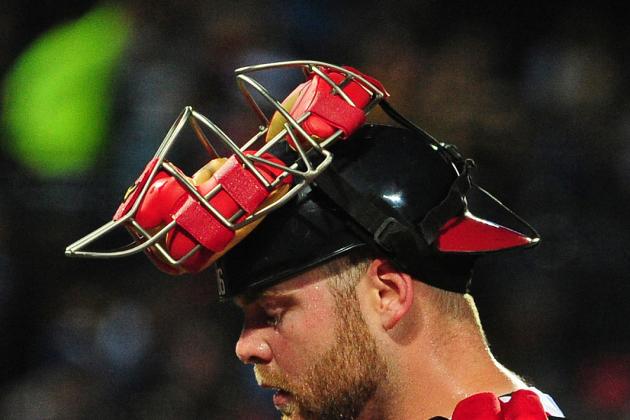 Scott Cunningham/Getty Images
Brian McCann looking disappointed late in 2011.
The first lesson that the Atlanta Braves can take from the 2011 collapse is the fact that no lead is safe until it's over. The 10.5-game lead the team had on August 26 had nearly everybody penciling them into the playoffs already, even with just over a month left to play in the season.
While I'm not suggesting that the Braves let up over that final month, you can pretty much guarantee that the players will be giving maximum effort this season until a playoff spot is either locked up or not mathematically possible.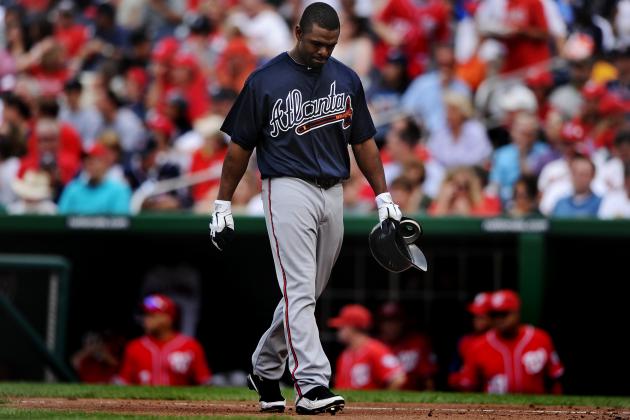 Patrick Smith/Getty Images
Michael Bourn is one of just two starters not already in camp.
After sitting around all offseason with a bad taste in their mouths, the Braves are ready to make up for what happened in September. As of Saturday afternoon, the first day for pitchers and catchers to report to camp and five days before position players were to arrive, it was reported that all of the projected starting lineup minus Michael Bourn and Tyler Pastornicky was already in camp.
The fact that the Braves season ended the way it did has just gone to show us all how hungry the team is after having to sit around with that feeling all winter.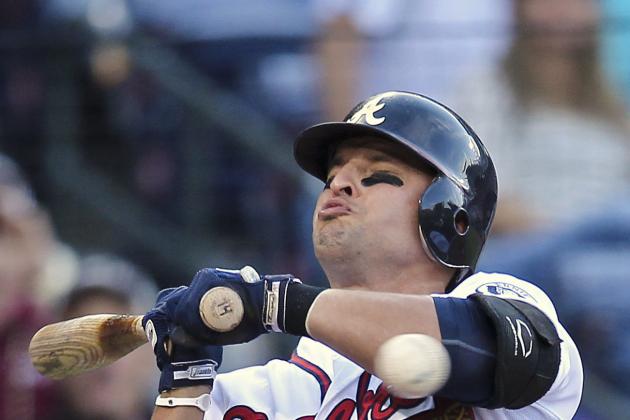 Daniel Shirey/Getty Images
Though he was shopped this winter, the front office decided to keep Martin Prado.
Even though this team struggled in September with both performance and health, this winter let us see that the front office believes that the current core of players is all they need to win. Normally after a devastating collapse like the one we witnessed, a front office tries to make a bold move; however, Frank Wren chose to make almost no moves outside of dealing Derek Lowe to Cleveland.
The rotation and bullpen are both loaded and have reinforcements coming from within, and the lineup doesn't have many places that the front office can upgrade. Guys like Freddie Freeman, Brian McCann, Dan Uggla, Chipper Jones, Michael Bourn, Jason Heyward and even Martin Prado are guys that are tough to improve upon, and they like Tyler Pastornicky for a year until Andrelton Simmons is ready to take over at short.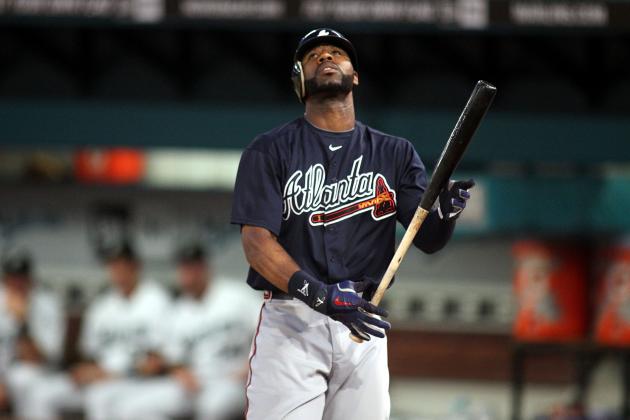 Marc Serota/Getty Images
The Braves need Jason Heyward to rebound in 2012.
Another important lesson from last year is that the Braves can't compete for a World Series unless they are getting solid production from right fielder Jason Heyward. After hitting .277 with 18 homers and 72 RBIs as a rookie in 2010, Heyward's age-21 season couldn't have been more disappointing.
Heyward battled both injuries and confidence issues and managed to hit just .227 with 14 homers and 42 RBI's. He was expected to take the next step forward in his development and hit closer to .300 with 30 homers, but never really got on track.
For the Braves to be at their best, they need a productive Heyward to help them.
Greg Fiume/Getty Images
Dan Uggla needs to have a more well-rounded year in 2012.
Another player who struggled mightily last year was Dan Uggla. Although he put up respectable numbers—including a new career high with 36 homers—he was just awful in the first half of the season. Before the All-Star break he was hitting just .185 with 15 homers and 34 RBIs in his first 92 games.
For the Braves to be at their best, they need Uggla to spread his production over the course of a full season instead of just one crazy 69-game stretch.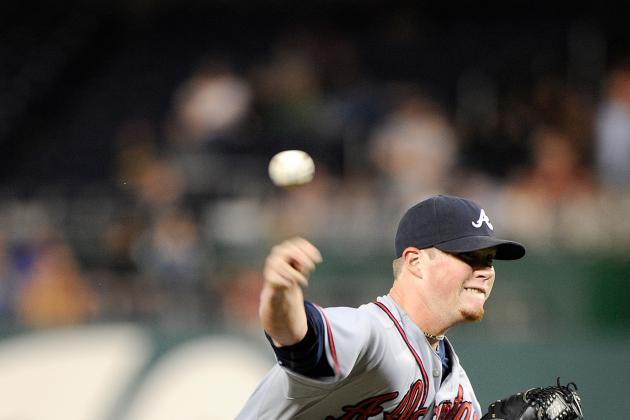 Greg Fiume/Getty Images
Craig Kimbrel was one of a slew of Braves that stumbled down the stretch.
Part of the reason the Braves struggled in September was the fact that several key players went into late-season slumps. Sure, some of that was due to players playing through injuries, but when your best players are struggling to produce at the plate, it's tough to score runs.
In September alone, Dan Uggla hit .238, Brian McCann hit .200, Martin Prado hit .236 and Freddie Freeman hit .226. On the mound, Derek Lowe had an 8.75 ERA in his five starts and Craig Kimbrel blew a few key saves down the stretch after tiring from a large workload.
No team can afford to withstand month-long slumps from this many key players down the stretch in a pennant race.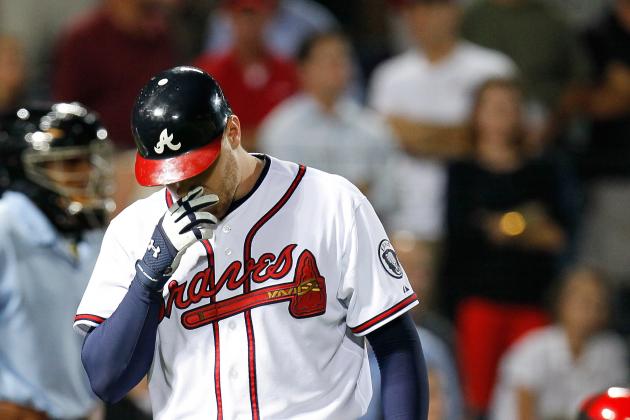 Kevin C. Cox/Getty Images
Freddie Freeman slowed down in September after a strong rookie year.
Another part of why the Braves collapsed was due to injuries to starters Jair Jurrjens and Tommy Hanson. That forced Mike Minor and Randall Delgado into the rotation. Although they pitched well, they were just a pair of youngsters in the mix.
Guys like Freddie Freeman and Craig Kimbrel struggled a bit in September, due in part to adjusting to their grueling first seasons in the big leagues. Jason Heyward struggled all season long. Jose Constanza—not young but still a rookie—came back to Earth down the stretch. Guys like Julio Teheran and Arodys Vizcaino had their own ups and downs in September.
The Braves have benefited in the past from having rookies like Jason Heyward, Brian McCann, Jeff Francoeur and even Charles Thomas help down the stretch, but sometimes youth causes mistakes down the stretch.
Scott Cunningham/Getty Images
Injuries hurt the Braves in September and they need to allow Tim Hudson to return on his own time.
Although the Braves have a very talented rotation and more options available in the minors, it was proven that they can not afford for starting pitchers to get hurt. Even with guys like Tim Hudson, Brandon Beachy, Mike Minor and the now-departed Derek Lowe in the rotation and youngsters like Randall Delgado, Julio Teheran and Arodys Vizcaino on the verge of taking spots, injuries to Tommy Hanson and Jair Jurrjens hurt the Braves.
This is important to note because Hudson is likely to miss the first month of 2012 due to back issues, and the Braves can't afford to rush him back. They will need to wait on Hudson and give him necessary recovery time so that he can return without any setbacks and—even more importantly—no flare-ups down the road.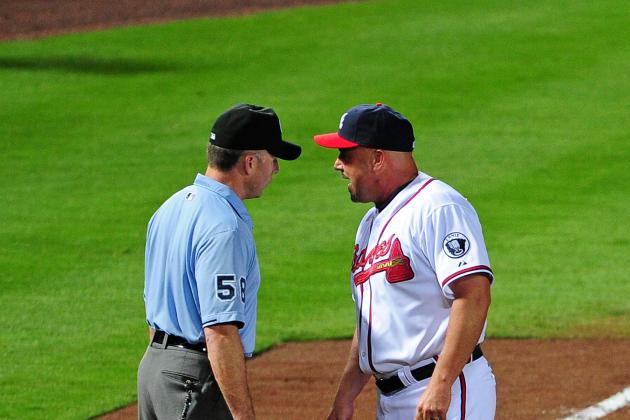 Scott Cunningham/Getty Images
Manager Freddi Gonzalez actually has a very taleted team.
A big major reason the front office did not make any big moves this offseason is because this team is actually good—a fact people sometimes forget because the team struggled and missed the playoffs, and they did not make any big offseason acquisitions.
This team was a collapse away from being in the playoffs and has enough talent—when everyone is healthy—to play with any other team in baseball. The way this team was up heading into September only goes to prove that point.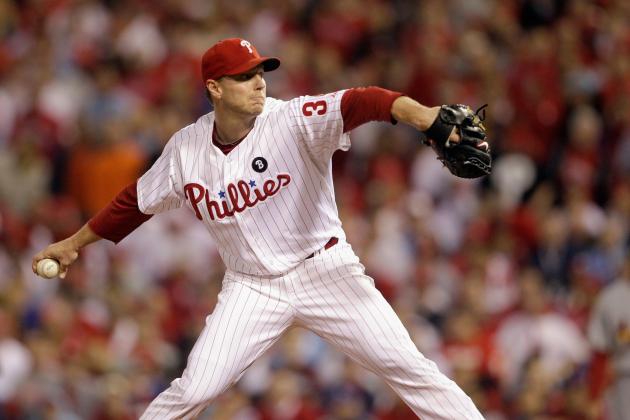 Rob Carr/Getty Images
The Braves need to solve the Phillies this year.
Another thing from last season that the Braves need to learn from is how to solve the Philadelphia Phillies. Part of the reason that the Braves were headed for the playoffs but not really contending for the division title was the inability to solve the rival Phillies.
The Braves went just 6-12 against the top team in their division, a mark that just isn't acceptable if they want to win another NL East crown. With the Phillies aging and experiencing injuries of their own, the Braves need to solve the Phillies this year.