Chisora-Haye Brawl: Scuffle Just Another Pitiful Moment for Heavyweight Division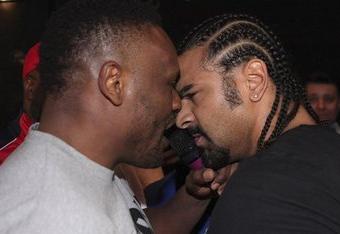 courtesy of bbc.co.uk

The Dereck Chisora and David Haye brawl was despicable and a reminder how far the heavyweight division has fallen. I'm all for grudge matches, but when it gets as serious and dangerous as this, it's not good for the sport.
The brawl left a boxing manager with a lacerated forehead, Chisora was detained for questioning and released by German police. Wladimir Klitschko believes both should be punished for their actions, and I agree. Klitschko said this to BBC:
"This behaviour kills the hard work of the people that have been polishing the image of the sport," said Klitschko.

"There has to be consequences otherwise boxing is going downhill fast."
In case you haven't seen it, here it is:
The heavyweight division is at the lowest point it's been in almost 30 years. The last time the division was this poor was before Mike Tyson's ascent in 1987. When Tyson truly arrived on the scene, the best heavyweights were Trevor Berbick and a light heavyweight that should have stayed at 175 in Michael Spinks.
What is worse, is that there is no Tyson coming to save the division. As boxing fans, we are forced to pay attention to two mediocre fighters nearly killing each other at a post-fight press conference. That event represented perhaps the most spirited combat the division has seen in years.
Not to take anything away from the Klitschko brothers, both men have been true champions. They have fought all comers, but the problem is, there is simply no one of note to fight.
The brothers haven't lost a fight in seven years, and neither has even been seriously challenged. While the years of undefeated activity is impressive, the best names on either of their ledgers are the likes of: Shannon Briggs, David Haye and "Fast" Eddie Chambers.
None of these guys are headed for boxing immortality, and both Klitschko's careers will be somewhat dismissed because they have never had the signature fights.
On a scale of 1-10, 10 being the best. How would you rate the Heavyweight division?
Before you even wonder about them fighting each other, they have said on numerous occasions that will never happen. Both men are so wealthy that the financial appeal of the brother vs. brother match isn't a big enough temptation.
Even in that possibility, there is a awkward dysfunction. Do we really want to see two brothers beat the hell out of each other?
Chisora and Haye are not even what I would call contenders. Chisora was easily defeated by Vitali last night, despite showing great effort. He is now a modest 15-3, but he has dropped three of his last four fights. Haye showed little effort and took few risks in his lopsided decision loss to Wladimir.
Instead, he blamed a bad toe for his poor showing.
His post-fight interview ruined his reputation more than the terrible performance. It was almost as bad as he and Chisora's display after the latter's fight with Vitali last night.
Chisora's threat to "shoot David Haye" can be heard clearly in the video, and that was the moment the whole thing changed in my eyes.
We've all seen events around boxing matches and other sporting events escalate to fisticuffs; but when someone's life is threatened with a deadly weapon, that is when it's not about sports anymore.
Throw this incident in with the horrible pool of talent the heavyweight division offers and you have the worst weight class in the sport.
Since the big men generally drive the most attention, this down period is hurting the sport overall.
Maybe Jeremy Lin can throw some hands because the heavyweight division sure needs someone to come out of nowhere to rescue it.
This article is
What is the duplicate article?
Why is this article offensive?
Where is this article plagiarized from?
Why is this article poorly edited?