New York Knicks: How Jeremy Lin Could Actually Win the NBA MVP
February 20, 2012

Chris Trotman/Getty Images
Just three weeks ago, Jeremy Lin's emergence as an NBA megastar would've been considered impossible by most. The past nine games, however, have proven everybody wrong, and the youngster is beginning to earn praise as one of the league's most valuable players.
Detractors will argue that the NBA MVP belongs to the best player on the best team; but by definition, wouldn't that eliminate every player not named LeBron James?
When breaking down the MVP and its meaning, there's one word that encompasses everything that the award stands for: value.
So how valuable is Lin to the New York Knicks?
Lin is averaging 13.5 points and 5.1 assists this season, but not unlike the rest of the 23-year-old's career, it's really only the past two weeks that tell the story.
In the last nine contests, Lin has averaged 25 points, two steals and more than nine assists per game. The paltry sample size is worth discussing, but in a sport infatuated with stars, his numbers are right there with the likes of the league's top MVP candidates.
The return of Carmelo Anthony will likely put a damper on Lin's scoring run, but what people are seemingly forgetting is that Lin's breakout performance this season came in an effort against the New Jersey Nets where both Anthony and Amar'e Stoudemire were still in the lineup.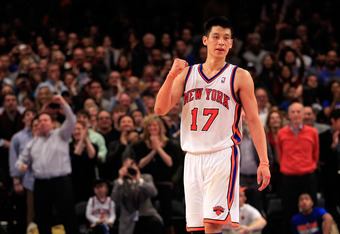 Chris Trotman/Getty Images
If the two players can coexist on the floor, Lin's assists could very well skyrocket with another scorer on his side.
But let's be honest here; Lin is not perfect.
Averaging nearly six turnovers per game since his eruption this season, Lin needs to grasp better control of the ball. With praise comes critics at every turn, and with his skill set directly in the spotlight, he must learn to adjust to new levels of defense.
All that said, you wouldn't let a little thing like turnovers rain on Lin's MVP parade, would you?
Last year's MVP, Derrick Rose, finished the 2010-11 season averaging the eighth-most turnovers in the league. Steve Nash, in his 2005-06 campaign, averaged the third-most turnovers, and was No. 7 the year before—both MVP seasons.
Even James averaged the third-most turnovers in his 2009-10 MVP run.
Take a look at this year's MVP candidates. Are James, Kevin Durant and Kobe Bryant among your top choices? They're also in the top eight in turnovers.
There's no denying that this part of Lin's game needs to be improved, but if he can continue scoring and facilitating at a high rate, people just might look past it. The MVP award has set a precedent of ignoring such a flaw, especially when other major categories make up for the statistical blemish.
While individual stats are important, the best way to evaluate an MVP candidate's legitimacy is to imagine what his team would look like in his absence.
Luckily for Lin, we're just three weeks removed from having seen that in person.
Before Lin began earning major minutes, the Knicks were an abysmal 8-15. The dual-superstar experiment of Anthony and Stoudemire was disappointing, and the playoffs looked like a delusion for a squad that was touted by Mark Stein of ESPN as the sixth-best team entering the year.
Let's tell it like it is—the Knicks were bad.
Since Lin's run began, the guard has resurrected his team back to relevancy. The Knicks have a whole new life about them since Linsanity began, and they look as if they will be able to make a splash in this year's postseason.
What Lin and the Knicks need to realize is that steeper competition is ahead. Thus far, their statement wins have come against an inconsistent Los Angeles Lakers team and the aging Dallas Mavericks. The past nine games have been relatively easy, but if this squad can keep it up, you simply can't count out Lin when MVP votes are tallied at the end of the season.
People love an underdog story, and if Lin can continue his incredible run he'll be in line to complete the dark horse story of a lifetime with the NBA's most coveted honor.
This isn't all about Lin, however, as he's going to have to capture the award away from a group of worthy adversaries.
It's like ESPN's Sarah Phillips said:
Lin is being portrayed as the ultimate good guy, so maybe it's fitting that he'll have to conquer LeBron James, perceived by many as one of the biggest villains in sports, to win the award.
James may be a top candidate right now, but don't forget that Durant, Chris Paul and a few others are right there in line to triumph over the Miami Heat star as well.
If over the next few months Lin gets lost in the New York shuffle, his candidacy will drop back down to nonexistence, and one of the other contenders will claim the prize.
But while the Most Improved Player award should already be on a one-way flight to Lin's trophy case, a strong second-half performance could make that hardware futile. The MVP award is all about value, and Lin's is unmatched at this point in the season.