San Francisco 49ers Mock Draft: Full 7-Round Team Predictions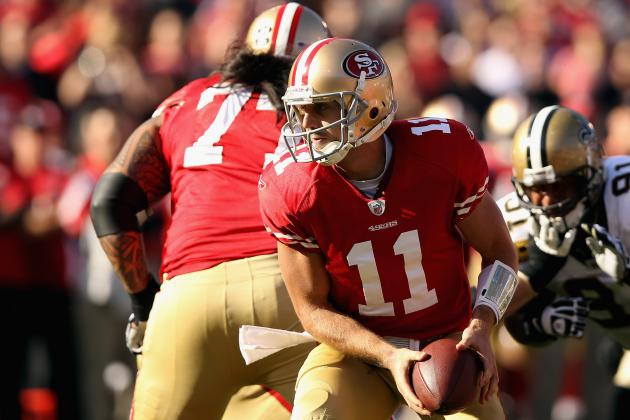 Ezra Shaw/Getty Images
Getting this guy at least one more target will be a top priority this spring.
With the 30th pick in all seven rounds of the NFL Draft this April, it's a fair assessment to say the 49ers' front office has plenty of research and scouting to get done.
Fortunately, San Francisco's talent-laden roster offers plenty of evidence to prove its up to the task.
General manager Trent Baalke and Co. have uncovered gems in late rounds before, including All-Pro linebacker NaVorro Bowman (third round, 2010), Chris Culliver (third round, 2011) and Kendall Hunter (fourth round, 2011).
Fortunately, recent successes on draft day should ease the pressure moving forward. The 49ers are coming off a 13-3 season with an NFC West title, and can narrow their draft search to a couple positional needs rather than focusing on the best all-around option available.
I'm clearly stating the obvious at this point, but wide receiver is the main necessity moving forward. Even if the team manages to bring in a much-needed veteran wideout, an addition or two through the draft should help stabilize the position and create solid competition.
Both sides of the line would benefit from added depth, as well as the secondary.
Free agency kicks off in under a month and should provide a more in-depth look at the 49ers direction for the draft.
Until then, I've assessed the team's greatest needs and provided a full seven-round mock draft for those wondering whose names the front office should be focused on come draft day.
Begin Slideshow

»
Kevin C. Cox/Getty Images
Randle's stock is rising and should warrant consideration from the 49ers at the 30th pick.
Randle is projected as the 49ers' first-round pick in Mel Kiper Jr.'s latest mock draft, and I'd have to say he's my favorite option thus far.
Randle provided a rare blend of size and speed to LSU's offense, and likely would've had a more impressive season from a statistical aspect had the Tigers not been so run-oriented. Playing in the highly-competitive SEC also deprived Randle of racking up yards against teams with smaller and slower secondaries.
Perhaps the most impressive feat of his college career was Randle's unique ability to stay on the field. He played in all 40 games during his three years at the NCAA level.
But it's the spectacular pass-catching abilities displayed by the 6'4", 208-pound wideout that has me giddy about the prospects of him wearing red and gold next season.
Here's what ESPN's scouting report had to say about Randle's impressive ball skills.
Very strong hands. Appears on tape to have large hands and long arms. Confident pass catcher. Can pluck away from frame. Can make tough catches over his head. Consistently shows ability to snatch on run. Outstanding body control to adjust. Saw him fight the ball once in six games studied (2011).
Sounds to me like a Michael Crabtree with a larger frame and better speed.
Randle's competition level has been questioned in the past, especially when the pigskin isn't flying his way. But the youngster isn't turning 21 until May, and I firmly believe this a potential flaw that Jim Harbaugh and his staff can quickly eliminate.
It was also noted in a report from CBS Sports that Randle significantly improved his skills away from the ball in 2011.
With any luck, and unlike our last first-round receiver, he'll actually make an appearance in training camp.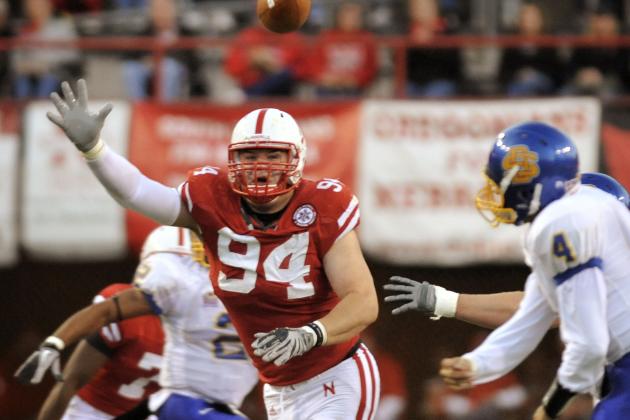 Eric Francis/Getty Images
Crick resembles 49ers' star-defensive end Justin Smith in more ways than his jersey number.
He's currently listed at 6'4" and 285 pounds, wears No.94 and terrorizes quarterbacks on the regular.
Who am I speaking of? The 32-year-old Justin Smith of the 49ers, duh.
But if I was by chance referencing Jared Crick, former defensive end from Nebraska, you wouldn't know the difference.
The CBS Sports scouting report on Crick lists him as exactly the same weight and height as Smith, but the similarities don't stop there.
The report does a great job of emphasizing Crick's relentless motor, tough discipline in run defense, and ability to chase down ball carriers—despite his overwhelming size.
Sound familiar?
Look, Justin Smith's arrival to San Francisco was a breath of fresh air for the defensive line, and the team in general. He brought experience, leadership and unquestioned toughness to a defense, which at the time, lacked every one of those assets.
Smith is currently 32, and I hope he finds a way to continue his level of production until he's 40 (has he given you a reason to believe otherwise?). But the ability to draft a player comparable to him is a rare opportunity, let alone provide him with a chance to work under Smith's tutelage moving forward.
In the '09 and '10 seasons, Crick managed to pile up 19 sacks—9.5 each year. In '09, he played alongside Ndamukong Suh, another man amongst boys on the gridiron. But when Suh went NFL-bound the next season, Crick's play didn't decline one bit in 2010.
If it weren't for Crick's '11 senior season, which was ended before Big Ten play even began, due to a torn pectoral muscle; he may have been a top-10 pick in this year's draft.
Thankfully for the 49ers, he could slip to the second round. I'm not currently aware of how much testing he will do at the combine, if any. But even if his stock quickly rises before draft day, as we've seen many times before, I sure hope Baalke and his group give this stud a look and even consider trading up if necessary.
Unfortunately for Crick, he may have to find a different jersey number.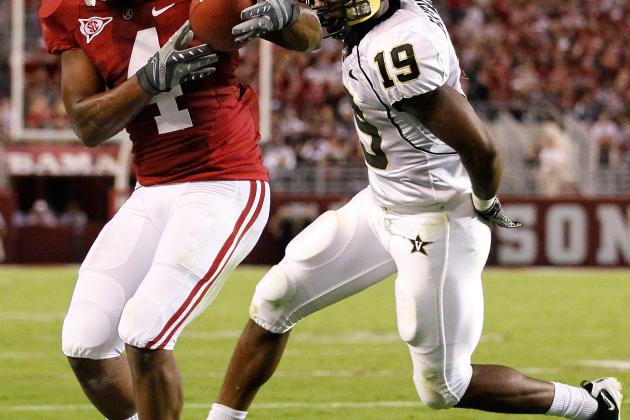 Kevin C. Cox/Getty Images

Ironically enough, the third round was where the 49ers found breakout corner Chris Culliver in 2011's draft.
Even with Culliver's emergence, and the likelihood of Carlos Rogers returning to the team as well—San Francisco could use the depth in the secondary, especially for next season.
In 2012, the 49ers will face basically every one of the quarterbacks currently entrenched, or at least mentioned in the "elite" category. Tom Brady, Aaron Rodgers, Drew Brees and Matthew Stafford will all line up against San Fran's ferocious D next season.
They'll also face Eli Manning and the Super Bowl-defending Giants, who I left off of the previous list for a reason (blame it on bitterness if you choose, but I don't think Eli is all that great).
Now that we at least agree secondary help is a must for the Niners in 2012, I'll make my case for Casey Hayward.
The 5'10", 188-pound defensive back from Vanderbilt may lack ideal NFL size, but he features an unquestioned level of tenacity that I would welcome aboard any day.
Despite coming from a less-powerful SEC school, Hayward held his own against the tough competition and could challenge for the No. 3 spot in San Fran as early as next season, if drafted.
ESPN.com gives Hayward an "exceptional" rating in reference to his instincts and recognition skills, and he displays the quickness to eventually cover slot receivers such as Wes Welker, Lance Moore and Victor Cruz—all wideouts the 49ers will face next season.
Heard of Brent Grimes, a free agent from the Atlanta Falcons?
Grimes has a similar stature to Hayward, went undrafted in 2006 and is now such a coveted corner he may garner the franchise tag from the Falcons this spring.
Just sayin'.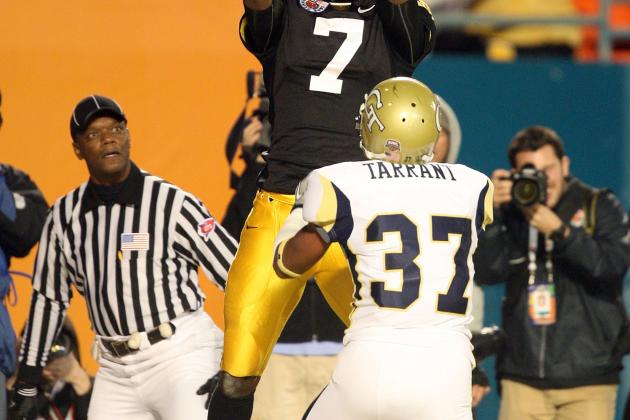 Streeter Lecka/Getty Images
McNutt possesses many qualities that would serve him well in the NFL.
McNutt lacks the ideal speed and elusiveness coveted amongst NFL receivers these days, but he displays one thing that generally escaped the 49ers in 2011: exceptional route-running skills.
The Iowa standout racked up insane numbers during the '11 season (82 rec, 1,315 yards, 12 TD), yet is just the 20th-ranked receiving prospect, according to CBS Sports.
So he posted remarkable numbers (especially in the Big Ten), received numerous awards for leadership and dedication during his four years with the Hawkeyes, and uses his size to perfection on the field—yet he's not projected to go higher than the fourth or fifth round?
McNutt never hesitates to go over the middle and can pluck nearly any ball that comes within his reach.
Even with Randle in the first round and San Fran hopefully signing a big-name free agent receiver, I wouldn't hesitate to draft this guy and add him to the competition.
Couldn't hurt, right?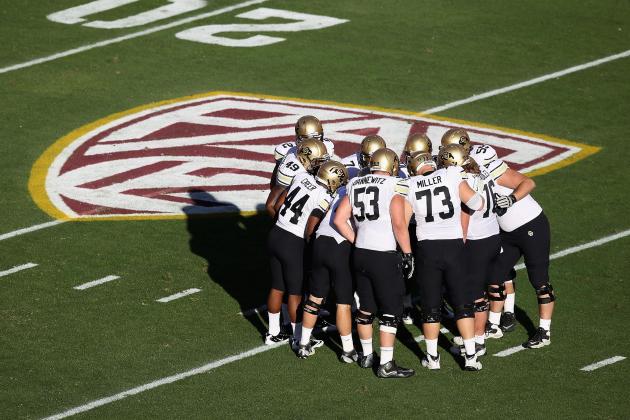 Christian Petersen/Getty Images

I realize I've been ignoring the 49ers' need for depth at the guard position, but I'm addressing it now—and doing so in a big way.
Miller stands at 6'8" and weighs just under 300 pounds. He was the only member of the Buffaloes invited to the NFL Scouting Combine (Feb 22-28) and the 49ers' front office would do well to give him a look.
He's got the size of a tackle, with the quickness to play guard. San Francisco likes to get creative with guard movement, so he would obviously need to show further improvement, but I like his potential as a pick in the later rounds.
Most NFL teams would shift a lineman of his stature to the tackle position, but most linemen of Miller's stature don't possess his quickness.
He's also noted for his humility and active work in community service, somewhat of a gentle giant, if you will.
Miller is versatile, tough and durable.
Sounds like the type of offensive line-depth we could use in San Fran.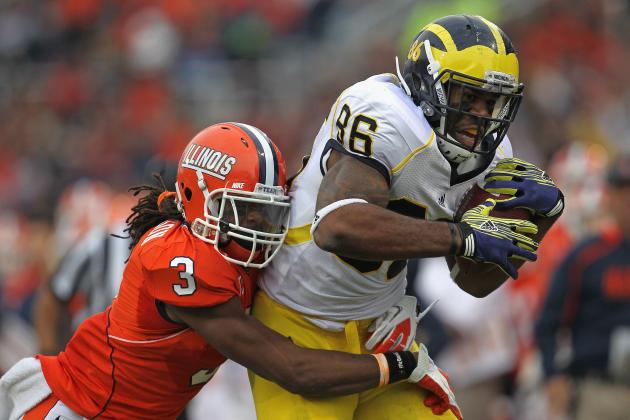 Jonathan Daniel/Getty Images

While Denard Robinson typically stole the spotlight, Kevin Koger also played a significant role in the resurgence of the Michigan Wolverines.
In his freshman season in 2008, Koger had taken over the starting job at tight end as early as Week 5. And he never gave it back.
In four seasons at the University of Michigan, he became an effective blocker, determined leader and a reliable option in the passing game.
And he shares the same alma mater as Harbaugh, too.
Koger also received Big Ten honorable mention in 2011 and is deserving of mention in the 49ers' draft room as well.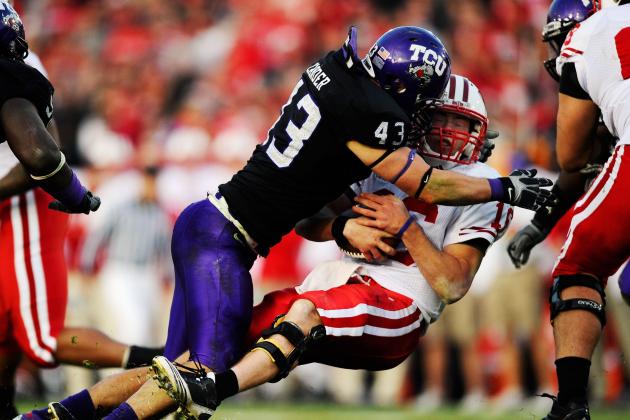 Kevork Djansezian/Getty Images

Believe it or not, Carder was actually given the nickname "Tank" at birth, due to the massive size he possessed upon his entrance to this world.
With that said, he's lived up to the name ever since.
Ricky "Tank" Carder, Jr. is a 6'2", 235-pound wrecking ball of a linebacker, known for his tenacious effort and relentless attack of opposing quarterbacks.
He was a 2010 All-American selection and was named Defensive Player of the Game in the Horned Frogs 2011 Rose Bowl victory over Wisconsin.
Ahmad Brooks is a free agent, and even if he does return, the 49ers could use some depth at outside linebacker.
Despite the fact that star-rookie Aldon Smith will be a sure starter next season, and they still have Parys Haralson as well, Carder would likely gain a few snaps if he worked his way onto the 53-man roster.