2012 NFL Draft: Breaking Down the Baltimore Ravens' Most Pressing Needs
February 20, 2012

Elsa/Getty Images
As demonstrated in their AFC Championship Game loss, the Baltimore Ravens have some positions that they need to make upgrades at. They will look to address these positions in both free agency and the draft.
This year's draft class has lots of promising players that could be plugged in as starters, especially in some of the Ravens positions of need like linebacker and center.
Baltimore will have some difficult decisions ahead as it figures out how to use their six picks in the upcoming draft.  
Below, I've outlined the position groups that the Ravens need to improve on, with some potential draft picks that could fill these holes.
Inside Linebacker 
Ray Lewis has already said that he will be back this season. However it's not clear if fellow inside linebacker Jameel McClain will be back or if he will test his value in free agency.
Even if McClain does return, Lewis is getting up there in age and it seems doubtful that his eventual replacement is on the roster yet.
The Ravens have not addressed the linebacker in the first round of the draft since 1997 when they drafted Peter Boulware. This year looks like a good one for them to end that streak. The linebacker class is very top-heavy, and the Ravens should be in a position to draft one of those elite linebackers. 
There are several juniors that decided to declare for the NFL early, including Vontaze Burfict from Arizona State. While many experts have him rated as the top linebacker in his class, he has large character issues that often overpower his level of play.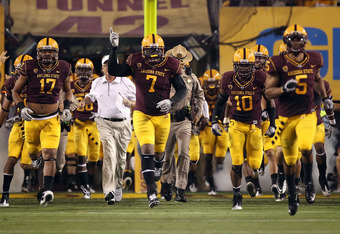 Christian Petersen/Getty Images
His main strength is his ferocious level of play. Burfict is known for hitting hard and inflicting pain on his opponents. All the intangibles required to be a great linebacker are there. However, the lingering character issues could cause the Ravens to pass on him.
Another highly ranked junior prospect is Dont'a Hightower from Alabama. Unlike Burfict, Hightower does not have character concerns. He has a great combination of size and speed, plus the experience of winning two national championships with Alabama.
The third elite junior inside linebacker prospect is Luke Kuechly from Boston College. Kuechly doesn't have exceptional athleticism, but he more than makes up for it with his production and football intelligence. He is also known for being an on-field leader which is something the Ravens will need once Lewis retires. 
Guard/Center
Two more positions that will be severely impacted by free agency and a possible retirement. Matt Birk has been in the league since 1998 and has hinted at hanging up his cleats this offseason. Over at the guard position, Ben Grubbs' rookie deal has expired and he could also be leaving in free agency. 
At the center position, there's only one player that is a clear-cut, first-round draft pick. This is Peter Konz from Wisconsin, a starter during all three of his years with the Badgers. Konz has an excellent combination of size and strength and he posses the skill set to line up at guard if needed.
Because he is clearly the draft's top center prospect, the Ravens will likely have him near the top of their draft board. They could possibly go in a different direction with the center position by drafting Ben Jones from Georgia or Michael Brewster from Ohio State.
Both Jones and Brewster also have great potential and picking one of them could free up the Ravens to address the linebacker position with their first-round pick.
Two names stand out among the draft's top guard prospects. There's Cordy Glenn from Georgia and Kelechi Osemele from Iowa State. Both guards stand out because of their physical skills and their versatility.
They both would be a work in progress due to questions over their work ethic. Glenn sometimes is lazy in his fundamentals by playing too high. Osmele has had questionable conditioning and passion for the game.
Still, the upside is there for the Ravens to take a chance on one of them. Especially in the case that Grubbs or Birk leaves the team. 
Wide Receiver 
One thing that is evidently clear from the end of last season is that the Ravens need more pass catchers.
Although their starting receivers and two tight ends are good, there is a drastic drop-off after that. Baltimore desperately needs to have third and fourth receivers that can provide depth on the outside and contribute from the slot too.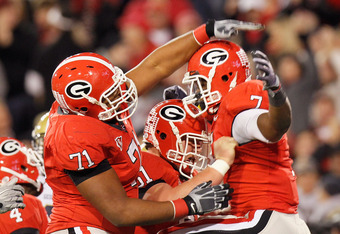 Kevin C. Cox/Getty Images
A player that they might consider is Alshon Jeffery from South Carolina. Although his draft stock has dropped thanks to serious concerns about his conditioning, Jeffery would be a big target for Joe Flacco to throw to. With improved conditioning, he could have a great NFL career.
The Ravens could also use a receiver who could contribute something to their return game, which has been lackluster the last several years. Joe Adams from Arkansas fits this description; a player who, in addition to being a receiver, is an electrifying returner.
Adams makes up for his lack of height with his speed, and is a threat to score every time he touches the ball.
If the Ravens are convinced that they need one of the higher-ranked receiver prospects, they could trade up.
Players like Notre Dame's Michael Floyd and Baylor's Kendall Wright could fall to around the 20th pick, making a Ravens move up somewhat feasible. Floyd is known for his strength and physical play style, while Wright is more known for his speed.