Big 12 Tournament 2012: Texas and Teams That Need Wins to Secure NCAA Bid
March 8, 2012

Jamie Squire/Getty Images
The Big 12 has three of the best teams in the country in the Kansas Jayhawks, the Baylor Bears and the Missouri Tigers. However, after those elite teams there is a shallow pool of mediocre schools that need at least one win or more to secure their spot in the tournament. 
These teams are on a must-win mentality as they begin the Big 12 conference tournament. 
Texas Longhorns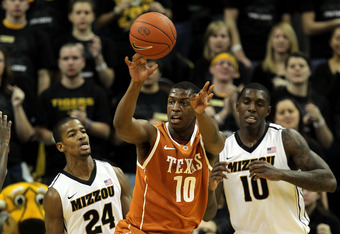 Jamie Squire/Getty Images
According to the latest mock bracket by ESPN.com's Joe Lunardi, Texas is currently on the outside looking in at the field of 68. However, they are the first of Lunardi's "first four out," so there is a chance that Texas makes their way into the tournament. 
Texas is on the cusp of being in the top 50 in RPI as they are currently ranked 51st. They have victories over three teams that are currently in Lunardi's bracket, beating Temple, Iowa State and Kansas State.
However, Texas has struggled down the stretch, losing three of their last five games. 
They have to defeat Iowa State in their first-round game in the Big 12 Tournament, or else they will be playing in the National Invitational Tournament, not the NCAA. 
Iowa State Cyclones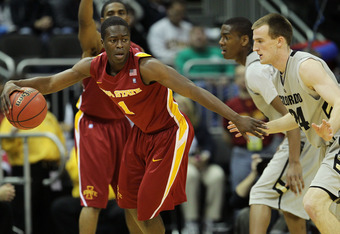 Jamie Squire/Getty Images
Iowa State is currently a No. 8 seed in Lunardi's bracket. Their spot should be secure in the tournament, but having a win over a team on the bubble like Texas would only enhance their position as a lock for the field of 68. 
Iowa State has an RPI of 31 and has victories over two top-10 RPI teams at that time, defeating No. 6 Kansas and No. 9 Baylor. However, Iowa State has horrible losses against the bottom of the RPI, losing to No. 51 Texas, No. 72 Northern Iowa, No. 117 Oklahoma State and No. 134 Drake. 
Iowa State should get into the NCAA tournament. However, if they are blown out by Texas, it does not help support their claim to get in. 
Kansas State Wildcats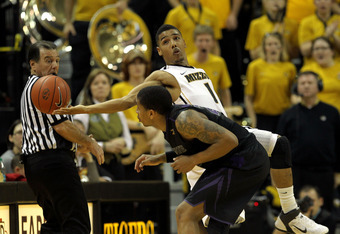 Jamie Squire/Getty Images
Kansas State is like Iowa State in that they are in Lunardi's latest mock bracket, but as a No. 8 seed. Kansas State ranks No. 42 in RPI and has two big wins over a potential No. 2 seed in the NCAA Tournament, Missouri. 
However, Kansas State has six losses against the top 50 of the RPI, losing to Baylor, Kansas (twice), West Virginia and Iowa State (twice). 
The Wildcats open their Big 12 Tournament as the No. 5 seed against a tough Baylor team. They split the season series against Baylor, winning one game by only one point and losing the other by just two. 
If they can play Baylor tough again, then win or lose they should secure their spot in the tournament. But, if they can get a victory over the Bears it will make their bid into the NCAA tournament a lock.